Introduction:
Kindle books can only be read on Kindle devices or a few other ebook readers. When you have bought a Kindle book from Amazon or other places but don't have an e-reader available, how do you do? Perhaps you need to convert Kindle to PDF, a file format compatible with nearly all devices and operating systems.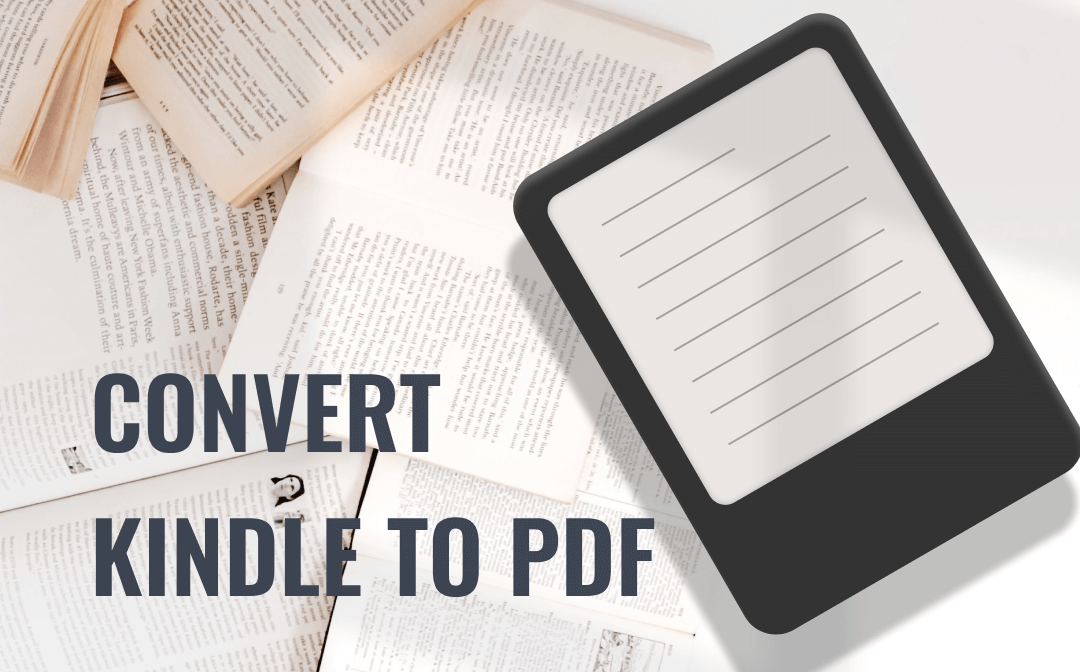 When you have converted a Kindle book to a PDF file, you can easily read with a free PDF reader like SwifDoo PDF. The PDF reader and editor allows you to annotate, read aloud, and translate the converted book conveniently. There are many advantages to performing this conversion.
Read this article to learn how to convert Kindle to PDF in three best ways. 3 Kindle to PDF converters will be introduced to help. Also, the methods to download Amazon Kindle books and remove Kindle DRM protection are explained so you can convert them without any hassle.
Benefits of Converting Kindle to PDF
Here is a look at why it is critical to convert Kindle to PDF format. Several benefits of making this conversion are listed.
Easy sharing: Compared to Kindle books, PDF books can be easily shared to more devices, including Kindle, other e-readers, tablets, and PCs. So you can share with your family and friends without a problem. PDF sharing is also supported by almost all the social websites and apps.
Universal Compatibility: PDF files are compatible with many ebooks reading apps or devices as well as all the Windows, Mac, Linux, iOS and Android. When you convert a Kindle book to a PDF, the book is accessible from any place without formatting or layout issues.
Better for editing: You can do more with PDF books than with Kindle books after you convert Kindle to PDF. A PDF allows you to add or edit the content, and split or compress it.
Convert Kindle to PDF with Calibre
Calibre is a free ebook management software and converter to convert Kindle to PDF on Windows, Mac and Linux. The cross-platform converter allows you to convert multiple Kindle books to PDFs individually or in batch at once. The software is open-source and completely free to use. More than a Kindle to PDF converter, it is an ebook viewer and annotator. It also converts Kindle to a wide range of other formats such as MOBI, EPUB, RTF, and TXT if needed.
Let's see how Calibre lets you convert Kindle to PDF.
Step 1: Open the converter application, and click Add books on the top left corner to import your Kindle books;

Step 2: Tap Convert books or hit the near drop-down button to select Bulk convert;

Step 3: Click the Output format menu to choose PDF in the drop-down list, and press the OK button to convert Kindle to PDF;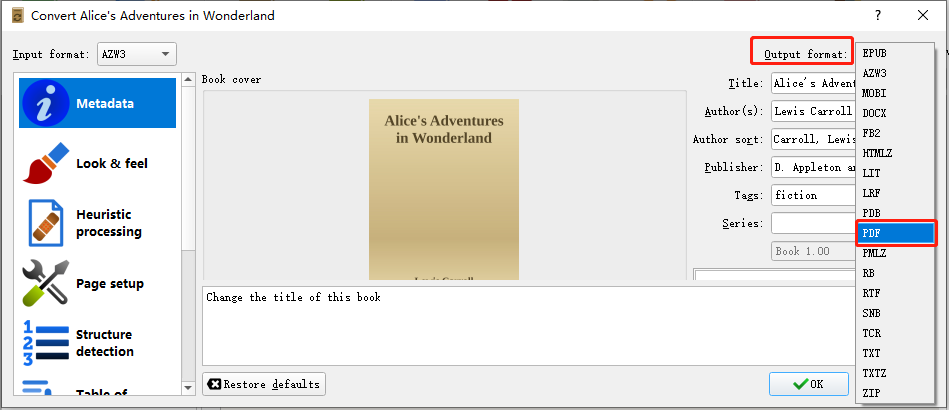 Step 4: Once the conversion is done, click Click to open in the right side to check the exported PDF in its file folder.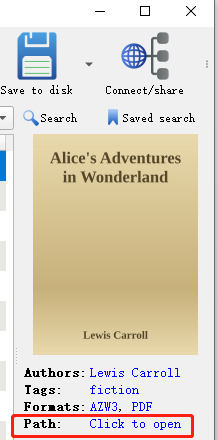 Convert Kindle to PDF with CloudConvert
CloudConvert is a multi-purpose document converter that can convert Kindle to PDF online for free. The converter allows you to batch convert many Kindle books to PDFs for free. It is available in your browser on all devices. It is also one of the excellent EPUB to PDF converters, and converts CBZ, audio, video, or image files. No registration or software installation need. The online converter is designed with a clean, ad-free and intuitive interface.
Here is how to convert a Kindle book to a PDF online for free using CloudConvert.
Step 1: Click Select File to upload your Kindle books to the Kindle to PDF converter;
Step 2: Tap the drop-down arrow besides Convert to to choose Document and select PDF;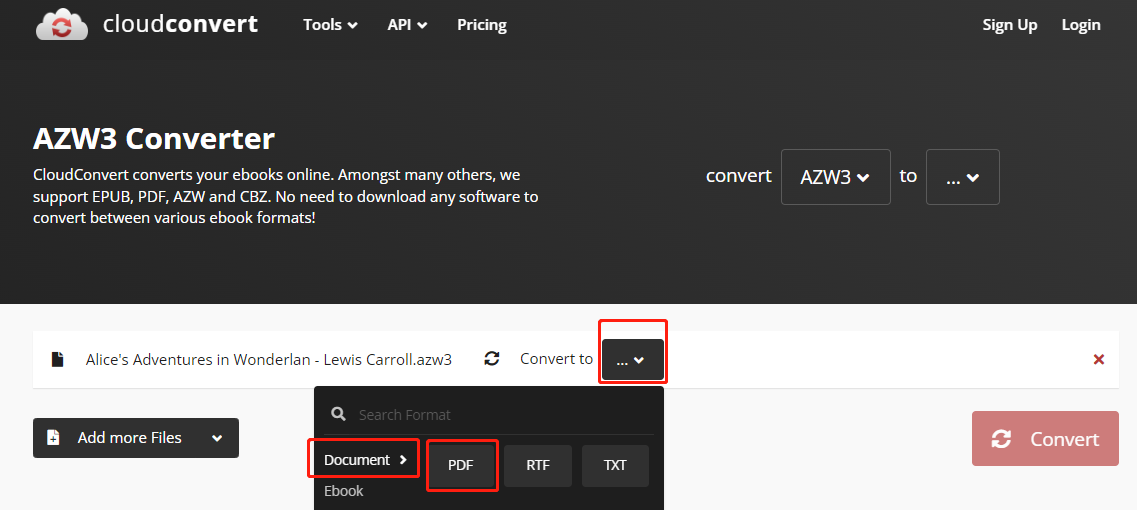 Step 3: Press the Convert button to start converting, then download and save the Kindle books to PDF files.
Convert Kindle Book to PDF Using Online2PDF
Online2PDF is one of the best Kindle to PDF converters running online. The Kindle converter allows you to convert Kindle to PDF without paying anything. It supports selecting and converting up to 20 files together. When required, the web-based software enables you to edit, merge and lock the created PDFs. You are able to save PDF as Word with the converter. Follow the below steps to convert Kindle to PDF within a couple of clicks.
Step 1: Open the online free converter or website on any computer, Android or iOS, and click Select files to upload a Kindle book;
Step 2: Pick PDF from the convert to drop-down menu;

Step 3: Click Convert to convert Kindle to PDF, and the resulting PDF will be downloaded automatically after conversion.
The online application not only lets you turn a Kindle book into a PDF and also convert Excel, PowerPoint, JPG and more formats.
How to Download Kindle Books
In order to convert Kindle to PDF, you have to first download the Kindle books you bought or get for free. There are two methods to download a Kindle book. If you have a Kindle app, you can download through the below steps from the library.
Step 1: Launch your Kindle app, and navigate to Library;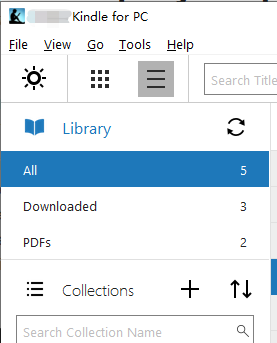 Step 2: Double-click on a book cover or right-click on the book cover to download the book on a PC or Mac;
Step 3: Click the Cloud tab at the bottom of the screen, and tap a book cover to download the book on a mobile phone, iPad or tablets.
You can also download a Kindle book to your computer from Amazon and then convert kindle to PDF.
Step 1: Open the Amazon website, go to Account & Lists on the top right corner and choose Content & Devices;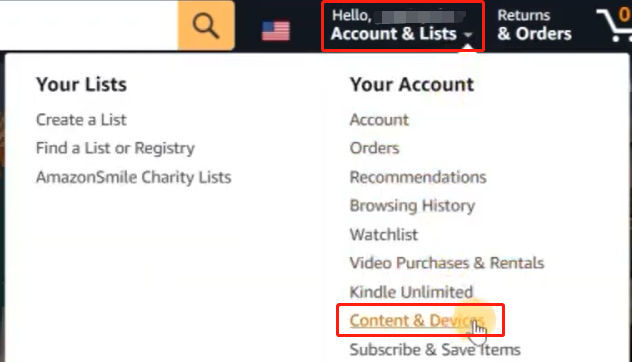 Step 2: Select the book you want to download and convert to a PDF, click More actions and select Download & transfer via USB;
Step 3: Click the Download button in the pop-up window to download the book.
Then you can add the Kindle book to one of the mentioned converters to convert Kindle to PDF format.
Remove Kindle DRM to Convert Kindle to PDF
Normally, you can download and convert a Kindle book as a PDF with the introduced methods without any trouble. That's for DRM-free Kindle books. If your book is DRM-protected, it's a must to remove DRM to convert Kindle to PDF.
Step 1: Download the DRM removing plugin DeDRM and extract the DeDRM_plugin.zip zip file;
Step 2: Download and launch the ebook manager and converter Calibre;
Step 3: Tap Preferences in the fully-expanded top menu bar in Calibre, choose Plugins, and hit Load plugin from file at the bottom;
Step 4: Choose the DeDRM_plugin.zip file you just saved, and proceed to install it;
Step 5: Double-click the DeDRM item under File type, choose eInk Kindle ebooks in the pop-up window, tap the plus icon and enter your Kindle serial number;
Step 6: When you're done, back to the Plugins main interface to choose Get new plugins, type KFX Input in the filter box and install the plugin;
Step 7: Use the earlier explained method to add your Kindle books to Calibre and convert Kindle to PDF. With your correct setting, DRM will be automatically removed when you convert.
SwifDoo PDF: Best PDF Converter
In addition to Kindle to PDF conversion, you may have some non-Kindle ebooks to convert to PDFs. In this case, a handy PDF converter SwifDoo PDF is at your service. This is a comprehensive conversion software that can convert all Office documents, images, HTML, TXT, EPUB and more files to PDFs. It can do the vice versa. The converter has the batch conversion ability. Moreover, it comes with a free online PDF converter for basic documents converting tasks.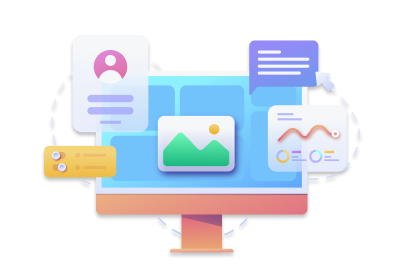 SwifDoo PDF: Feature-rich PDF Converter
Convert EPUB to PDF and vice versa
Convert PDF to Word, Excel, HTML, and many formats
Annotate, compress, and read aloud PDFs
Try It Now
Buy Now
Conclusion
No need to worry about being unable to convert Kindle to PDF or taking too much effort and time any more. This article shows you the how-to guides with clear and concise descriptions. Whether the Kindle books have or haven't DRM protection, you can find the solution to tackle it out instantly. Just prepare your books, go ahead and convert Kindle to PDF in several steps.