Introduction:
Have you ever received a file with an extension .docx? A DOCX (.docx) file is a typical Microsoft Word document. DOCX is Word's native file format along with its older version DOC. Word DOCX files are universally used in everyday work but PDF documents prove to be more critical for cross-platform sharing and printing. As a result, the need to convert DOCX to PDF emerges.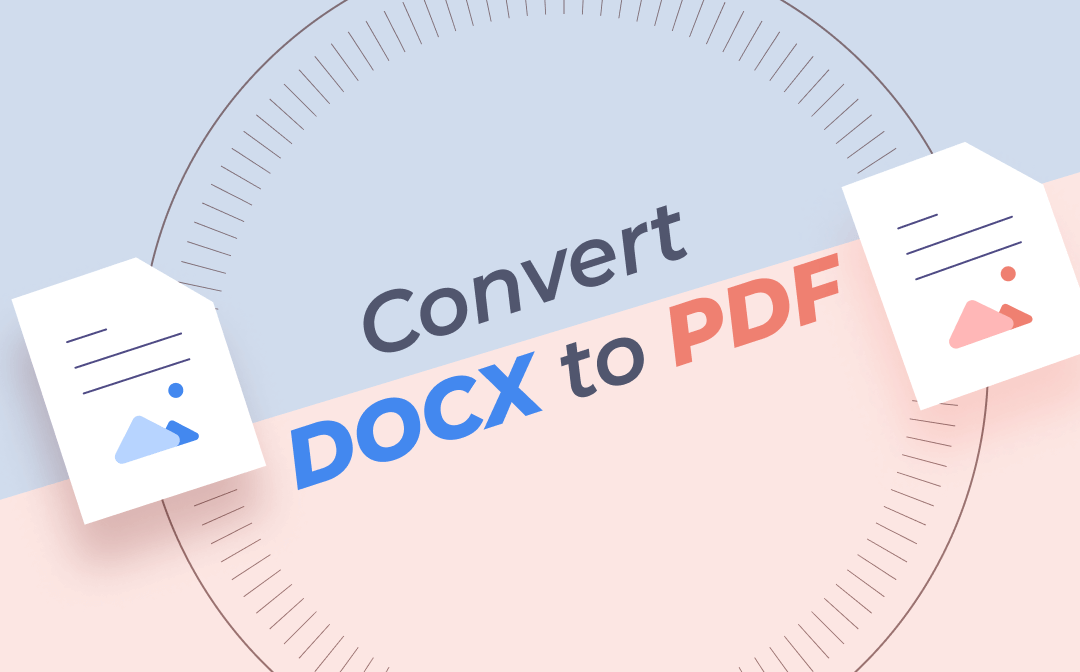 Most simply, you can convert a DOCX file to a PDF by "Save as" in the Word program. However, not everyone has or can use the commercial software, and you may tend to find other productive ways for your daily workflow.
In response to theses considerations, we have covered several DOCX to PDF converters as well as the Word app to help. The detailed tutorials on how to convert DOCX to PDF with them offline and online are shown.
Convert DOCX to PDF for Windows
SwifDoo PDF
If you are seeking the ultimate tool to convert DOCX to PDF, take a look at SwifDoo PDF. It is designed to work with various office documents offline on your desktop. The software specializes in dealing with a wide spectrum of PDF related issues including converting between PDF and other formats. You can also utilize the software to edit, create, merge, secure PDF files, convert PDF from/to 10+ other formats, and much more. The program excels at converting large files and batch conversion.
Find out how to convert DOCX to PDF effortlessly with SwifDoo PDF.
Step 1: Launch the software and click SwifDoo on the upper left corner of the home interface;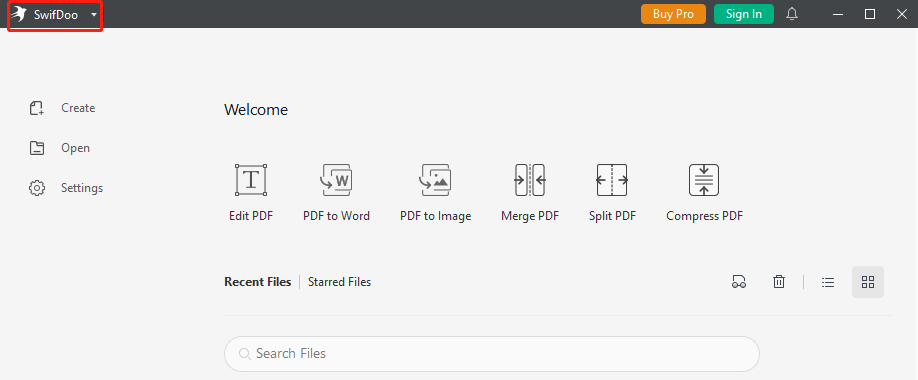 Step 2: Choose New PDF in the drop-down list and select the From File option;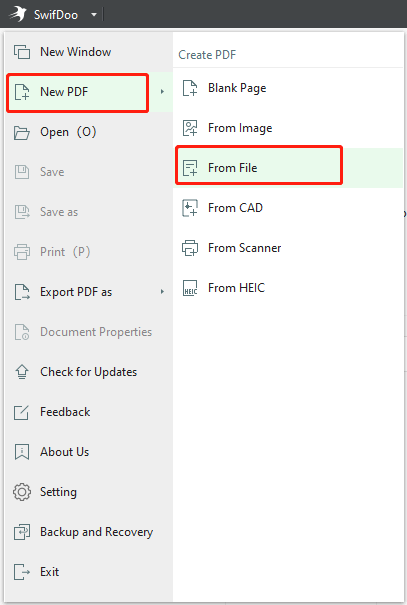 Step 3: Browse and double-click a DOCX file and the converter software starts to convert it to PDF at once;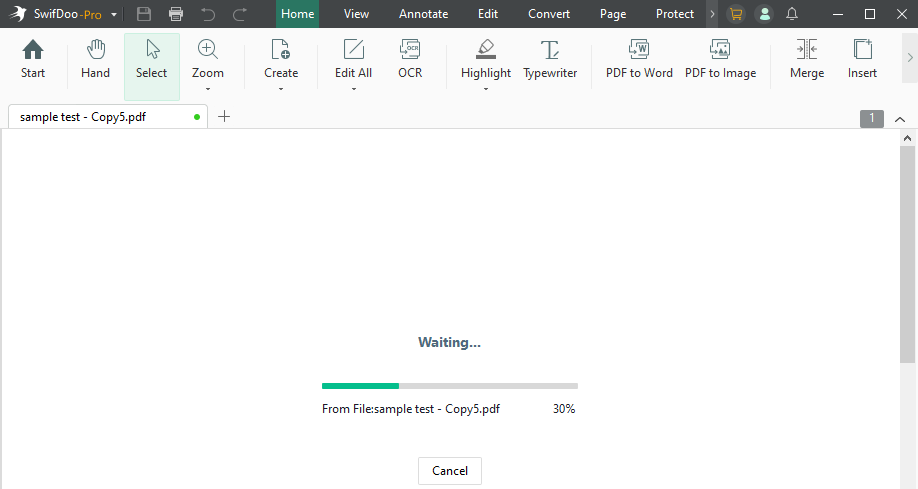 Step 4: Save the PDF to your desired location.
Once the DOCX to PDF conversion is completed, you can open the PDF file directly in SwifDoo PDF for viewing and making alterations. To convert multiple DOCX documents to PDF files in one go, select and upload all of them to the "SwifDoo PDF Converter" before Step 4.
SwifDoo PDF is a multi-role converter that can not only convert DOCX to PDF, but PDF to DOCX, Excel XLSX, CAD DWG/DXF, PNG/JPG, and PPTX to PDF, and vice versa. What's more, it offers almost everything you need for changing PDFs as needed. Check the recommended post to learn about how to convert PDF to Word DOCX or DOC without a hassle.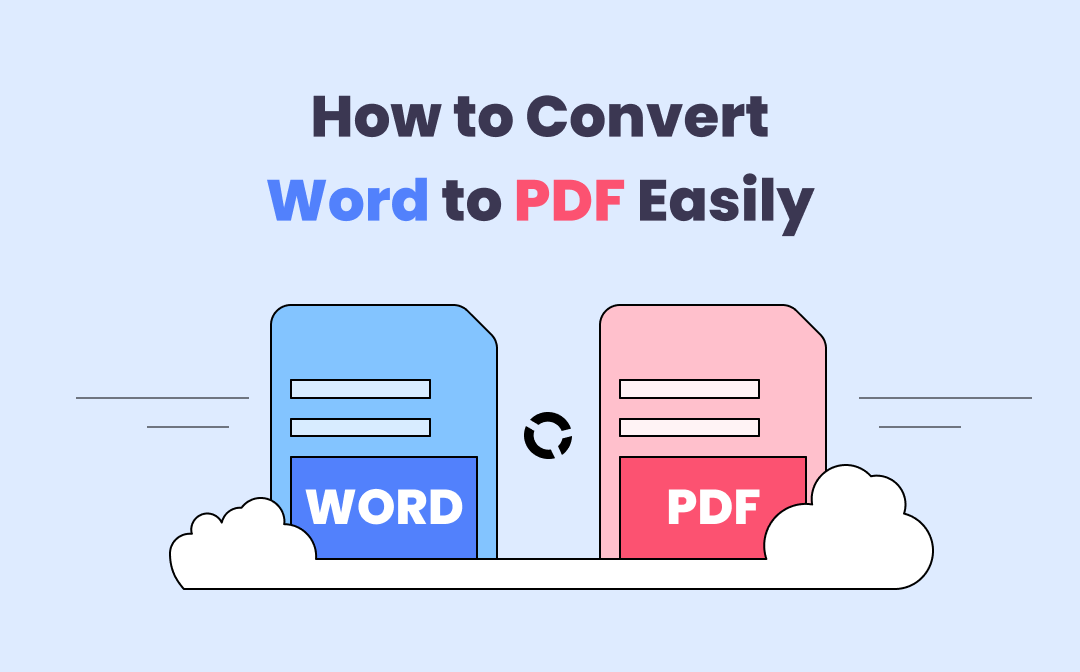 How-to: 7 Ways to Save PDFs as Word Documents
This article introduces how to save PDFs as Word files with 7 methods. Turning a PDF into a Word document is easy with the best PDF to Word converters listed.
READ MORE >
How to Convert DOCX to PDF on Mac
Apache OpenOffice Writer
OpenOffice Writer is a multi-platform, free, and open-source word processor similar to Word. Since the Writer allows you to open and view DOCX files created by Word, it can help convert DOCX to PDF. While the software has no longer been further updated, users can still make use of it to do many works on major OS, including Windows, Mac, and Linux. It allows you to annotate a PDF file for free.
Check how to convert your DOCX file to a PDF for free on Mac.
Step 1: Open the free downloaded and installed program and go to File > Open to import your DOCX document;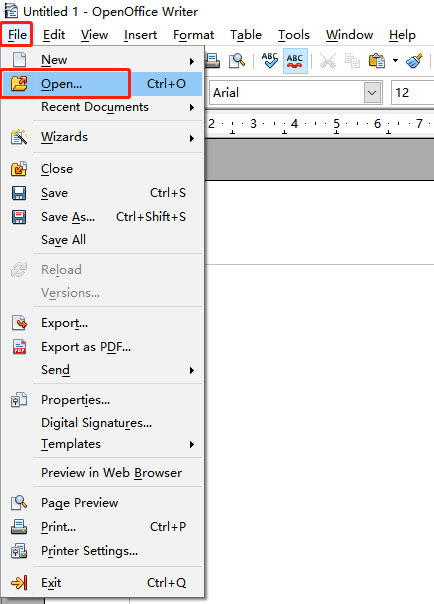 Step 2: Click File and select Export as PDF in the drop-down menu;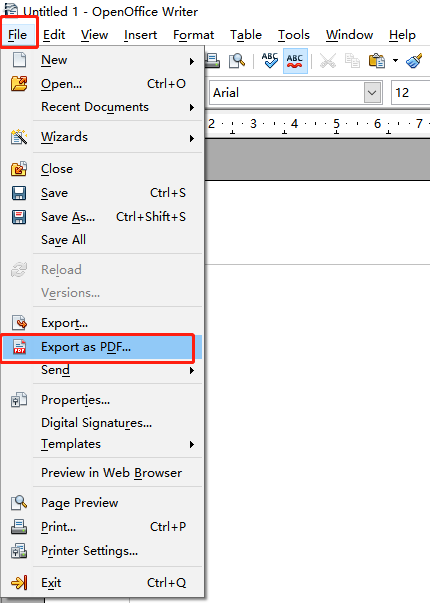 Step 3: Set the quality of images in the PDF and other options you want to change, then hit Export so you can successfully convert DOCX to PDF.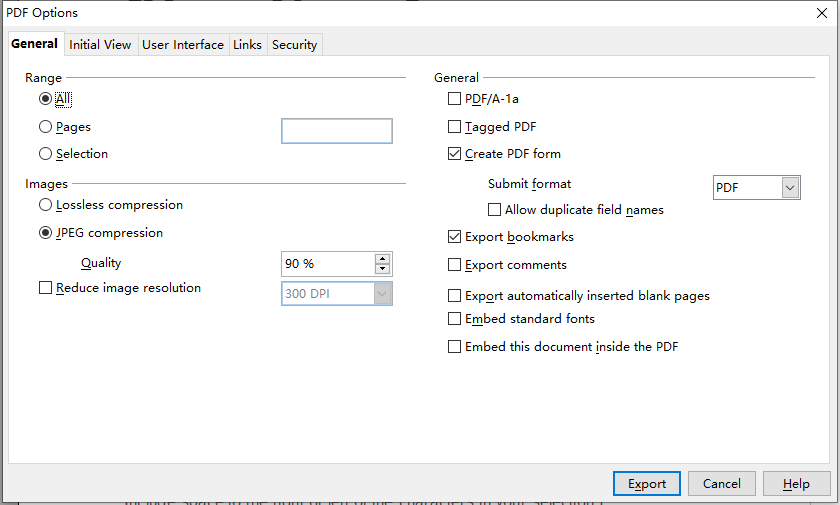 When needed, you can choose "Security" in the "PDF Options" dialogue box to password protect your PDF. If you don't need the encryption anymore, remove the passwords from the PDF.
Free Online DOCX to PDF Converter
SwifDoo PDF Online Converter
Since downloading and installing desktop applications take extra steps, it's no surprise that some users prefer web-based software. SwifDoo PDF considers your needs and offers an free online PDF converter that lets you convert DOCX to PDF. It also allows you to change DOC, CAD, Excel, and many other common files to PDFs and vice versa in a browser.
Go through the 3 steps to convert a document from DOCX to PDF for free.
Step 1: Click Convert PDF on the top of the SwifDoo PDF website to access the online converter;
Step 2: Tap Word to PDF on the left side of the screen;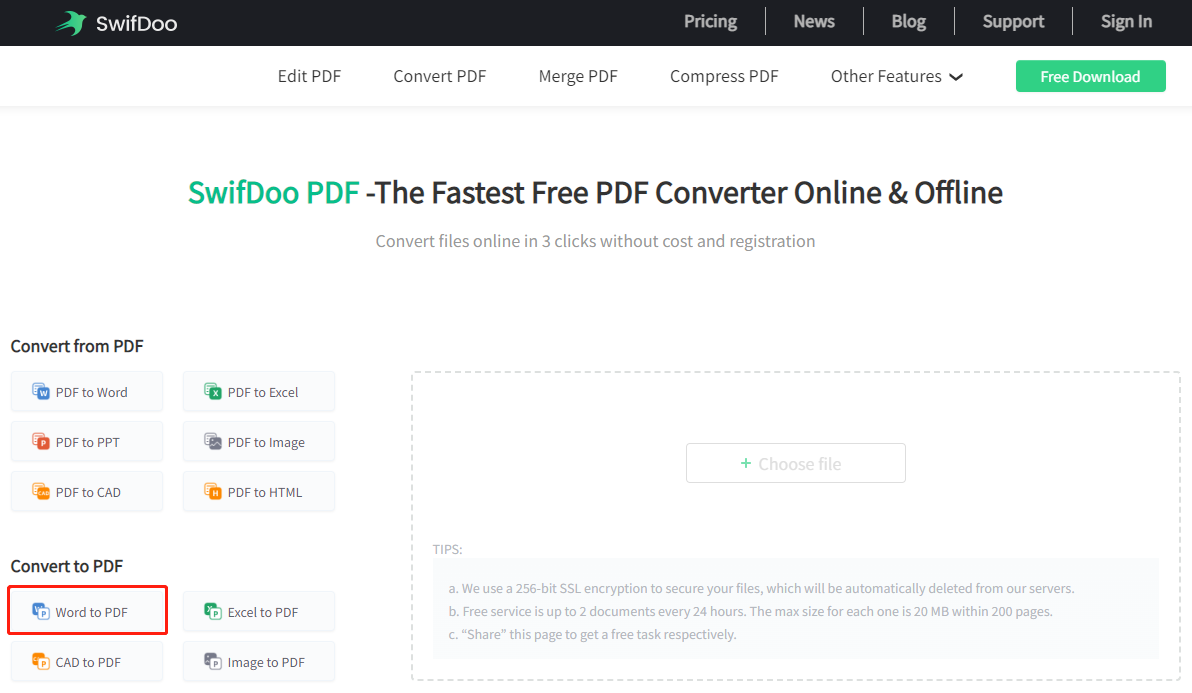 Step 3: Hit Choose file to upload the DOCX document you need to convert and the converter will automatically turn it into a PDF.
Every user can upload and convert up to 2 files within 24 hours and sharing the page on Twitter or Facebook will get one more free task.
Google Drive or Google Docs
Google Docs, encompassed in Google Drive, is an online and free word processor developed by Google. Files created via Google Docs will be synchronized to one's Google Drive space. You can use Google Drive or Google Docs to convert DOCX to PDF. Moreover, it enables you to open and convert ODT, RTF, and TXT documents to PDF files. It can be used to turn a PDF into a Google Doc and download as a PDF.
Here explains the method to convert DOCX to PDF online for free.
Step 1: Sign up and log into your Google Docs account in any browser, then navigate to the file folder icon and Upload to upload your DOCX document;

Step 2: Once the file is opened, go to File and choose Download in the drop-down list;
Step 3: Select PDF Document (.pdf) from the sub-menu and Google Docs will convert the DOCX document to a PDF automatically.
Tips:
In Google Drive, go to "New" > "File upload", and click the uploaded DOCX file to open it in Google Docs.
Remember to save the PDF downloaded in the browser to your computer. Google Docs is also available as a mobile app in App Store and Google Play and your free DOCX to PDF converter for iPhone and Android.
How to Convert DOCX to PDF on Mobile
Microsoft Word for Android
The mobile version of Microsoft Word is not as fully featured as its desktop version but will meet your most common needs. Using this app, you can create, edit DOCX documents, and convert DOCX to PDF on Android, iPhone, or iPad at no cost. Those who already have a Word subscription account are able to access some advanced features. Download, install the Word app on Google Play, and follow the guide below to change your DOCX file to a PDF.
Step 1: Run the app, go to Open on the bottom right corner and choose This device to select a DOCX file from your phone;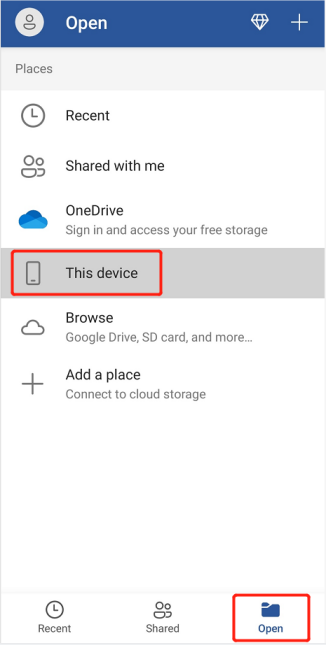 Step 2: Tap the three vertical dots on the upper right of the screen and scroll down the pop-up window to select the Print option;
Step 3: Make sure Save as PDF is selected from the drop-down menu on the top, hit the down arrow to show and change more settings, such as the page size and orientation;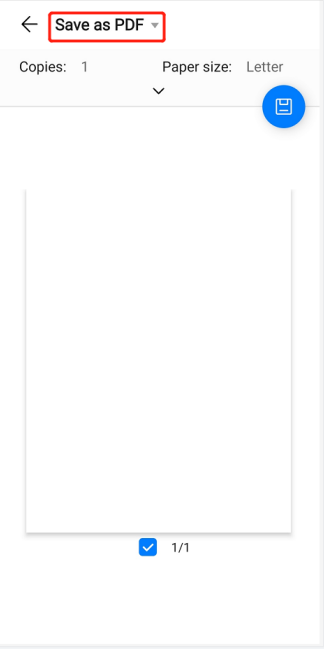 Step 4: Tap the Save icon and select a location to save the DOCX document as a PDF.
Tips:
You can choose "Browse" in Step 1 to import your DOCX document from Google Drive, SD card, or other places.
Pages for iPhone
Pages app is the pre-installed word processor on all Apple devices, including iPhones, iPads, and Macs, and you can also download it from App Store. It allows users to convert DOCX to PDF, open Word Office Open XML (.docx), Office 97 and later (.doc), Rich Text Format, the native Pages, and many other types of files. Check how it works as a DOCX to PDF converter.
Step 1: Open the Pages app and click Browse at the bottom;
Step 2: Navigate to and tap on your DOCX file to open it;
Step 3: Hit the three dots on the top, choose Export in the pop-up window and select PDF;
Step 4: Click Export on the top right corner;
Step 5: Choose Save to Files and select a folder to save the exported PDF.
This is how you can quickly and easily convert DOCX to PDF format on iPhone. You can choose to send the converted PDF to somebody via an app in Step 5.
Conclusion
DOCX to PDF conversion is not a daunting task now with all the introduced converters and guides. If you have a batch of DOCX documents and wish to speed up the conversion process, PDF software is a fundamental tool and a major time saver to address your needs. SwifDoo PDF is one of the most affordable PDF software on the market. Get SwifDoo PDF for free to outfit you for productivity.
FAQs
Q: How do I convert DOCX to PDF in Adobe Reader?
A: The Adobe Reader desktop software won't let you convert your files to PDFs but you can reply on the Acrobat online service. Go to the cloud-based Adobe Acrobat in any browser, click "Select a file" to upload a DOCX file and the online converter will turn it into a PDF automatically. Download and save it to your device.
Q: Are DOCX and PDF the same?
A: DOCX and PDF are different. The former is a format developed by Microsoft and the latter by Adobe. DOCX is mostly used for creating editable documents while PDF is the Portable Document Format for exchanging and archiving files with fixed layout and formatting.
Q: How do I convert DOCX to PDF without Word?
A: You can convert your DOCX file to a PDF using the free alternative to Word, Google Docs, and a dedicated converter like SwifDoo PDF. In Google Docs, just upload the original file, open it, and go to File > Download > PDF Document to get the PDF. In SwifDoo PDF, click Create > From File, select your DOCX document to create a PDF.
Q: What is the best converter for DOCX to PDF?
A: SwifDoo PDF is the best-to-use DOCX to PDF converter that is small, fast and powerful. It supports converting numerous documents in one go.
Q: Why DOCX cannot be converted to PDF?
A: One reason that you fail to convert DOCX to PDF might be the Word file is protected. You should remove the restriction first. In addition, if you use an online converter, the large PDF file may not be supported.