Introduction:
You probably often need to submit your assignments as PDF files. Large PDFs are slower to send and open and can cause many other troubles, so you may wish to reduce the PDF file size. To achieve your goal, it's a great idea to
compress PDF to 1MB
. The problem is you might be struggling to choose the right
PDF compressor
. Stop spending your precious time searching on the Internet, this post has selected the 5 best compressor software to ease your life.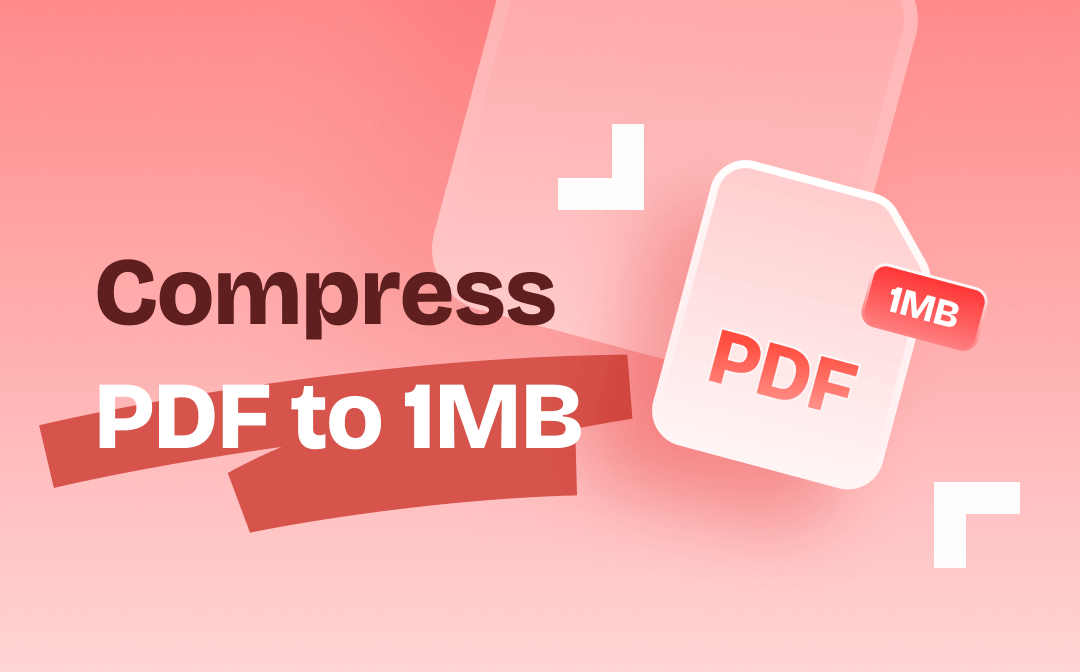 Compress PDF to 1MB for Free with SwifDoo PDF Compressor
SwifDoo PDF is a PCWorld recommended software application that allows you to compress PDF to 1MB for free. It offers a 15-day free trial for every user to access all its features without cost or limitation. A PDF converter, editor, and nearly every tool included in Adobe Acrobat are provided. You can use its PDF compressor to batch compress multiple PDFs to below 1MB at once and customize the compression level.
First, take a look at the method to compress PDF to 1MB.
Step 1: Download, install and start SwifDoo PDF, and open your PDF with it;
Step 2: Tap Edit on the top and choose the Compress tool;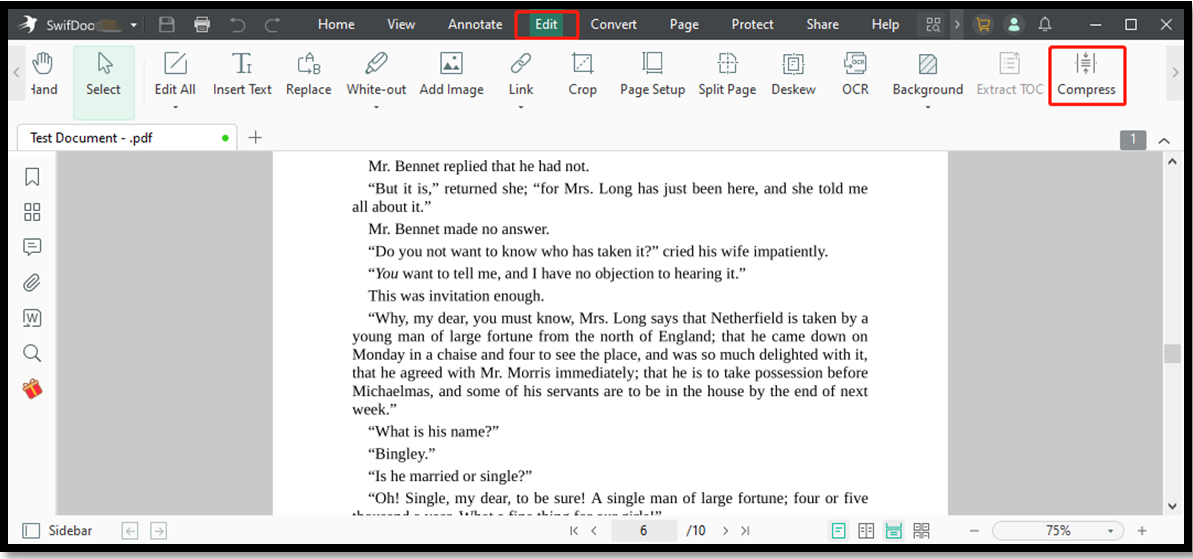 Step 3: Select the High or another compression level, or customize the output image quality;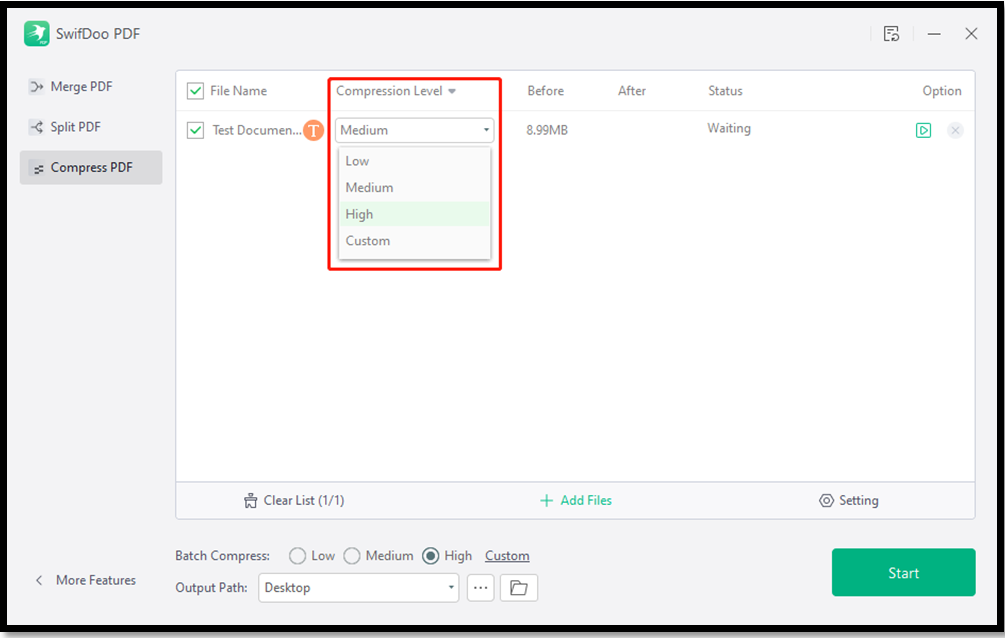 Step 4: Set the saving location, and click Start to compress the PDF to 1MB or less than 1MB.
When you compress PDF to 1MB using SwifDoo PDF, the PDF file should not be too big. The compression process is fast and streamlined, taking just a few seconds.
Highlights of SwifDoo PDF compressor:
Swift, easy to use, and safe.
The app is lightweight, taking up less space.
Compressed file quality custom and standard compression levels.
Bulk add and compress large PDFs.
The software also helps make a PDF smaller in other ways:
Crop PDF pages;
Change the PDF page size;
Split and delete pages from PDF;
Edit and delete text, images and other content in PDF.
Compress PDF to 1MB without losing quality offline for free and do more to your PDF with the SwifDoo PDF app download now!
Top 4 PDF Compressors to Compress PDF to 1MB for Free
You may want to compress PDF to 1MB using an online compressor sometimes. Online services allow you to instantly access them without a download or installation hassle. Whenever you have a PDF you hope to compress to 1MB, all you need is a web browser and an internet connection. The next 4 PDF compressors are good to go to compress a PDF to less than 1MB or 1MB.
#1. Compress2Go
Compress2Go lets you compress PDF to 1MB online for free without registration. It is a one-stop file compressor that can resize a PDF, video, or image in MB. The PDF compressor has basic and strong compression levels and a list of preset file and image quality options to choose from. You can convert PDF to grayscale while compressing to further reduce the PDF size. The user interface is clean and intuitive.

When you are to compress PDF to 1MB, you should note that large files can only be compressed for premium users. Compress2Go also has a tool to create zip and archive files. To compress a PDF file to 1MB, first choose the Compress PDF tool, upload a PDF, change the compression settings and click Start.
#2. Online2PDF.com
Online2PDF.com is a comprehensive solution to basic PDF handling needs. It enables you to compress PDF to 1MB or below 1MB online for free. Converting, merging, and unlocking PDFs are also possible. No need to sign up for an account to use it. Before compressing your PDF to a 1MB PDF, you can pick your preferred quality and resolution values. The online service also allows you to compress and convert an image such as JPG to a 1MB PDF.

Not only compress PDF to 1MB, but the web application can also compress other Office documents. Upload the PDF or any other file to compress to 1MB, choose Compression in the Preferences section, set the options and that's it.
#3. AvePDF
AvePDF is another online PDF compressor that makes it no longer difficult to compress PDF to 1MB quickly with a free limited service. The software allows you to upload files from Google Drive, Dropbox and by a URL, not just your local device. There are four compression levels from Low to Very High. You can do a lot of other things such as e-signing and organizing PDF pages when you have compressed the PDF file size to 1MB.

In terms of how to compress PDF to 1MB, click the Hyper-compress PDF tool, drop your file, and hit the COMPRESS button. You can only perform up to 1 task per hour. Batch compression is not supported.
#4. Adobe Acrobat Online
When it comes to PDF manipulation, the PDF inventor Adobe Acrobat is a must-mention. The software comes with an online version that can be used to convert and compress PDF to 1MB for free. Like the expensive desktop version, the online platform also has a set of PDF editing and managing tools. The downsides are you can only process 1 file for free and the working speed is so slow.

To compress a PDF file to 1MB, still upload your PDF to the compressor, and select the compression option.
Why Compress PDF to 1MB or Smaller?
Large files can cause a lot of issues, such as eating up your hard drive space and making you fail to email or upload them. To compress PDF to 1MB brings you the following and more benefits.
Save Disk Space: The most obvious reason for compressing PDFs.
Reduce Cost: You don't need to buy additional storage or larger bandwidth.
High Transfer Speed: Smaller files can be transferred in the blank of an eye without letting you wait.
Convenient to Share: By using a PDF compressor to compress PDF to 1MB, you can reduce its size to send it via email, messaging apps, and almost anywhere effortlessly.
Conclusion

These top 5 PDF compressors will do you a favor in compressing PDF to up to 1MB. They stand out from tons of competitors and produce better results for you. Whether you like a desktop app or an online tool, this post has you covered. If anyone wants the best affordable alternative to Adobe Acrobat, SwifDoo PDF is your ideal choice, which allows you to compress PDF to 1MB and use all the functions for free for 15 days.