Introduction:
Men are special, and even they deserve celebration and appreciation. You can encounter one in any walk of life as a colleague, buddy, family member, or best friend. Whoever he is, if his birthday is getting closer, you must not miss a chance to pen beautiful birthday wishes for men and make their day more memorable. You may opt for funny birthday wishes depending on your bonding with him or write thoughtful and heartfelt greetings on a printed card.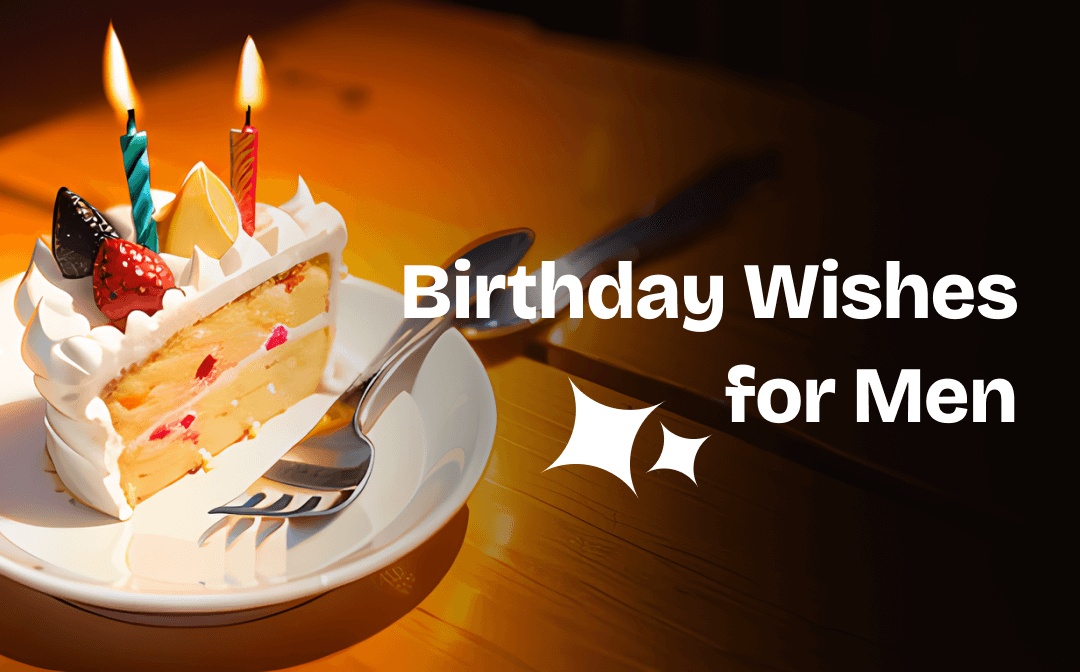 Regardless of your relationship, make the most of his birthday by writing cute and sweet happy birthday wishes for men as a personal message. We have covered 40 compliments, wishes, age, and other factors to consider while writing a beautiful birthday message for men. Let's dive in to check some thoughtful birthday wishes that you can opt to write a birthday greeting.
10 Short Birthday Wishes for Men
All Happy Birthday for men wishes need not be extended and poetic. You can jot down a line or two about the guy and tell you hope they enjoy their day to make your wishes more meaningful. Your little extra effort is worth it to surprise and bring a smile to men's faces. Check out these ten simple, short, and sweet birthday wishes for a man.
1. Just like a fine wine, you are getting better with age. Happy Birthday, handsome guy!
2. Happy Birthday! You're not older – you're just more distinguished. The day is all yours — have fun!
3. You were born, and the world became a better place. Happy Birthday, man!
4. Best wishes on your birthday! May you have maximum fun today and minimum hangover tomorrow!
5. Happy Birthday to my ride-or-die. Love you bunches!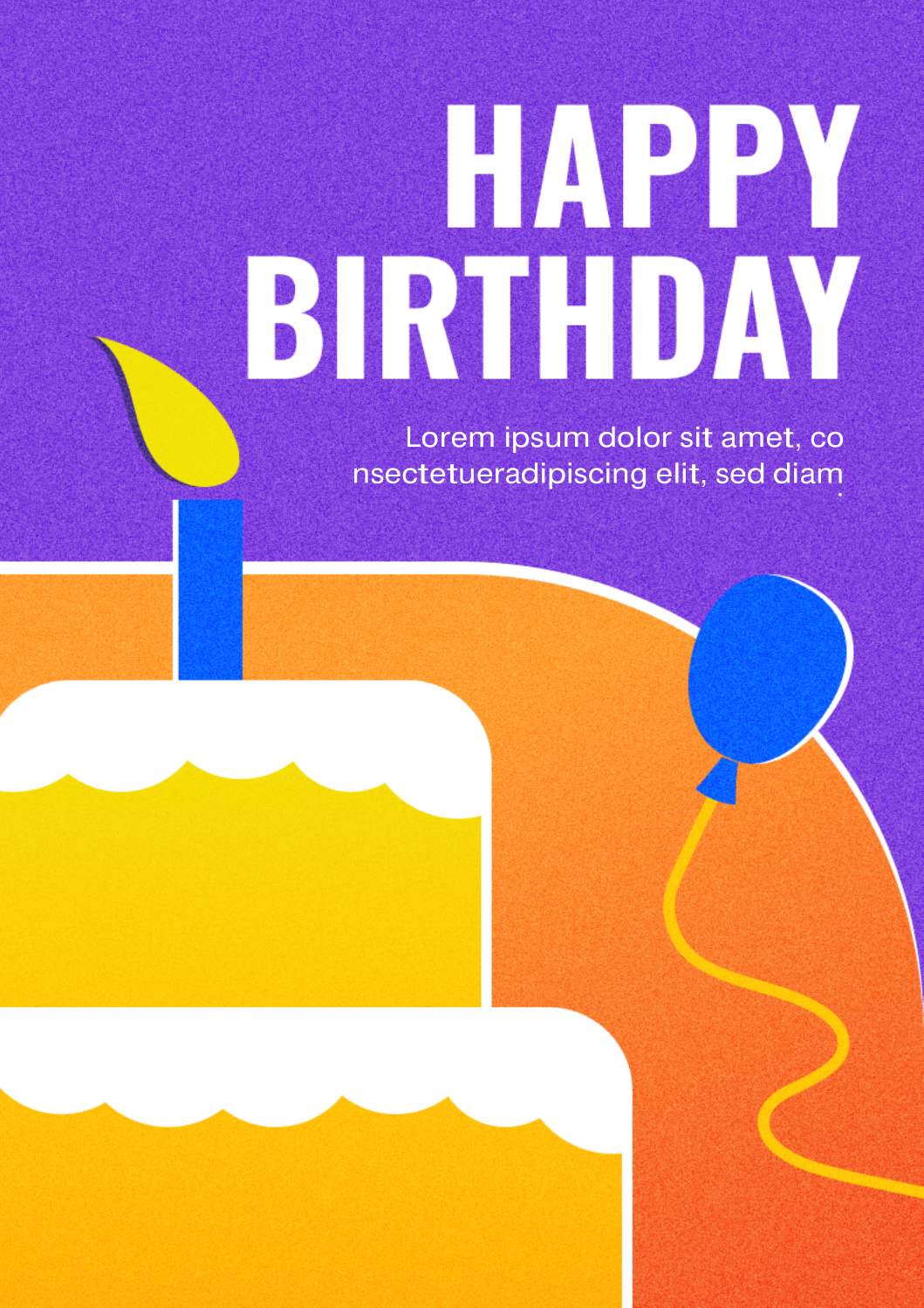 Free Download the Birthday Wishes Card for Men >>
6. I hope your birthday is just like you… freaking awesome. Enjoy your special day.
7. Today is about you. I can't wait to celebrate with you all day long! I hope all your birthday wishes come true!
8. I feel so blessed to have a friend like you. Happy birthday guy! Keep smiling and enjoy your day!
9. Best wishes on your birthday – may you have many more. Have the best birthday ever!
10. Wishing you a birthday that's just as wonderful as you are! Happy Birthday, my best pal!
These short and sweet happy birthday for Men wishes can be written on a banner or be utilized in making a birthday card with SwifDoo PDF. You can also use SwifDoo PDF to edit the card.
10 Funny Birthday Wishes for Men
Writing the perfect birthday wishes for men isn't always easy, especially when thinking of the funny ones. But these ten funny Happy Birthday wishes for men are perfect for your male friends, whether they're your colleagues, family members, close friends, or partners. Let's check them out.
1. Dear Sam! Here's to being immature for a lifetime. Happy Birthday, man!
2. Is it really time for your birthday again? I swear it was only last year! Happy Birthday, guy!
3. There's not enough space on the cake for all the candles! Happiest of birthdays, man!
4. You're not old but perfectly aged like a nice, stinky cheese. I hope your birthday is a blast – just like you!
5. It's time to celebrate the oldest person I know. Happy Birthday, you old timer!
Click to Get the Birthday Wishes Card for Men >>
6. Happy birthday! And remember to iron that birthday suit. Happy birthday, man!
7. Age is just a number. Stay true to who you are! Happy second 18th birthday! You look marvelous!
8. They say some people get better with age. But I don't think that applies here. Happy Birthday, old man!
9. Don't think of them as wrinkles; take them as lines of experience. Happy birthday to my favorite fella!
10. Time to gather around the cake and awkwardly sing to you! Sorry about the birthday present; there isn't one.
You can DIY a birthday card by writing funny happy birthday wishes for a man and print a PDF card in color using SwifDoo PDF.
10 Birthday Wishes for Male Friend
When a close friend or someone near and dear turns one year older, you leave no stone unturned to make their day memorable and extra special. This year, you can try some thoughtful and heartfelt birthday wishes for men with a custom card to keep as a keepsake forever. These ten kind birthday wishes can be written under a post as a caption on social media handles or penned into a beautiful card. Let's look.
1. On your birthday, I hope you get whatever you desire. Wishing you a delighted birthday, man! But hey! Where's the drink?!
2. You deserve only the best, so here's hoping for beautiful moments, special memories, and blessings this year. I wish you a whale of a time on your birthday!
3. Sending warm wishes your way on this special day. I hope today brings you many blessings that will last all year long. Let's party!
4. Thank you for being my best friend. I do not doubt in my mind that you are heaven-sent. HBD. Stay blessed!
5. May this birthday be the beginning of a beautiful year for you! Wishing you all the best that life offers. Happy Birthday, buddy!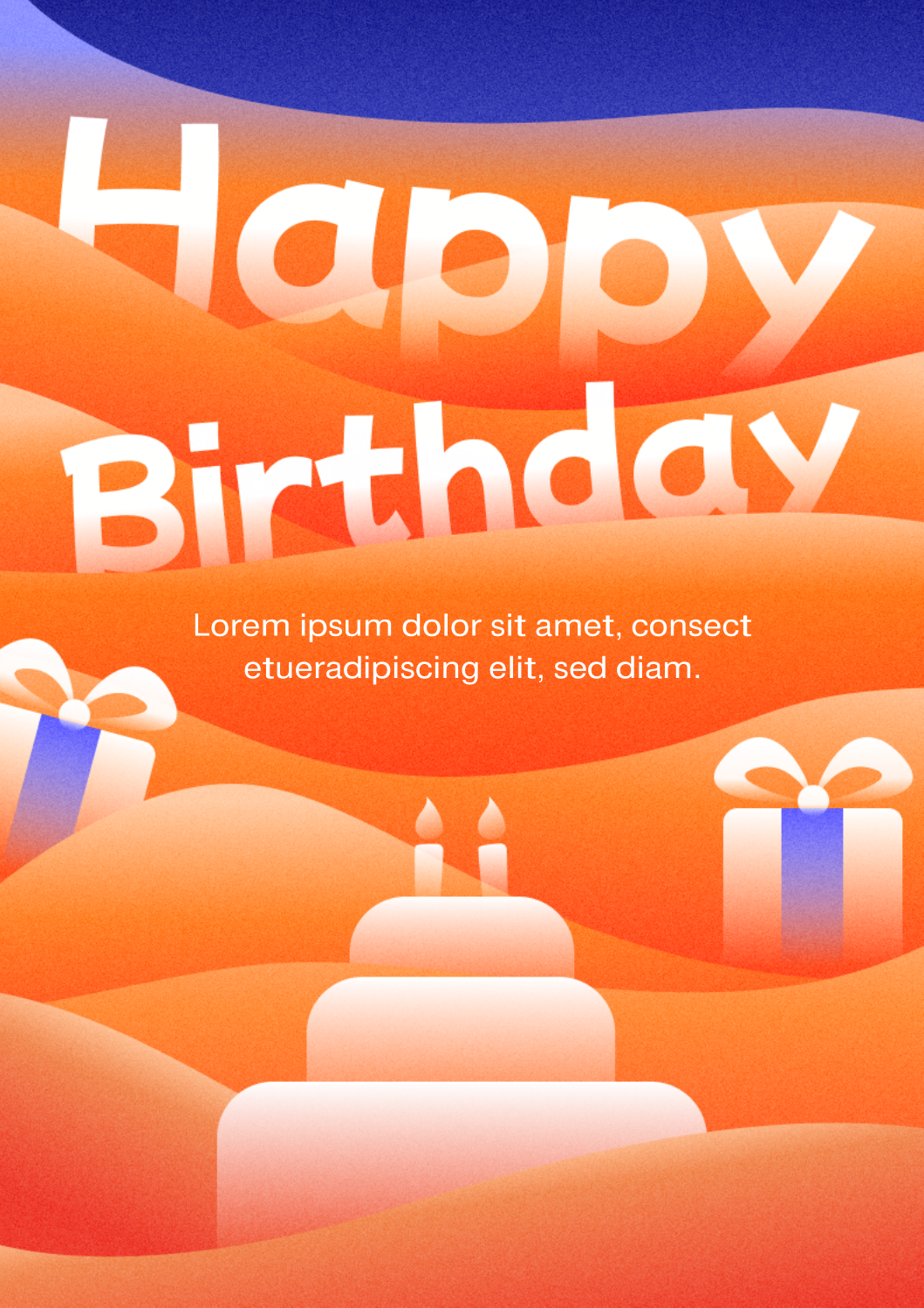 Use the Read-made Birthday Wishes Card for Men>>
6. People expect you to be calm, composed, dignified, and sober at your age. Disappoint them. Have a fan-cake-tastic day!
7. Here's to celebrating one more year of a fantastic life. Have a spectacular birthday today. Happy Birthday! Have a beautiful day.
8. Wishing you many more years of happiness, health, love, and prosperity. Have a perfect birthday, full of love and catitude!
9. Here's raising a glass to your special day! May today be as wonderful and special as you are. Happy Birthday, man!
10. Wishing you a very happy and joyous birthday! May today bring all that makes you smile and fill your heart with love. You are the icing on the cake of life – sweet and oh-so-special! Happy Birthday!
Now, make an easy birthday card for your male friend by writing happy birthday wishes for a man and easily change the text in a PDF card with SwifDoo PDF.
10 Heart Touching Birthday Wishes for Men
If you're stuck for ideas to express heartfelt feelings and write heart-touching birthday wishes for men, these ten happy birthday for men wishes can help you add extra joy, happiness, and smiles into any man's life. Take a moment out of your day and show him how much you care and appreciate his small efforts through these heartfelt birthday wishes for men.
1. Happy Birthday man! You're more than a friend – you're family in the truest sense of the word.
2. Happy birthday to the man who fills my life with happiness and love! May all your dreams come true, and your heart be filled with joy. Keep shining and spreading positivity with your aura!
3. I hope your special day brings you everything that your heart desires! May you achieve all that you ever wished for. I wish you a day full of pleasant surprises and fun! Happy Birthday!
4. Happy birthday to my favorite person in the world! Coffee/drinks are on me! Let's party!
5. To quote Shakespeare: 'Party thine ass off!' Sending you smiles for every moment of your special day. Have a wonderful time and a great day. Happy birthday, man!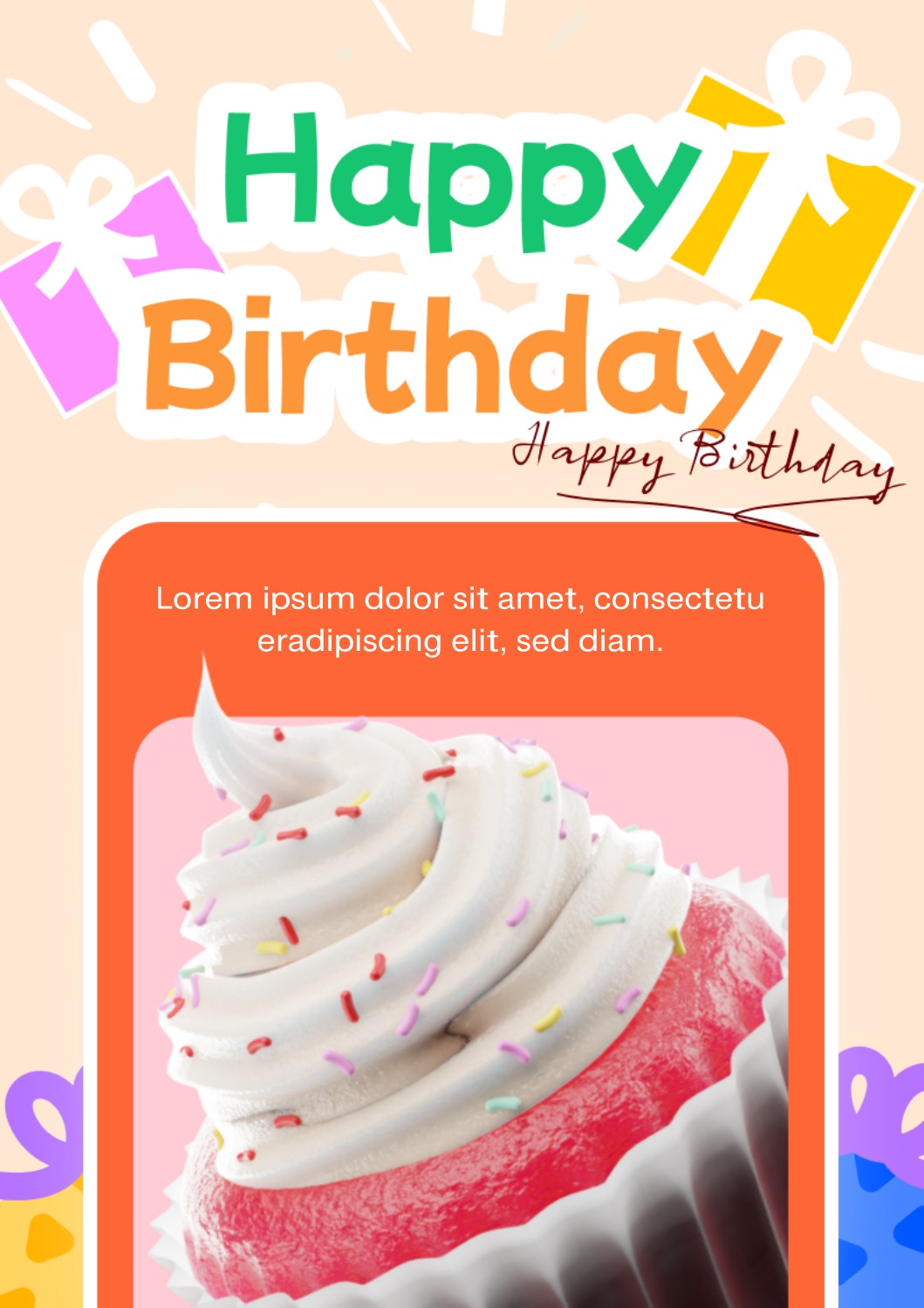 Download the Birthday Wishes Card for Men >>
6. It's always a treat to wish a very happy birthday to someone so sweet and special. Wishing you a beautiful day with good health, prosperity, and happiness forever. Happy birthday, Alex!
7. From beginning to end, I hope this birthday is your happiest ever. I wish you a happy and healthy year ahead! Happy Birthday!
8. On this special day, I raise a toast to you and your life. Sending your way a bouquet of happiness, joy, and fun to wish you a very happy birthday man!
9. To someone who adds color and sparkles to every day: Happy Birthday guy! Your radiance is contagious.
10. On your special day, I wish you were surrounded by all the smiles, joy, love, and laughter you bring to others. Happy birthday to a truly remarkable person.
Write these heart-touching happy birthday wishes for a man and convert the PDF card to a PNG image with SwifDoo PDF.
The Bottom Line
We understand that coming up with all the hearty jokes and messages can sometimes be challenging. But we hope you have found the perfect happy birthday for men wishes to use for the men in your life, whether young or old. Write a message on the birthday tag with the gift beside your name this year. Or a better idea would be to do something creative, like make a birthday card with our listed happy birthday wishes for men and surprise them to bring a smile to their faces. Of course, the SwifDoo PDF creator can be valuable to create a card from scratch or use free templates and get it printed.