Introduction:
While many people prefer PDF files for information exchange, images are more convenient to check and share in some cases. Therefore, there are times when we wish to convert PDF files to images. Regarding the conversion result, you may hope to
convert PDF to PNG
(
Portable Network Graphics
), a lossless image format. Then do you know how to convert PDFs to Portable Network Graphics images?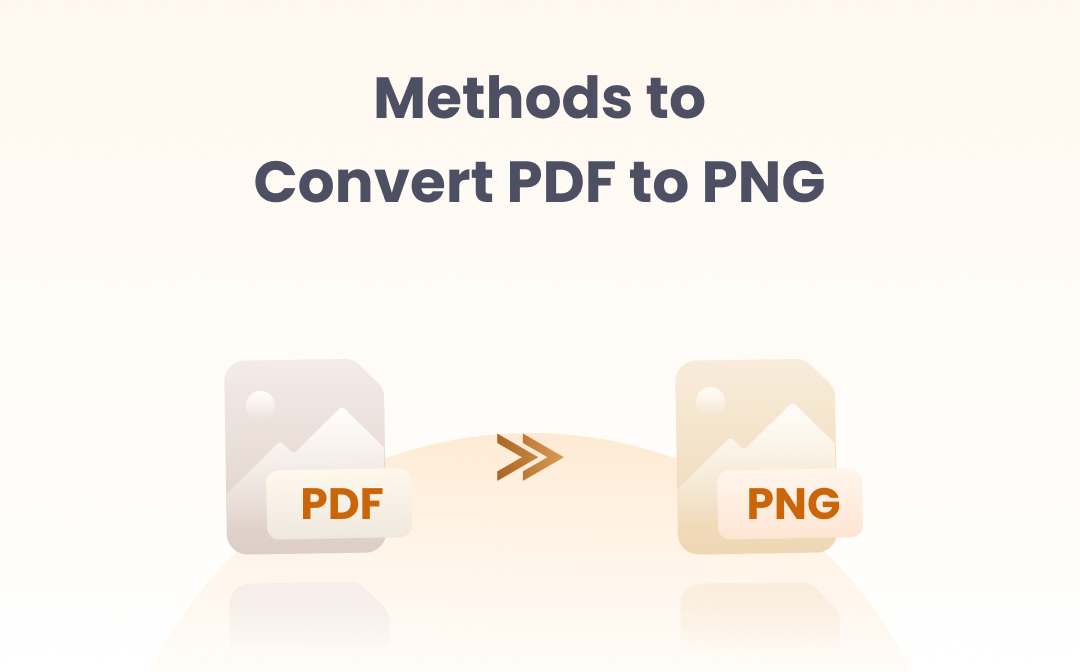 In this post, we will introduce the 3 best PDF to PNG converters along with how-to guides.
What Programs Can I Use to Convert PDF to PNG?
There are heaps of programs that can help convert files between the two formats, but choosing the right one should consider many factors. First and foremost you should know the compatibility of the PDF to PNG converter.
If your device comes with Windows OS, SwifDoo PDF is sure to meet your needs. For Mac users, you do not have to install another PDF software as there is the native application, Preview, to work with. What about other options? Regardless of Windows or macOS operating system, a cloud-based converter like CouldConvert is always useful.
Let's dive into how to convert PDF to PNG with these programs.
Convert PDF to PNG with SwifDoo PDF
With state-of-the-art conversion technology, SwifDoo PDF enables you to easily convert a file from PDF to Portable Network Graphics format without losing quality. You can turn every page of a PDF document into an individual PNG file, or change a multi-page PDF to one image. If it's not necessary to convert the entire PDF, simply select specific pages for processing. SwifDoo PDF also lets you batch convert multiple PDF documents to Portable Network Graphics files at once.
Find out how to convert PDF to PNG format on Windows PC.
Step 1: Free download the SwifDoo PDF program, open it and import the PDF you need to convert to PNG;
Step 2: Navigate to the Convert menu, then choose PDF to Image;

Step 3: In the SwifDoo PDF Converter dialog box that appears, click Options to select Each Page in a Separate Image or Selected Pages in an Image File;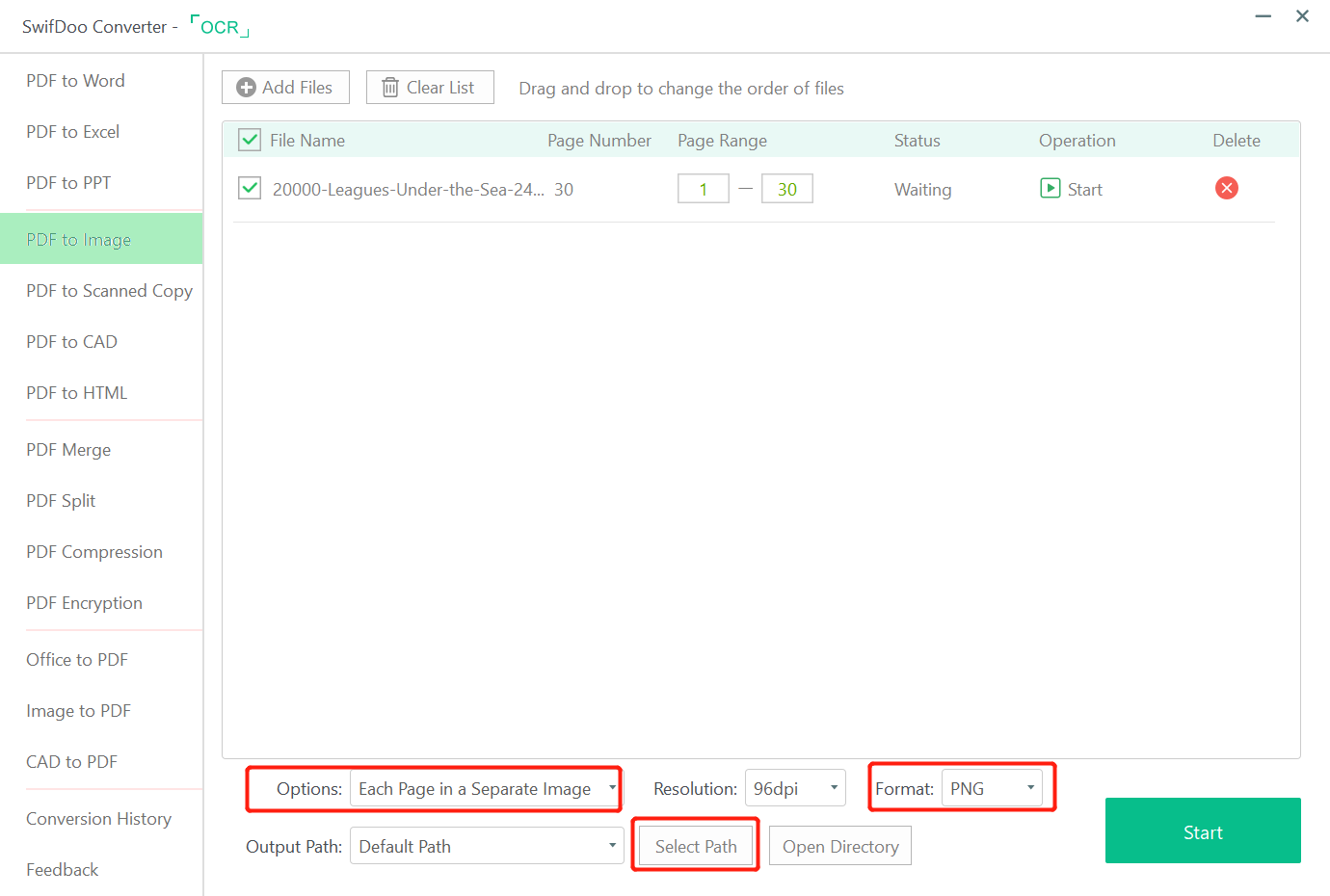 Tips:
Within "SwifDoo Converter", you can click "Add Files" to add more PDF files that you wish to batch convert to PNG images at once. Type page numbers into the box under "Page Range" to convert certain pages in a PDF to Portable Network Graphics images.
Step 4: Choose PNG as the output image format, and specify a folder for saving the images. Pick your needed resolution and hit Start.
In just 4 steps, you can save a PDF document as one picture on your computer, or export the multiple pages in the PDF as separate PNG images. A batch of PDFs is converted to Portable Network Graphics files within seconds.
SwifDoo PDF is definitely the PDF to PNG converter you want, which can perfectly work on Windows 10, Windows 7, Windows 8, and 11. To be specific, SwifDoo PDF is an all-around PDF program that can also edit, compress PDFs, convert images to PDFs, and more. For converting PNG to PDF, please read the post below.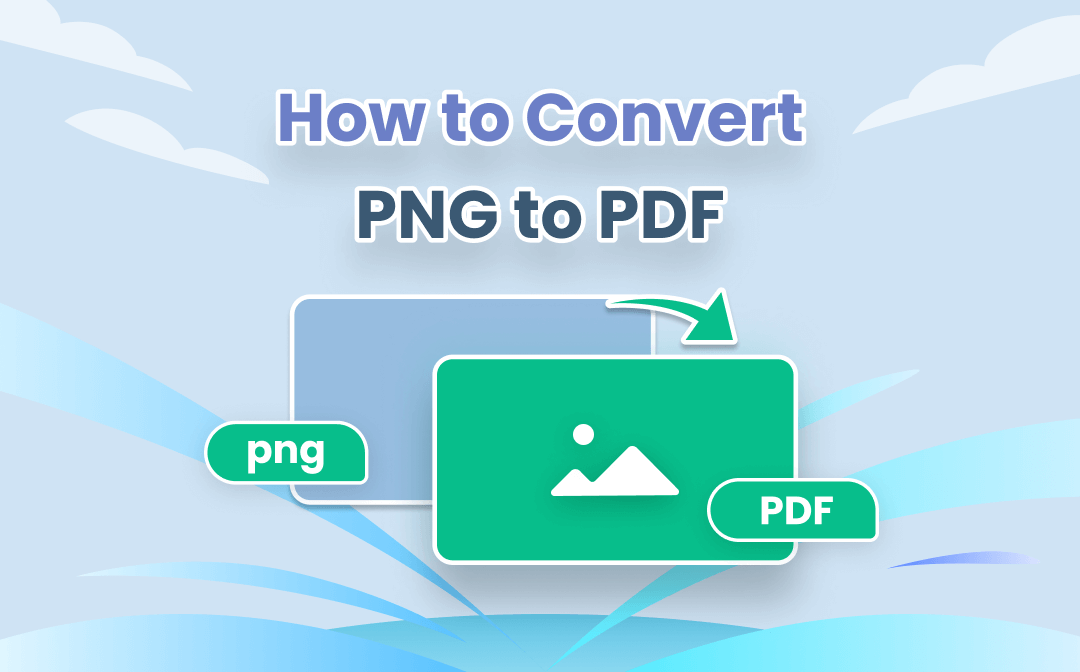 4 Methods about How to Convert PNG to PDF for Free
PNG to PDF conversion is no longer an issue for users. The reliable PDF converters play an important role in simplifying how to convert PNG to PDF.
READ MORE >
What Resolution Should I Choose?
Speaking of converting a PDF to image(s), the image quality might be what you care about. SwifDoo PDF to PNG converter offers multiple resolution options for the output images. If you select "Each Page in a Separate Image" in the "SwifDoo Converter" dialog box, there are 5 resolution settings: 72dpi, 96dpi, 200dpi, 300dpi, and 600dpi. When you choose "Selected Pages in an Image File", the PNG images can be saved at 72dpi or 96dpi.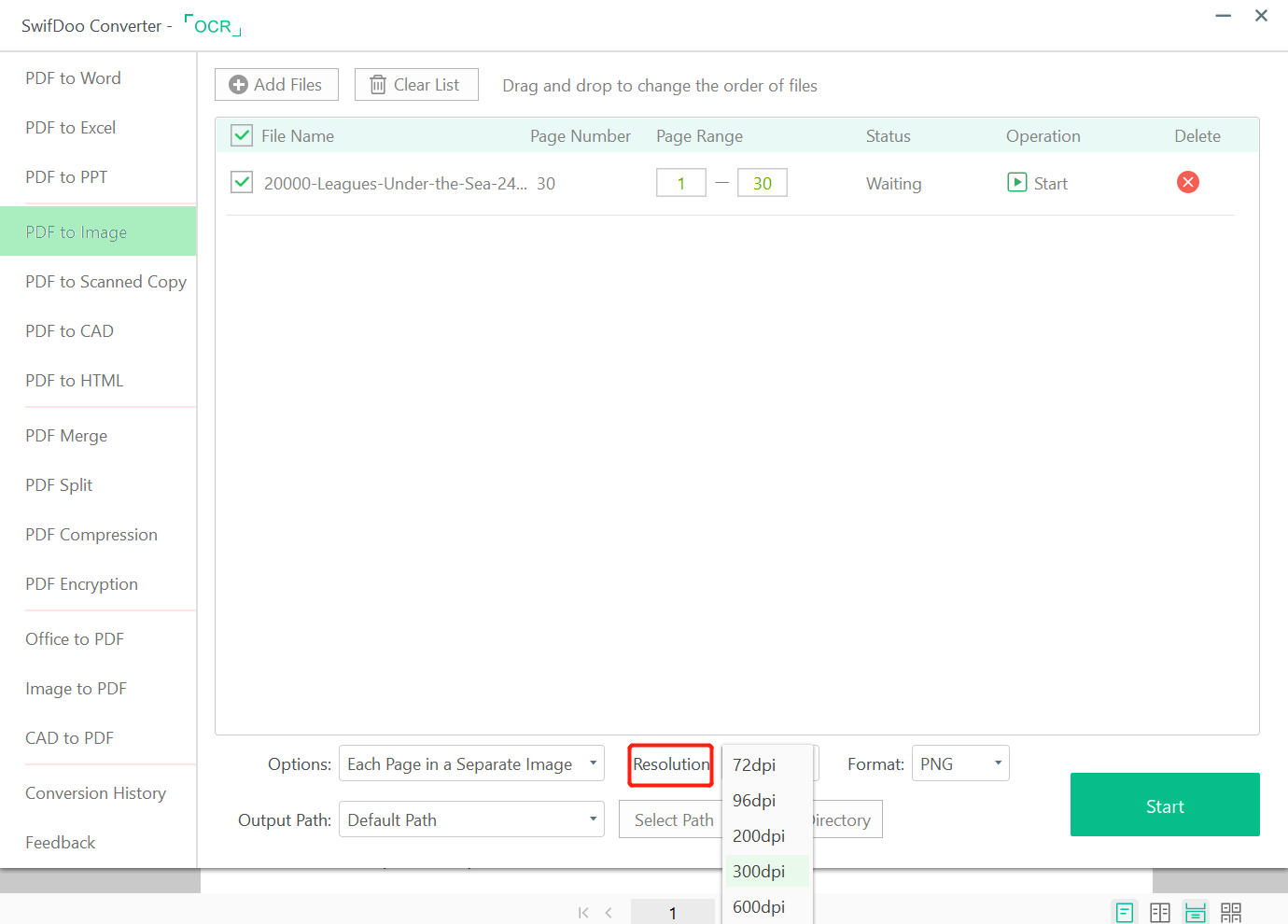 The higher the resolution, the better the image quality is. But higher resolution means a bigger file. 72dpi and 300dpi are the common image resolutions for web and printing. Depending on your space and need, you can choose the most suitable resolution for your Portable Network Graphics images.
SwifDoo PDF released a web version recently, and you can convert your PDF files to another format online for free now. The online service allows users to convert 2 files every 24 hours, and sharing the online converter page on Facebook or Twitter will bring you one more chance. Check how to convert your PDF to PNG image(s) online.
Step 1: Tap PDF to Image on the left side of the converter page;
Step 2: Click Choose file to upload your PDF;
Step 3: Download the zip file with converted Portable Network Graphics images.
Convert PDF to PNG with Preview
After learning the how-to guide on Windows, next, we start to explore the method to convert PDF to PNG on Mac. The built-in application on macOS, Preview is helpful for converting PDF files to Portable Network Graphics images. It also allows users to convert PDF to other formats (JPEG, TIFF). In addition, this feature-rich tool enables you to annotate, merge, and sign PDF documents when needed.
Here is the instruction on how to convert a PDF file to PNG images with Preview on Mac.
Step 1: Right-click on the PDF you need to convert and choose Open With, Preview;
Step 2: Go to File in the Preview app, and select Export in the drop-down list;
Step 3: In the pop-up dialog box, choose the image format. Enter a value to set the image resolution such as 72 pixels per inch or 300 pixels per inch;
Step 4: Select a folder to save the exported image. Click Save to convert the selected page in the PDF to a PNG file.
Preview provides a quick and free way to convert a PDF page to a PNG file for macOS users. With this freeware, you don't have to download or install an external application. But this native tool can not convert a multi-page PDF to multiple individual images at once, or convert PDF files in bulk. If you have the need, an online PDF to PNG converter in the next paragraph comes in handy.
CloudConvert Online Converter
CloudConvert is a free PDF to PNG converter and it also supports conversion between various types of files such as audio, video, image, PDF, and so on. Using it, you can batch convert several PDF documents to PNG images without downloading or registering an application. When the need arises, CloudConvert allows you to convert PDF to WEBP, JPG, Word, HTML, and more formats.
Let's take a look at how to make a PDF into a PNG.
Step 1: Enter into the converter website, and click Select File to upload the PDF documents that you want to convert to images;

Step 2: Choose the output format. Hit the wrench icon to open the Options dialog box, where you can specify which PDF pages to be converted. Set resolution or pixel density;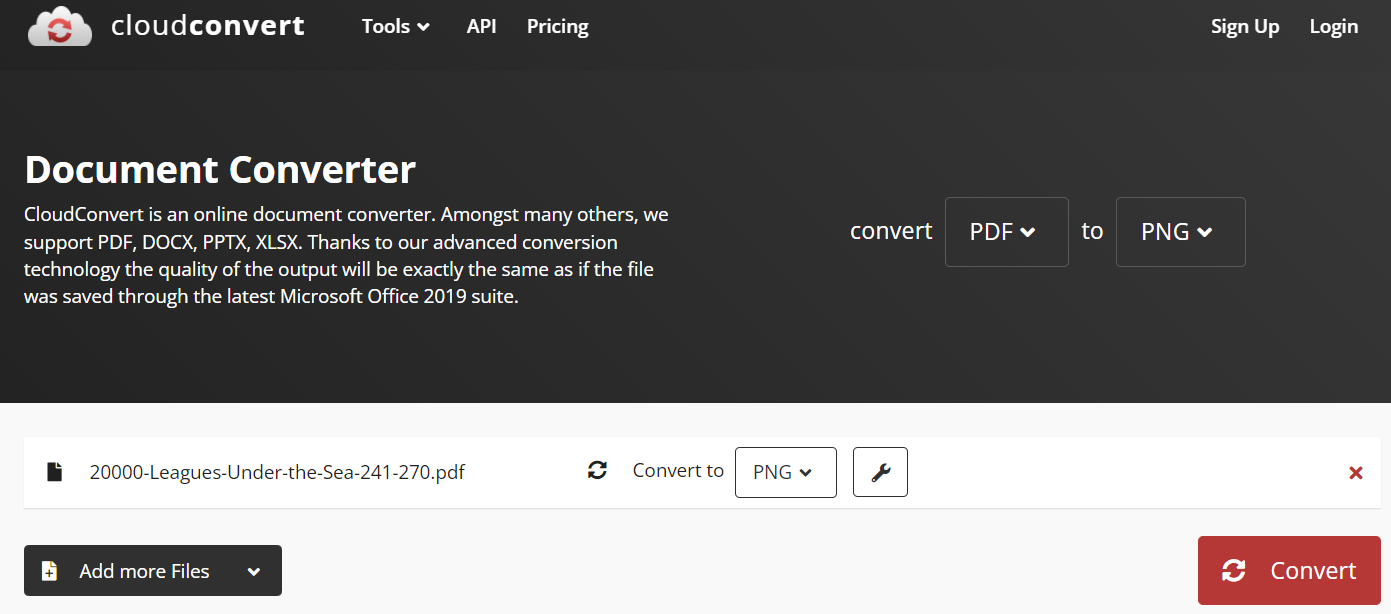 Step 3: Press the Convert button to start the conversion.
After the PDF documents have been converted to Portable Network Graphics files, click "Download" one by one or "All Files" > "Download All" to get the images in zip files.
The online PDF to PNG converter is free to use but has a limit of up to 25 files you can convert per day. The best part about it is there is no size limit for files. Concerning file security, all the uploaded files will be automatically deleted from the server within 24 hours.
Tips:
If you need to convert your PDF to PNG images with a transparent background, you can choose "Yes" in the "Alpha" section within the "Options" dialog box to render the pages with an alpha channel and transparent background.
Conclusion
With the help of a powerful PDF to PNG converter tool, it is as easy as pie to change PDF documents to PNG image files. If your computer is running a Windows operating system, then look no further than SwifDoo PDF. For Mac users, make use of Preview or online software.
SwifDoo PDF is an all-in-one application, which not only allows users to convert PDF to image but also enables you to convert PDF to Word, Excel, PPTX, and more formats. Furthermore, like what you can do in a Word file, you can use SwifDoo PDF to edit, annotate, and add text and hyperlinks to the PDF. It is your