Introduction:
When someone close turns a year older, you do everything to make their day memorable. This year, write to your grandson unique birthday wishes to show your love in different ways depending upon your bond with your grandson. These birthday wishes for grandsons can be used on Facebook, Instagram, WhatsApp, or a virtual card.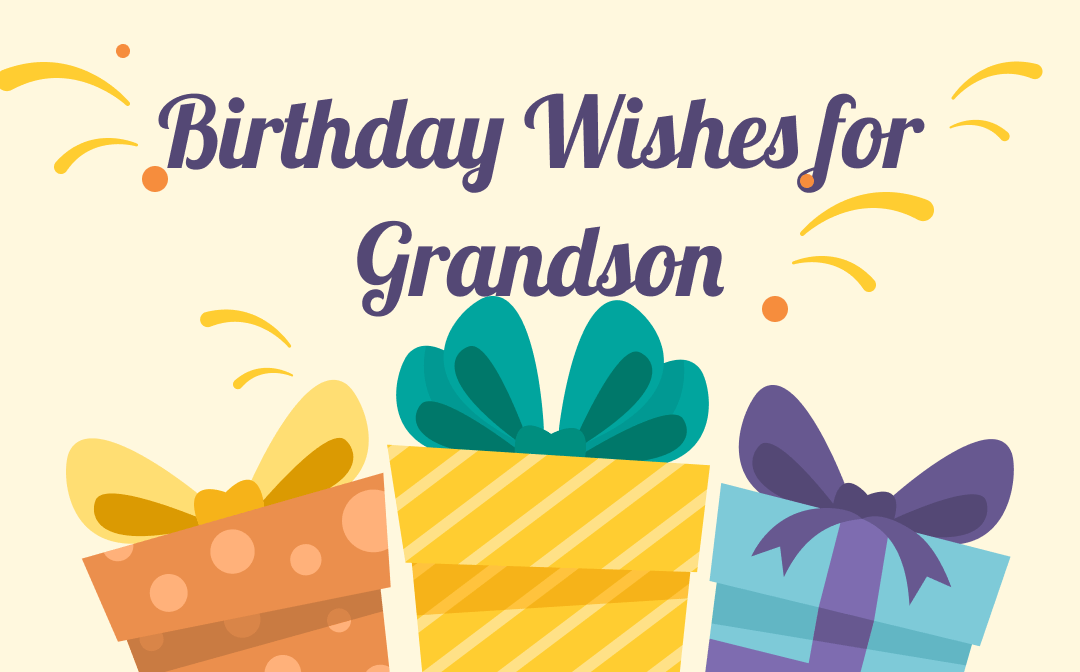 When you wish a happy birthday to your grandson by writing the best wishes and greetings on a birthday card, SwifDoo PDF is your ideal tool to help. It allows you to get the card easily edited or printed. We have thoughtfully penned 40 happy birthday wishes for grandsons in this blog post. Stay with us for a heartwarming birthday greeting collection.
15 Birthday Wishes to Grandson from Grandmother
You can write birthday wishes for a grandson regardless of how many years old he is. After all, they never fade with time. You can express how much you love and support him. Let him know how great he is and more. Check out the 15 unique birthday wishes for grandsons to make your grandson's birthday more memorable and special.
I don't think there is a grandma who loves her grandson as much as I love you. Enjoy your special day and party hard. But visit more often. Happy birthday, my great grandson!
Best wishes to my dear grandson. I hope my wish finds you in good spirits. I love you to the moon and back. Enjoy your day to the fullest, and reserve some cake for me, too.
I want to give you a big and wide hug on your special day. I wish you a wonderful birthday and a lifetime full of happiness.
You are really the champion of the world. I am grateful to be your grandma. Happy birthday to my grandson!
It's an honor to become a grandparent. But it's even more special with a grandson like you. Have a happy and blessed birthday. Happy birthday, my dear grandson. Enjoy your day.
Happy Birthday! We will always be here for you, just as you've been for us. Much love and warm hugs.
You have grown up as a man of integrity and nobility. I look forward to a celebration worthy of a man of your class. Happy birthday, my grandson
You're a brilliant and the brightest star. I'm so glad that you're a part of our universe. Have a happy and blessed birthday, grandson!
Thank you for always being my wonderful grandson. I hope you find reasons to remain happy. Happy Birthday.
Even at such a young age, you have accomplished so much. I am so proud of you. Happy 20th birthday, grandson!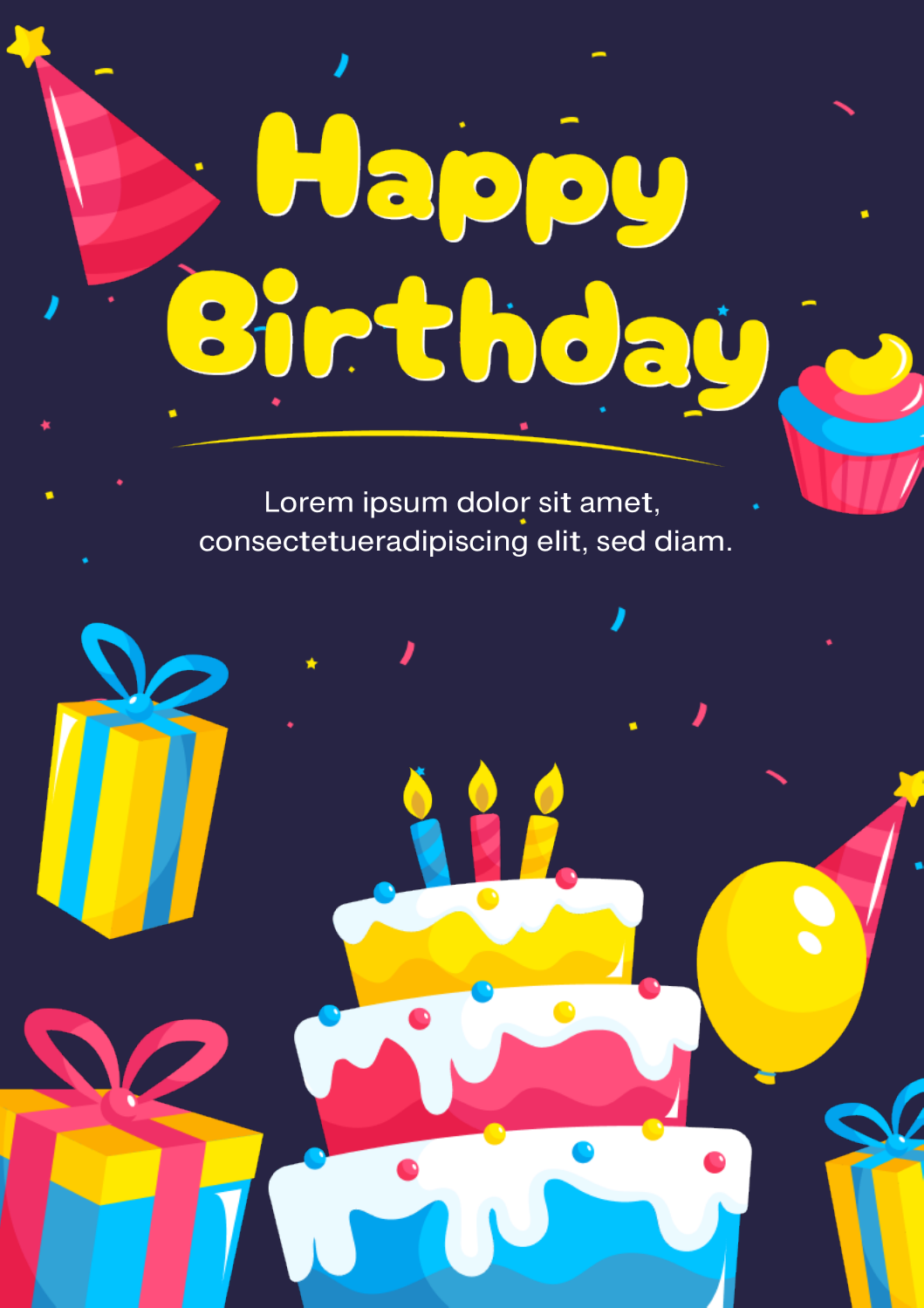 Download The Free Card to Write Birthday Wishes for Grandson
I'm blessed with a bright, funny, and loving grandson who fills my heart with joy. Happy Birthday, my Rockstar!
Allow life to surprise you; you'll always be the happiest person on earth. Happy birthday, my beloved grandson. The best wishes to you.
Grandsons are rare, and I feel blessed to have you in our lives. You'll always be our little prince, our little baby. Have a happy birthday, little one.
Having a grandson has been one of the biggest blessings in my life. I wish you stay blessed and cheerful always. Happy Birthday.
Happy Birthday to the best grandson any old grandma could ask for. You always light up a room with your warm smile.
These birthday wishes for grandsons are no less than a treat, especially from his grandmom. You can even be creative and design a free card template to impress your grandson with free offered and your favorite birthday wishes quotes. SwifDoo PDF editor allows you to replace and change the existing text in the PDF template as easily as in Word.
10 Funny Birthday Wishes for Grandson
Birthdays are meant to be full of fun, cheer, and joy. Our birthday wishes for grandsons will surely add a cherry to his cake, especially when they come from his beloved grandparents. Check out to send these ten giggly and funny happy birthday wishes and messages to your grandson and add doses of laughter on his special occasion.
As you bid adieu to your youth, don't let the fact that you are turning old. Try to live life like a child that you were ten years ago—happy birthday to our grandson.
Grandson, keeping up with you requires more than youth; I need a spaceship. I am just joking. Happy Birthday, my grandson.
Hey, hot and sweet boy of ours! We remember your birthday and are excited to add spice to your celebration today! Everlasting love, your grandparents.
My love and blessings for you are as strong as Iron Man. Happy birthday, dear grandson.
Sending you Spongebob as a birthday gift as you have been such an adorable grandson to me. Happy birthday, my couch potato!
Dear Grandson, I knew you were "trouble" the first time you asked for a brownie and demanded I bake more. Sending brownies and birthday wishes for my grandson.
I came for the free cake. Hanging out with such an awesome person is just a bonus. Happy birthday, my grandson!
Happy birthday to someone intelligent, gorgeous, funny, and reminds me a lot of myself. Happy Birthday, John!
It's odd how I find your antics humorous, but when my children did the same things, I was not amused. Happy Birthday, my dear grandson!
Cheers on your birthday. One step closer to adult underpants. Happy Birthday! Sending you warm hugs and blessings, my grandson.
Get This Birthday Card for free
These birthday wishes for grandsons will fill his day with happiness and fun. Show your great grandson the love you have with these birthday wishes, and feel free to customize and edit a PDF card, like adding more text to the PDF.
10 Christian Birthday Wishes for Grandson
Seeing your grandson celebrate his birthday is joyful for any grandparent. You can appreciate him by sending Godly and religious birthday wishes for a meaningful life. Here's a list of 10 religious and Christian birthday wishes for grandsons.
May God's love always be the comfort for your life. Sending my great grandson birthday wishes.
Hope you live a fulfilled life in the Lord. May you enjoy the coming year in peace and with lots of love. Happy Birthday!
May this day you grow up knowing your God-given role in life. Happiest birthday to you.
Dear Grabdson, you are a priceless gift to us. May the grace of God lead now and always.
May the coming year come with God's new mercies to help you become a great person. Have a lovely and memorable birthday
Seeing you grow is a blessing in my life. I pray that God will guide your life. Happy Birthday!
I wish you another birthday year filled with God's love, peace, and favor. Happy Birthday, grandson.
On each passing day, may you find the best ways to discover and embrace the best plan for your life.
I hope the coming year will be a time for you to become stronger, wiser, and happier - Happiest Birthday to my dear grandson.
On your special birthday, I wish you a fantastic birthday overflowing with God's blessings.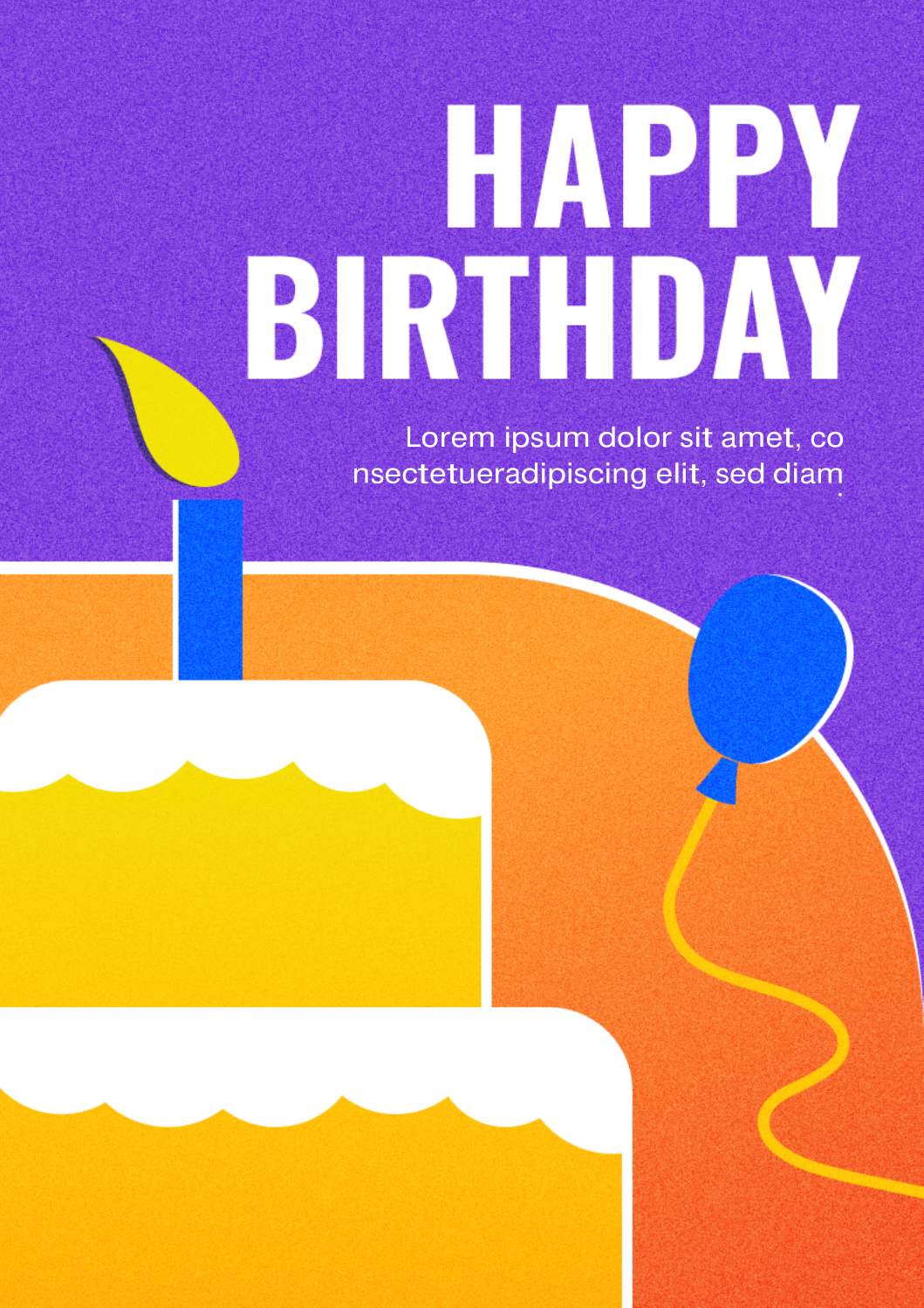 Save this Free Birthday Wish Card
5 Birthday Wishes for Teenage Grandson
Teenagers are in a transitional phase of growth and development. These free happy birthday wishes for grandsons will brighten up his day. Check out some thoughtful and sweet birthday wishes for your teenage grandson, like 10 to 19 years old, to use as an inspiration.
You're the sweetest and most incredible dude I know. The one who makes me feel energetic. Thank you for keeping me close to your heart. Have a blessed 14th birthday, my dear grandson.
Dear grandson, you are that extra in our ordinary lives. Have a happy 15th birthday!
I am happy to share this day with you, my grandson. You are amazing, and I hope you grow with grace and courage.
You are the best grandson across all continents and kingdoms. Happiest 10th Birthday, my sweet child.
Happy birthday to the most awesome grandson born to achieve success in all walks of life. You are a perfect boy, so continue doing what you do.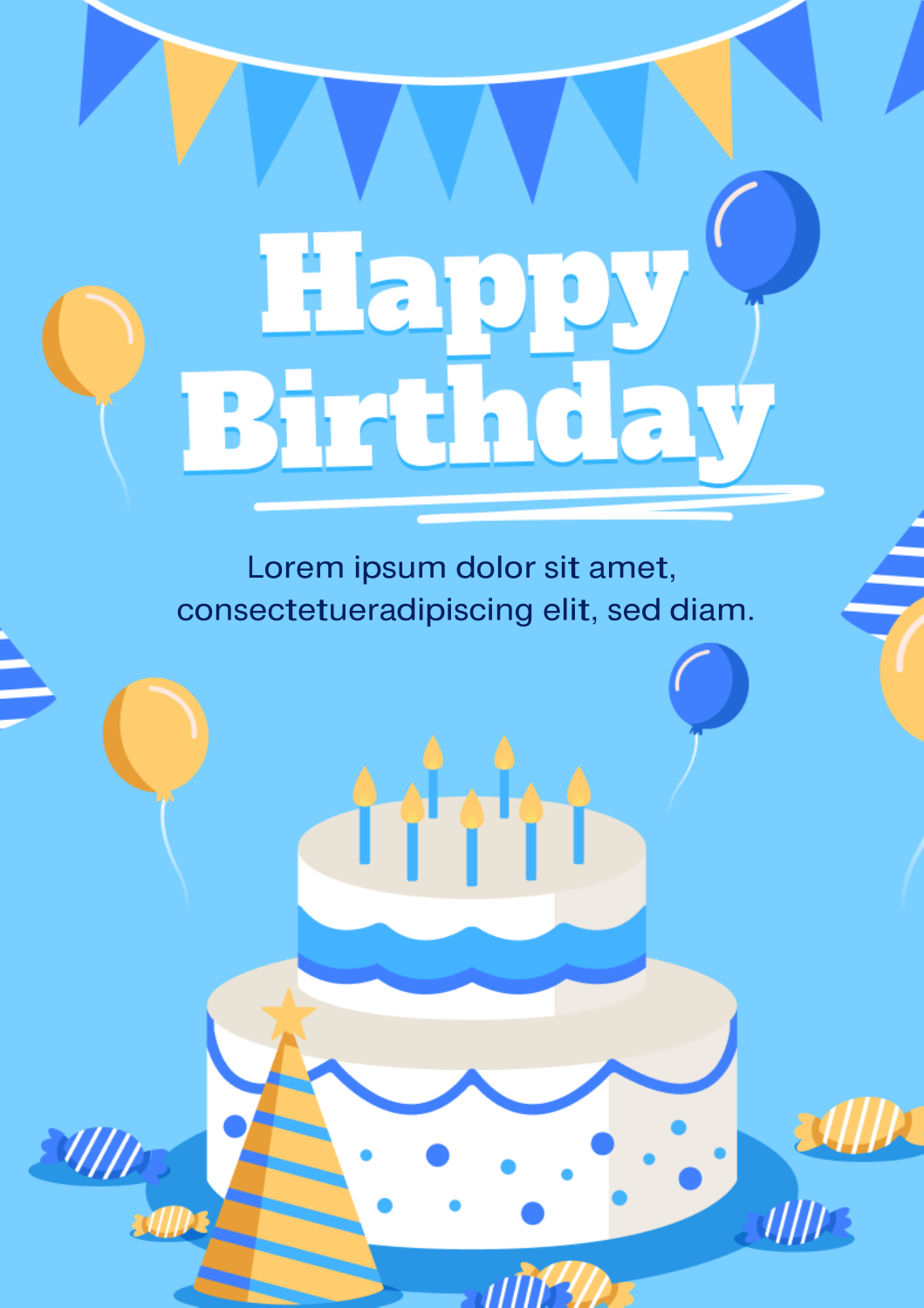 Download the Free Card Template
Birthday wishes for grandsons from grandparents are always special as grandkids share a special bond with them. You can write and print these wishes for extra sweetness.
5 Birthday Wishes for Adult Grandson
Your adult grandson only deserves the best messages, just like our assorted birthday wishes for grandsons below. No matter how old he grows, he'll always be your apple of the eye. With Go's grace, you're witnessing your grandson's presence, so send these heartfelt birthday wishes for your grown grandson and make his birthday more fun-filled and joyful.
I thought I had already seen and done everything until you came, and I held you in my arms. Happy Birthday, my handsome grandson!
Looking at you now and your cheerfulness reminds me of how I used to be when I was your age—a very happy birthday to my grandson and the best wishes.
Happy birthday, grandson. I hope today brings you as much joy as I have. You make me proud, and I am so glad to be part of your life.
I had a great time being a mom to your dad. But now, I am having an even better time being your grandma. Best birthday, baby!
I do not require any medicine as I'm growing old. I need only you, as you're my medicine for every pain. Keep shining and have a memorable celebration. Happy Birthday, Jamey!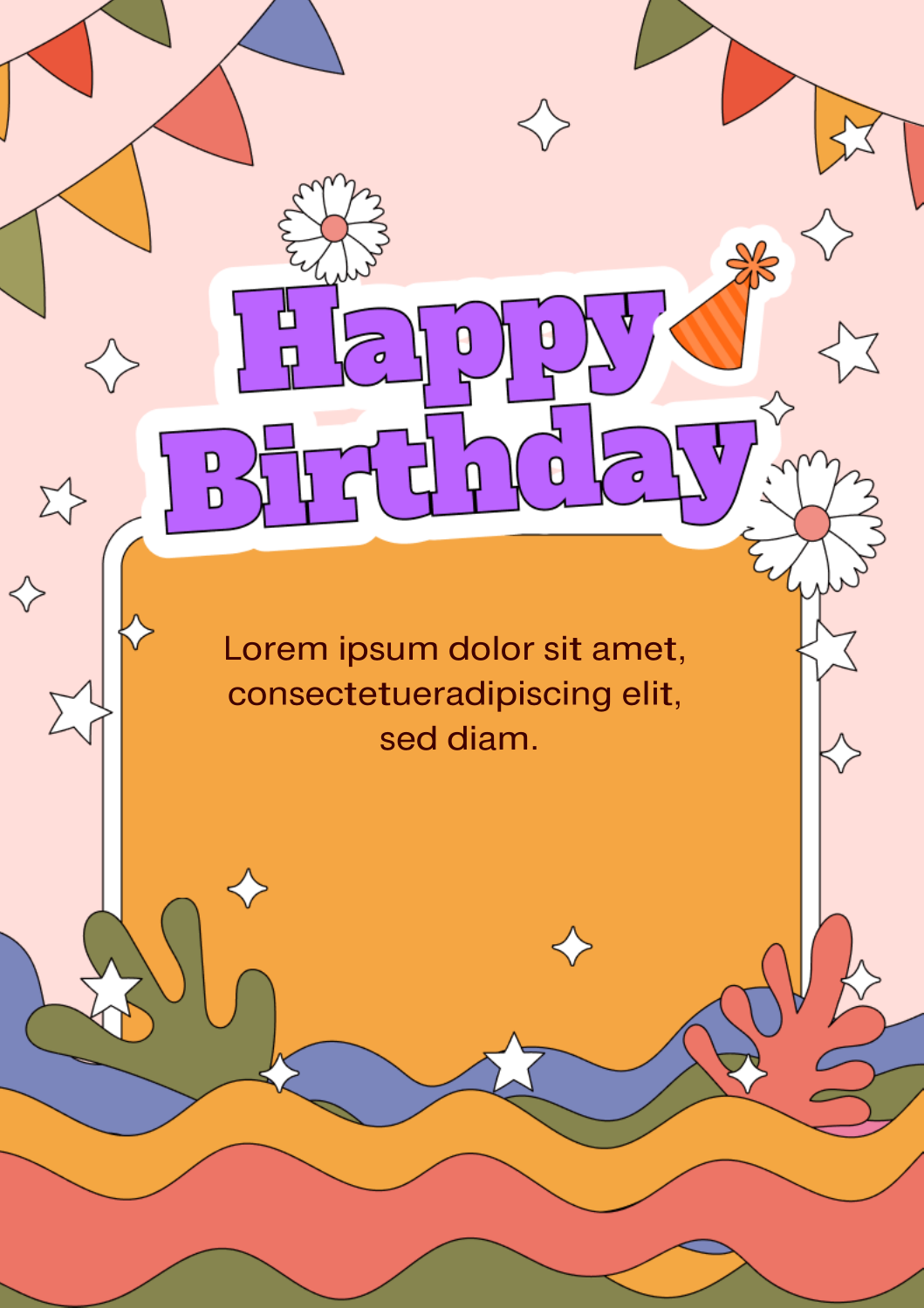 Get this Free Card Template
How to Make Birthday Wish for Grandson Card
As a grandparent, you can always walk the extra mile without actually walking. Simply pick birthday wishes for grandsons from the above lists or custom-make one, taking inspiration from our ideas. You can use SwifDoo PDF and a free template to create a sweet birthday card. The PDF editor and maker also lets you add photos to the PDF card, resize and do more to perfect them. Let a grandson know the wonderful birthday wishes from a grandma or grandfather with the handy tool.
Collect your desired birthday wishes for grandsons from our suggestions and customize them. Put them as it is on a beautiful birthday wish card. Let's see how to make one below.
Step 1: Download and launch the SwifDoo PDF software on your PC and open the card template with it;
Step 2: Choose Edit and click Edit All;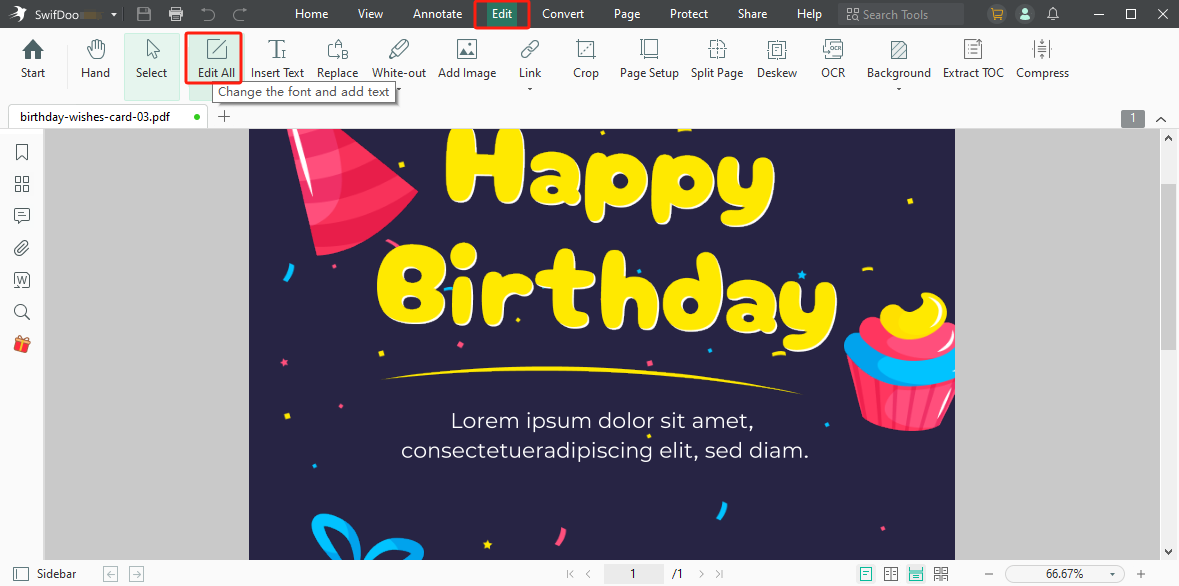 Step 3: Copy and paste your chosen birthday wishes for grandsons into the text box that appears in the PDF.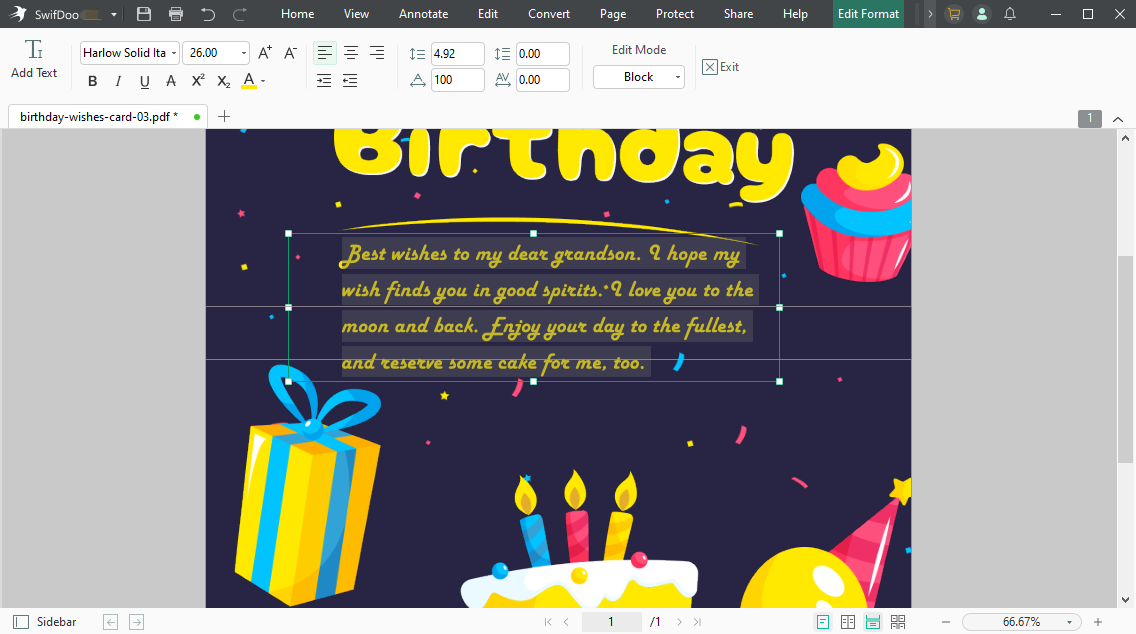 Step 4: Add an image and more birthday wishes if required, and change the image and text's properties as per your preference.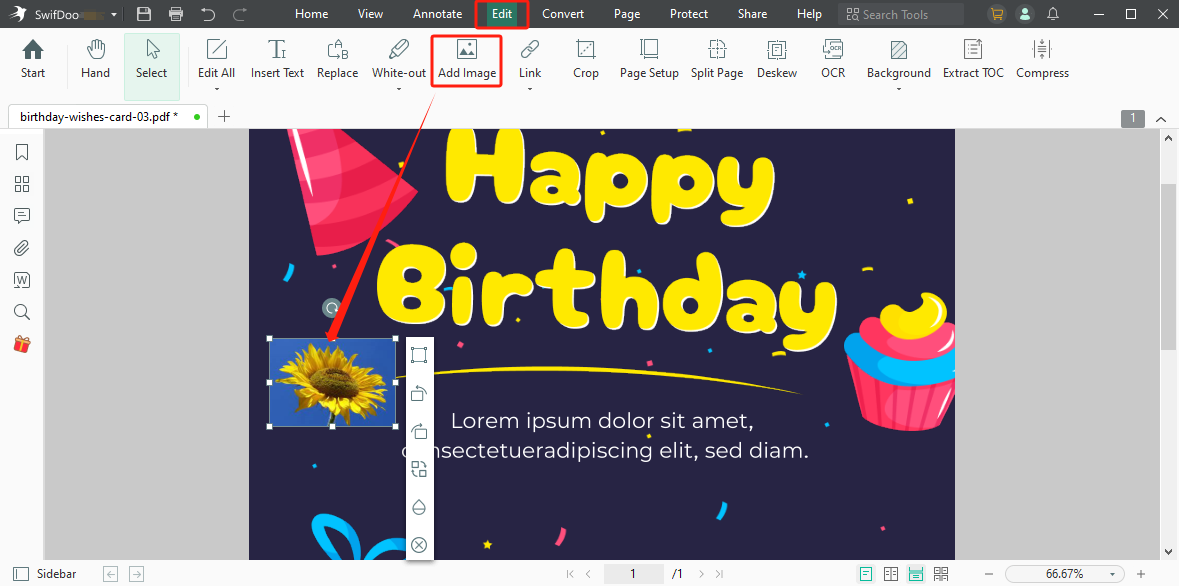 SwifDoo PDF enables you to make a card with your chosen birthday wishes for your great grandson for free with a free trial offered. The best PDF editor performs all the PDF-related activities, like creation, conversion, editing, annotation, etc., to keep your essential documents safe.
To Sum Up
We have shared funny, religious, heartfelt, and memorable birthday wishes for grandsons, regardless of teenagers or adults. You can share these greetings on his social media account or preferably get creative this year and use SwifDoo PDF to make birthday cards with its free template. Write your special grandson his or your favourite birthday wishes and give a special meaning to your care, love, and appreciation towards him.