Introduction:
Long before the emergence of digital documents, once there is a typo, you need to revise the mistake and reprint the file. Thankfully, digital documents have well resolved this resource-wasting and inefficient workflow.
In addition, many PDF programs enable users to edit or add text into a PDF file. In this article, how to add text to a PDF with online and desktop PDF products will be introduced.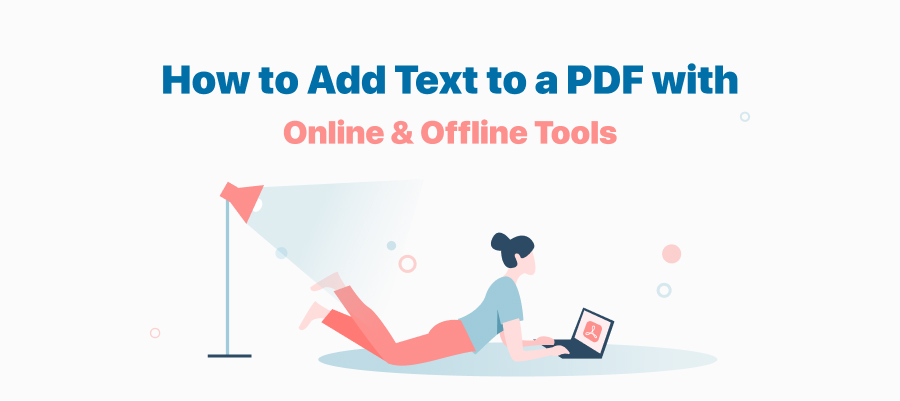 Adding Text to a PDF with Offline Tools
Text boxes are places where users can type or write something, and are thus used to draw attention to specific text. In some instances, users may need to add a fillable text box in PDF since the added sentence may be too long or extra notes for further explanation are needed. Keep reading to know how to quickly add a text box to content. Here's how to:
How to Add Text to PDF on Windows
SwifDoo PDF
As a versatile PDF product, SwifDoo PDF is also a qualified PDF editor, allowing users to easily add text to a PDF file.
Step 1: Import the PDF to SwifDoo PDF;
Step 2: Click Annotate and then select Insert Text to add a text box in the PDF.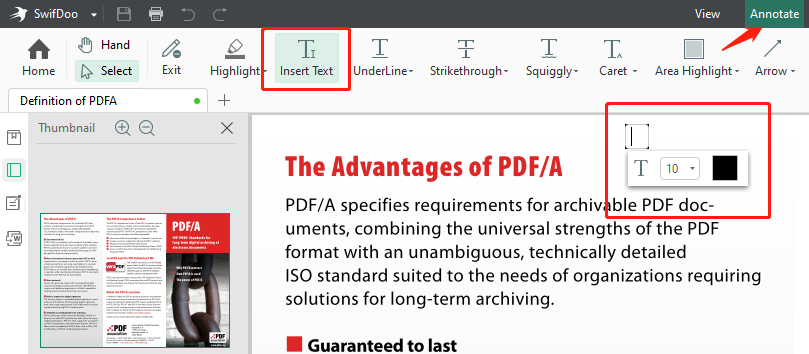 Tip:
You can choose any placement in the document to insert the text. Once you've finished drawing the box, type anything you want and change the font size or color if you need.
Adobe Acrobat
Adobe is considered as the pioneer in this industry, and its flagship product Adobe Acrobat enjoys good reputation among users. Concerning adding text and editing PDF, Adobe Acrobat undoubtedly takes the lead. Let's see how to add text to PDF with this product.
Step 1. Download Adobe Acrobat and install the program;
Step 2. Launch the software and open a PDF document with Adobe;
Step 3. Click Add Text in the tab of Tools;
Step 4. Place your cursor at the place you want to add text, and type the text within the box.
Note:
Users can add or input new text into a PDF using any of the fonts installed on the system. If you need to change the text properties, click corresponding font name, size and color. Besides, Adobe provides the features to change the character spacing, word spacing, and horizontal scaling, which cannot be done in other software.
How to Add Text to PDF on Mac
For Mac users, they can use Apple's built-in PDF editor Preview to add text to a PDF document. Generally, there are three methods to write on a PDF: insert a fillable text box in PDF and type the text; replace placeholder text in a template; and add text in a shape. The solutions to add text on Mac is provided below:
Add text in a Text Box
If you need to write on a blank page, you need to:
Step 1: Click Text to create a new text box where you can type on it;
Step 2: Move the text box to the place you want;
Step 3: Write on the box. If the size of the box doesn't fit, drag a selection handle to change the box size.
If you are in need of changing the appearance of text with the box, click font, color, size or alignment icon to change the way it displays.
Add text in a Shape
In some cases, Mac users may need to type in a shape. All you need to do is to double click the shape to trigger the insertion point and then add or edit the text.
When there is too much text to display within the shape, a clipping indicator appears. Users can select the shape and drag any selection handle to display all text.
Adding Text to a PDF with Online Tools
Some users may find it troublesome to turn to desktop PDF software because their work doesn't involve frequent use of PDF. To them, the download and installation process may be a waste of time. Luckily, we have some trusted free online PDF programs in the industry to help insert text to a document, such as PDF2GO and pdfFiller.
In addition, cloud service provider as Google Docs also allows users to online insert text box to a PDF for free.
PDF2GO
PDF2GO will give you a good user experience with regard to manage documents online. This versatile PDF editing and converting program can allow you edit, compress, merge, protect, combine and divide PDF files online.
When it comes to adding text to a PDF, PDF2GO enables users to add text, use pencil to draw, whiteout and highlight content, and draw shapes.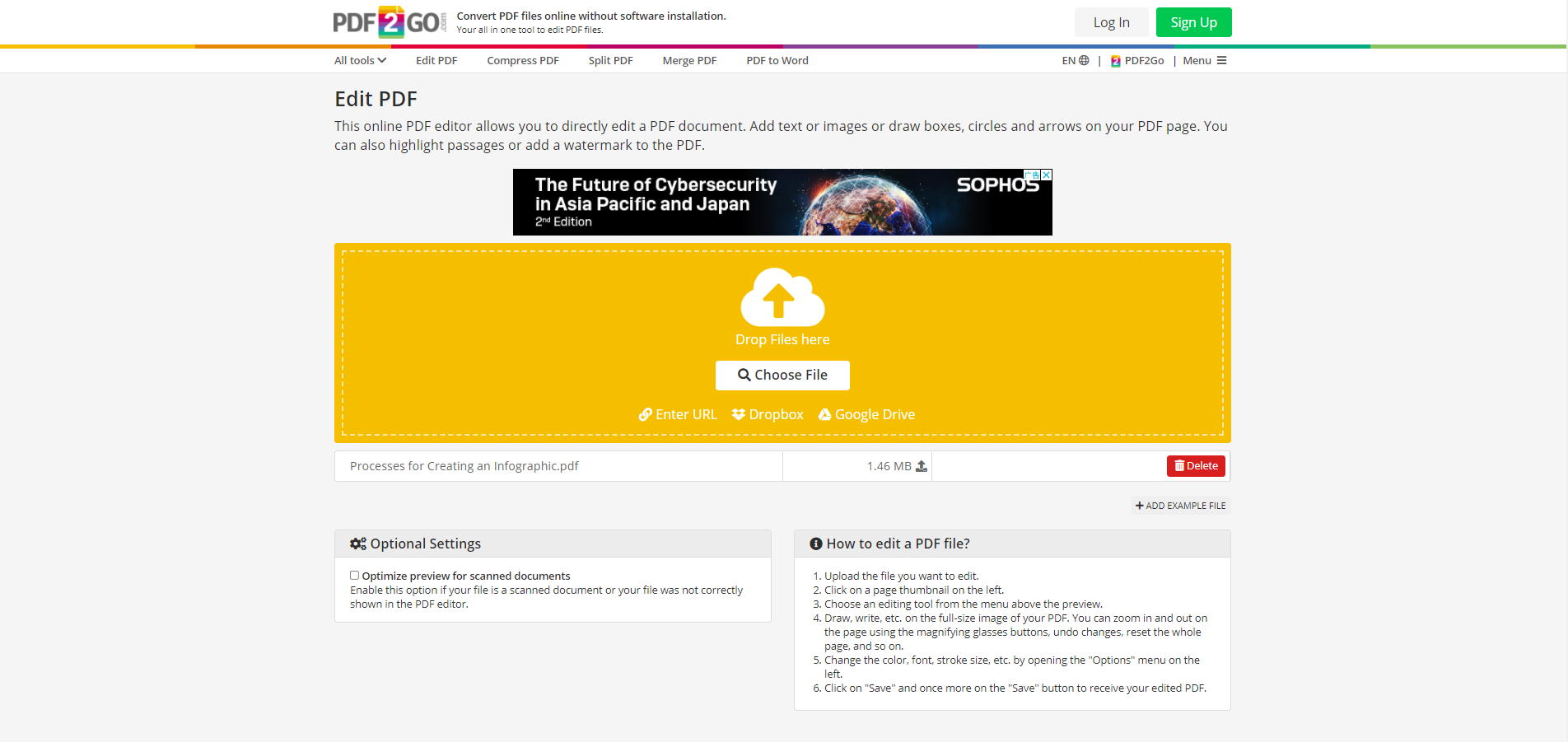 Step 1: Enter the link on the search bar, and click Edit PDF;
Step 2: Upload a PDF which needs modifying as instructed from URL, local computer, Dropbox, and Google Drive;
Step 3: Select Text and change editing options if you need (font name, size, and color) before anything else;
Step 4: Put your cursor at the place you want to add text, and when you see a text box appearing, start writing on the PDF.
If you need to change font size, be sure to change relevant editing settings before inserting a text box. Otherwise, your editing settings won't be saved.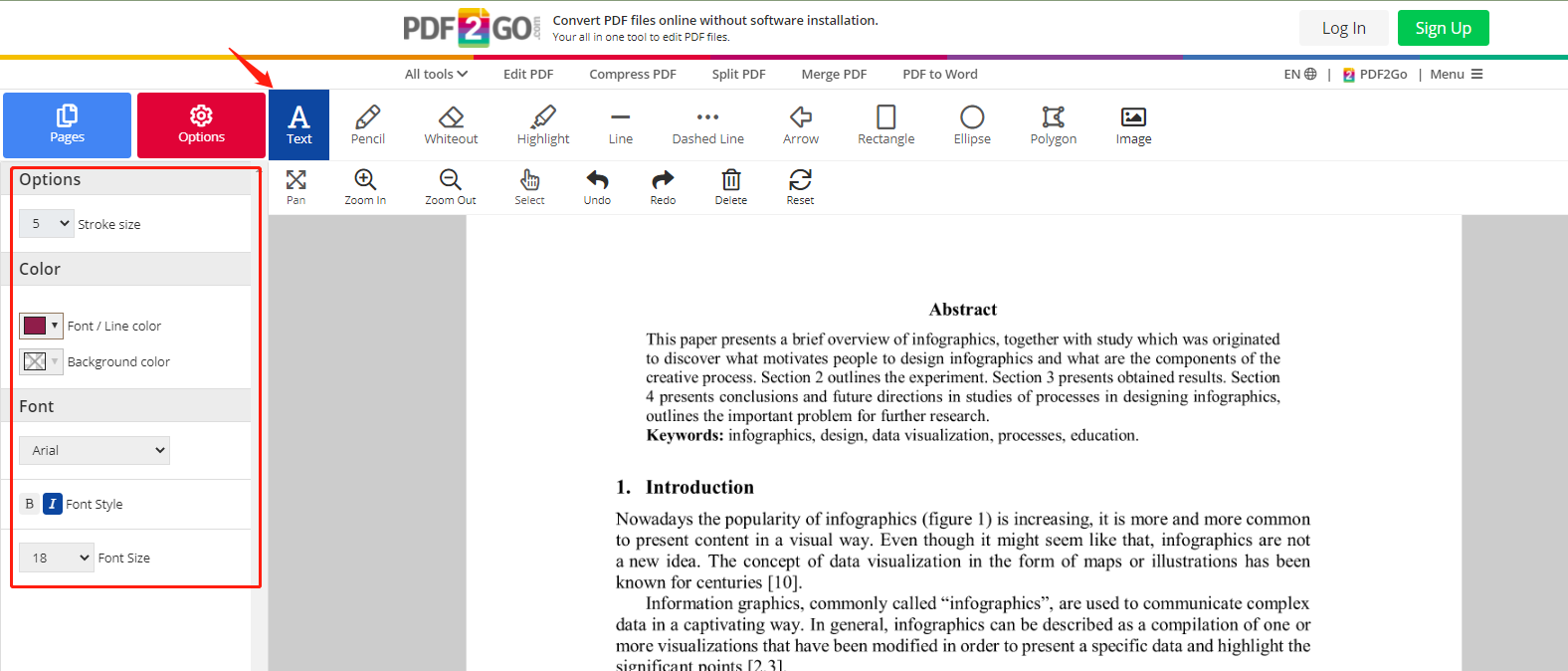 Tip:
Though PDF2GO is a good online platform to add text, it does not allow user to modify existing content on the PDF document. What you can do is to insert new text to the current file.
pdfFiller
pdfFiller is a comprehensive online document management tool which is to build paperless workflows. Based on this mission, pdfFiller has developed PDF compression, editing, conversion, sign, reordering, and protection.
Compared with PDF2GO, pdfFiller integrates much more editing features, including editing scanned PDF, adding date and sticky note as well as search & replace text.

Step 1: Open the website and upload the PDF document from Google Drive, Dropbox, OneDrive, Box, URL, email, or local device;
Step 2: Click Text to insert text box in the document;
Step 3: Put your cursor on the content that needs rewriting, and double click a certain sentence to revise it.
pdfFiller enables users to change the existing content and insert a fillable text box, which makes it a great PDF editor. What's more, you can change the alignment, font name, color, size, make font bold, and attach an external link within the editing panel.
Summary
To add or insert text into a PDF is not a tough job, all the tools we list down are easy to use.
For desktop software, SwifDoo PDF provides one-month free trial for registered users, and Adobe Acrobat' free service will last one week. Regarding online PDF programs, PDF2GO allows users to access all tools but has limitations for file size and frequency of use, and pdfFiller render free service for 30 days.
title: How do I add text to a scanned PDF document?
content: Scanned PDF document is also called "Image-only" document, and the content within is locked in images of pages without an underlying text layer. That's why this kind of PDF is not searchable and cannot be edited.
Only by performing OCR technology can you edit a scanned PDF document. Such software includes Adobe Acrobat, Nitro PDF, Soda PDF, Foxit PDF, and SwifDoo PDF.