Book is said to have a storehouse of knowledge. Since electronic print media came to light, access to books has become easier from any corner of the earth. As technological advancement is in progress, the availability of various online books has increased.
Mainly, ebooks and PDF books dominate the book world of the digital platform. If you are a newbie writer and scratching your head about which is better, you have come to the right page. We will highlight the key points of both for your better understanding.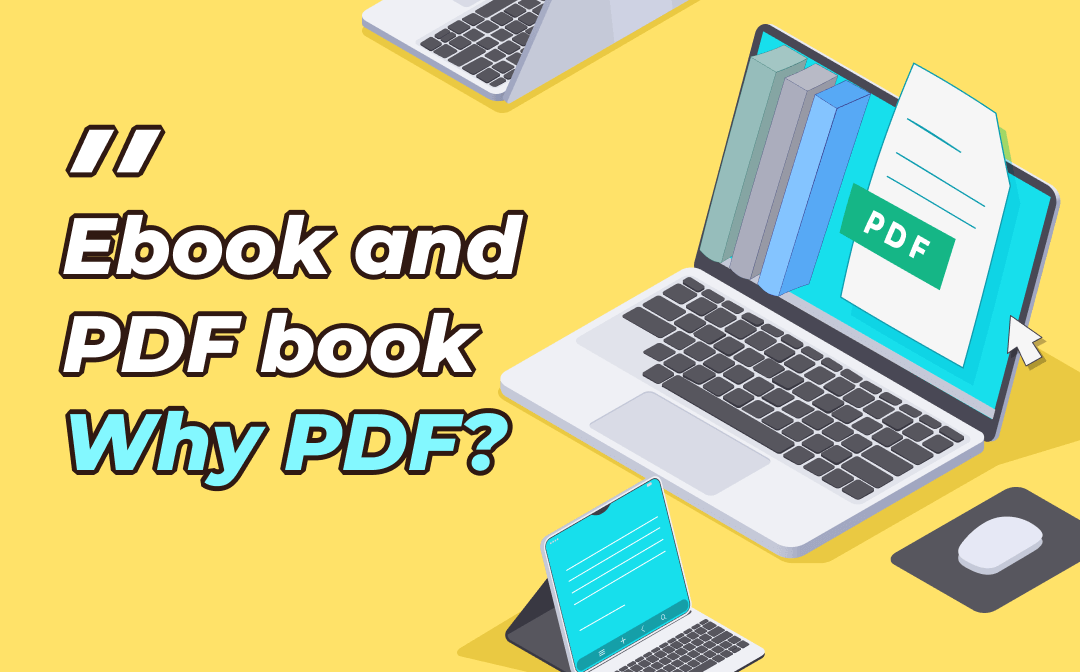 There is always a conflict between ebooks and PDF books which may end when readers reach the comfort state of book reading digitally. If you are a writer, you need to furnish the parameters, sense your readers, and finalize the publishing format. Again, you cannot figure out what you should do until you know about these two formats, advantages, and downsides.
To eliminate your dilemma, we come forward with the pinpoints of these two variations. Let's know!
What Is an Ebook?
The ebook consists of different internal structures that manipulate readers. Here, users can select the font size and colors of the page, change the line spacing, merge between lines, and many other aspects. MOBI and EPUB are quite impressive ebook formats that readers feel comfortable reading.
What Is a PDF Book?
On the contrary, PDF is a file format that a writer can use to form a book. Additionally, PDF format helps readers read the book within a standard format that comfort is an add-on facility both writer and reader can avail. This, the Portable Document Format or PDF, is essentially helpful in enjoying the reading and sharing your creative endeavor with other fellow readers.
What Are the Significant Differences between Book PDFs and Ebooks?
The ebook format is flexible to change, and the e-readers can adapt the format suitable for their accessible devices. The alignment elements like font size and colors have been modified when you open an ebook.
On the other hand, a PDF is an electronic book with a standard format that e-readers cannot change as per their needs because it's a rigid set file that contains a standard layout and design which is unchanged in any browser and device. However, it's easy to download and store.
In an ebook, readers need to change the format, but the layout is readily available in PDF for the readers despite accessing from any device or browser. Thus, PDF books consider an e-reader-friendly medium through which readers can enter into the world of knowledge.
The Benefits of Writing a Book in PDF
If you talk about the benefits of PDF, let us tell you that it's comprehensive and outfitted with several plus points. The primary issue is the layout and the universal design for the readers, and it remains unchanged irrespective of browser and device.
Secondly, you can adjust the font size and background color and add footnotes for your readers. In this manner, the SwifDoo PDF converter can help you with its unique features and sublime functionality.
Third, the privacy protection to prevent your content from being stolen and republished in someone else's name. You can publish the PDF book on the websites, and readers can access it in read-only format. SwifDoo PDF converter offers double-layered password protection for PDFs that can help you to prevent your unique content from being stolen online and save your PDF books from copying.
A PDF book provides features to edit your content the way you want and the things you wish to: annotations, footnotes, error rectifications, anything you can do in a PDF book.
The above-stated advantages are impressive for any writer struggling to get into the world of writing a book and publishing under their name.
When you learn about the plus points of a PDF book, the curiosity must teach you how to write a PDF book using all its reader-friendly features to reach out to your e-readers base successfully.
How to Write a PDF Book
The PDF book is different from any other ebook online; instead very similar. The PDF book is known for its format published online. Therefore, to write a PDF book, you need to follow some simple tricks to hook your reader with your creative quality.
Know Your Audience
When you plan to write on any topic, you need to chalk out who will be an audience, the target age, and your target location, including countries and the people who reside there. It's crucial because you need to sell your write-up, and without knowing your target readers, you cannot go further.
Make an Outline
When you sit with your storyline, you must be clear about what you want to convey. It would be better to write an outline for better structure of your content. The strategy would help you focus on your content structure and prevent you from going out of track input.
Put Your Consistency
A novel or story takes time to develop, and for that, you have to invest your time and the plot development thoughts to make it free flow. And when you start writing, make it a habit to sit daily with your creative piece, and it will help you finish the content within your target time.
Select a Writing Space
Inside your home, there must be a corner to sit with your device, a pen, and paper and let your creative juices flow from your thought level. Select the corner where you sit comfortably and type the story without disturbance. The writing space helps you to write flawlessly without any distractions.
Edit Your Write up before Going for Final Publish
Edit is the essential element that gives the final shape of any write-up. You can install the SwifDoo PDF converter and edit vigorously and remove all the unwanted items from the content. With SwifDoo PDF, you can adjust the font size and the background color and add footnotes. After the edit, you can re-check if anything remains for a final touch-up.
Publish on the Right Platform
If you publish it on a blog platform, convert the write-up to PDF format and then hit the publish button. Because the PDF book format would not allow readers to copy your content online. Idea stealing and then projecting in someone else's name is quite common in the writing industry. So, whenever you publish the story or novel, keep in mind the drawbacks and convert the Word file or Doc file into PDF format to ensure no one can copy your content.
How to Convert the Doc File or Word File into PDF Format?
You will get a save option for your Doc file or Word file when you finish the edit. Click on the "Save As PDF", and your novel is ready to publish in PDF format. Or you can use the SwifDoo PDF converter to convert the file into PDF with a few simple clicks. It enables you to convert PDFs online.
Market Your PDF Book
For your PDF book marketing, you need to outreach to your target readers. You can utilize social media and participate in several seminars or events to become a familiar face among your readers. It is direct marketing, and the strategy is considered the best as there's no substitute for interacting with your readers directly on several platforms.
This is the primary guideline for writing a PDF book, and there is a scope to add your own innovative ideas and thoughts to reality.
Bottom Line
All the PDF books are kind of ebooks, but not all ebooks are considered as PDF books. And it's the punch line of the differences between a PDF book and an ebook. After knowing the fine line between these two, we hope you can select a PDF book format for your online publishing. Make your first online appearance sensational affairs and memorable with a PDF book release, and let the world recognize your creative identity.