Jobs are a must in today's era. Though resumes have always been essential before applying for a job, the competition demands the candidates something more than a resume, say, a letter of recommendation for a sturdy impact.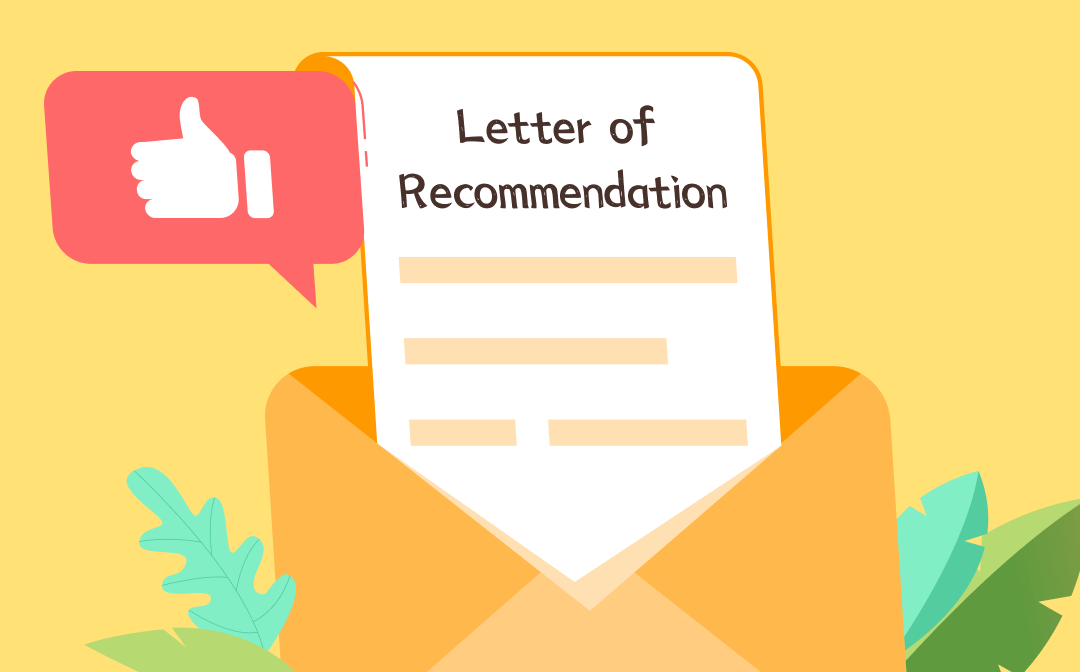 Suppose you seek a job or admission to your favorite university. In that case, you need to convince your resource person to write a reference letter to state your academic performance, qualities, work experience, and how you can be the perfect choice for their organization or institute.
Here we have provided you with the necessary and quick guidelines to help you convince in getting a reference letter writing. Stay tuned for all the guidelines if you are an employer or a teacher looking for some ideas concerning a letter of recommendation template.
What Is a Letter of Recommendation?
Often, the recruiters and hiring managers ask for a recommendation letter to employ an individual in their organization or admit a student to their University. Typically, a letter of recommendation is a draft prepared to recommend an individual's work, experience, and academic performance and is generally written to highlight the candidate's skills and qualifications.
A recommendation letter helps the hiring manager know your capabilities and qualities, helping you qualify for a job role or even a school or college graduate program. It is like a testimony to your potential success.
Who Can Be Your Go-To Person to Write a Letter of Recommendation?
Generally, such letters should be written by people who know you and your work. Those who believe in you and your potential will always bring out the best in you. Always prefer someone familiar with you and your performance who can devote quality time to drafting a well-framed recommendation letter for you. Such a person should be high in authority to make his testimony believable and convincing enough for a beneficial impact.
The multiple resource persons who can write a well-framed recommendation letter are:
Teachers
Professors
Colleagues
Supervisors
Mentors
Clients
Former employers
Letter of Recommendation Template: Tips and Guide
Whether you are a college-going student or a fresh graduate, a reference from a letter of recommendation template can assist you in customizing and writing one of your own. You can download and print the letter of recommendation on your device to be readily accessible for future use.
Some of the many websites to provide you with some cool template ideas include:
Eforms
Resources workable
Resume genius
Templates office
The muse
The balance careers
UW Bothell
Remote bliss
Usually, such templates are in PDF Format. You can take the help of a PDF reader such as SwifDoo PDF to open and read your PDF templates.
You can also convert your PDF templates to Word files and vice versa with the help of SwifDoo PDF software. It also enables you to edit your PDF files and customize them according to your needs.
How to Write an Ideal Letter of Recommendation
Some effective tips to write an ideal letter of recommendation includes:
Select the best format:
Always prefer to opt for a simple and easy-to-understand format. The main elements that form a part of a simple layout include:
A hook-up line
Your relationship with the applicant
Overview of candidate's best skills
Quantify his skills that best suit the job description
Include a catchy hook:
Include a catchy line to grab the attention of the hiring manager. Don't make it too bland to make the first impression that your efforts fail miserably. A hook can include an interesting fact about the employee, an award he has won, or his qualities and skills.
Draft a compelling letter content:
For a reference letter to be compelling enough, you must continue the charm of your hook-up line going. Make sure to explain your reference to the applicant and focus on his qualities for how he is fit to be the most suitable person for the role or admission.
Fit the job description:
Adding the right details with the right choice of words greatly impacts hiring managers. Mention how your candidate can be the right fit for the job among the other applicants. Quantify his strengths and achievements concerning the job description.
Conclude your recommendation letter with a request:
Always seal the deal with the utmost courtesy. A request can melt even the hardest of hearts. Your request should convey how the candidate and his potentials matter to you for him to soar high in his career. Create an opportunity to schedule a meeting for a further conversation. It only adds up to your vigor and valor.
Add a character recommendation letter:
You must write a character letter in addition to a reference letter. You can simply enlist some basic details regarding how you know each other, your applicant's qualities, how he has helped you, and of course, remember to add a request.
Ideal Format to Create a Customized Letter of Recommendation
A basic framework never goes out of fashion. Whether you are writing a letter of recommendation for your student or your employee, you can always resort to this simple format blindly:
Salutation:
Specific salutation includes 'Dear, Dr, Mr./Mrs.' with the name; for a general salutation, you can write 'To Whom It May Concern.'
Introduction:
Explain the purpose of the reference letter and your relationship with the applicant.
Body content:
Include the reason for your belief in your candidate. Exemplify the applicant's qualifications and skills.
Summary:
You may summarize why your candidate is the best suitable match for the defined job role or why you highly recommend him.
Conclusion:
Offer to schedule a meeting or initiate a further conversation. Include an ending salutation with 'Yours Sincerely' in case of a specific resource hiring manager or 'Yours faithfully' in case you are unaware of the hiring manager.
Letter closing:
End your reference letter with your name and title. Remember to place your sign under your name if you send a hard copy of the same.
What Details Should You Provide to Your Resource Person to Write a Letter of Recommendation?
You must be well aware of your priorities and what you need to be written in your letter of recommendation. In such a case, you must be prepared well beforehand to easily convince your resource person with the necessary and readily available details.
Depending upon your university requirements or your job description, you need to provide your resource person with the below-given details:
It can include your course details, reference papers, and project grades to help your professor recall and know you in a positive manner.
Ensure to provide your resource person with your resume to help him know your extracurricular activities and work experience.
Provide a copy of the job posting:
A copy of the job posting will help your resource person know the type of job you are applying for and will help him focus only on the required qualifications necessary for the job role.
A cover letter can help the resource person emphasize the necessary skills you have previously demonstrated.
You must know what you intend your resource person to do. Whether you want them to write a general recommendation letter or you, want their name for a reference to be quoted somewhere.
Provide all the necessary details well in time:
You must provide all the additional details your resource person asks you well in time so that he can write your target recommendation letter before the deadline.
A physical meeting and face-to-face conversation hold more impact than a virtual one. Always ask your concerned person for his availability and try to meet them in person to explain your query and request help. Always remember to thank them for their valuable time and efforts.
Some Do's and Don't to Follow While Writing a Letter of Recommendation
Anyone can write a letter of recommendation, but it takes some good skills and the help of some smart tips to impact writing effectively. Here are some quick tips to enable you to write a foolproof recommendation letter for any of your clients, employees, and students.
Prefer using the right format and layout of the letter.
Be enthusiastic and positive while writing such a letter.
Collect ample information before proceeding to write a reference letter.
Introduce yourself and your relationship with the employee.
Always create a customized recommendation letter.
Customize your letter according to the job description.
Remember to go through the candidate's resume.
Take help from a well-drafted candidate's letter.
Enlist candidates' qualities that are suitable for the job profile.
Highlight a few of the candidate's qualities.
Quantify the candidate's strengths.
Highlight the candidate's potential.
Include your contact details.
Remember to proofread for any errors.
Follow up on the deadlines and submission format.
Final Wrap
Writing a letter of recommendation is an easy task, and you are probably aware of the content and its right place. It would be best if you always customized your reference letters for your students and employees to their qualifications that best match their job description perfectly.
We have already assisted you with a letter of recommendation template to help you create your own reference letters. Following some tips, you can always write an effective reference letter to get your candidate qualified for what he wants.