The current scenario of industries is different, and now every industry tries to reach out to its customers. In this context, digitalization inevitably becomes their entity to furnish the requirements for the outreach. Since documents play a significant role in exchanging businesses, the demand for PDF converters is increasing.
When you need to send emails, business plans, order summaries, and receive details, you must be careful about the format and the file layout. As PDF remains the same in every Windows version, device, or browser, the sender and receiver feel comfortable using PDF as the medium of their documentation.
The business world has been using different software for word processing, ledger sheets, and much other internal documentation and then converting the files into PDF formats using a PDF converter. SwifDoo free PDF converter would assist small, medium, and large scale businesses in transforming their essential digital files into PDFs.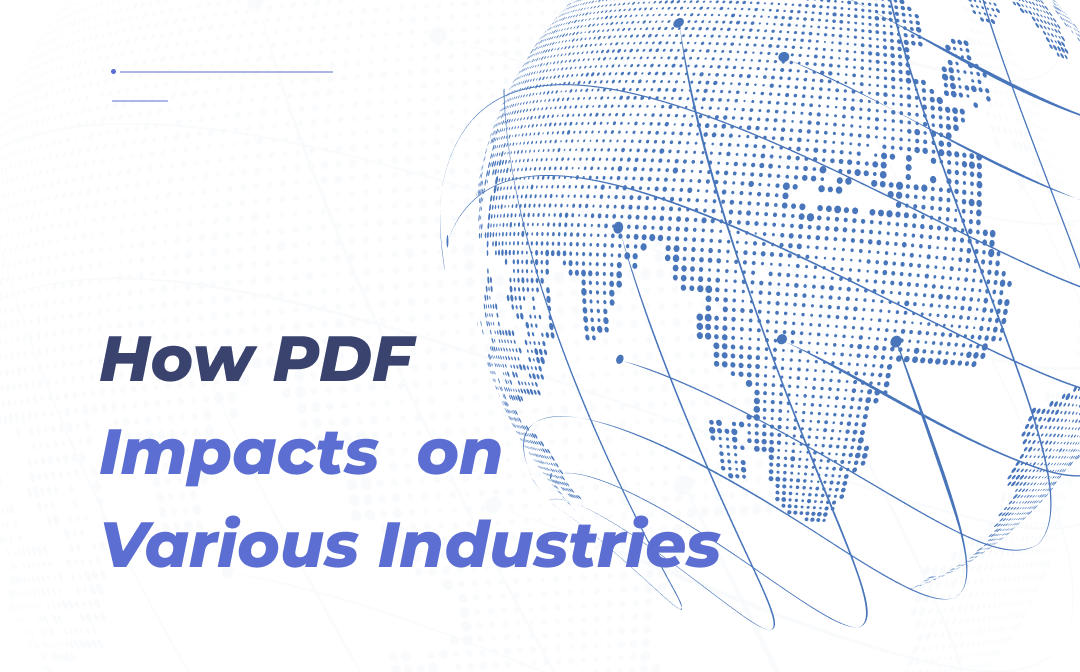 Below are a few examples of industry insights about using PDF format.
Health Care Industry
Now, after IT, Healthcare is leading the growth in business volume. Healthcare primarily deals with the Pharma industry and ensures their dependency on each other. Apart from working with patients, medicines, and hospitality, the sector generates a large volume of business.
A 2021 survey revealed that the US generates $2709.00 billion in revenue, an impressive figure in the industrial revenue growth. To ensure their daily business activities, they need several software to exchange emails and documents of patients' medical history, case sheets of patients, etc., and many other documents.
SwifDoo PDF Converter Assists Them:
Send mails in PDF format to patients, medicine suppliers, doctors, nursing staff, and many hospitality vendors.
Convert several ledger sheets and medicine bills documents into PDF format to make it a safe exchange between parties.
Case sheets and patient profiles are vital documents which generally are prepared in Word files and converted into PDFs, and saved in the hospital database for future use.
Doctors and nursing staff details are prepared in Word files and converted into PDF documents, which ensures they will not be deleted from the organization's database.
Healthcare is a significant industry that generates revenue, employment, as well as public health and contributes to society's well-being.
Manufacturing Industry
The manufacturing industry is directly connected with production, logistics, and supply. A large portion is associated with paperwork that includes order received, supply requisite, purchase invoices, etc. The documentation needs to be converted into PDF format to ensure its safe exchange and better user experience. The SwifDoo free PDF converter's contributions to the industrial growth include:
Safe Order Process
The order papers mainly deal with purchase orders, requisition orders, purchase invoices, and other documents. Once you create these files in Word documents, you need to convert them into PDF files.
The Production and Supply Process
Production and supply deal with confidential data about products that include manufacturing data, product details, customer details, and various stakeholders' details. These documents are specifically designed for the customers to give them details of the operation.
A PDF converter like SwifDoo free PDF converter can convert the Word files into PDF format so that customers can access them from any device. If you forgot to add something, you could edit it anytime.
The Payment Release
PDF is very secure and effective in making invoices, purchasing bills, etc. You can directly send it to the customer after digitally signing the documents. Even after the payment release, you'll receive a PDF document E-signed by your customers.
In the manufacturing industry, trust build-up is necessary between vendors and customers as a large amount is associated with the payment exchange. PDF helps build up the bonding between parties and provides security to the business deals.
Financial Services
Several banking sectors fall under this category, primarily associated with monetary dealings. Financial services need massive emails, bank statements, transaction details, etc. If you're approaching a loan, you need to submit various documents which again require your signature. If you convert them into PDF, you can offer them with E-sign.
Get the Bank Statement in PDF
Your bank statement is essential transactional data required in every business deal. Even to file the income tax, you need it. Saving such necessary documents in PDF format helps you keep them safe for a long time and access them anytime you want.
The documents are particular about the information you're sharing in the banking process. Ensure that you share the documents in PDF so that the data you share with the bank remains safe.
E-Learning Sector
With the increase in Internet use, a study from home concept and distance education has become an integral part of the growing kids. Learners submit their home assignments, and teachers evaluate them. The process can simplify the distance between a teacher and student, which is possible for digital media.
Word documents, PPT, and Excel sheets are files in standard formats students and teachers use to communicate and exchange study materials. These all documents can be converted into PDFs for flexible access.
Assignments and Lesson Plan Exchange in PDF Format
Teachers evaluate the assignments and send back the copies with annotations to improve students' studies. As the PDF E-sign facility is there, students will receive a signed assignments report from the concerned teacher. You both can access the PDF file on the device you are working on.
The E-Learning sector is booming with the distance learning concept, and the PDF contributes its part to make the system flawless.
Insurance Sector
A significant sector that helps your life and your family and family members get the benefits after the mortality. This sector is associated with policy documents, contract papers, claims documents, policy endorsements, etc. PDF format is necessary to deal with essential documents that directly involve monetary exchange.
You need to check:
You Received Signed PDF Documents
Insurance agents provide you with the policy papers and the insurance agent's company stamp and signature. You can check whether the seal is visible in the PDF and identify the company name and proper E-sign mentioned.
Secure Policy Paper in Digital Print
The policy company will check your information documents which you exchange through emails. If you use SwifDoo PDF and protect such confidential data with passwords, nobody can access them, and the data should remain between you and the company. After verifying the information, you will get the policy paper, which is now available in digital print, and the company will send you through emails.
Claim Documents
After the duration of the policy, you are supposed to get back your money. To claim your matured policy, the documents should be proper. With the help of a PDF converter, you can claim your policy amount through emails sitting at home. Agents and companies revert you, and they too deposit the amount online.
A free PDF converter like SwifDoo PDF makes the job easy and helps you sustain yourself in the digital world.
Concluded Part
Digitalization makes our life easier. If you compare the current trend with previous business models, it was not user-friendly and consumed a lot of time to start the procedure and implementation in the business. For example, previous insurance agents followed lengthy paperwork before confirming your policy. But now, within a single day, you can complete the procedure, and your life covers unwanted accidents or sudden demise.
Similar things you can experience in every sector. In a nutshell, technology compresses the long process into short and reaches out to your possible customer closer than before, and ensures growth in your endeavor.