Different professions require different software to continue their workflow. And for all businesses or professions, exchange of documents is inevitable. When you send a vital copy to your clients or your coordinates, the preferable file format must be PDF.
If you are a lawyer, you might encounter exchange of confidential documentation with your client. If you are puzzled about what parameters you should adopt to make your copy more credible to your clients, read the article as we will cover all your queries and suggest a free PDF converter for your professional betterment.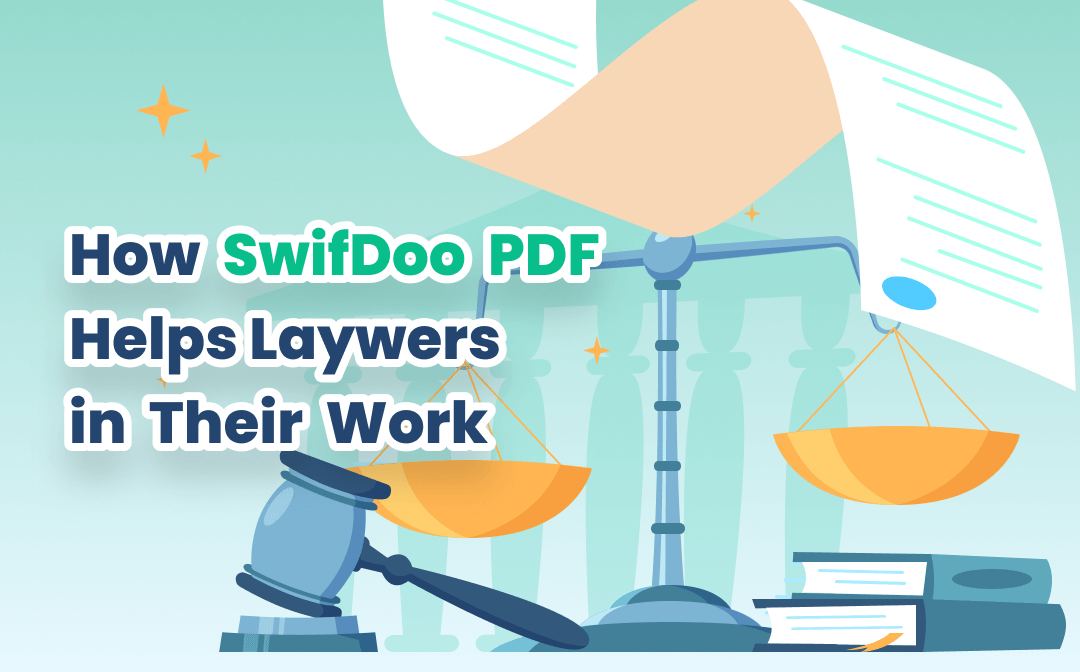 Let us introduce the free PDF converter, SwifDoo PDF to you, a PDF converter tool that accommodates the latest technology and brings you all the features your profession requires. A PDF sometimes needs to be created to carry the message of your clients. In such cases, editing a PDF is a vital part. SwifDoo PDF will add benefits to your legal practices, and you can avail all facilities out of it.
Why Do You Select PDF?
There are multiple formats available, and you can pick anyone for your convenience. But we suggest you PDF as the structure is universal and there is adaptability to deal with such a beneficial format in legal aspects. The unchanged layout, the easy editing option, and the protection against unwanted access to your PDF are a few standard measures that make a PDF a quality format valuable for professionals like lawyers.
SwifDoo PDF: The Latest Tool with All the Basic and Advanced Facilities
The PDF format is widely known as a flexible yet secured format, aptly required in legal practices. SwifDoo PDF converter makes files conversion process easy and effective. The converter tool allows you to convert almost any documents into PDF files, edit PDFs, merge multiple documents into a single file, and even add e-signatures to ensure this copy belongs to you.
In legal practices, converting a PDF using OCR is popular, which SwifDoo PDF converter offers users. If you don't know what OCR is, let's understand it first.
What Is OCR?
OCR stands for Optical Character Recognition. OCR is a technology that identifies the text within a digital image or scanned copy. This is commonly used to determine the text in scanned documents and images.
The technology is to convert a paper document or an image into an accessible electronic version. The format can be anything, including JPG, TIFF, or PDF. After conversion, the file is ready to share through a digital media. The plus point of OCR is that you can scan an image and edit it as per your requirements.
How to OCR a PDF
SwifDoo PDF offers an extensive range of features that include OCR converting PDF to another format along with editing, annotating, and password protecting PDF files. The multi-tasker software assists you in recognizing and converting PDF documents so that you can manage your digital documents in an organized way. OCR is practical to use in legal practices.
SwifDoo PDF also offers a wide variety of tools for converting files from one format to PDF to ensure that your documents carry the message the way you want and reach out to the concerned individual or department.
Another Supportive Features along with OCR
SwifDoo PDF is a multi-tasking program that offers many productive features for its users. The plus point is a legal practice like eminent professionals can avail the benefits of the free PDF converter to manage their legal documents. When the converter uses OCR to scan an image document and convert it into other type of file, it requires other elements to complete the document and give a final shape.
There are more benefits to offer for its users. Let's check:
An excellent tool for altering your doc: SwifDoo PDF allows a wide range of document alterations by cropping the file, adding annotations, and text, generating superscripts and subscripts, inserting links, etc. The tool supports copy-paste text to your doc for final editing.
Useful for legal documents: When you create and edit a legal document, it can help add stamps, notes, and draw on the file with pencil and shapes. These annotation marks will highlight on any device when you access the PDF.
Various stamps are available: If you are into legal practice, you need multiple types of stamps while sending the PDF to your clients to ensure the kind of documents. SwifDoo PDF offers a variety of stamps to label the PDF documents to confirm the status of the papers.
E-signature for assurance: While you send the legal notice on behalf of your client, your signature is essential. SwifDoo PDF offers three types of e-signatures that ensure you send the PDF to the concerned department or individual with your name.
Encrypt your legal PDF: Legal documents can carry sensitive data that must be encrypted. You can send the PDF files with double-layer password protection to ensure that the concerned authority will access the PDFs. The safeguard will prevent unwanted access to your sensitive data.
Bottom Line
PDF format is acceptable to all kinds of businesses and professions. It has standard parameters that users cannot deny. Legal practice claims such standard file format to deal with clients. In this light, there is no room to deny the acceptability of the structure to exchange your legal documents between parties.
Thus, we can conclude that being a lawyer, you can use the free PDF converter, SwifDoo PDF to manage and manipulate your PDF documents such as OCR a PDF and avail all the instrumental features to ensure your professional growth.