Sarah Hogle's You Deserve Each Other is a book that incorporates multiple genres of contemporary romance, adult fiction, chick lit, and more. Published on April 7, 2020, the novel is still famous among avid readers and provides the message of putting work into your relationship and going the extra mile for your partner.
You Deserve Each Other will set you up for the most chaotic romance, and once you start, you may find it hard to keep the book down. This post discusses a detailed book review with its author, genre, plot, and a smart way to download and read the PDF ebook. Be with us to learn the book's insights.
contents
Sarah Hogle: The Author of You Deserve Each Other
Sarah Hogle has authored four novels, with You Deserve Each Other (April 2020) being her debut book. Her other books are Twice Shy (April 2021), Just Like Magic (October 2022), and Old Flames and New Fortunes (April 2024).
Sarah's writing style is unique and dynamic, flowing easily and drawing you into the story. Her dialogue delivery has an immediacy style that puts readers right in the narrator's head as events unfold. Sarah has control over her language and pacing and pays attention to the small details, little things, and the little quirks. She shows every emotion of characters that brings them to life.
Currently, Sarah Hogle is a mom of three in Southern Ohio, spending her free time planning weird pranks and dreams of living in a falling-apart castle in a cursed forest.
You Deserve Each Other Summary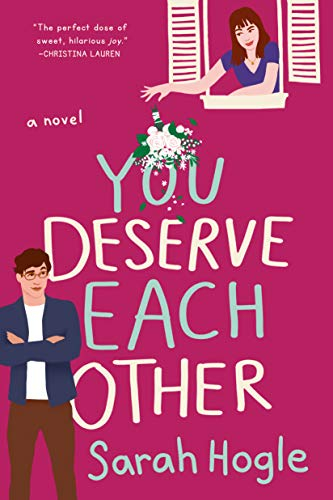 The novel's plot describes a chaotic love story between Naomi and Nicholas. It is a slow-burn second-chance romance about a couple who have been together for almost two years, got engaged, and moved in together. But soon, things started to shift, and despite living together, they moved their separate ways.
The story follows the protagonist, Naomi Westfield, and her perfect fiance, Nicholas Rose, who comes from the kind of upstanding society family any bride would love to be a part of. Nicholas and Naomi both shared the best sides of themselves while they were dating. They never fight and are planning a grand wedding just a few months away. However, Naomi's engagement has just marked the beginning of the end of her relationship, as she is miserably sick of Nicholas and wants to end the engagement with him.
Now, the thing is that whoever ends the engagement will have to bear the nonrefundable wedding bill. Soon, Naomi discovers that even Nicholas has been feigning contentment, and the two battle pranks, sabotage, and all-out emotional warfare. But as the countdown to the wedding nears, they find they have nothing to lose. Now, they are just themselves. Will they accept each other the way they are and end up happily together? Or does life have some other plans for them?
We are not in for any spoilers, and instead, we suggest you grab your You Deserve Each Other ebook to find out the thrilling climax yourself.
Read You Deserve Each Other PDF Ebook
Are you excited already to read You Deserve Each Other book? Why rush to the bookstore or digital market when you can save a PDF copy of the novel and read it anytime on the go? PDF files and ebooks pack many advantages over hardcovers. For example, they are accessible everywhere; you can even share them with your loved ones. Not only are they easy on the eyes, but they are also designed with text-to-speech or read-aloud features to listen to them comfortably while multitasking. Moreover, ebooks are environment-friendly and are affordable in the long run.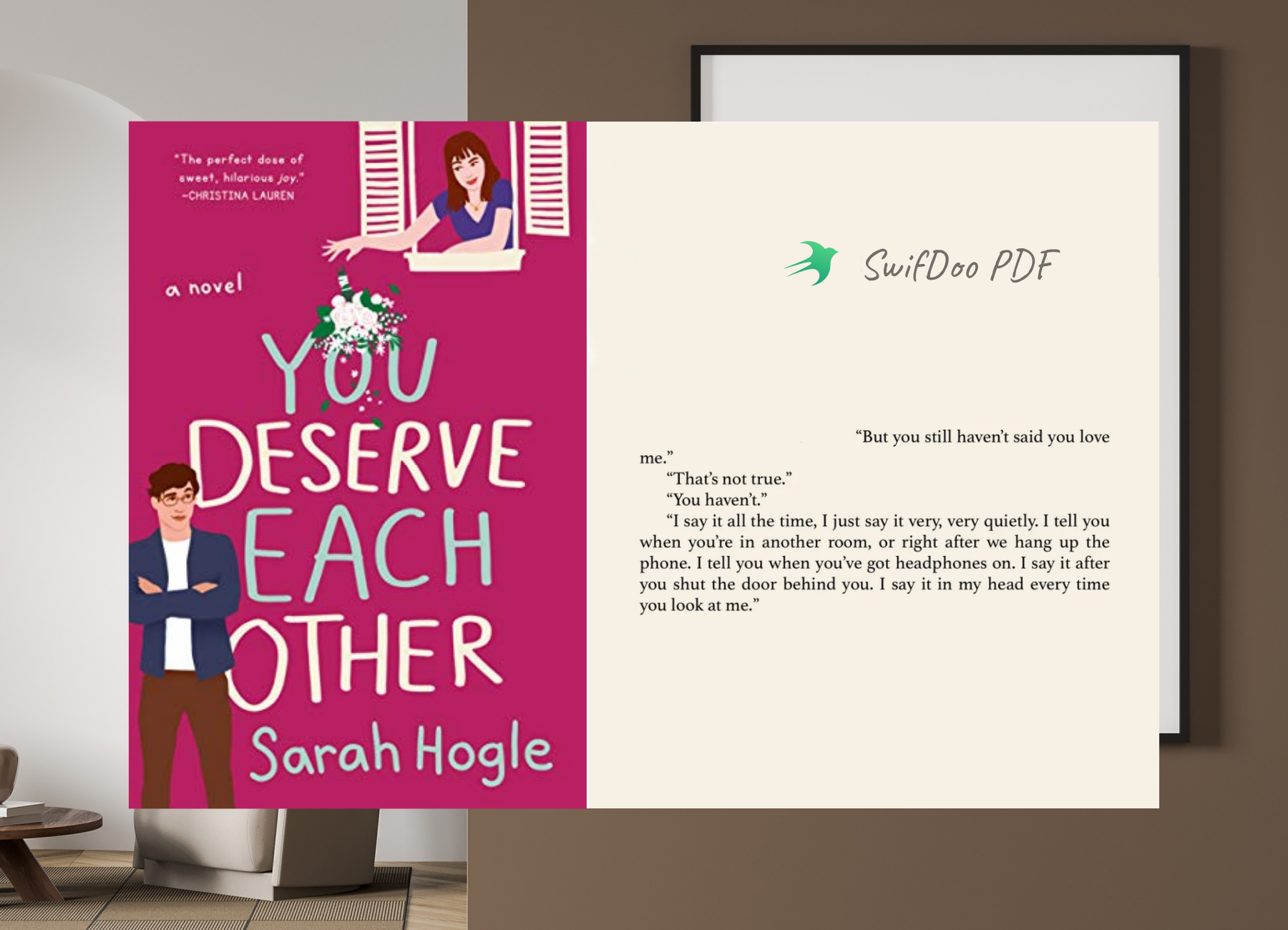 If you have ever purchased or downloaded You Deserve Each Other from online ebook stores or any other sources, and are looking for a tool to convert the ebook formats in order to read on a selected device, you must download SwifDoo PDF to have a try.
It offers the most powerful functions for decrypting and converting any ebooks to PDF and ePub.
But after saving an ebook online, you may require a PDF reader to help you access it on your terms. Here's where you can use the SwifDoo PDF, a top-rated PDF reader/annotator, to open, read, and access your ebooks and other PDF documents anytime. It is an easy-to-use ideal solution with intuitive tabs for a pro-like reading experience.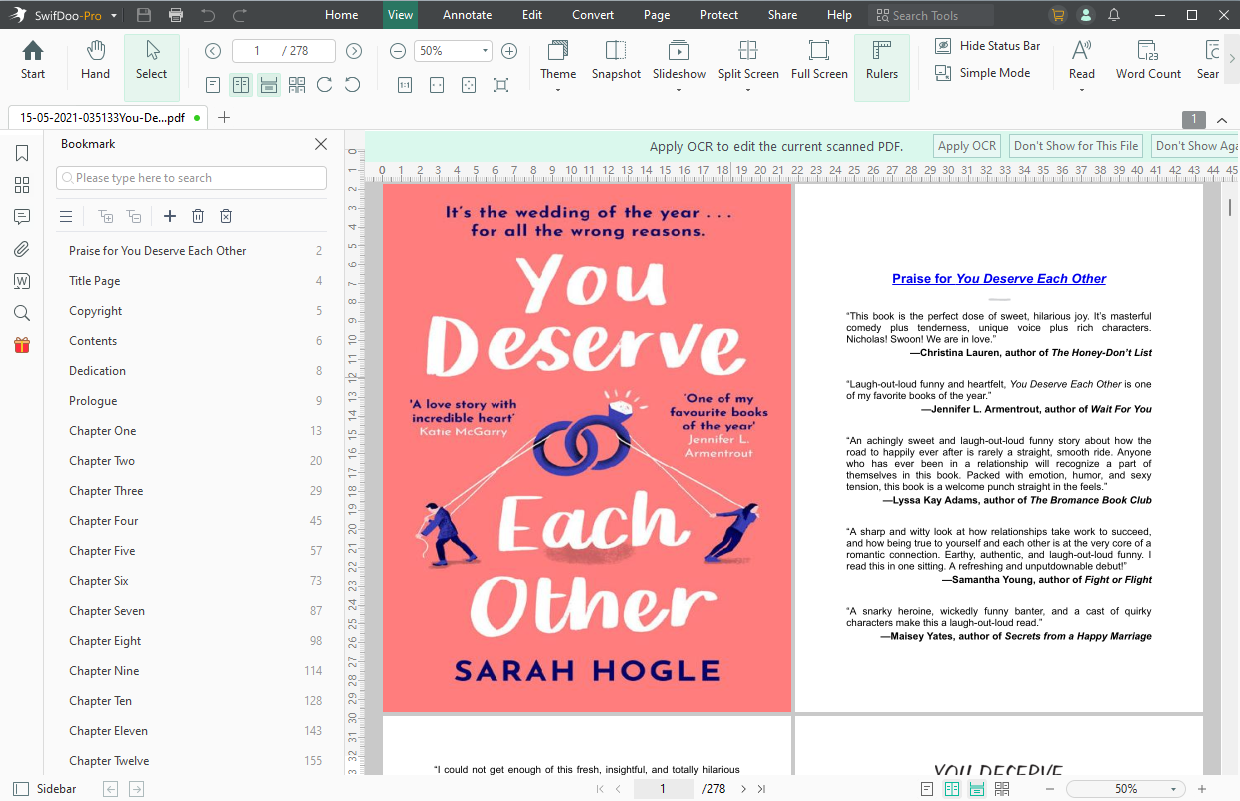 Some of the primary features that make the SwifDoo PDF reader worth using the software are:
It has PDF translating and annotating tools to translate your book and document into other languages

With its read-aloud PDF text feature, you can grab all the information while multitasking

It provides various reading modes such as dark mode, full-screen mode, or presentation mode

It enables checking the count of characters, words, lines, and pages in your document/book
Besides these features, SwifDoo PDF also lets you create, convert, merge, compress, edit, annotate, and password-protect PDF files to be the one-stop software for all your PDF needs. Download the SwifDoo PDF reader today and read the You Deserve Each Other PDF ebook in this powerful software for an immersive reading experience.
You Deserve Each Other Quotes
There are some best quotes in You Deserve Each Other for your reference:
I'm a miserable cynic (a newer development) and a dreamy romantic (always have been), and it's such a terrible combination that I don't know how to tolerate myself.
"We're not having children," I declare. "I'm barren. I lost my uterus in a Ponzi scheme."
"Relearning you has been the best thing that's ever happened to me."
"But you still haven't said you love me." "That's not true." "You haven't." "I say it all the time, I just say it very, very quietly. I tell you when you're in another room, or right after we hang up the phone. I tell you when you've got headphones on. I say it after you shut the door behind you. I say it in my head every time you look at me."