Some books remain popular long after they're published. One such book is The Wall of Winnipeg and Me by Mariana Zapata.
The Wall of Winnipeg and Me is Mariana's contemporary swoon-worthy romance fiction novel for 18+ people. It is still popular among adult readers because of its divine writing, strong characters, and steamy chemistry. However, if you are planning to give it a read, you must be aware of the trigger warnings of child abuse, domestic abuse, and mention of sexual harassment before having your copy in hand.
Here, we have walked you through the book's plot without spoilers and a smart solution to read the novel on your terms. Let's dive in.
Mariana Zapata: Author of The Wall of Winnipeg and Me
Mariana Zapata is a New York Times, USA Today, and #1 Amazon bestselling author. She began writing love stories once she learned how to spell. In her teens, Mariana wrote a boy band fanfiction, and in her early 20s, she picked it back up again with Twilight and Sookie Stackhouse.
Soon, Mariana began working on her original work. Her books generally include bad words, bodily functions, and poor humor. She has written over ten standalone books, with Lingus being her debut novel, published in 2012, and the latest being When Gracie Met The Grump, published in 2022. Mariana's books have been published in thirteen languages.
Mariana has also been the nominee of the Goodreads Choice Awards five times in the Romance category. Currently, she lives in Pagosa Springs, a small town in Colorado, with her husband and her two adorable Great Dane children, Kaiser and Dorian.
The Wall of Winnipeg and Me Summary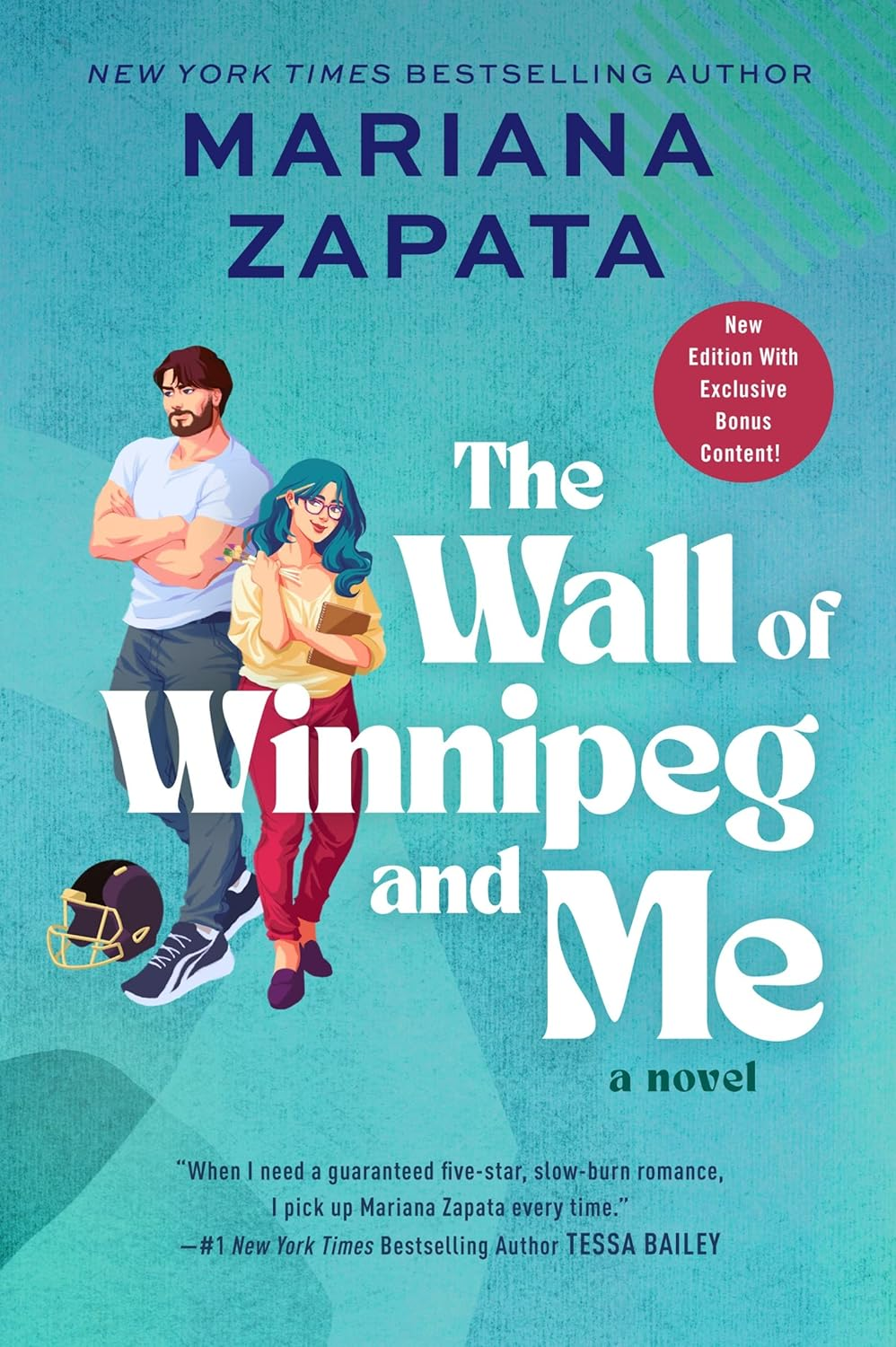 The central plot of The Wall of Winnipeg and Me centers on Vanessa (Van) Mazur, an assistant, housekeeper, and fairy godmother to the successful defensive player in the National Football Organization, and Aiden Graves, a football player, and Vanessa's boss.
Vanessa's life revolves around Aiden's grunts, whims, and needs, covering everything from cooking his many daily vegetarian meals to managing his email and social media accounts, knowing his daily schedule, handling his manager from hell, and rescheduling and dealing with the fall out when Graves chooses not to attend his public events. One could say Vanessa lives and breathes Aiden's life, all without a single thank or smile in acknowledgment from the big man himself.
But now, she is no longer interested in serving as Aiden's assistant as she feels underappreciated and wants to pursue her career as a full-time graphic designer. So, she leaves Aiden for good without any prior information.
However, things take a turn when Aiden suddenly shows up at her door, wanting her to return. He makes an offer that Vanessa can't ignore. But is the cost too high? How will Vanessa's pride handle working under the most insufferable and thankless man she has ever met before?
Vanessa is portrayed as a headstrong woman who grows confident and takes life in her control over time with Aiden's support. But everything about Aiden is quiet. He's an enigma, and though Vanessa has worked for him for a couple of years, she doesn't know him besides the fact that his life revolves around football.
How will the storyline progress, and will Aiden be able to win back Vanessa? We aren't in for spoilers. But you can read the book to know if they have a happy ending.
Read The Wall of Winnipeg and Me PDF Ebook
The Wall of Winnipeg and Me is a slow-burn romance with some great characters and funny interactions. You wouldn't want to miss it. But while a walk to the bookstore or placing digital orders may be time-consuming, you may resort to reading an ebook ASAP.
PDF formats have multiple benefits over traditional books and hardcovers. They are easy and convenient to use and don't even occupy much space on your device. So you can access as many books and topics as you want. As they last for life and don't need maintenance, you can enjoy reading them anytime, anywhere, on any day. Once saved, you can access them anytime on any device without an active internet connection.
There are websites that can avail you of The Wall of Winnipeg and Me ebook for free. You can download and start reading instantly at your comfort using a reliable and trustworthy PDF-reading solution like the SwifDoo PDF reader.
SwifDoo PDF is a top-rated PDF reader/annotator to open, view, and display PDF files and ebooks to enhance your PDF reading experience. SwifDoo PDF offers an ideal solution that lets you engage in a pro-like reading. Moreover, its top-notch reading features make it the ultimate tool to access all your chosen PDF books in one place. SwifDoo PDF offers:
Various reading modes, such as full-screen display, presentation mode, and dark mode

Converts text to speech to read aloud PDF text without causing eye strain to multitask

Translates PDF files into other languages in a tap

Performs character, word, line, and page count in the document
Besides reading features, SwifDoo PDF is an all-in-one software for all your PDF-related activities. It helps you create, convert, crop, merge, split, edit, annotate, and view PDF files. You can even add images and hyperlinks to your PDF files. Furthermore, it lets you add digital signatures and password-protect your documents from unauthorized access.
So, download the SwifDoo PDF reader and read The Wall of Winnipeg and Me PDF in this software from your comfort anytime.