Sometimes, you may just need a good cry to get yourself relief from accumulated emotions. If you are looking for your next great read, If He Had Been With Me by Laura Nowlin is the right book that resonates with you. This young adult romance presents authentic love, friendships, loss, and regrets with the closest ones. Grab a tissue and settle in to get ready to know this book.
If He Had Been With Me Book Details
This part introduces the specifications of If He Had Been With Me. Know the basic information of this book first before you explore its heart-touching plots.
Author: Laura Nowlin
Genre: Fiction, Romance Love, Contemporary
Age Rating: 14 – 18 Years
Page Count: 397 Pages
Book Format: Digitally printed book
Publisher: Sourcebooks Fire
Language: English
First Publication Date: April 2nd, 2013
If He Had Been With Me Summary
What is If He Had Been With Me about? This book follows the story of two main characters: Autumn and Finny, who were best friends since their childhood. They once were inseparable but grow apart for years. Autumn grows more introverted and joins the group of new friends, while Finny becomes one of the most popular guys in school. After they entered high school, they found themselves growing back again.
Whether they are together or apart, Autumn still loves Finny but keeps it a secret. On the other hand, Finny takes Autumn as his best friend and hasn't realized her feelings. As the school progresses, their relationship becomes more complicated due to several unexpected consequences. When the tragedy happened, Autumn starts to think about how her life would be if she hadn't been apart from Finny.
The book features evolving friendships, complex young love, grief, and loss. And it ends bittersweetly but leaves a sense of hope. Laura Nowlin carefully and sensitively reflects on a teenage girl's emotional world and captures how young boys and girls cultivate friendships during great change.
Author of If He Had Been With Me
The If He Had Been With Me book is written by American author Laura Nowlin. She is the New York Times and USA Today bestselling author. As an arduous writer, Nowlin takes writing as her lifelong job, and her another romantic book -- If Only I Had Told Her, is also a bestselling novel. Laura Nowlin's touching words can always take readers into the book world and experience heroin's life. If you are a fan of love stories like It Starts with Us, Nowlin's books can definitely catch your eye.
If He Had Been with Me Quotes
Quotes smartly introduce the book world without spoiling too much and good arise readers' interest and curiosity about the whole plot. Here are the three best If He Had Been With Me quotes:
"I've loved him my whole life, and somewhere along the way, that love didn't change but grew. It grew to fill the parts of me that I did not have when I was a child. It grew with every new longing of my body and desire until there was not a piece of me that did not love him. And when I look at him, there is no other feeling in me."
- "This book is a treasure; I did not suspect it would be so good when I picked it up, but now I can feel the printed words seeping through my skin and into my veins, rushing to my heart and marking it forever.
- I want to savor this wonder, this happening of loving a book and reading it for the first time, because the first time is always the best, and I will never read this book for the first time ever again."
- "Just because something seems impossible doesn´t mean that you shouldn´t try."
Read If He Had Been With Me Online
For readers who prefer online reading, the easiest way to download and read the If He Had Been With Me book is via Amazon. You can purchase the official eBook to view it on a Kindle device. If you want to read the book online for free, many PDF book downloaders like Open Library allow you to download free PDF books.
However, PDF books are inconvenient for annotating or viewing due to their fixed formatting. This might require a proficient PDF reader and annotator to help you view and comprehend the book easily. SwifDoo PDF is packed with handy tools to make notes and add markups on PDF books.
Annotate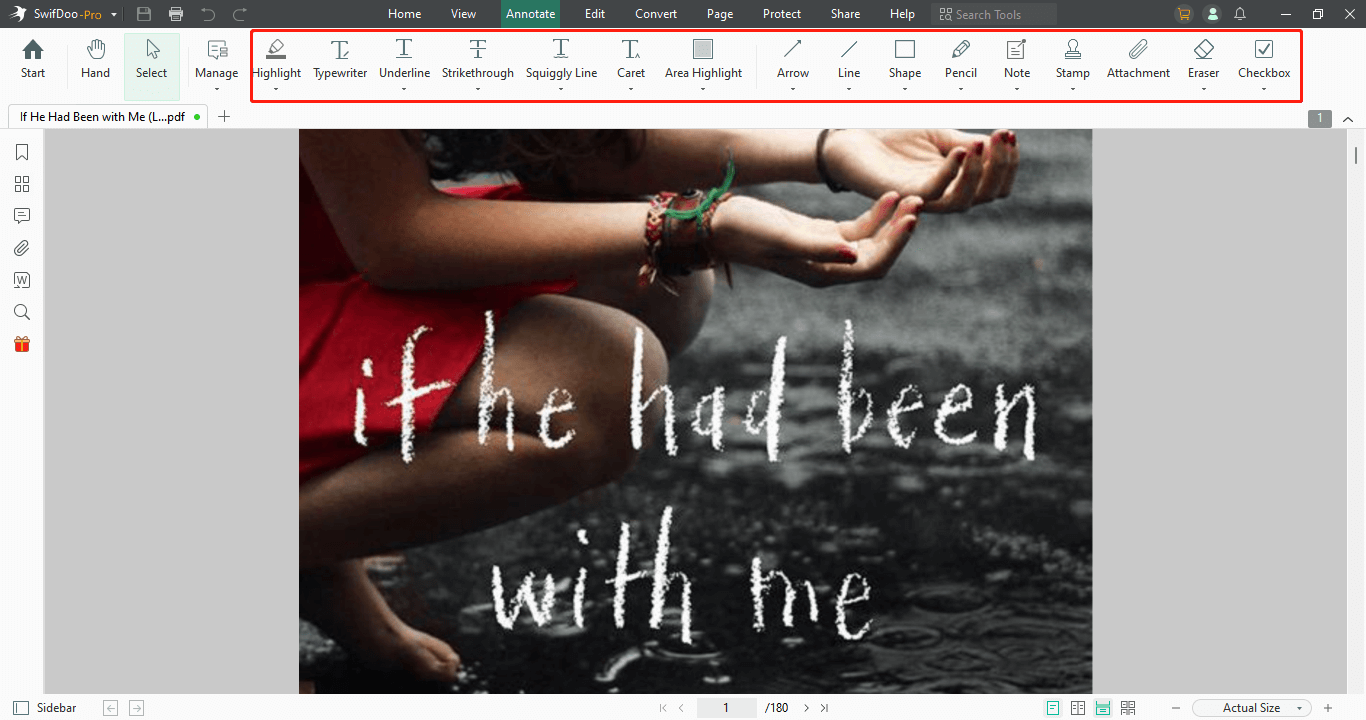 Step 1: Launch this PDF annotator. Drag and drop your If He Had Been With Me PDF book to the main screen to open it;
Step 2: Tap the Annotate button and all the annotating tools are displayed in the ribbon. Click on the feature you want to mark up the word, phrase, or sentence you like.
Online Converter
PDF books can only be zoomed in and out on Kindle, which is quite annoying when viewing. If you want to read PDFs on your Kindle device more flexibly, converting PDF to a Kindle-supported format is a good choice. SwifDoo PDF Online Converter enables you to convert PDF to DOC or HTML online without using any third-party applications.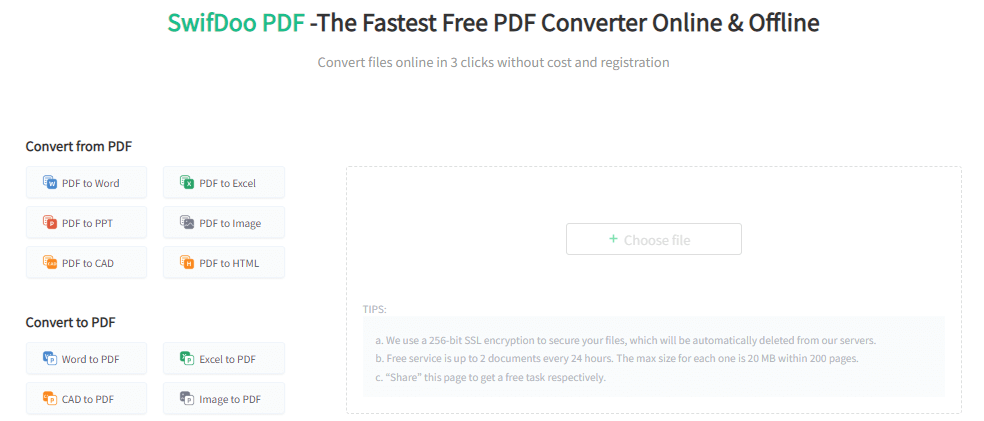 Conclusion
This article gives a brief introduction to the If He Had Been With Me book and the way to read it online. Stories like this always resonate in your heart and remind you of missed chances. However, the past is the past. Live in the moment and use your regrets as your future helpful guideposts.