Colleen Hoover is a popular romance novel author from America. Perhaps you have read her best-selling book It Ends with Us and now want to enjoy the sequel It Starts with Us. The sequel or book 2 also takes so many readers by storm. Are you eager to know what comes next in the novel? Whether you are an ebook or a printed book fan, this article might cover everything you're interested in.
It Starts with Us by Colleen Hoover continues the story in book 1 and tells the protagonist's life after divorce and domestic abuse. Before your reading journey, it can be a good idea to quickly learn about the book. This article introduces general book details such as publication. You can find how to read or download It Starts with Us PDF and more useful information.
Overview of It Starts with Us: Release, Series, Age Rating, and More
It Starts with Us is the most pre-ordered book in the Simon & Schuster publisher's history. As of the last release day, the worthy-reading novel has sold 800,000 copies. It topped the New York Times bestseller list in one week of 2022. This book was also W H Smith's Best Book of 2022. Like book 1, it still contains three main characters which are Lily Bloom, Atlas Corrigan, and Ryle Kincaid. More focus on Lily and Atlas.
If you are accustomed to reading e-books, thankfully, there is the It Starts with Us PDF and audiobook for free download or purchase to read. The book is available to buy on the Target site at $10.49. The price is the same as the paperback on Amazon which also provides the Kindle book at $13.99.
Take a look at some basic facts about It Starts with Us written by Colleen Hoover.
Series
This book is a sequel to Colleen Hoover's 2016 best-selling book It Ends with Us. Check the book series in order below:
It Ends with Us
It Starts with Us
To better understand the plot and characters in It Starts with Us, it is best to first read the previous one.
Release Date and Publisher
The book comes out on October 18, 2022, and was released by Atria Books.
Age Rating
The book might not be appropriate for 14-year-old children. It's generally suitable for readers aged 17 and up. That's because there are descriptions of violence, adult themes, and other disturbing content.
Page Count and Chapters
It Starts with Us by Colleen Hoover has 336 pages and 37 chapters in the printed copy. The page count might be less or more in the It Starts with Us PDF depending on the page and text sizes used.
It Starts with Us Summary
If you are curious whether you will like reading this book like book 1 in its series, going through a synopsis of the book might be helpful. The new story is told from the perspectives of Lily and Atlas, revealing more background of Atlas. Here is a concise summary of Colleen Hoover's It Starts with Us book for your viewing.
The female protagonist Lily and her ex-husband Ryle who had attacked her, raise their daughter together after divorce. When she meets her first love Atlas again in Boston, she wants to be with him but worries about her ex-husband's reaction and behaviors. Through Atlas's efforts, they start dating. When their date is discovered by her ex-husband, she flees to Atlas and they two become an official couple. Ryle breaks out and hits Atlas violently.
It Starts with Us tells that Atlas's parents have also abused him and his younger brother, like what Lily had experienced. But his family finally found a balanced way to get along and get rid of the shadow of domestic violence in the end.
Spoilers Warning: It Starts with Us ends up with Lily and Atlas correcting the chaotic life. They get married and live with Lily's daughter. This book's ending is that a brand new and beautiful new life starts with them. So you may be clearer now what this book is about. It is a story about family, love, growth, abuse, and forgiveness.
It Starts with Us PDF: Read Online or Free Download
eBooks are lighter and often more economical than physical books. You can read an ebook on the go from your phone or computer. If you are bookworms or novel readers that prefer to read ebooks, you may like to have the It Starts with Us PDF at hand. But where to get it and how does it cost? The answer is that there are a few online libraries and PDF book downloader sites offering it for free.
Internet Archive is one of the best places and digital libraries to find It Starts with Us by Colleen Hoover free PDF or Kindle-supported EPUB file to read online or download for free. And the audiobook is also available for free listening. You don't need to pay anything to borrow the full book but only the time to access and search for it in the search box.
Another website ZLibrary.to also has a free It Starts with Us PDF for download. But please be noted that there are disturbing ads on the site.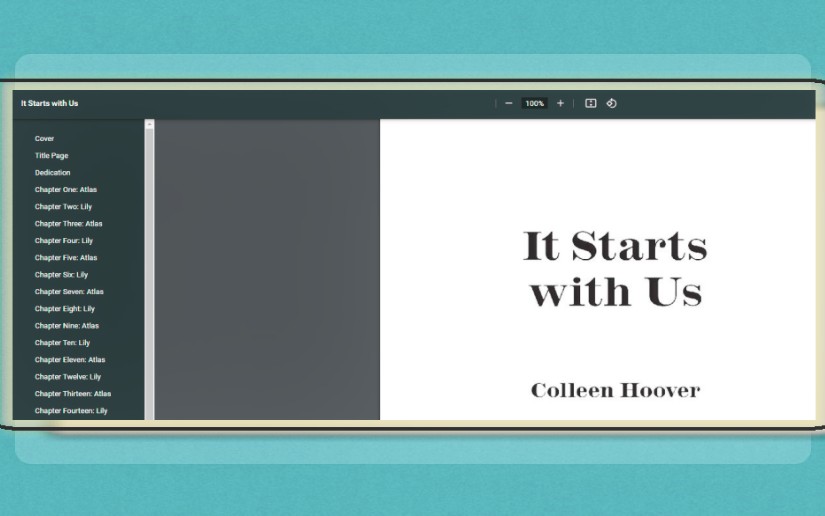 It Starts with Us
If you have ever purchased or downloaded It Starts with Us from online ebook stores or any other sources, and are looking for a tool to convert the ebook formats in order to read on a selected device, you must download SwifDoo PDF to have a try.
It offers the most powerful functions for decrypting and converting any ebooks to PDF and ePub.
Or you can continue reading It Starts with Us online.
Read Online
When you have gained the It Starts with Us PDF, you can enhance your reading experience with SwifDoo PDF. With the free PDF reader, you can view the PDF book pages in full screen, side by side, and slide show modes. You can change various software theme colors to please your reading. Better yet, it allows you to annotate the PDF book with notes, highlights, shapes, underlines and more. Other useful features of the PDF viewer:
Extract, delete, and split PDF book pages into multiple smaller files.
Convert the PDF ebook's pages to images so you can access them in your photo album more conveniently.
Convert the It Starts with Us PDF to speech or audio to read PDF aloud so you can multitask while hearing the book.
Translate the PDF from all the widely used languages to another, including words, phrases, paragraphs, and the entire document.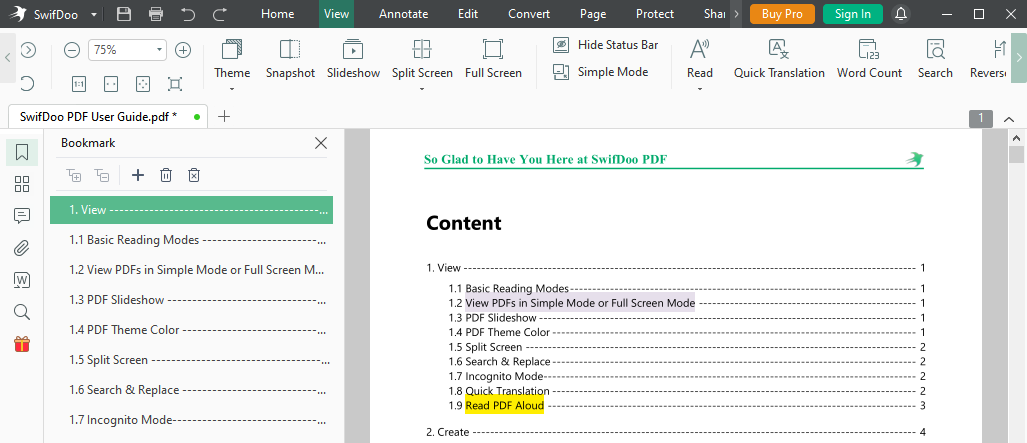 It Starts with Us Quotes
Every book lover may love to collect nice quotes from the books they read or haven't read. Perhaps for improving writing skills or other reasons. In It Starts with Us that Colleen Hoover creates, there are many amazing quotes that you might want to save, remember and use. Check several of them below.
"I prefer honesty over loyalty any day, because with honesty comes loyalty."
"My choice helped me realize that sometimes the hardest decisions a person can make will most likely lead to the best outcomes."
"I may not be perfect, but I don't deserve to fear for my life every time I make a mistake."
"Don't think about where we used to be; just think about where we are."
"Love. Discovering it, giving it, receiving it, falling in it, living in it, leaving for it."
The Book Review
It Starts with Us gets 4 out of 5 stars based on nearly 800,000 ratings and over 60,000 reviews. This article reviews the book as follows.
The storyline of this book is complete and captivating. It always makes you wonder how each character will develop next. The plot depicted by the author sometimes stirs up your anger or lets you feel the beauty of life. Readers can be aware of how violence and abuse affect the relationships that victims have and hope to have. Others should try to understand the victims' choices when it comes to finishing the cycle of abuse.
In the book, Lily and Atlas focus on restoring and starting a new healthy life. You may discover similar situations in your own life from the chaos of their lives and the complexity of emotions. This It Starts with Us book teaches that pain and hope are often intertwined, while life is both beautiful and broken. By reading it, you may be able to face the setbacks and various dilemmas you encounter more easily. This book helps build confidence in life.
It Starts with Us is a story of love, bravery, compassion and recovery. It gives readers an insight into how we can shape ourselves into better people. 4.3 out of 5 stars is given.
Other Books by the Author
The writer of It Starts with Us, Colleen Hoover has written and published 20+ books and also produced novellas and short stories. Some of her other best books include Verity, Ugly Love, Reminders of Him, Regretting You, All Your Perfects, and Heart Bones. Most of her books are in the romance and psychological thriller genres.
Final Thoughts
As a follow-up to It Ends with Us, the book It Starts with Us is worth picking and reading especially if you wonder what's next for Lily, Atlas, and the others. The conversational writing style is good for drawing readers into the story. Readers can immerse themselves in the character experience and learn the truth and mindset that will benefit them throughout their life.
Although the free PDF book exists, it is not recommended, and protecting the copyright and buying genuine books is encouraged.
FAQs
Q: Is It Starts With Us going to be a movie?
A: It Ends with Us will be adapted into a movie. According to the current news, Blake Lively and Justin Baldoni will star as Lily and Ryle. The release date has not been announced and thus the sequel to the book, It Starts with Us has not been made into a movie.