Introduction:
When the New York Times best-selling author Colleen Hoover talks about getting hurt in her much talked about book Heart Bones. This novel is a passionate, heater-warming, and unique love story of two broken and damaged young adult souls.
So, if you plan to ride on this journey, take swift highlights of Heart Bones by Colleen Hoover with its summary, intriguing insights, & catchy quotes. This article will guide you to a smart and simple option to read the PDF form of this book with a realistic and customizable book reading experience.
Heart Bones Specifications
Before getting drowned in the hurtful hearts and bonding bones of this story, let's get a glance at the basic details of the book and the author. So that you can know where you are heading with Heart Bones:
Author: Colleen Hoover, one the best-selling authors of the New York Times with over 23 novels, including November 9, Regretting You, and Reminders of You.
Genre: Romance, Young Adult, Fiction, Contemporary
Age Ratings: 16 years & above
Language: English
Published: By Hoover Ink, Inc on 19th August 2020
Page Number: 368 pages
After getting intimate with the essential insights of this book, it's time to know the Heart Hoover summary to get highlights of the story.
What is Heart Bones Book About?
Here comes the synopsis of Heart Bones, one of the best romantic collections written by Collen Hoover. The story begins with a 19 years old girl named Beyah Grim, who had just lost her drug-addicted mother due to a drug overdose. She spent her whole childhood and adolescence in poverty and negligence. After her mother's sudden death, she was forced to move to her wealthy father's place with his newly married wife and daughter, who is the same age as Beyah.
In her new life in a new city, Beyah eventually meets her wealthy neighbor Samson who is poles apart from Beyah in every aspect. However, their unspoken misery and inclination toward sad and sensitive things draw them to each other. They decided to keep their relationship as a casual summer fling as they couldn't resist attraction towards each other. However, their same past secrets of pain made their relationship head to some dynamic direction of love, romance, and effect.
Heart Bones Quotes
Once you get the story highlights of the book, the most romantic and heart-wrenching Heart Bones quotes will help you comprehend this book's core concept.
"Hearts don't have bones. They can't actually break."
"Damaged people recognize other damaged people. It's like a club you don't want a membership to."
"I kind of like that Samson is a closed book. You can't really dislike a book you haven't read yet."
"I think when you're the worst of people, finding the worst in others becomes a survival tactic of sorts. You focus heavily on the darkness in people in hopes of masking the true shade of your own darkness."
"Love is a lot like water. It can be calm. Raging. Threatening. Soothing. Water will be many things, but even in all its forms, it will always be water. You are my water. I think I might be yours, too."
Read Heart Bones Online For Free
Though reading a physical copy of Heart Bones by Colleen Hoover is satisfying, reading it online in PDF form would be more relaxing, convenient, and hassle-free. On busy, secluded days when you have only one option to read it during your work break or traveling time, carrying the PDF version on your smartphone or tablet is the most innovative and simplest option.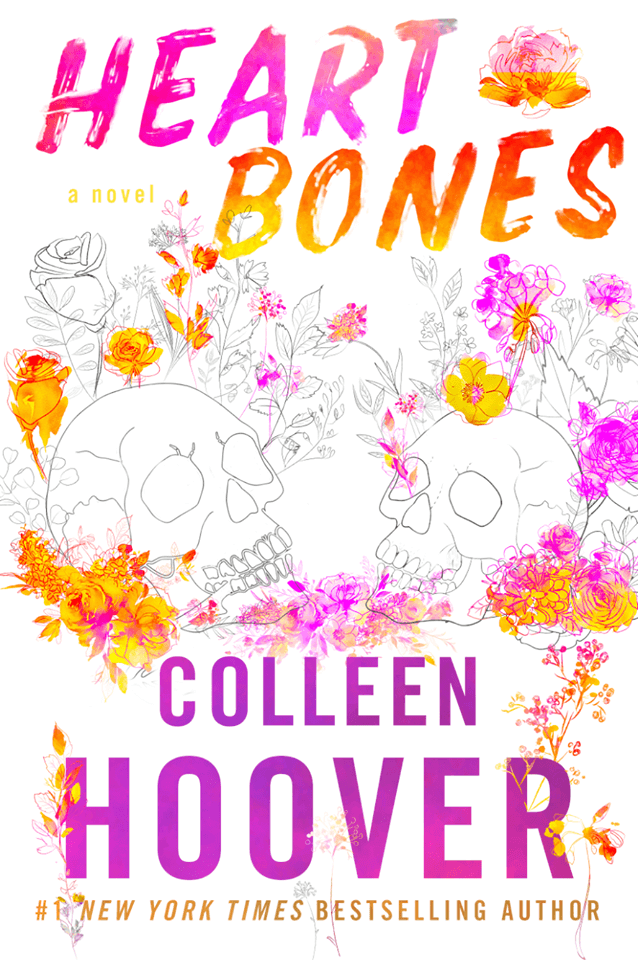 Heart Bones by Colleen Hoover
If you have ever purchased or downloaded Heart Bones from online ebook stores or any other sources, and are looking for a tool to convert the ebook formats in order to read on a selected device, you must download SwifDoo PDF to have a try.
It offers the most powerful functions for decrypting and converting any ebooks to PDF and ePub.
Or you can continue reading Heart Bones online.
However, suppose you want to feel the physical book reading experience in your PDF reading, a practical PDF reader is essential. In that case, we must introduce the flexibility and customization of the SwifDoo PDF reader for your fascinating repeat reading experience. Once you have downloaded the Heart Bones PDF on your Windows PC, you take the systematics support of the SwiDoo PDF reader to customize the way to view the PDF book. Let's see what you could do with the PDF reader in your PDF reading:
Select your desired document browsing mode from multiple options;
While changing the theme, you can select the PDF display mode;
You can translate the PDF document;
Read PDF aloud option;
Being a Kindle fan, you want to convert the PDF book to the Kindle version by following the "Convert PDF to Kindle" guide.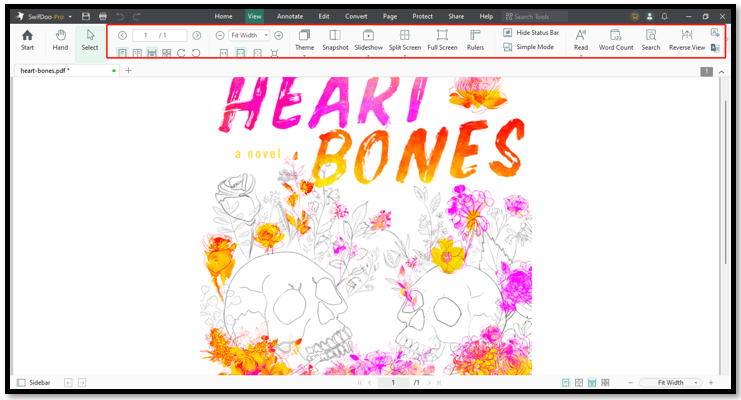 Conclusion
If you plan to try to read Heart Bones by Colleen Hoover in your quality pass time, make your reading relaxing, repetitive, and convenient with the customizable PDF reading support of SwiDoo PDF reading. Whether you want to make any line, para, or quote or instantly feel like sharing it with your loved one, you can do anything with SwifDoo software with perfection, precision, and satisfaction.