When you feel a little lost in discovering what you want or don't know what to do to motivate yourself, there is a book that might enlighten you and renew your vision of self-discovery. Educated by Tara Westover narrates the beauty of maturing and finding your own identity through education. It is the optimal companion if you are undergoing a transition in your life, especially the transition in college.
The book Educated is a memoir based on Tara Westover's true experience. Her inclusive and sensitive writing makes readers closely connect with her through her experience. Let's dig into this book to know more about Educated.
# Summary of Educated
In Educated, Tara Westover recalls how she went through obstacles from her upbringing environment to pursue education and cultivate self-empowerment. She was raised in a strict Mormon survivalist family in rural Idaho, where her parents viewed governments, schools, and hospitals as evil. Tara and her siblings neither received any school education nor proper homeschooling.
Living with the abuse and gaslighting from her controlling father and violent elder brother, she had viewed herself through their lens as well. Until one day she was encouraged by one of her brothers and decided to attend college by teaching herself all the knowledge she needed. On her way to pursue higher education, she expanded her worldview beyond the isolated confines imposed by her father. Meanwhile, she was struggling with the increasing divide between her family and her.
No more spoilers! Does any piece of Educated summary catch your eye? Explore more in this book.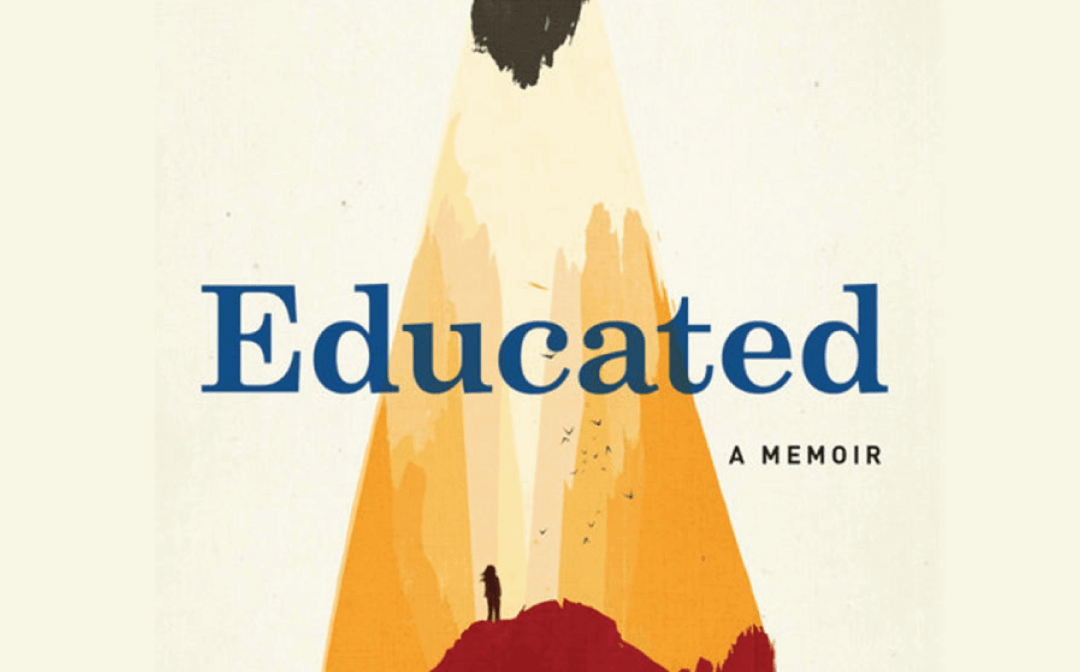 # Key Takeaways of Educated
* Education and Identity
Being educated is more than learning bookish knowledge. It is to build a new perspective of the world by accessing different points of view. During this process, the book Educated highlights the conflicts between the identity of who "I" used to be and who "I" is becoming.
* Memory
Memory is an essential component of Educated for Tara Westover. Memory has a strong tie with our life, but it is unstable as well. In the book, Tara keeps revisiting and questioning her memories of past events. This made her learn things from a new aspect, which contributed to building her self-confidence and later achievements.
* Independence
Educated described an isolated family where the father is the ruler and women were submissive to men. The power of Tara's father controlled the family. As she continued her education away from her home, she began to view her relationship with her father from a new perspective. Through education, she learned to trust herself and managed to get away from her controlling family.
# Where to Read Educated Online
If you can't wait to read the book Educated right now, there are some common platforms to access this memoir for.
1. Amazon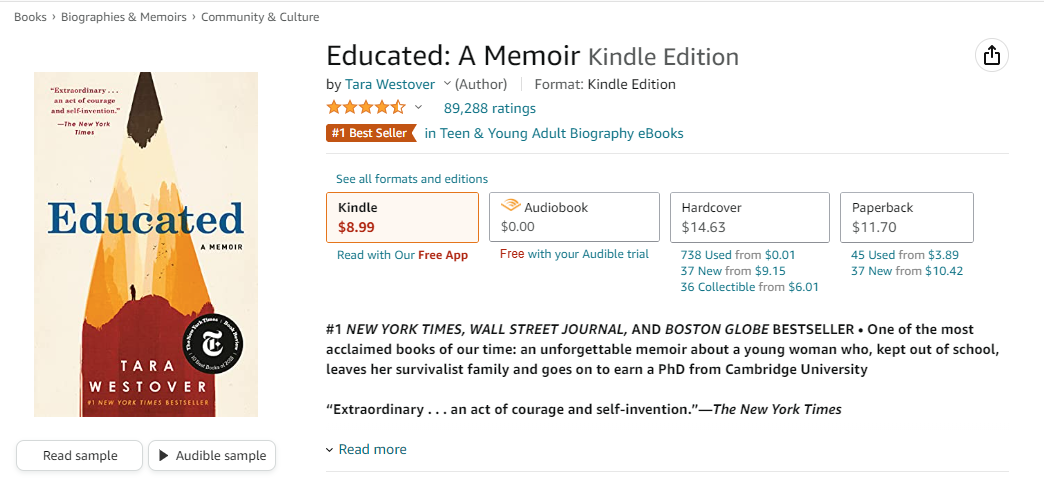 Without a second thought, Amazon is one of the best ebook providers. Just go and visit its website. Then enter the keywords "Educated Tara Westover" and hit the "Enter" key. Then you can purchase and read it on your Kindle.
2. Barnes & Noble

For users who don't have a kindle, let's pick another popular bookseller for ebooks. Barnes & Noble also offers an online version of Educated and you can straightforwardly read it via the website. You can check the content by its catalog and customize the font size while reading. This bookseller allows you to flexibly manage your purchased ebooks.
However, in addition to your browser, the ebook version of Educated is only available for Nook devices or Nook App, an ebook reader developed by this book retailer.
3. OverDrive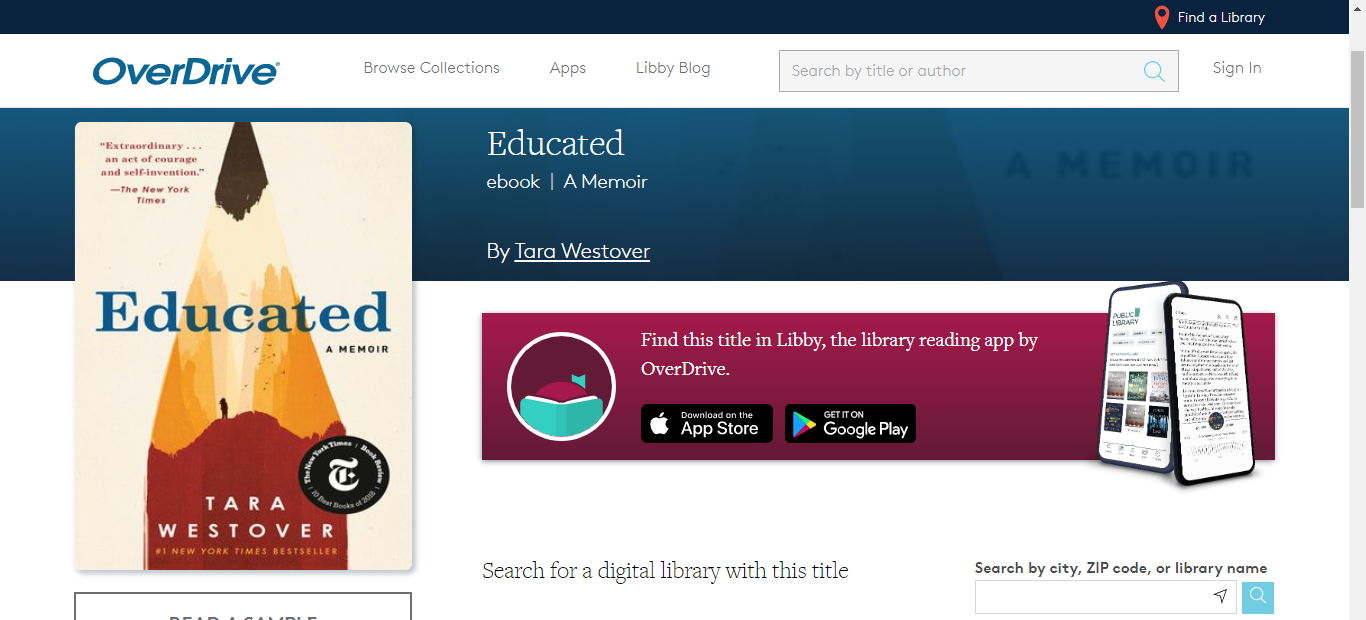 Is there any chance to read Educated online for free? Of course! OverDrive is a wonderful site that lets you borrow the ebook version from your real local libraries. OverDrive collaborates with many libraries around the world to provide free ebook collections. All you need is a digital library card for your target library. Then you can easily borrow the ebook Educated and read it on your device. This PDF search engine is a totally legal way to enrich yourself without charge!
# Extra Tip: Read & Annotate Educated in SwifDoo PDF
If you have a copy of the Educated book in PDF format, then you can try SwifDoo PDF to read and annotate it efficiently. SwifDoo PDF is a highly-rated PDF reader and annotator which provides various annotating tools to write down your thoughts or markup the text.
Read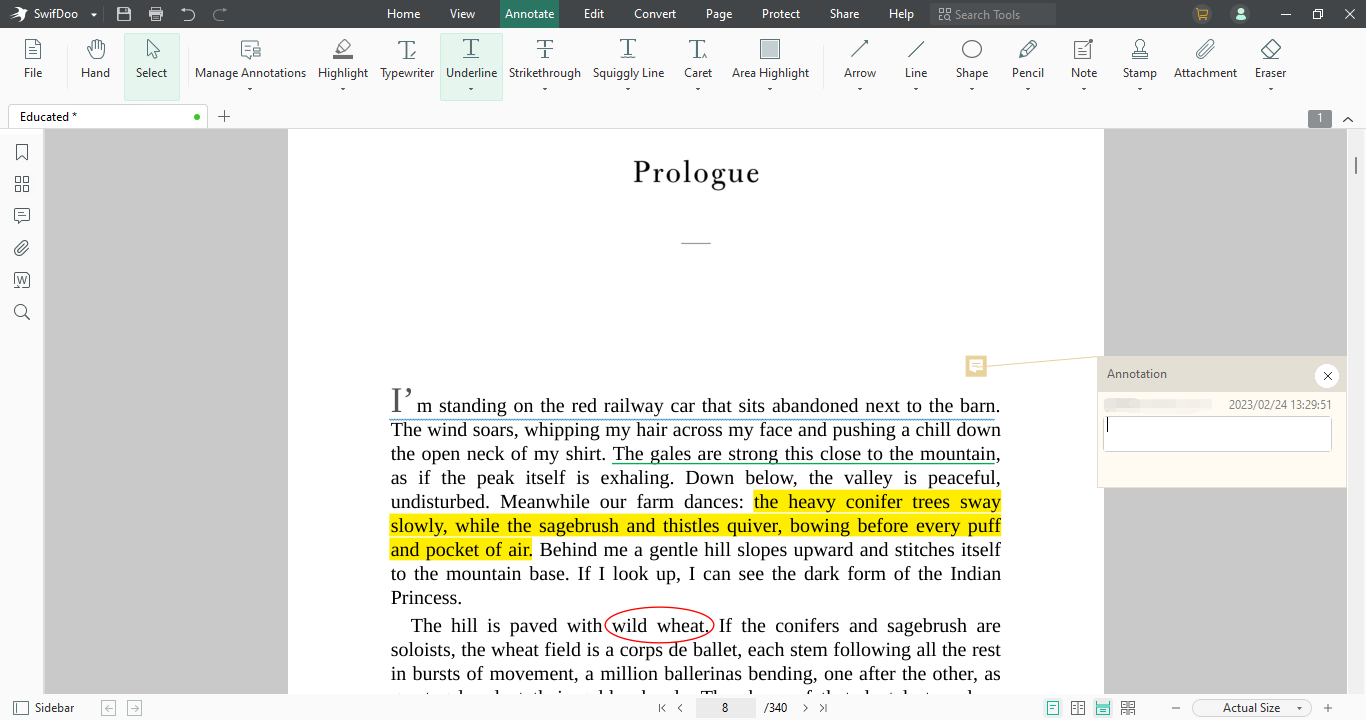 Different reading modes are available to achieve a better reading experience. When reading Educated, it lets you change the page background, take a snapshot to make comparisons, etc. More importantly, it can read your PDF aloud so that you can still hear the book when you are doing other business. The Quick Translation feature allows you to translate text into any other language without using additional translators.
Annotate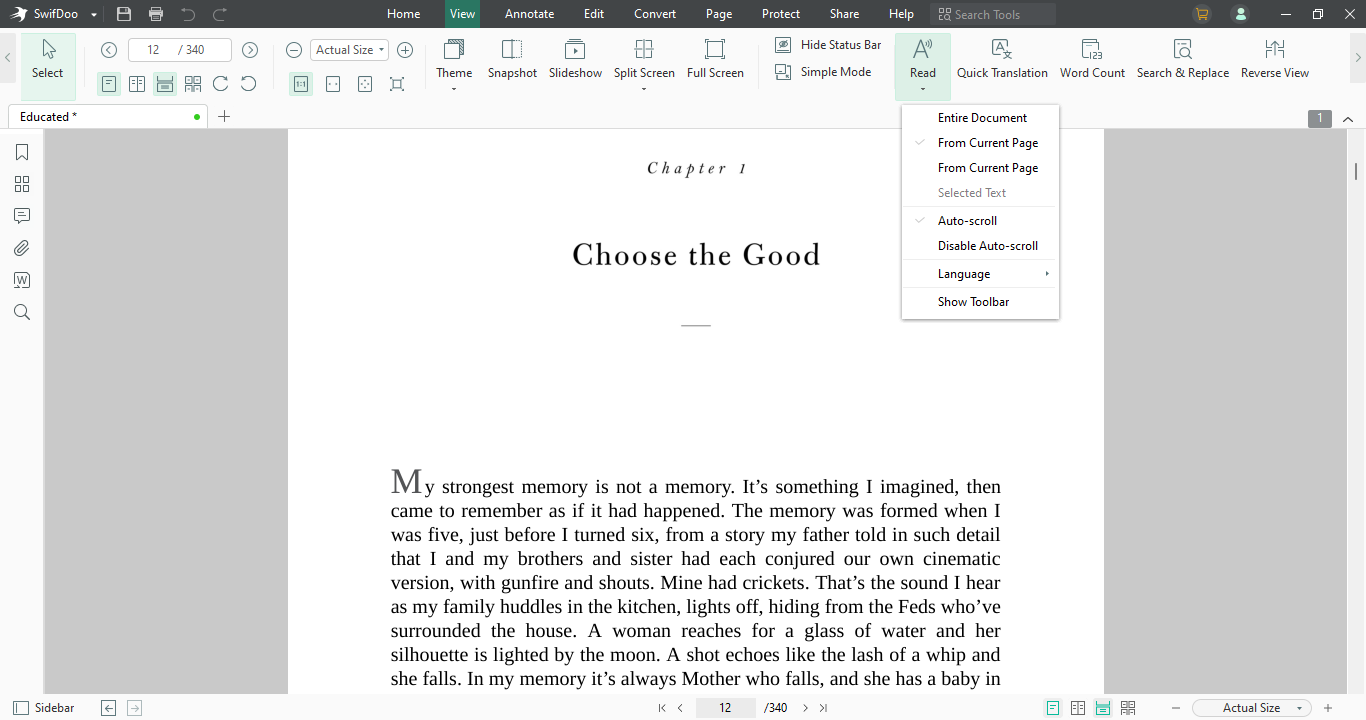 It allows you to insert hyperlinks, add notes to PDF pages, highlight the text you like, and circle the content. You can easily write down your Educated book notes. This PDF annotator proves time-saving in managing your annotations and improving your reading comprehension.
# Sum Up
That's all about the book Educated by Tara Westover. When you are experiencing burnout, hope the inspiring words and Tara Westover's strong belief to value herself and knowledge bring you newfound confidence. Remember you are not alone and there is a brand new world outside your window.