Locking PDF files can help protect sensitive information from being stolen by strangers. People who don't know the password aren't allowed to check your PDFs in no time. However, if it's you who forget the password, opening a locked PDF file can be such a pain in the neck. Will you wonder if is there any solution to unlock a PDF file? Luckily, the answer is positive, and this blog will show you how to unlock PDF Mac and Windows with simple methods.
Two Types of PDF Passwords
Before diving in, it's better for you to learn information about PDF passwords. First of all, there are two types of PDF passwords: open password and owner password. As the name has suggested, the open password is mainly used to prevent people from opening this PDF file, while the owner password is for restricting others from editing PDFs.
Unlock PDF Mac with Preview
Preview is the default PDF viewer and editor on macOS, enabling users to perform basic editing functions on PDF files, including unlocking PDF files. It serves as a free PDF unlocker and offers great security when manipulating sensitive PDF files. With its aid, you can unlock PDF Mac without downloading any third-party program and thus save much time and effort.
However, on the other hand, it must be admitted that Preview does have its flaws: before unlocking PDFs, you must input the preset password because it only allows you to remove owner passwords; it doesn't support batch unlock PDFs. So, if you feel okay about these two disadvantages, the Preview app can be a good choice to unlock PDF Mac.
Here's how you can remove passwords from PDFs on Mac for free:
Step 1. Open your locked PDF file with Preview.
Step 2. Click File > Export as PDF and input the password you've set before.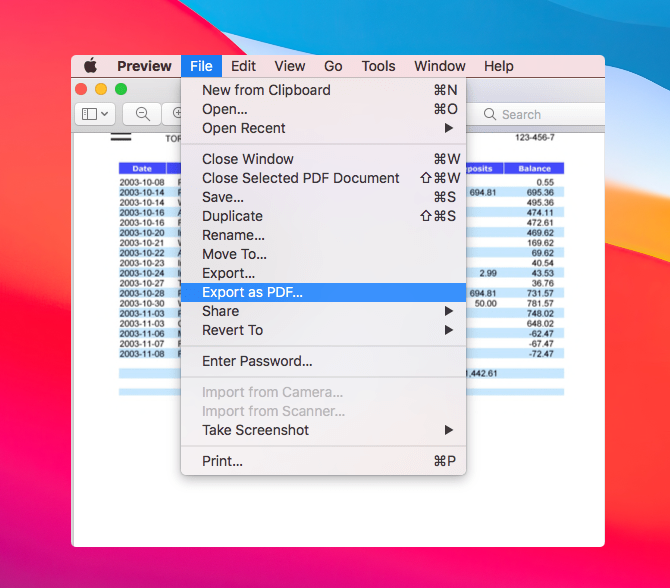 Step 3. Tap the Unlock button and rename the PDF file (if needed). Leave the "Encrypt" box unchecked and then click Save to unlock this PDF on your Mac.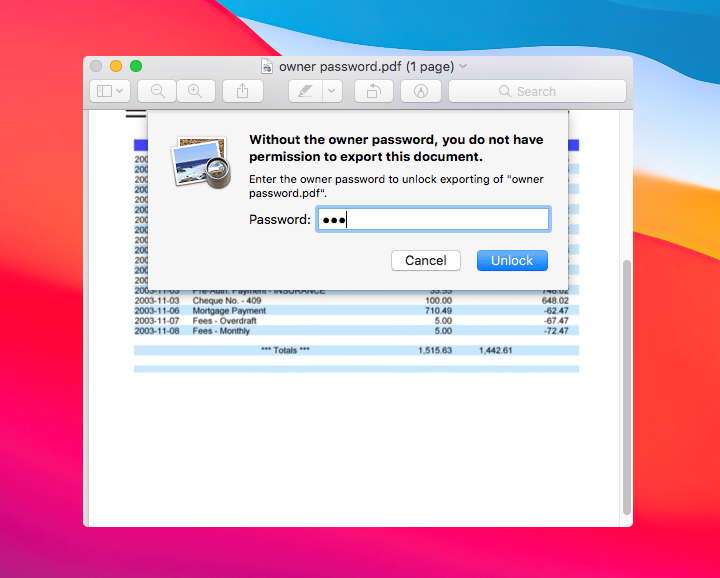 How to Unlock PDF on Mac with Expert Solution
Besides Preview, you can also find many expert solutions to unlock PDFs on macOS. In this part, we will introduce two handy PDF password removers and show you specific steps. Just read on.
SysTools
SysTools, for instance, has released a dedicated Mac PDF unlocker to help remove PDF file restrictions on macOS. It enables you to unlock PDFs in bulk and print secured PDF documents without breaking a sweat. However, like Preview, SysTools can only remove owner passwords from PDFs. Here's a detailed guide about how to unlock PDF Mac with SysTools:
Step 1. Install SysTools Mac PDF Unlocker from its official website.
Step 2. Click Add File(s) to upload your PDF files. If you have archived multiple PDFs in a folder, click Add Folder(s) in this step.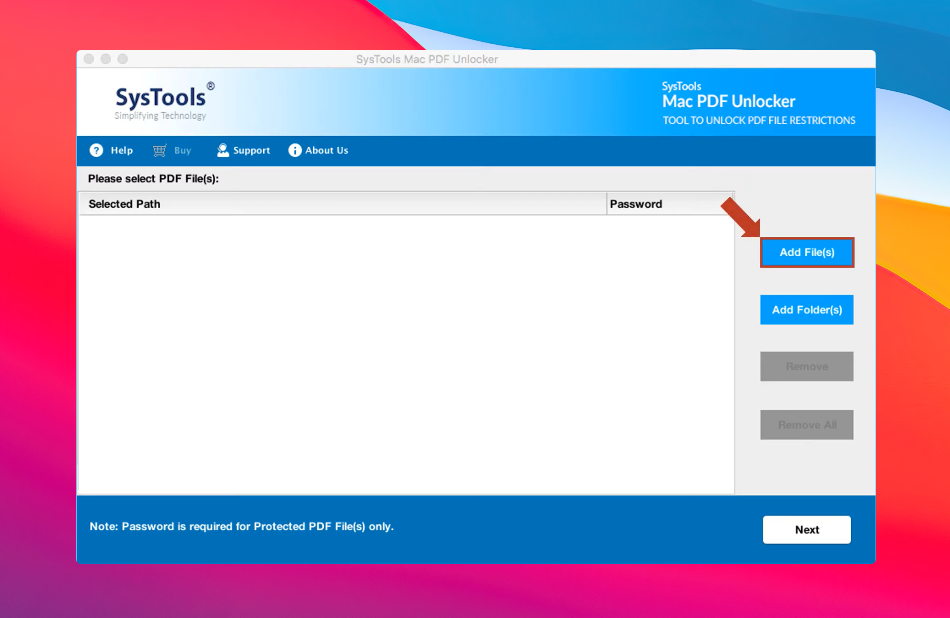 Step 3. Enter the open password. If your PDF files only have owner passwords, then you don't need to enter any passwords.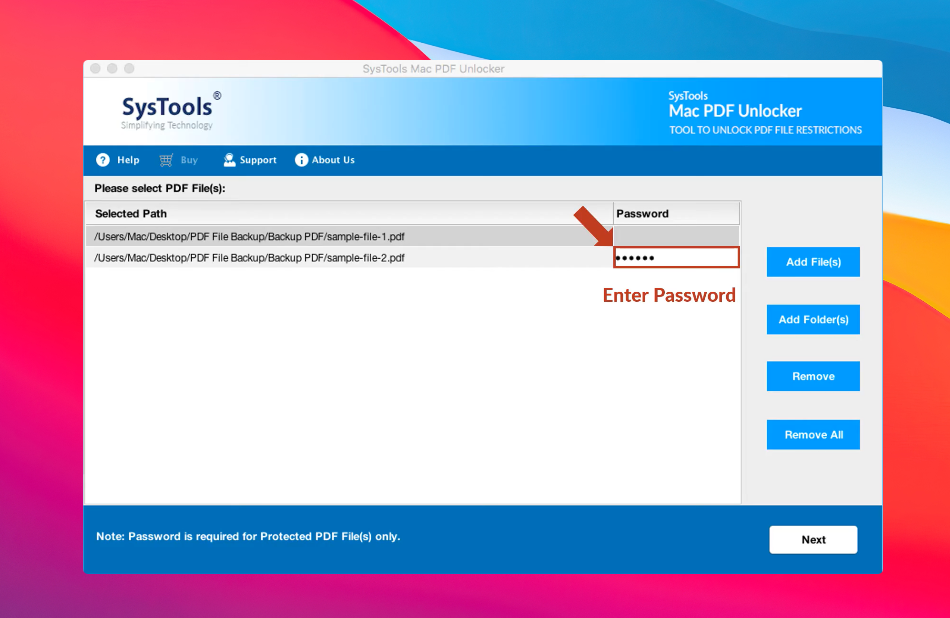 Step 4. Click Next and tap the Unlock button in the bottom right corner.
Cisdem
What if you have a PDF file with an open password, but you do forget the PDF password? Both Preview and SysTools can only help remove owner passwords, and they require an exact open password to check it. Luckily, Cisdem Password Remover can help you solve this issue. Let's see how Cisdem helps unlock PDF without password:
Step 1. Install Cisdem Password Remove for Mac.
Step 2. Drag your PDF files to this program.
Step 3. Tap the lock icon and click "Forgot?". Then tweak the setting in the following pop-up window to provide some clues.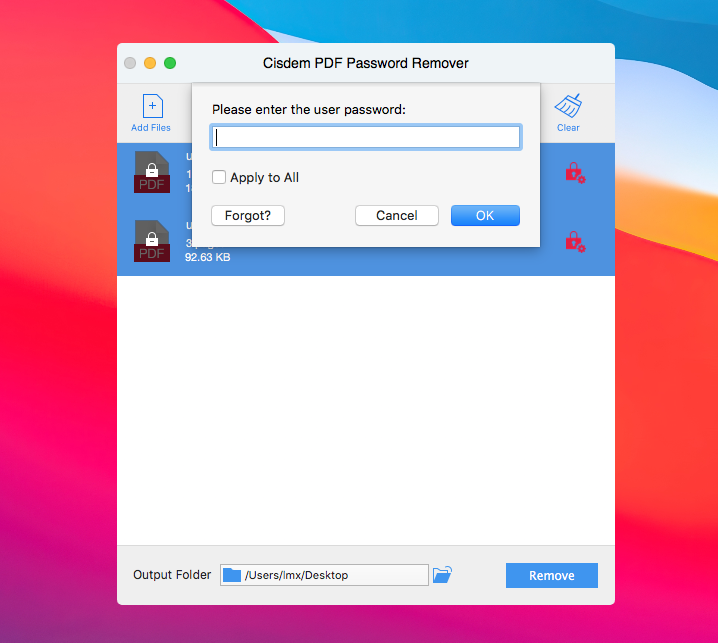 Step 4. Click Decrypt to start unlocking.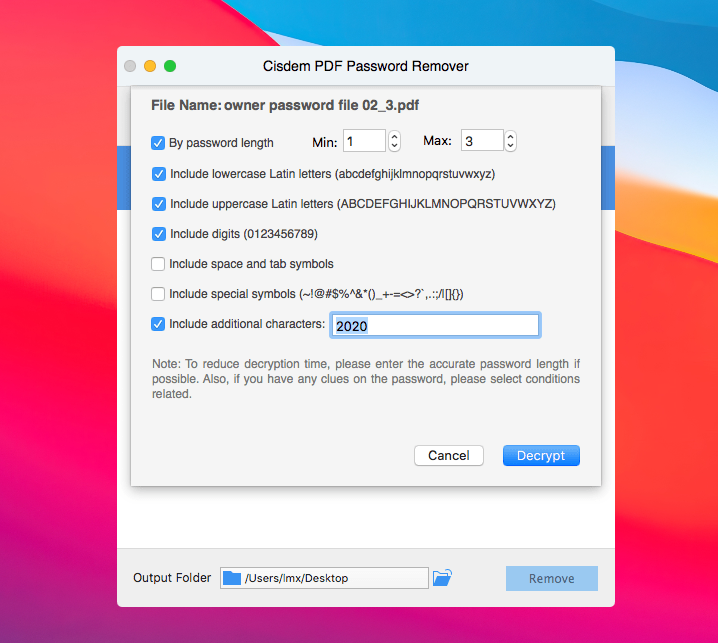 Bonus Part: How to Unlock PDF on Windows
For Windows users who also need to unlock PDF files, this post also prepares you with a solution. In fact, Cisdem Password Remover also works smoothly on all major Windows operating systems. But we'll offer you an alternative in this part: SwifDoo PDF.
SwifDoo PDF is a Windows-based PDF editor that possessed a series of practical features, with which you can address almost all PDF-related problems. It offers a direct button to help you remove passwords from PDF files. The following content shows you how you can unlock a PDF on Windows with SwifDoo PDF:
Step 1. Free download and install SwifDoo PDF on your PC.
Step 2. Open the locked PDF with this software and input your open password.
Step 3. Tap the Protect button in the top navigation bar and click Decryption.
Step 4. Reinput your password again and hit OK to apply your changes.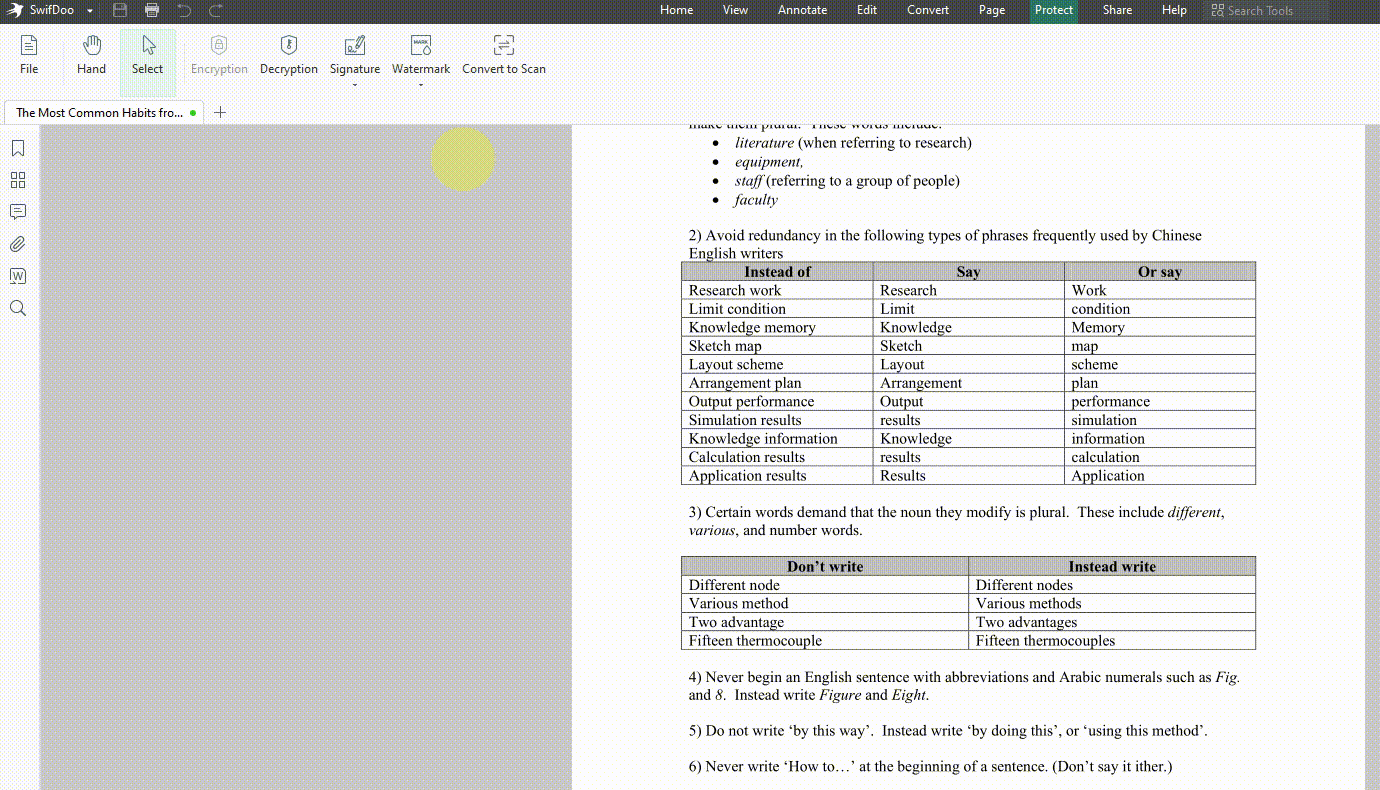 The Bottom Line
Tools and steps to unlock PDF Mac have been introduced to you thoroughly in the above content. Removing passwords from PDFs on Mac won't be trouble from now on. In addition, we also offer you a simple solution to unlock PDFs on Windows operating systems. If you're running Windows and work with PDFs often, SwifDoo PDF can be your go-to choice.