Introduction:
Are you in need of translating an English book or document to distribute the translated version to others or read it yourself? Then you probably need the best PDF translator. For people who speak or know about Italian, it might be necessary to
translate PDFs from English to Italian
sometimes. Not every translation software on the market has that ability and supports the two languages. Not to mention choosing a productive and easy-to-use one.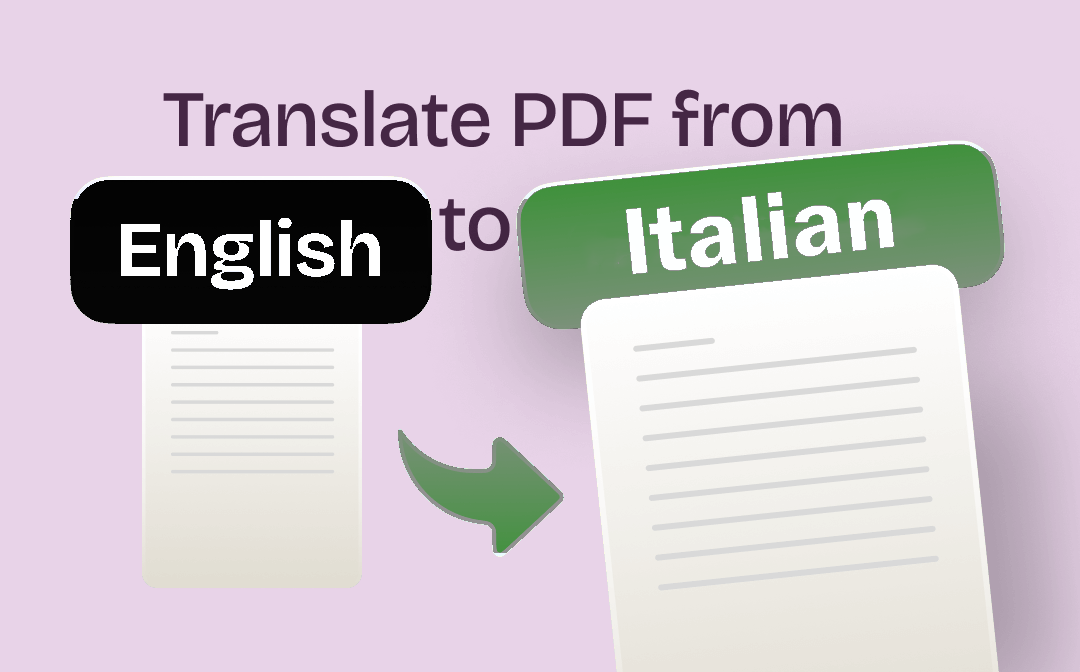 To meet your possible needs to translate an entire PDF and just the selected PDF text, this post has collected the 5 best PDF document translators. Choose a desktop PDF editor or online tool to translate PDFs from English to Italian in a flash.
Translate PDF from English to Italian with SwifDoo PDF
SwifDoo PDF is your best bet to address various PDF-related needs, which contains a PDF translator. The lightweight and handy software app can translate a whole PDF document or specified pages of it without a curve. It also helps do instant text translation on a PDF without copy-paste. To translate PDFs from English to Italian, follow the quick steps. It takes just a few clicks.
Step 1: Open your PDF file with SwifDoo PDF;
Step 2: Go to Document Translation under the Home menu;
Step 3: Select the translated language as Italian and the original language as English;
Step 4. Choose the output path and click the Translate to Italian button.

After you translate PDFs from English to Italian straightforwardly and swiftly, you can modify the translated PDF easily. SwifDoo PDF allows you to add annotations and markups, and change the text in a PDF.
#Tip 1: You can also use the "Quick Translation" option to select and translate any paragraph, word, or phrase in your PDF.
#Tip 2: To translate PDFs from English to Italian that are scans, choose PDF to Word in SwifDoo PDF, enable the OCR setting, and convert the scanned PDFs to Word; then drag and drop the saved Word files into the app, and access the translation tool.
Download the PDF translator to effortlessly translate English to Italian for PDFs now!
Translate PDF from English to Italian with 4 Top Translators
4 online document translators are introduced to translate PDFs from English to Italian next. Some provide free services.
1. DocTranslator
DocTranslator is a cross-platform translation service that can translate a PDF file from English to Italian on both desktop and mobile. The online PDF translator supports over 90 languages including Spanish, French, Chinese, etc. The website also handles Word, Excel and PPTX files. Login is required and no really free plan offered. To translate PDFs from English to Italian, you have to pay at least 0.005$ per word for up to 2,000 words. For a larger PDF, upgrade the plan.

2. Reverso
Reverso is an AI-based online PDF translator from a French company that translates 20+ languages. It comes with a multilingual interface. Text and other Office documents can be translated as well. When you convert and translate PDFs from English to Italian online for free using this translator, the total number of words should not exceed 2500. Otherwise, you will not be able to translate. If your PDF is too big to meet that limit, split the PDF into multiple smaller files.

3. DeepL
DeepL has the ability to translate both text and full documents. It lets you translate PDFs from English to Italian for free by logging in with an account. More than 30 languages are available to choose from if needed. The PDF translator runs in desktop browsers but not mobile browsers. Free users can only translate a PDF up to 5MB into Italian or another language and at most 3 files per month.

4. Multilizer Document Translator
Another online translator to translate PDFs from English to Italian is Multilizer Document Translator. It allows you to upload files from your computer, phone, Google Drive and Dropbox. This translation software can translate DOCX, PPTX and TXT files and also supports other 40+ languages. No registration or required. While you can translate a PDF from English to another language like Italian online for free using the translator, only 1 page is downloadable and viewable.

Wrapping Up
So to translate PDFs from English to Italian, which is the easiest, fastest and most reliable way? Actually it all depends on your current needs. The 5 best PDF translators have their strengths and weaknesses. You can switch or combine them to complete your frequent tasks. However, for a long-term business life, a super-competitive productivity software is essential. Give SwifDoo PDF a try and test its features for free.
FAQs
How do I translate a Word document from English to Italian?
A direct way to translate an entire Word document is to open it with SwifDoo PDF, choose the "Document Translation" option, set the languages and start translating. After translation, use the "PDF to Word" converter within SwifDoo PDF to turn and save the PDF into a Word doc again. Or just keep the translated PDF copy.