Introduction:
For those who need to translate English to Korean in business, finding an optimal translator to conduct the task accurately is a problem. Considering the format of your files, it is common to choose different tools to do the translation. However, picking the right tool is like looking for a needle in a haystack, which is a waste of time.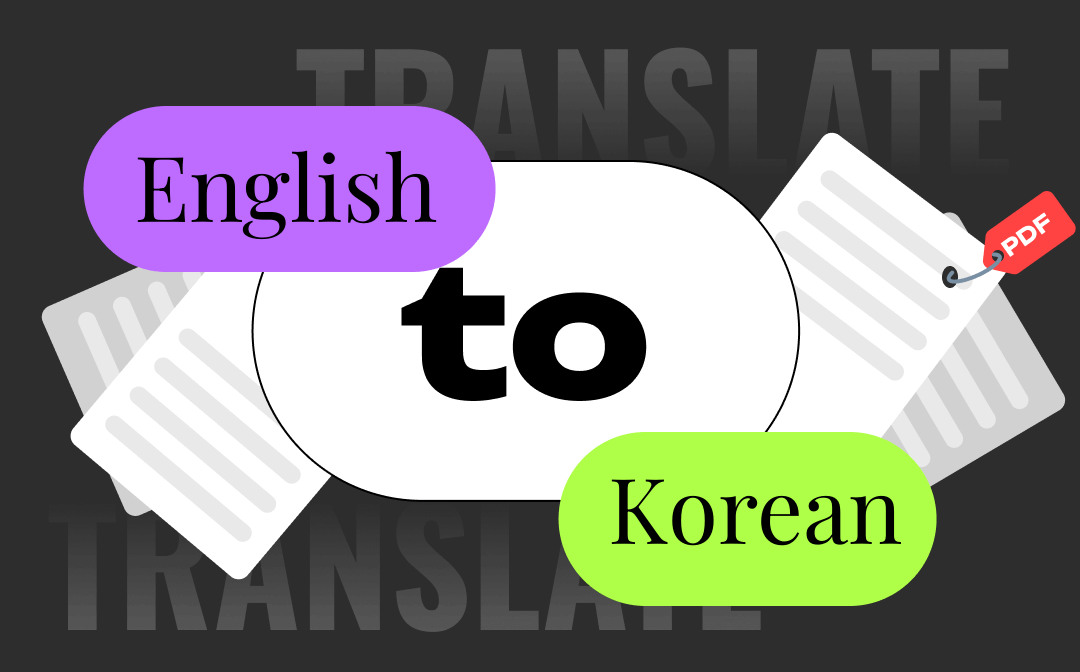 If you are also bothered by this problem, don't worry; this pose has got you covered. We demonstrate 6 tips to help you translate English to Korean for PDF, Excel, Word, PowerPoint, and many other files. Both free and paid applications are covered, including a proficient PDF translator – SwifDoo PDF. Let's dive deeper into the article together.
6 Best Methods to Translate English to Korean for All Formats
PDF, Word, Excel, images, and other files have been widely used in our society. Based on your need to translate files in different formats, here are the practices to let your English files be translated into Korean with accuracy.
SwifDoo PDF – Best PDF Translator
PDFs are largely used as business documents such as contracts, invoices, and financial documents. When you need to translate a large number of English PDF documents into Korean, it is necessary to utilize a PDF translator to improve efficiency and reduce costs. After all, translation can be time-consuming and expensive.
This is where SwifDoo PDF comes into play. It has a strong English to Korean PDF translation tool that enables you to translate English text to Korean for PDFs accurately in real time, even for scanned PDF files. This helps you to efficiently cooperate with Korean coworkers and clients. Besides, compared to hiring a professional translator to do the translation, the software is more affordable in terms of translating lots of PDF files. More importantly, other PDF editing and annotating features let you make changes to the PDF file without using additional applications
Before we conduct the translation, please remember to tap the button below to download and install this program on your device. Here is a quick guide on how to translate English to Korean for PDF documents in SwifDoo PDF:
Step 1: Import your English PDF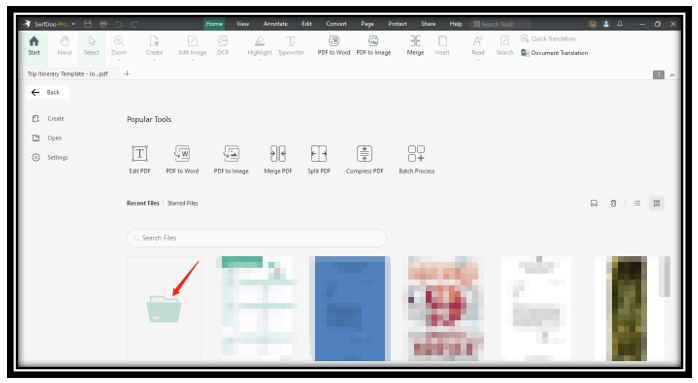 Open this PDF translator on your computer and click the file icon to add your PDF.
Step 2: Enable the translation feature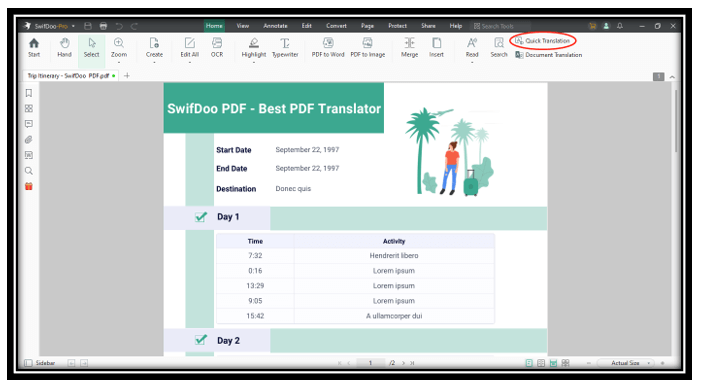 Under the Home tab, choose "Quick Translation". Alternatively, go to "View" and enable the feature if you want to adjust the reading mode when viewing the translated PDF.
Step 3: Translate PDF from English to Korean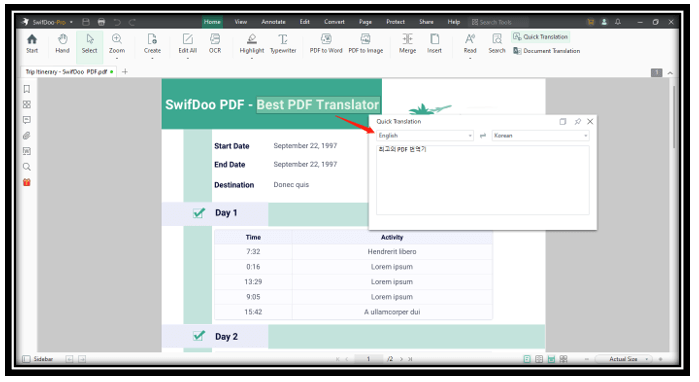 Select the desired text and a window will pop up. Choose the source and target languages as English and Korean. The translator can automatically translate English text to Korean for the PDF.
Tips: If you want to have an English PDF translated into Korean as a whole, select "Document Translation" and upload your PDF. Set the output language as Korean and hit "Translate to Korean".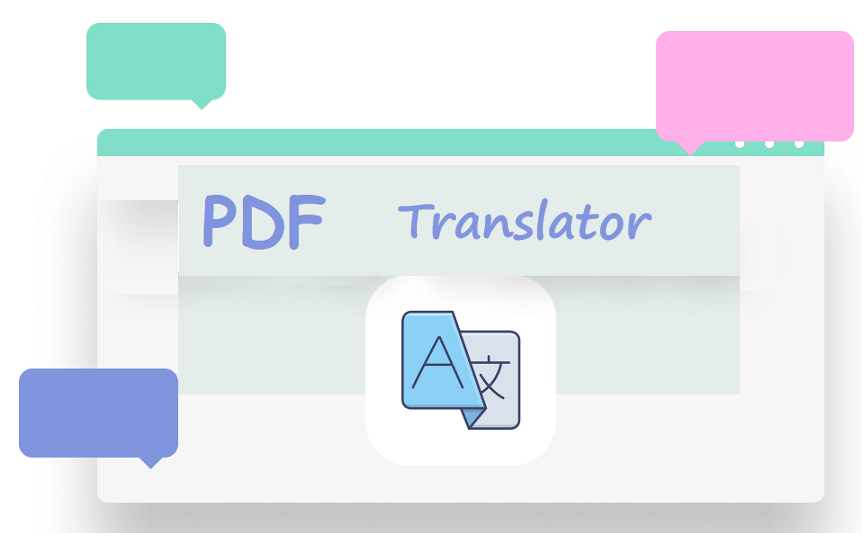 Top 11 Best PDF Translator That You Must Know in 2023
Check this post to find out the 11 best PDF translators in 2023. We've tested and selected them from different aspects to help you translate your PDF documents.
READ MORE >
Translate.com
Translate.com is an online site that offers free and paid translation services at the same time. The free translating tool is used to translate English to Korean for up to 300 characters per day. It is optimal for translating short text files or messages. The paid service supports translating PDF, DOC, PPT, and other formats. Users need to send documents via the site and wait until they finish the translation.
To make your English text translated into Korean for free, copy the text from a PDF, Word, etc., and paste it to the workspace on the left. Choose the target language and you can access the results.
Deepl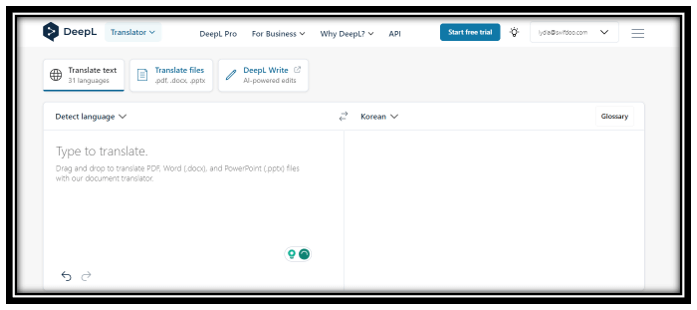 Deepl is a professional language translation platform supporting 31 languages, including English, Korean, Japanese, and Spanish. For text files, it is free to translate English to Korean without limitations after signup. The site detects the input language immediately and the only thing you need to do is select the target language as Korean.
In addition to translating text, the translator lets you do translation from English words to Korean for PDF, Word, and PowerPoint files. Click "Translate files" and import your file. Select the output language and tap "Translate into Korean" to download the translated file. However, as the supported languages are limited, other translators are needed if you want to let your Word or PDF files be translated from English to Marathi and other minority languages.
RushTranslate

If you don't like AI translation, then RushTranslate is the right option. It hires professional translators to perform English to Korean translation for files in all formats. The platform holds a huge source of native Korean translators who are fluent in English. This site is especially recommended for those who want to translate English PDFs to Korean. When your business requires agreements for international cooperation, accurate and quality services are available to avoid mistakes and misunderstandings.
EasyTranslation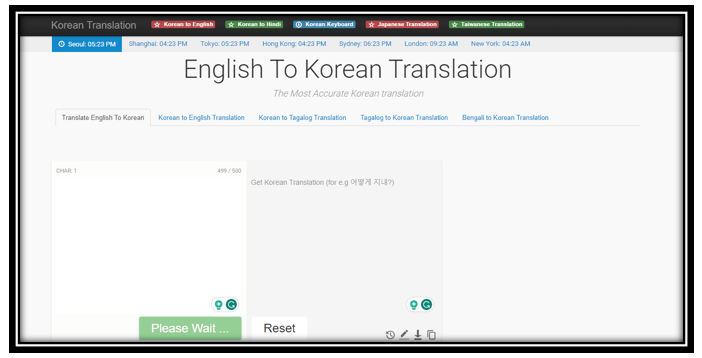 EasyTranslation is another online English to Korean translator with free services. This site also excels in translating text and sets the character limit to 500 each time. It lets you translate English to Korean repeatedly without charge. You can view the translated history, download the Korean text to a file, or copy the text easily from the workstation. One drawback is that this translation software can only handle one single format. If you need to translate a picture, the next app may be helpful.
Mate

Mate is a free app compatible with iOS, Mac, and Android. It is a good travel assistant to help you understand unknown languages when traveling abroad. The capability to take photos makes it stand out if you want to translate a menu or signage. Besides, the desktop version allows you to perform English to Korean translation for webpages and subtitles. It can translate English articles to Korean sentence by sentence and helps you to search for the meaning of a specific word in seconds.
To translate a picture from English text to Korean, open the app and click the camera button to take or upload a picture. The app automatically recognizes the source language and displays the translated results.
The Conclusion
Whether you need to handle PDF, Word, Excel, or other files, the above 6 translators help you to translate English to Korean with accuracy. Most free translation sites are good at translating text while paid translation tools are good at dealing with large files. Hope you can find an ideal Korean translator after reading this article.