Introduction:
Are you fed up with reading a PDF document with watermarks covering pages? Do you want to update the original watermarks or no longer need any watermarks in your PDF anymore? For whatever reasons you want to get rid of and remove watermarks from PDFs, it's essential to have a PDF watermark remover.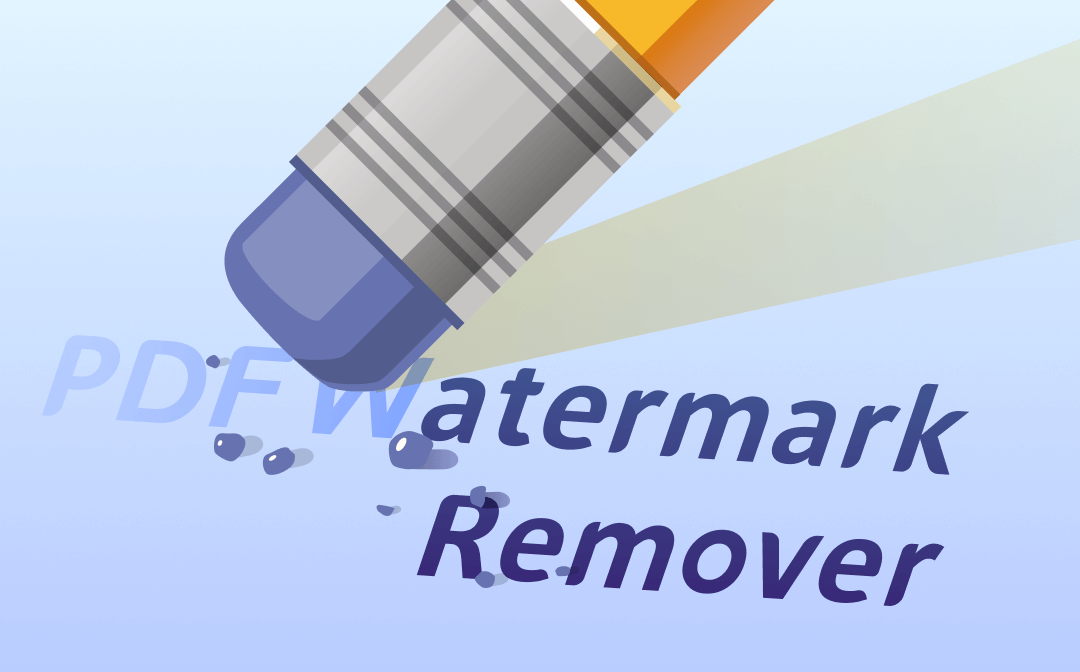 A PDF watermark is text or an image overlaid in front of or behind a PDF file. It is used to indicate the content copyright owner and prevent unauthorized misappropriation. Adding watermarks to PDFs seems easy but watermark removal is a bit difficult. Thankfully, there are a few downloadable and online PDF watermark removers to solve your trouble. Read on to find details about them.
1. SwifDoo PDF
If you need a PDF watermark remover to remove watermarks from PDF files offline, consider using the SwifDoo PDF application. The software can remove both text and image watermarks in a PDF. By opening your PDF in it, choosing Protect and Watermark and clicking Delete Watermark, all watermarks are deleted in a flash. It keeps the rest content of your PDF intact and unchanged.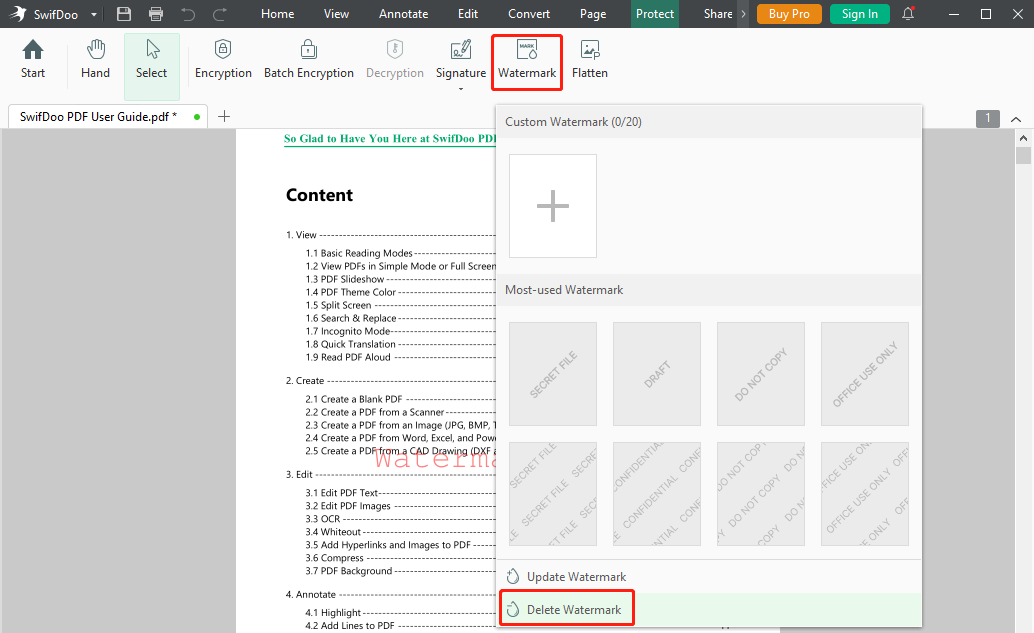 The PDF watermark remover is available for full version free download on Windows 11/10/8.1/7/XP. You can utilize the application to remove logos, stamps, signatures and any type of text. Moreover, SwifDoo's PDF annotating feature enables you to erase watermarks. The eraser works best when the watermarks are not layered over text. The watermark remover for PDF documents allows you to remove watermarks for free with a 15-day free trial account.
Key features packed into the software:
Protect PDFs with watermarks, passwords, and signatures.
Convert PDFs to various formats (Word, Excel, PowerPoint, TXT, etc.) and vice versa.
Change the text, and add images, backgrounds and hyperlinks to PDFs.
2. Right PDF
Right PDF is an online PDF watermark remover that lets you remove watermarks from PDFs for free. You don't need to sign up or download any desktop software. It runs right in your internet browser. The watermark remover can delete all text and image watermarks from PDFs in one click. All you have to do is to access the site, upload your PDF and click the Remove watermark button. The resulting PDF file with no watermark is free to download.

The PDF watermark remover allows you to upload and process 1 file at a time online for free. The file size is limited to 10M. The software site also has tools to add watermarks, rotate pages, and encrypt and remove encryption from PDFs. Uniquely, the Right PDF online watermark remover allows you to share the online download link of the PDF without a watermark.
3. Soda PDF Online
Soda PDF Online is one of the best online watermark removers for removing text and image watermarks from a PDF file for free. The PDF watermark remover comes with a simple and well-designed interface with graphical menus. To choose the watermark remover tool, click the Edit tab, expand the removal menu and click the second watermark option. The web application is also equipped with the feature to change and so as to remove the backgrounds from a PDF.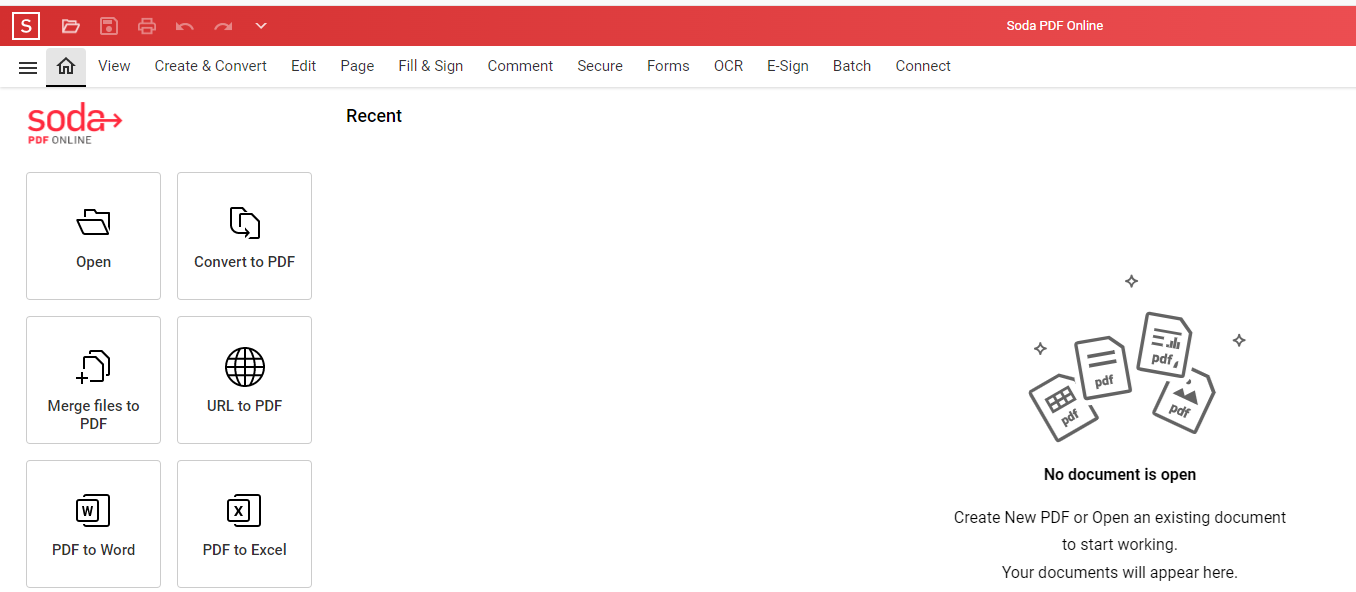 Other than that, it enables you to edit, compress and merge PDFs. The software also serves as one of the best PDF converters. With Soda PDF Online, you will be able to manage PDF documents on any PC, mobile phone and tablet conveniently and fast. Besides the online version, the PDF watermark remover software is for free download as a desktop and premium application for Windows.
4. Google Docs
Google Docs is a cloud-based document creation, editing and sharing service. It can work as a free PDF watermark remover in your Google Chrome browser to eliminate watermarks online. With the built-in OCR engine, the platform allows you to open and convert PDF documents. This ability makes it possible to remove watermarks from a PDF when opening the file. While it might not bring perfect results but is indeed workable.

After opening a PDF in Google Docs, you can also manually select and delete the watermarks which were not removed automatically. Once you've finished, you can download the file as a PDF or another type of file.
5. PDF Watermark Remover
PDF Watermark Remover is a utility that provides one of the quick ways to remove PDF watermarks. It's used to be a Chrome extension and now still available online. The PDF watermark remover can remove any text and scripts in PDF files. It allows you to remove textual watermarks and stamps of any language and some image watermarks. You can upload PDFs from a local device, Google Drive, Dropbox, and Box.

To use the PDF watermark remover online tool, a single uploaded file cannot be bigger than 5MB. It allows you to batch upload multiple PDFs for watermark removal. The removal method is based on the keywords you entered about the watermarks or stamps. It's recommended to choose the "Alternative, If…" option from the Remove Method menu on the interface. If you don't mind the ads on the site, the PDF file watermark remover running online is a good option.
6. PDF Watermark Remover APK
The PDF watermark remover app by Rising Apps Solutions allows you to remove stamps and watermarks from PDFs for Android. As its name "PDF Watermark Remover" suggests, you can easily remove watermarks added by many applications like CamScanner with it. It can help delete other unwanted elements from your PDF files.

Comparison of the 6 PDF Watermark Removers
While all the introduced software tools stand out in terms of removing watermarks from PDFs, you might just need one or two of them. Then how do you pick the best one? To help you make the decision, here is a comparison table of the 6 PDF watermark removers. Check the items in the table for your favorite selection.
| | | | |
| --- | --- | --- | --- |
| Software | Supported Operating System | Highlights | Performance |
| SwifDoo PDF | Windows | All-around PDF solution for removing watermarks, editing, and doing many more with PDFs. | Smooth, fast, and small in size. |
| Right PDF | Windows, Mac, Online | Efficient PDF text and image removal online for free. Convert, protect, and organize PDFs. | Easy to access and simple to navigate. |
| Soda PDF Online | Windows, Mac, Online | Reliable PDF background, watermark, and other object remover. PDF editor, creator, and converter. | A little slow to respond. |
| Google Docs | Online | Free to use with a Google account. | Formatting and layout in the PDFs may be lost. |
| PDF Watermark Remover | Online | PDF text or image watermark remover freeware. | Not ideal for image watermarks. Better work on text removal. |
| PDF Watermark Remover APK | Android | Remove text, stamps, watermarks, and other elements in PDFs. | Less powerful and professional. |
After going through the table, you might have found the best free PDF watermark remover software, Right PDF and Soda PDF online. If you need an offline desktop application that is affordable and cost effective, SwifDoo PDF is ideal.
Conclusion
Let these best free or paid PDF watermark removers tackle your pain points. To prevent copyright infringement, please make sure you remove watermarks from PDFs that belong to you or only if you are authorized to do that by the owner.
FAQs
Q: Why can't I remove a watermark from a PDF?
A: When you fail to remove watermarks from your PDF with any PDF watermark remover, it might be because the watermarks are embedded in the background layer. You can choose Annotate > Eraser in SwifDoo PDF to erase them or convert PDF to Word or Excel to delete them.