File conversion happens frequently in daily work. One of the most common conversion tasks is converting PDF to image format. Perhaps to prevent PDF documents from copying or changing or to make them accessible from virtually any device. For whatever purpose, many people prefer to convert PDFs to TIFF images. Then choosing a great PDF to TIFF converter is vital.
With so many software tools that claim they can do the work, it can be hard to tell which are really worth using. Stop wasting your valuable time and this article has introduced several top converters for your reference. They are already tested to outperform other counterparts.
Quickly learn about the 7 PDF to TIFF converters through the brief and concise descriptions.
1. SwifDoo PDF
SwifDoo PDF is a lightweight, powerful and stable converter software that can convert PDF to TIFF fast. The PDF to TIFF converter allows batch converting multiple PDF files in one go and supports high-resolution outputs. It takes you just a few taps to get the job done. The outstanding part of the software is the optional conversion settings. You can convert a multi-page PDF to a multipage TIFF or into multiple TIFF images with the converter.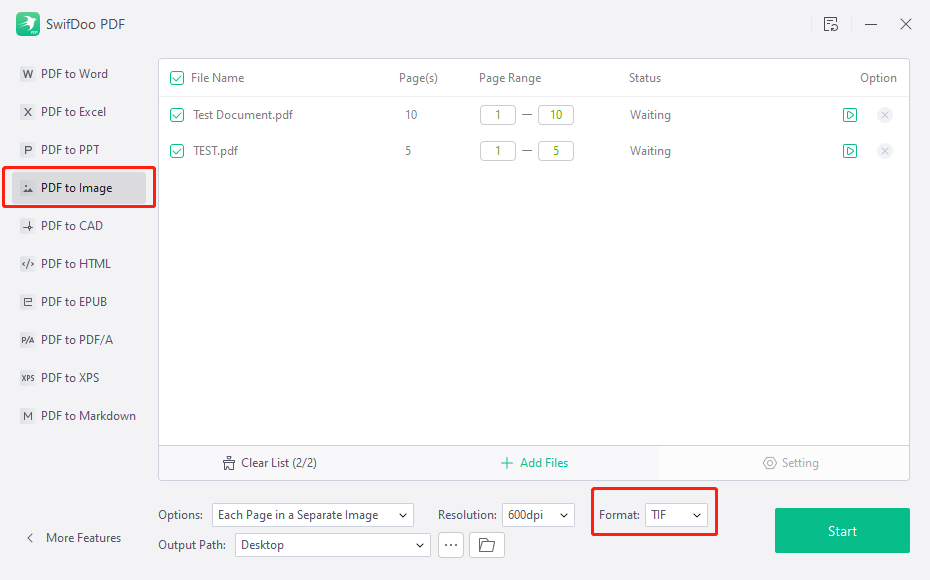 When converting each PDF page to a TIFF file, there are 5 resolution options to select, including 600 dpi and 300 dpi. The SwifDoo PDF to TIFF converter allows users to try all features for free for 15 days. No registration or extra steps. All you need is to download and install the application. The converter is available for full version free download for both trial and premium users. More key features of SwifDoo PDF are as follows:
Convert PDFs to images, Office documents, EPUB, CAD, TXT, and other files and come with SwifDoo PDF online converter.
Compress, password protect, watermark, and flatten PDFs.
Edit, annotate, and organize PDF pages.
2. Icecream PDF Converter
The second PDF to TIFF converter on the recommended list is Icecream PDF Converter. This is a dedicated conversion program for users to convert PDFs to or from various formats. The PDF converter allows you to batch convert lots of PDFs to TIFF image files at once. It enables you to specify only the necessary pages to convert. Different output formats you can pick include Word DOC, DOCX, ODT, PNG, and JPG.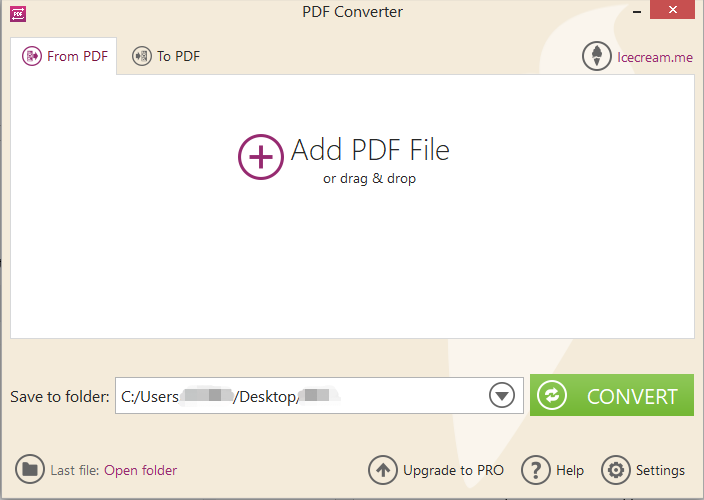 This free PDF to TIFF converter software is easy to download on Windows 11, 10, 8.1, 7 and XP for offline use. It's designed with a simple and intuitive interface.
Pros:
Support 20+ file formats.
Quick-to-navigate UI.
Batch processing ability.
Cons:
Only the first 5 pages of a PDF document can be converted in the free version.
No more features except for PDF conversion.
3. Win2PDF
Win2PDF is a PDF to TIFF converter and PDF printer that can run on Windows desktop PCs and laptops. Like the formerly mentioned software, it also has a batch conversion function for you to change a folder of PDFs to TIFF images. To convert a single PDF, open the PDF file in the application, go to File, choose Export and select the TIFF format. Then choose to convert the PDF to a TIFF with a transparent or color background.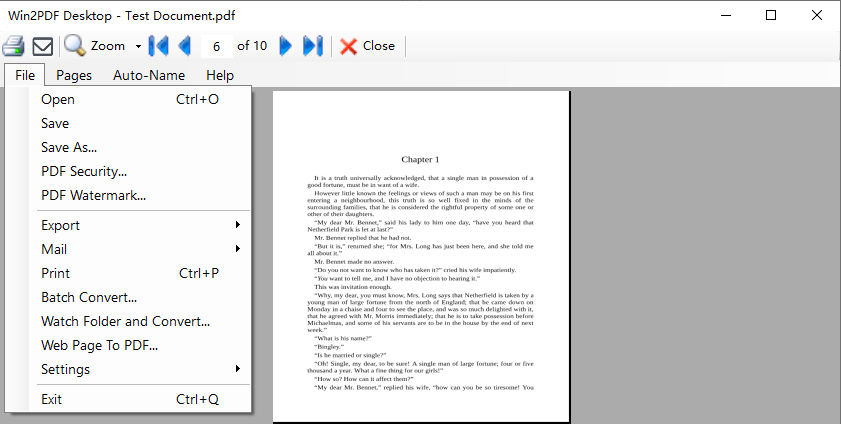 More than a PDF to TIFF converter, Win2PDF is also capable of converting PDF to ODT or text format, and making a PDF searchable or image-only. It's equipped with features to extract, delete, rotate, and separate PDF pages as well.
Pros:
Create and convert PDFs and images (TIFF, GIF, PNG, JPG and BMP) from Windows applications.
Compact interface.
It has PDF watermarking and page organizing features.
Cons:
You have to contact the support team for a trial license to start working with the PDF to TIFF image converter.
4. Pixillion Image Converter Software
Pixillion Image Converter Software is another batch PDF to TIFF converter for free download on a computer. The software converts between all the mostly seen document formats, such as JPEG, PNG, GIF, BMP, ICO, HEIC, and PDF. It can rotate, resize, add watermarks to and compress the converted images if needed. You can convert multiple PDF files to TIFF image files with the converter within just a few clicks. Add files, select the output format and click Convert.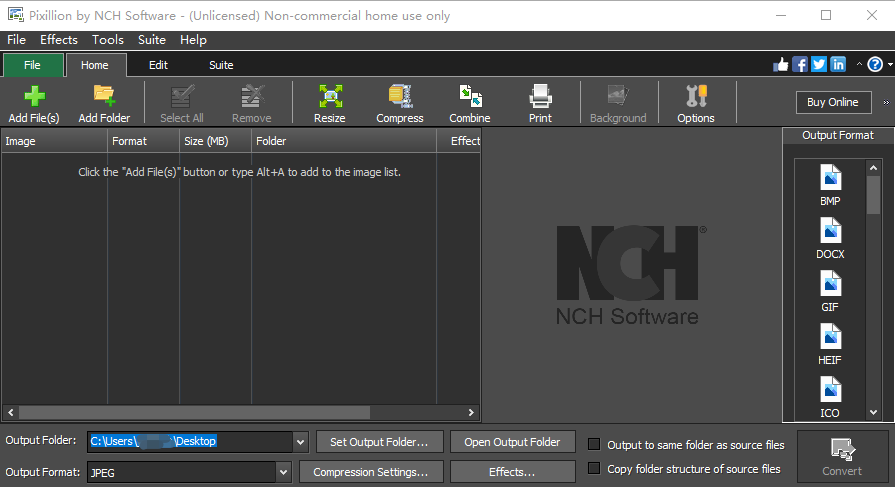 A free version of the best PDF to TIFF converter app is provided for non-commercial use. The free version is offered for a limited time and doesn't allow batch tasks. To continue accessing the software or convert multiple files, you need a purchased license.
Pros:
It is a cross-platform PDF to TIFF file converter for Windows and Mac OS.
Many image formats for users to choose from.
You can upgrade to the plus version for advanced features such as applying filter effects to photos.
Cons:
The converter software doesn't allow you to do anything after the trial.
The value for money is not competitive.
5. AvePDF
AvePDF is a web PDF to TIFF converter that lets you convert files online for free. You can access the software from nearly any device, including Windows, Mac, Linux, iOS and Android. It allows you to convert and save each PDF page to a separate file. The free service supports tackling 2 tasks in one hour and up to 20 files in total. You can subscribe to the premium version to break the limits when necessary.

The online PDF to TIFF converter has a clean interface without disturbing ads. Moreover, the online software is integrated with many other tools to manage and modify PDF files. It enables you to convert PDFs to other image formats, and crop, comment, and flatten PDFs.
Pros:
Ease of access in a web browser.
Free file conversion is possible.
It is also a PDF to multipage TIFF file converter for online use.
Cons:
The highest resolution it supports is 300DPI, which is not ideal for high-quality images.
6. pdf2tiff.com
The high-quality PDF to TIFF converter, pdf2tiff.com, allows you to convert PDF and TIFF files online for completely free. It can convert all pages in a PDF to a multipage TIFF file. Uploading and converting multiple PDF files at once is no problem. Specifically, the PDF to TIFF online converter enables you to convert up to 20 PDF files to TIFF image files for free at a time. No need to sign up or do anything else to start.

All you have to do to perform the conversion task is to select the conversion tool, upload your PDFs and download the TIFF image files. The free PDF to TIFF converter allows you to download each TIFF file independently or download all files in a zip file online.
Pros:
It can work on both mobile phones and desktops in your internet browser.
It's free and has no limits.
The site is more than a PDF to TIFF image converter and can also convert TIFF to JPG or PNG and do more online.
Cons:
There are intrusive ads on the site.
It cannot convert pages of a PDF into one long image.
7. PDF to TIFF Converter Chrome Extension
You can install the PDF to TIFF Converter Chrome extension to get your PDF documents converted instantly. The extension allows you to save PDF pages as transparent TIFF images. It's also a free solution for converting PDF to GIF/JPG/Word/Excel/text as well as files to PDFs. Some essential PDF tools like a PDF compressor are equipped as well. You can search for the name "PDF to TIFF Converter" in Chrome Web Store to add the add-on.

Pros:
The free PDF to TIFF converter comes as an extension for the Google Chrome browser.
No registration.
It has extra tools to convert and manipulate PDFs.
Cons:
The interface has ads.
The interface with a poor design may confuse users.
Conclusion
Are you hesitating about which one to choose after looking at the introduction to all these converters? Just think about your real needs or whether you mind paying some cost for safety and efficiency.
Comprehensively, SwifDoo PDF and Icecream PDF Converter might be the best PDF to TIFF converters among the 7 options. They are developed with more mature technology and tested by millions of users around the world. You can also adopt the AvePDF PDF converter to convert PDFs to TIFF image files for free online. It relatively delivers a better experience than the other one mentioned in the post. However, every PDF to TIFF converter has its own highlights.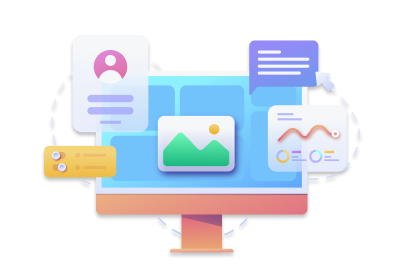 PDF Creator, Converter and Editor
Create PDF files from all the widely used documents.
Convert PDFs to Office documents, images and more files.
Fast, small and easy.
Try It Now
Buy Now