Unlocking the potential of digital documents often involves transforming them into various formats. Whether you're an artist looking to incorporate PDF illustrations into your designs or a professional seeking to extract images from a research paper, the need to convert PDF files to PNG images is a common requirement. In this blog, we will guide you through the world of PDF to PNG converter, revealing the top tools and techniques that will simplify this process for you.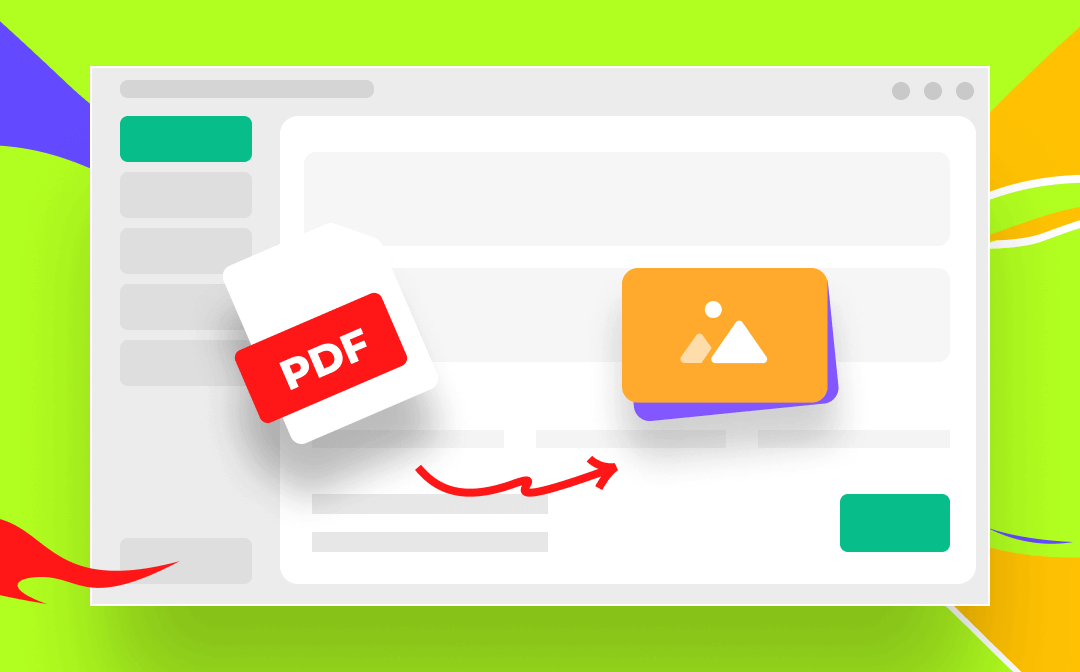 Benefits of Converting PDF to PNG
Why PNG? Portable Network Graphics (PNG) is a widely accepted image format that offers a perfect blend of quality, versatility, and file size optimization. By converting your PDF files to PNG, you can retain the high resolution and clarity of images while benefiting from a format that is easily shareable and compatible across multiple platforms.
Snipping Tool / Screenshot: Free PDF to PNG Converter
If you prefer using a free PDF to PNG converter, the screenshot function would be the best way to go. Taking screenshots on PDF is the easiest method to turn a PDF into an image. When snapshotting a PDF with the Snipping Tool on Windows (Screenshot on macOS), all screenshots will be saved as PNG pictures on your computer by default, which can help you free convert PDF to PNG without breaking a sweat.
Press Win + Shift + S (Windows operating systems) or Shift + Command + 4 (macOS) can easily take screenshots of anything that displays on your screen, including a PDF file. However, though this method is considered the simplest way to help you generate PNG images from PDFs, image quality cannot be guaranteed.
Pros:
Free and simple to use
Unlimited conversions supported
Cons:
Poor image quality
Screenshot PDF pages one by one
SwifDoo PDF: Best Windows PDF Converter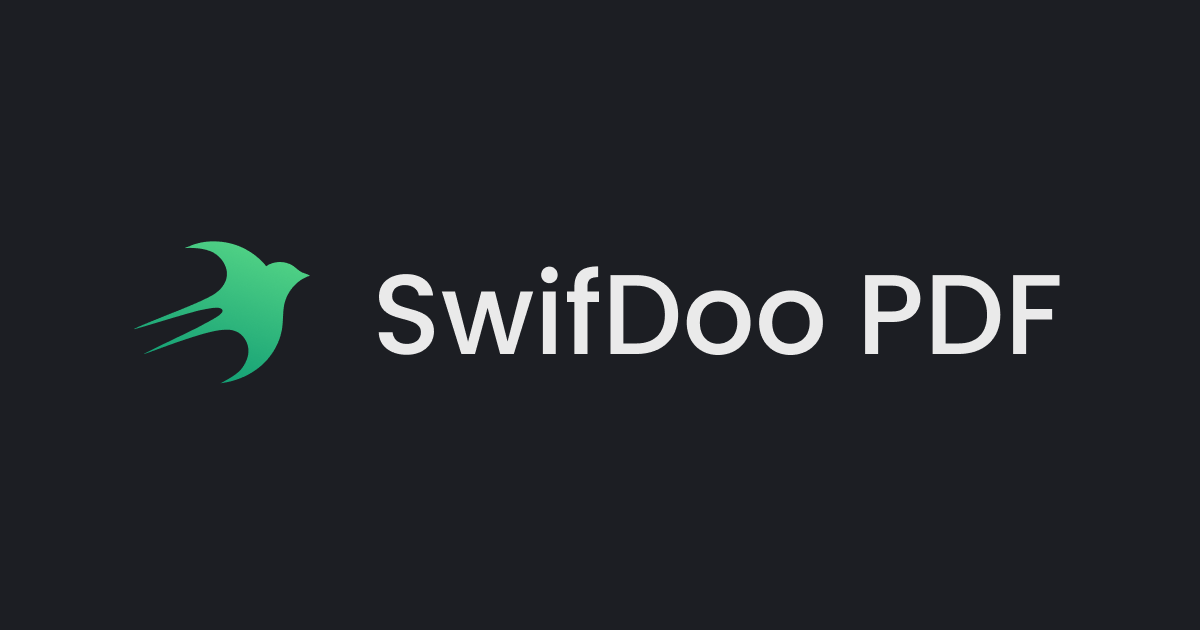 In addition to using the default screenshot tool, a dedicated PDF to PNG converter would be a better way to go with its professional service. SwifDoo PDF is such a PDF converter that supports all PDF-related conversions including PDF to Office documents, images, TXT files, HTML, etc., and vice versa. When performing PDF to image conversion tasks in SwifDoo PDF, you can select PNG, JPG, BMP, and TIF images as your target format. And the conversion process is quite simple with only several steps to make a PDF to PNG.
Moreover, SwifDoo PDF enjoys a good performance in streamlining the workflow and boosting productivity. With its clear interface and navigable design, one who has never used this software can also finish a task within seconds. Check the following guide to learn how SwifDoo PDF helps convert PDF to PNG in high quality:
Step 1. Install SwifDoo PDF on your PC.
Step 2. Click PDF to Image on its homepage and upload the PDF file you need to convert.
Step 3. Make sure the output format is PNG before converting. If you have special requirements for image resolution, select an ideal one from the Resolution drop-down menu. After carefully adjusting related settings, tap Start to convert your PDF.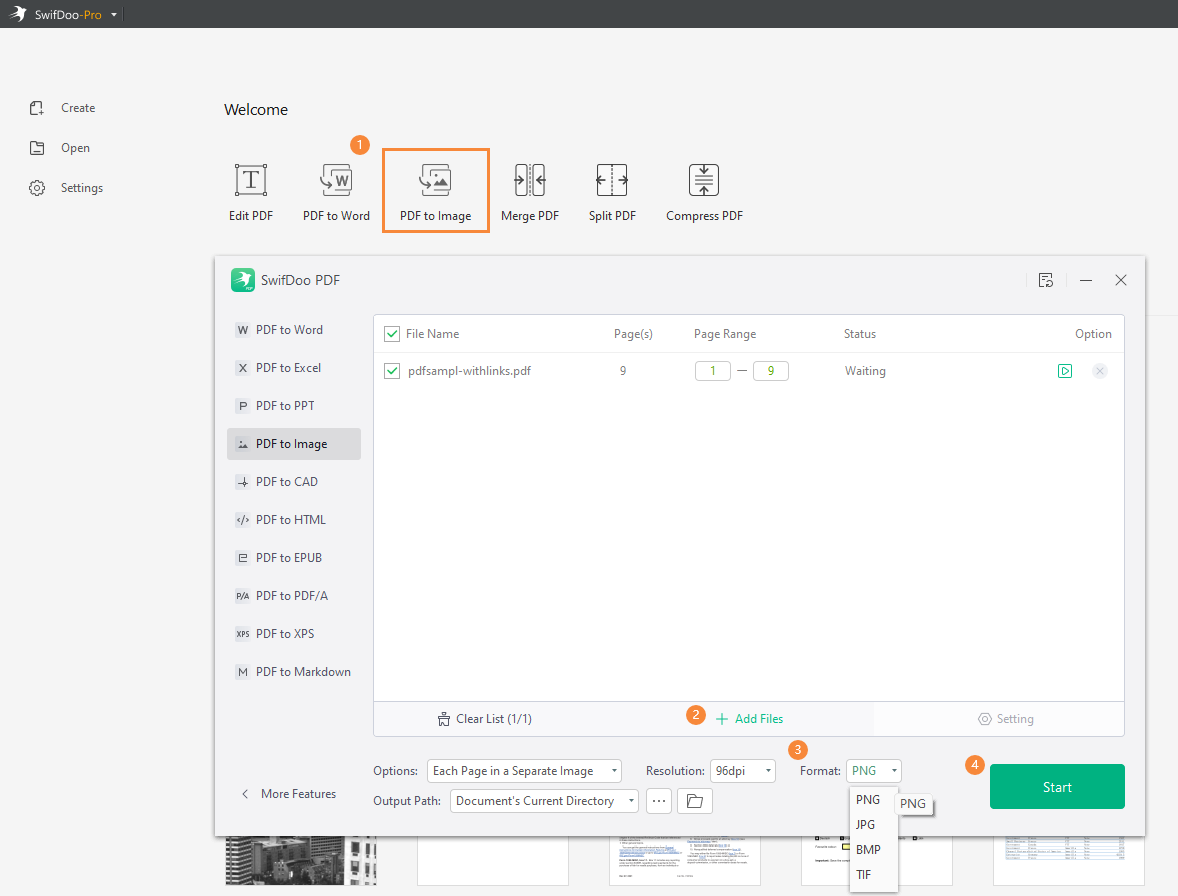 SwifDoo PDF also supports manipulating multiple PDF files in one shot, which enables you to convert PDFs in bulk, saving you much time and effort.
Pros:
Professional PDF converter for free
Clear interface with a navigable design
PDF to JPG/BMP/TIFF conversions supported
Cons:
Only the Windows version is available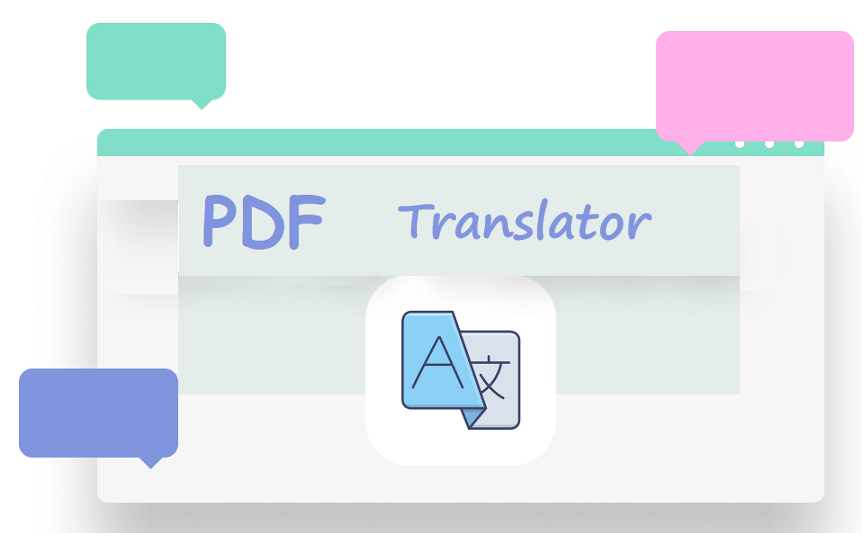 Top 11 Best PDF Translator That You Must Know in 2023
Check this post to find out the 11 best PDF translators in 2023. We've tested and selected them from different aspects to help you translate your PDF documents.
READ MORE >
FreeConvert.com: Top Online PDF to PNG Converter
FreeConvert.com is a free online file converter that supports converting all major file formats in daily life including video, image, audio, document, eBook, archive, etc., with which converting files can be an easy thing because you don't have to download desktop programs. Free PDF to PNG converters can obviously improve users' engagement.
Even if this online PDF to PNG converter claims itself as a free tool, it only releases 25 minutes per day for free usage. If your conversion time exceeds this quota, a subscription plan will be required. In addition, for a single conversion task, the time limit would be 10 minutes. Moreover, FreeConvert.com also serves as a comprehensive file compressor, offering you more options to handle large documents.

Pros:
Comprehensive file converter and compressor
High-quality PDF conversions guaranteed
Cons:
Max file size 1GB
Annoying advertisement pop-ups
Also Read: The 8 Best PDF Converters for Windows/Mac/Online in 2023 >>
Smallpdf: A Cross-Platform PDF Solution
Smallpdf offers both online and offline services for manipulating PDFs with different requirements such as converting, compressing, protecting PDFs, etc. Nevertheless, there also exist minor differences between its online and offline tools, the most obvious point is that they released different functions on these two versions. As for looking for a competent PDF to PNG converter, you can only use the Smallpdf desktop version since the online PDF converter merely allows you to turn PDFs into JPG images.
Converting PDF to PNG with the Smallpdf desktop program is an easy thing. It puts all tools in the left pane with direct text descriptions, enabling users to locate what they need in seconds. What's more, its interface is also pretty navigable and easy to follow. However, Smallpdf has one flaw: with relatively limited features available, the package size is nearly 300 MB which seems too large for the disk. And for reference, SwifDoo PDF only takes 59.3 MB.

Pros:
Both online and offline tools are available
Easy-to-use interface
Cons:
The app file size is too large
PDF2PNG: PDF to PNG Converter Online Free
Users who first visit this website may think that PDF2PNG can only convert PDF to PNG. In fact, you can also use this online tool to convert PDF to Doc and JPG and vice versa. And it also serves as a handy PDF compressor, combiner, and cropper. By using this online PDF to PNG converter, you can easily upload 20 PDF files and convert them to PNG in bulk, and you can also download them all in a ZIP file, saving you much time and effort. In addition, to protect your privacy, all files that are finished in this tool will be deleted after 1 hour.

Pros:
Detailed conversion guide offered
Ten more languages are available
Cons:
Annoying advertisement pop-ups
Pure text interface easily causes eye-fatigue
The Bottom Line
That's all about the 5 best PDF to PNG converter tools. Whether you prefer online solutions or desktop software, we have got you covered. Select your preferred one according to your requirements. In addition, make sure to try on SwifDoo PDF. It offers comprehensive PDF solutions with lightweight file sizes, enabling you to manipulate PDF files hassle-free.