With a PDF cutter or splitter, big PDF files can be combined into a single file that is simple to share and save. When you want to share your research PDF volume via mail, the option works flawlessly; you can effortlessly divide the enormous volume into multiple sections and transmit them. How? Let's know through this post.
The online PDF cutter poses no download or installation risk to your computer. As a result, you can conserve system resources while splitting a huge PDF file. We provide you with the top choices from the online PDF cutter app catalog to narrow down your online search and make your PDF cutting experience as easy as possible. Explore now!
Our editors have reviewed a dozen of online tools, and here's the list of the best online PDF cutters in 2022. Check them and pick the one you need for an optimized PDF file size.
Soda PDF
Ease PDF
Sejda
PDFChef
PDFescape
iLovePDF
PDF2GO
SmallPDF
PDF.online
AvePDF online
Top 10 Online PDF Cutters: Split PDF files Seamlessly
Soda PDF
In the list, Soda PDF is our first pick because of its efficiency. This PDF page cutter allows you to split a large PDF file into several smaller files. You can visit the site, and within a few clicks, you can split your PDF file.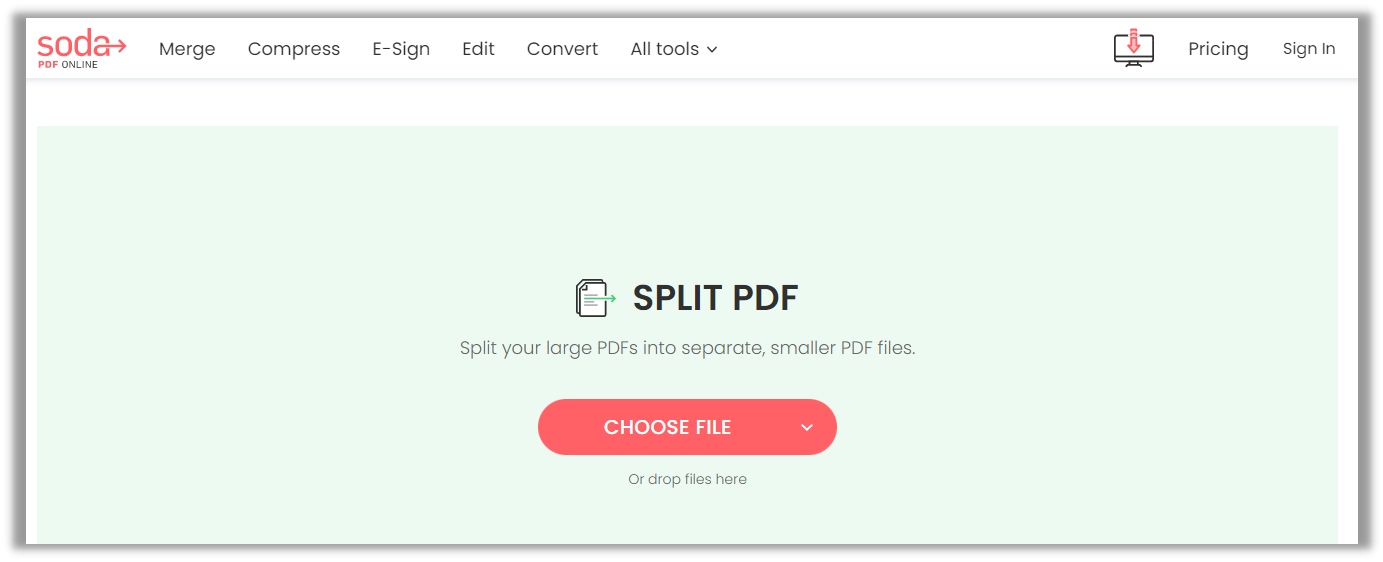 Pros
It's available online and app version
Suitable for multiple devices
Easy to use
Cons
EasePDF
If you're clueless about how to split PDF files and extract a small portion, use EasePDF. The PDF cutter online tool offers smooth PDF cutting, and you'll get your desired file size. It's simple to use, even for a beginner.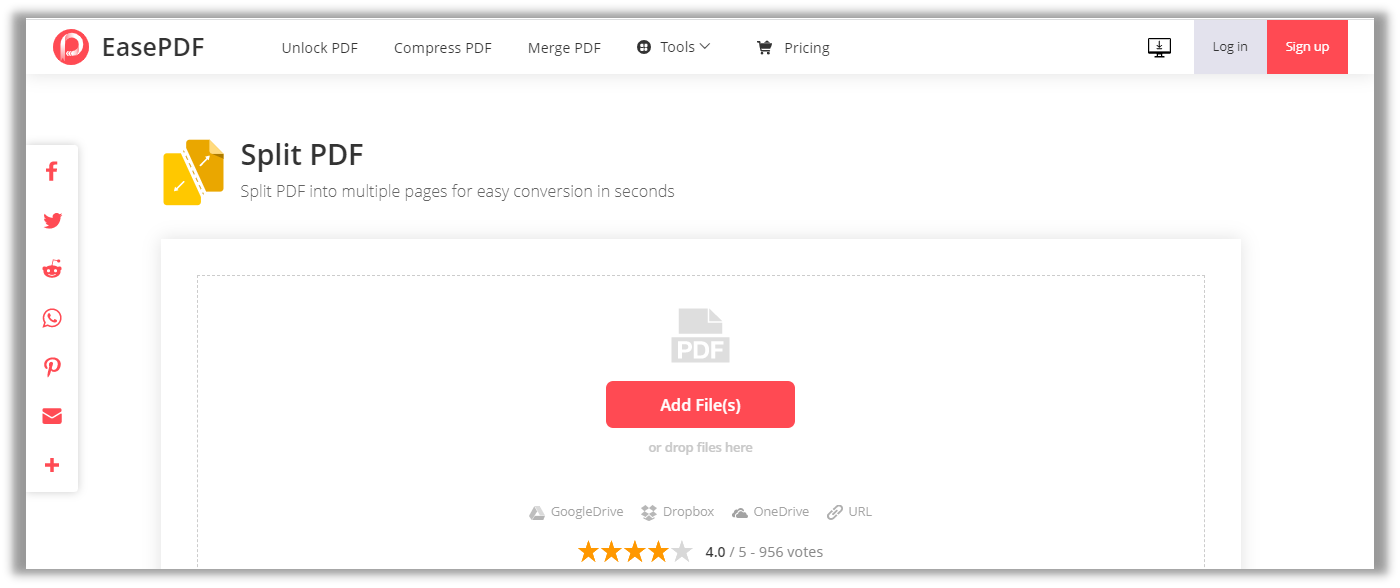 Pros
It offers many functions other than splitting
The file encryption feature is available
Auto deletion ensures there's no data-saving option
Cons
The interface is not beginner-friendly
Sejda PDF
Sejda PDF will provide you with an easy PDF cutter and free splitting experience while trying to extract a large PDF online. The PDF cutter offers many other functions to perform when you need them. You are done after visiting the site and attempting a few clicks.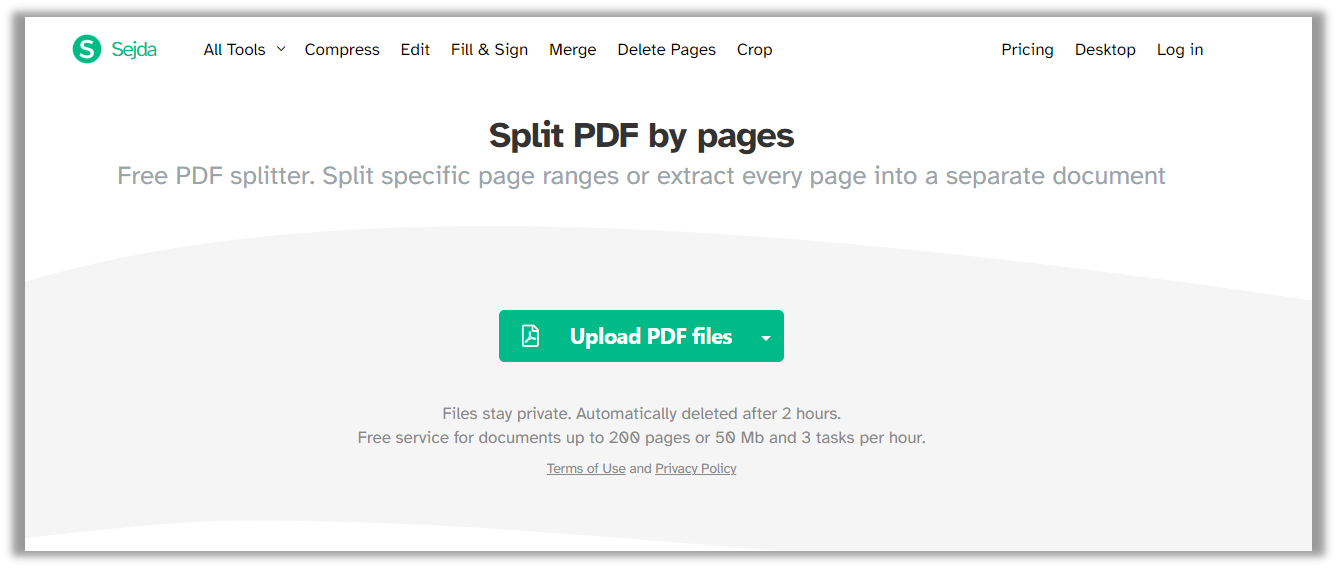 Pros
It offers 30+ PDF functions
Desktop and web, both versions are available
It's a free tool
Cons
Advanced features require subscriptions
PDFChef
PDFChef is a product of the Movavi brand, which already has a strong presence in the software market. Because of its desktop version, you can use PDFChef as a PDF cutter app. You can use it either way to perform all your PDF tasks.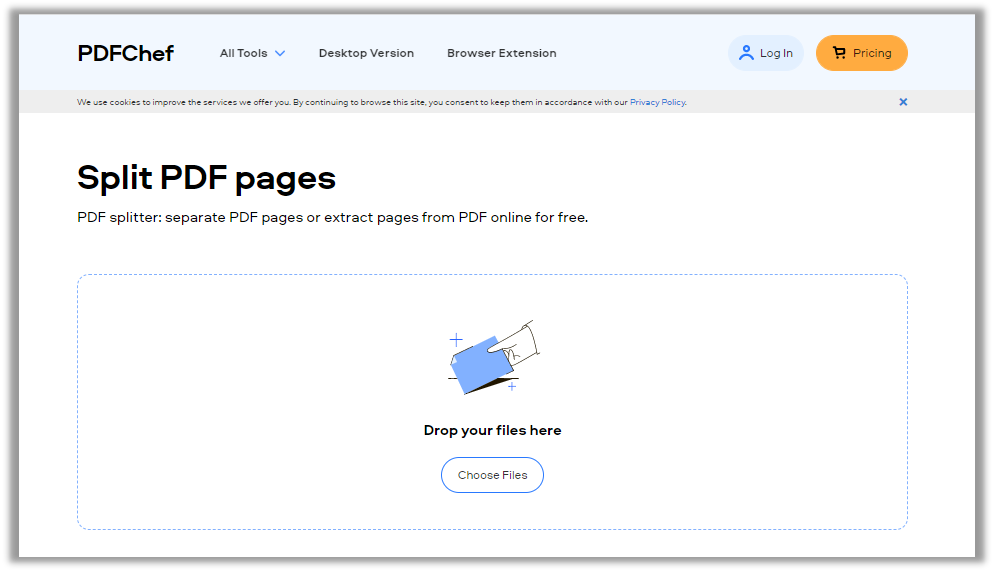 Pros
It can access your cloud storage
It offers to organize page options after splitting
It's a cross-browser compatible tool
Cons
Limited features access in the free trial period
PDFescape
Escape from all your PDF worries and use PDFescape to cut the large file or fill up any PDF format online; everything is possible at your fingertips. The tool comes with multiple functions that meet your needs, from splitting to merging, compressing, and editing.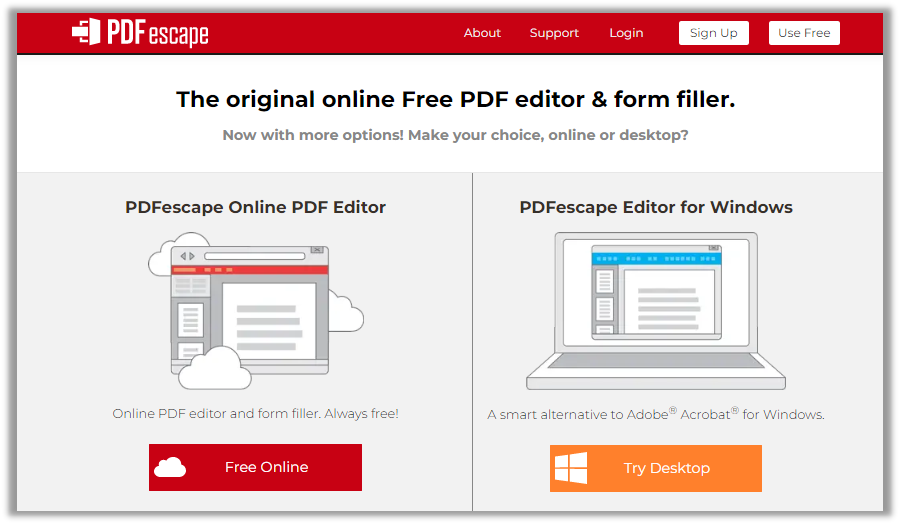 Pros
Its edit option is wide
The online PDF cutter provides a PDF form fill-up utility
Compatible with various browsers
Cons
The online mode has limited features in comparison to the desktop version
iLovePDF
iLovePDF is a renowned online PDF cutter that offers various PDF functions for free. You can perform any PDF task with quality file output using the iLovePDF tool at any time. The beginner-friendly tool provides a simple interface to work with.

Pros
It comes with several PDF functions
It's compatible with online, desktop, and mobile devices
PDF archive facility is available
Cons
You need to sign up before using
PDF2GO
PDF2GO is an online tool that provides a free PDF cutter function for its users. Besides splitting, the tool offers editing, merging, converting, optimization, and many other features. For example, you can split your large PDF files into any size with the PDF2GO online tool.
Pros
It offers a vast range of PDF functionalities
Easy-to-use interface
Major files supported
Cons
You need to install it on your Chrome as an add-on
SmallPDF
SmallPDF, an online PDF cutter tool, provides all exclusive online functions. Though the name is small, it helps you accomplish all big tasks online without hassle. So, whether you split, edit, merge, or compress your PDF files, you can avail yourself of all these functions with SmallPDF.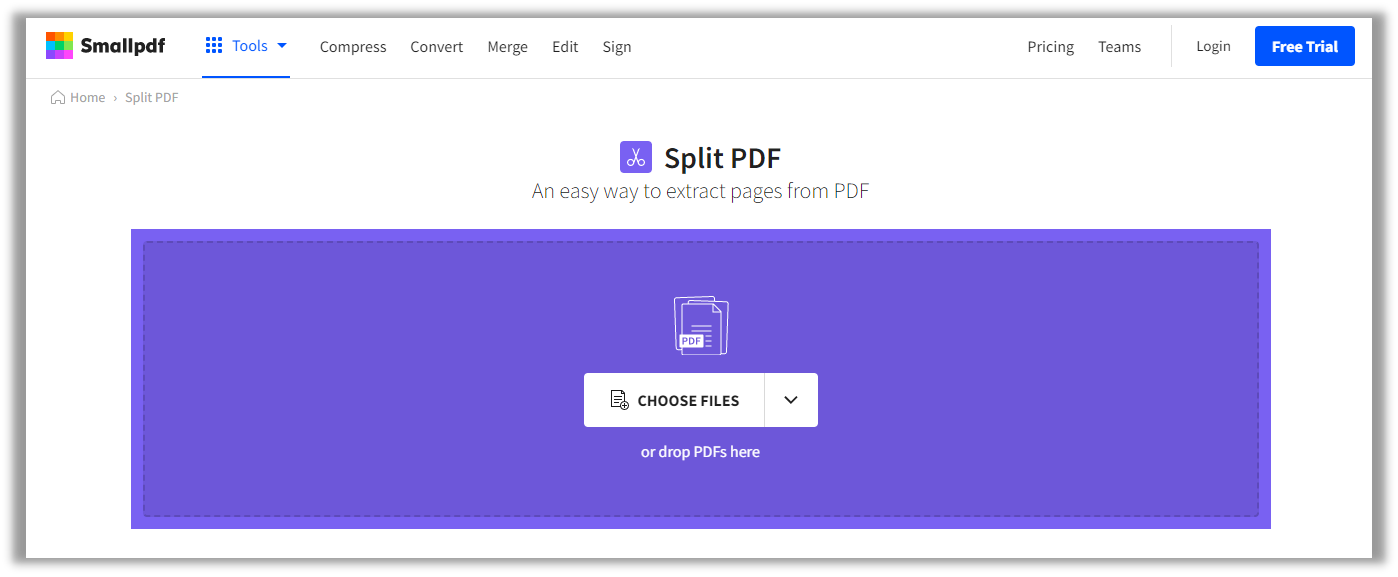 Pros
It offers 21 PDF tools to function
Its mobile version is also available
It uses 256- bit TLS encryption for secured data transfer
Cons
The free trial is minimal; only one fileis allowed
PDF.online
PDF.online is a product of the well-known company Xodo Technology. The highly advanced online PDF cutter offers PDFTron technology, which stabilizes trailblazing secure document applications in the productivity space. All your PDF document processing is utterly secured with PDF.online.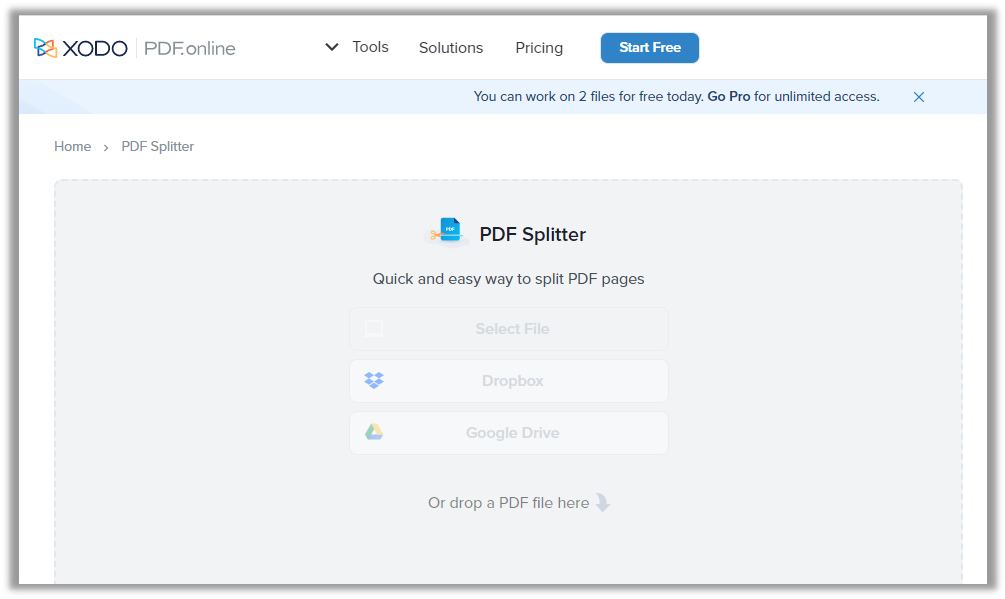 Pros
It offers you the industry's best PDF technology
You can do unlimited document processing
Desktop and mobile pro features are also available
Cons
AvePDF
AvePDF's online PDF cutter offers highly advanced features to its users. For example, you can perform all PDF tasks, including hyphenated compression, OCR, redaction, PDF/A, etc. In addition, it includes powerful encryption technology to protect your data from theft.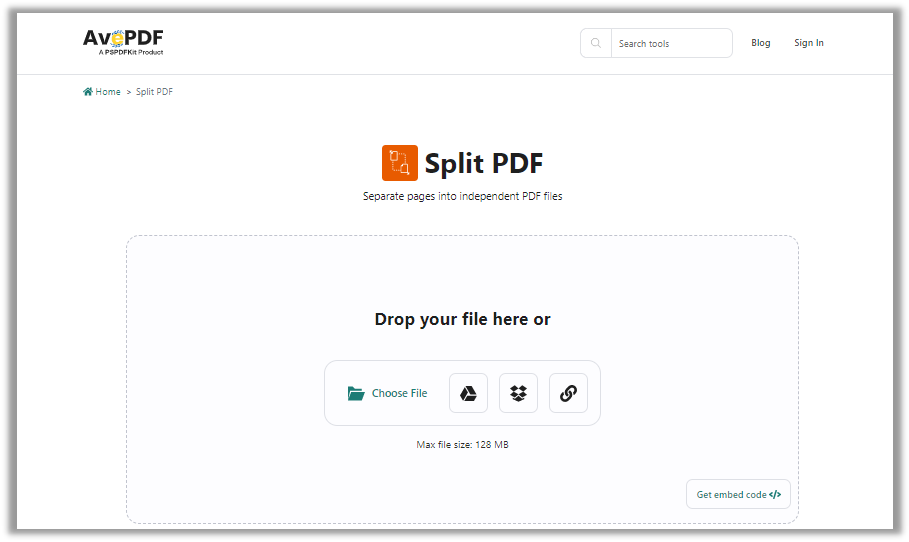 Pros
It offers the fastest PDF functions to perform
The tool is integrated with all industry-leading PDF toolkits
Its powerful encryption allows for deleting all your files after 30 minutes of use
Cons
These are the industry-leading PDF cutter online tools that offer exclusive features for users. Though the online tool claims to be safe to use due to its online vulnerability, you can pick a desktop version like the SwifDoo PDF tool to split your PDF files if you want to overcome the security threat. So let's introduce the software.
SwifDoo PDF Software: A Stable PDF Page Cutter
SwifDoo PDF brings the ultimate solution to all your PDF problems. If you're looking for well-engineered software to split your PDF files and break them into small, single files, you can use SwifDoo PDF software. The best PDF cutter offers many other features to perform. The high-speed tool finishes any PDF task within a few seconds. You'll get a quality output file every time you run the program.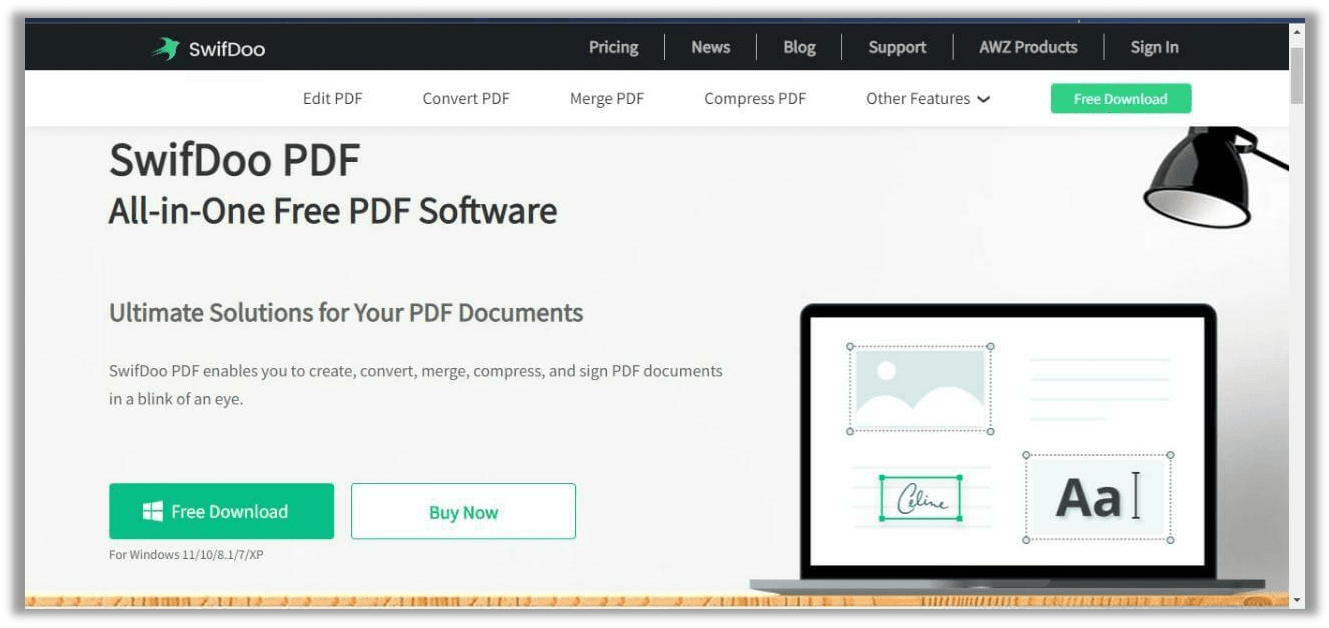 Why do users prefer SwifDoo PDF?
Its functionalities and advantages make users prefer to work with reliable software. It offers:
A vast range of PDF features that meet modern needs
It's compatible with all Windows versions, the latest and old
The software provides SSL encryption for high security during document processing
The tool offers various document processing options, including merge, convert, compress, e-sign, edit, and many more
The easy-to-use tool provides any PDF task with the fastest speed
The technical support team can reach out at any time as needed
How to split your PDF using SwifDoo PDF
The simple software allows you to perform any PDF work efficiently and split your PDF files without damaging the original structure. Let's learn what you can do:
Step 1: Install the Software on your PC;
Step 2: Open the interface, and click on the "Split PDF" option;

Step 3: Click on "Add Files" that you want to split;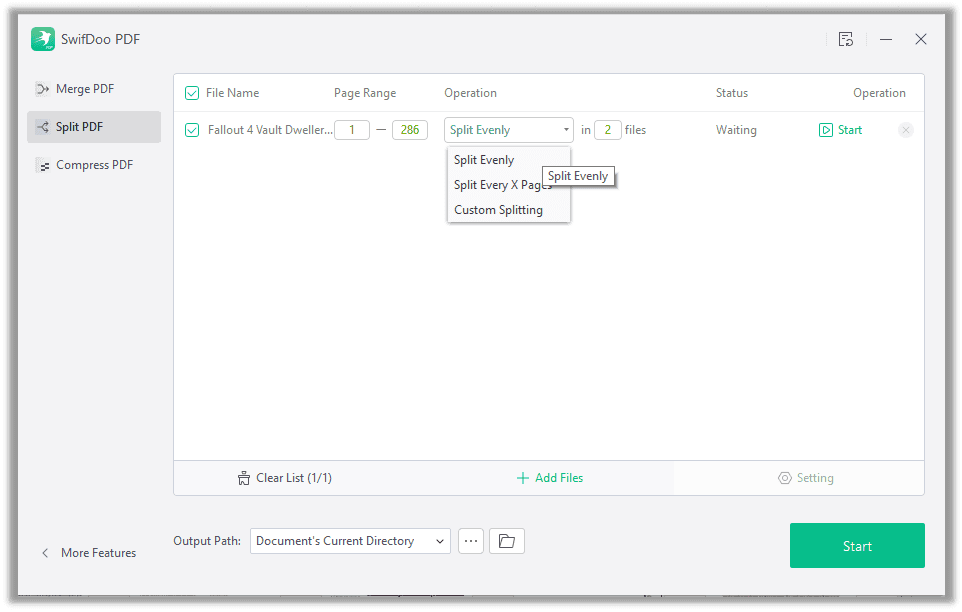 Step 4: Once you select the file and click on the "Ok" button, you will get the customized option for splitting;
Step 5: Click on "Start", and within a blink of an eye, your PDF file will split into the pages you've selected;
Last Word
While the desktop version would give you the safest approach to handling your PDF documents whenever you choose, the online PDF cutter would offer a no-installation option. To split huge files into multiple smaller sizes, we have given you access to the best collection of online PDF cutter tools. Online vulnerability cannot be denied, but you can minimize it by using SwifDoo PDF software to split important PDF files, such as research papers or legal documents, so you can share them more widely.