Originally, PDFs were just documents with plain text for printing. As time goes by, multimedia arises and becomes part of PDFs' content too. GIFs, images, videos, links, etc. can make a PDF more vivid, illustrative, and persuasive. And people called PDFs with those interactive content interactive PDFs. This blog is going to show you how to make an interactive PDF by yourself. Great interactive PDFs can be created by easy-to-get tools, follow the guide!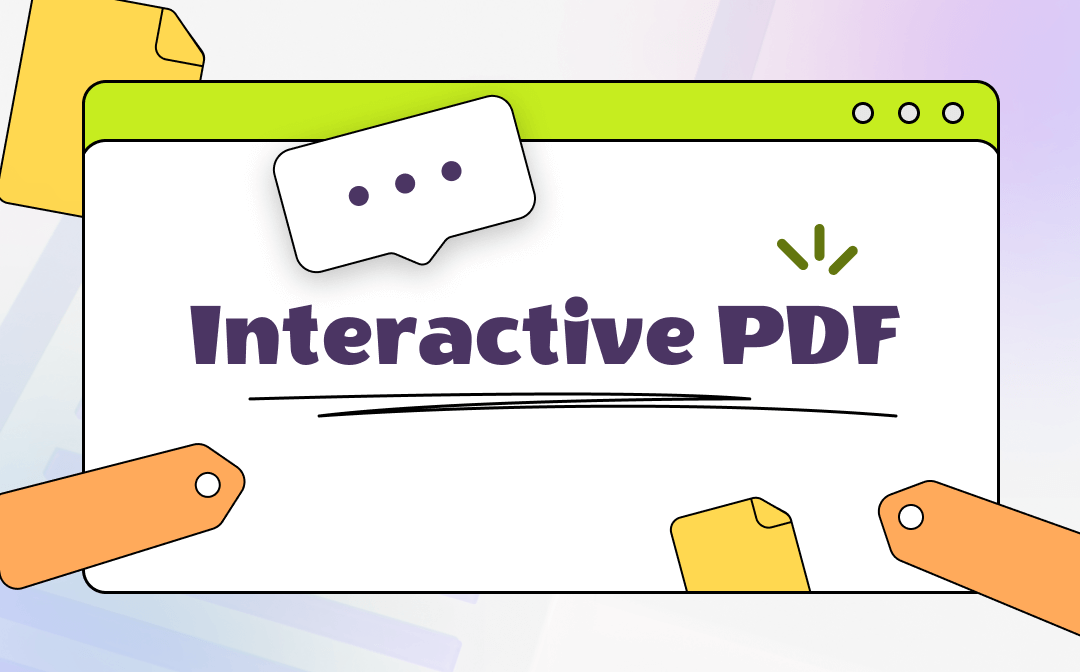 Make Interactive PDF by SwifDoo PDF
SwifDoo PDF is a professional PDF editor for users to create or edit interactive PDFs. Using this tool to add links, images, videos, etc. is effortless. A perfect interactive PDF can be created by it within a few steps and a detailed guide on that is also prepared for you. Steps for making interactive PDFs are listed below:
1. Add Clickable Links to PDF
Only 4 steps are necessary for adding links to a PDF:
Step 1. Download SwifDoo PDF and install it.
Free Download
Step 2. Open or create a PDF with it.
Step 3. In the header, choose Edit > Link > Add or edit link.
Step 4. Choose the texts that you need to add a link to.
Step 5. Enter the hyperlink in the pop-up window to finish.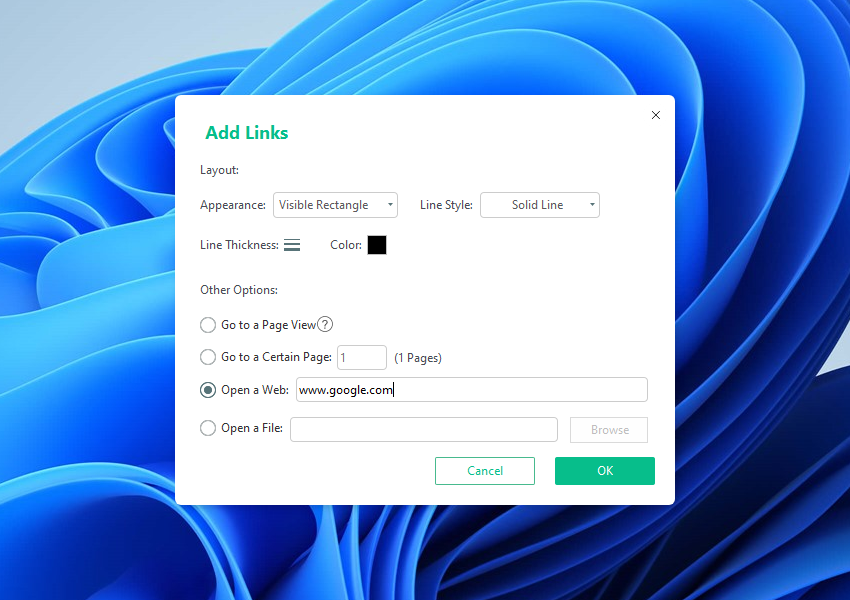 More settings for adding links can be found in the pop-up window.
That's all for adding links in an interactive PDF, viewers can visit the links that you put in the PDF now. This would make your PDF more persuasive and authoritative when citing content from other sources.
2. Add Images to PDF
Adding images is also easy. Only 2 steps to make it.
Step 1. Still in the Edit > Image.
Step 2. Choose an image and add it to your PDF.
You can adjust the size, transparency, location, etc. after adding.
3. Add Videos to PDF
Videos need to be added by attachment.
Step 1. In the header, find Annotate > Attachment.
Step 2. Add the video you need to the PDF.
You can find the Attachment in the sidebar too. Click the paper clip icon to add is also fine.
Besides the 3 things mentioned above, SwifDoo PDF can also help you make a PDF fillable, remove watermarks, change font size in PDF form, etc. Anything you can come up with editing PDFs, you can turn to SwifDoo PDF for help.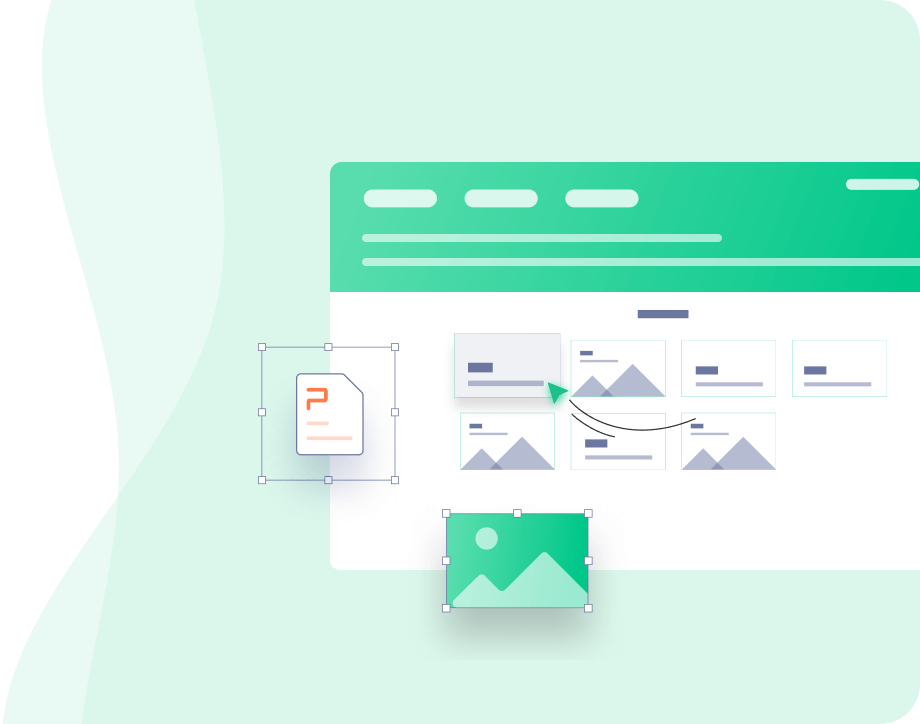 SwifDoo PDF: All-in-One PDF Software
Annotate PDFs by adding notes, bookmarks, etc.
Convert PDFs to Word, Excel, and other editable files
Edit, compress, organize, and split PDFs
Free Download
Windows 11/10/8.1/7/XP
Make Interactive PDF by Adobe Indesign
Adobe Indesign is developed for you to "Create layout designs. Publish printed books, brochures, digital magazines, flyers, and interactive online documents with Adobe InDesign desktop publishing software." It can add links and interactive buttons to PDFs. Detailed steps to use this software to make interactive PDFs can be found on its website. So, no more introduction can be drawn here.
Adobe Indesign can only be acquired in the Adobe Creative Cloud, that is to say, you have to download the creative cloud to get this software. Then you'll need a subscription for it and only a 7-day free trial is available. Plans would be US$20.99/mo for individuals and US$19.99 for students and teachers.
This tool is not made for PDF editing, so it cannot provide you with many PDF editing features when you want to adjust your Interactive PDF. You can only add links or buttons to PDFs but cannot edit the original documents like Adobe Acrobat Pro or the software above - SwifDoo PDF.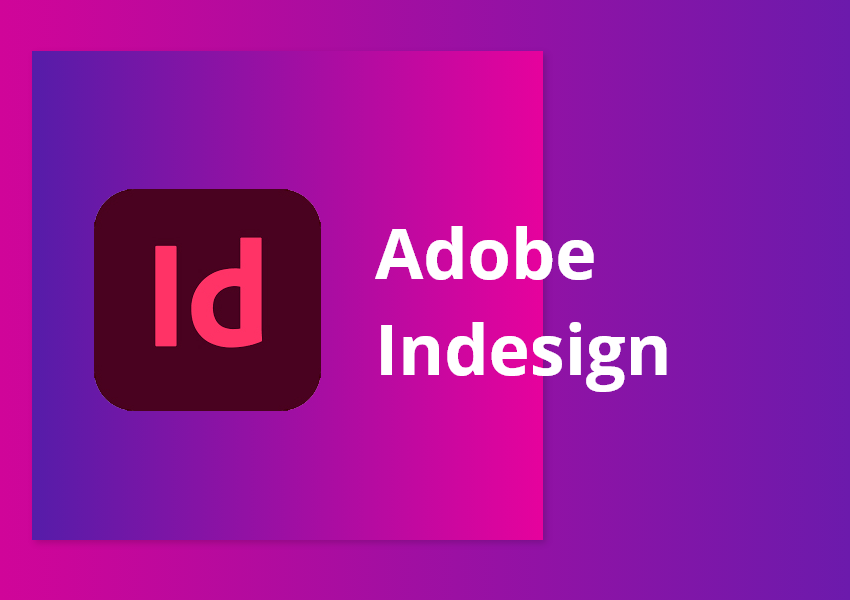 Comparison Between Adobe Indesign & SwifDoo PDF
Check the table below to see the conclusions of 2 apps.
Free Trial
Availability
Plans
Pros
Cons
Adobe Indesign
7-day free trial

Windows

macOS

Add interactive buttons to PDFs

Subscribe to use

No PDF editing features

SwifDoo PDF
15-day free trial
Windows

Comprehensive PDF editing

No-login to use

No macOS version
After reading all the introductions and comparisons above, you can make your decision now.
The Bottom Line
The methods for making interactive PDFs have been presented to you above. You can use them to create your interactive PDFs now. Adobe Indesign and SwifDoo PDF are compared in this blog for making interactive PDFs, and SwifDoo PDF stands out for its powerful features in PDF editing, which deserve your choice. Download this PDF editor for your PC now! Windows 11, 10, and 7 are all supported.