Introduction:
In this fast-paced society, people spend more time and energy on newly emerged visualized products, such as short video platforms or photo-sharing apps, instead of traditional activities such as reading.
Gone are the days when we would immerse ourselves in a sea of books, typically in bookstores or libraries. Rather, for us living in the 21st century, the preference for gathering information has shifted from turning pages to sliding fingers on different devices.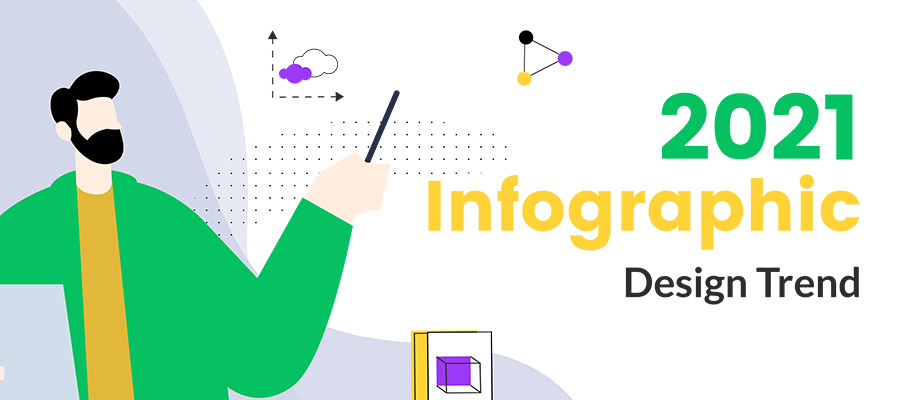 In a short time, infographics have gained popularity and become a staple for communication in classrooms, the workplace, and across the web. So, what is an infographic indeed and what do they do?
What Can Infographics Do?
Conventionally, a document crammed with a large number of statistics and data may increase boredom when reading, and that's simply because humans are visually sensitive. The popularity of infographics explains this.
Infographics can effectively improve cognition by utilizing graphics elements as well as written words. Such a new and attractive fashion to organize information can encourage visitors to spend more time on your site, digesting and sharing more of your content. With the proper use of color, proportion, and negative space, information can be transformed into memorable, attention-grabbing, and even persuasive graphics.
They Can Be Useful in Many Ways:
Presenting a quick overview of a topic;
Narrating a complex process step by step;
Displaying research statistics and survey data;
Summarizing a long blog post or report;
Differentiating and contrasting multiple choices;
Spreading knowledge of a particular problem and the cause;
Types of Infographics & When to Use Them
Different infographics used in your content may have a different impact. Incorporating a suitable infographic into the content is the key to successful and effective content marketing. Below is a list of commonly-seen infographics:
List-based infographic: used for supporting argument through a series of steps;
Comparison infographic: used for making comparisons;
Visual infographic: used for reducing the needs of text and increasing the possibility to get shared;
Interactive infographic: also known as animated infographics, used for grabbing the audience's attention;
Data visualization infographic: used for explaining difficult data and information through charts, images, and design;
Timeline infographic: used for presenting the information chronologically;
Visual resume infographic: used for transforming text-based information into vivid infographics to help candidates stand out;
Process infographic: similar to a how-to guide or flowchart, for providing a precise answer to a certain question;
Geographic infographic: used for visualizing the geographical data or trends.
Why Are Infographics Favored by Content Marketers?
Bring Better Visual Experience
Humans are visual animals who are motivated by what we see. Numerous studies have demonstrated that human observers are sensitive to visual elements. We still use our hearing and other senses, however, seeing is believing, and we do use our eyes to interpret the whole world in many cases.
Infographics are more interesting and engaging compared with purely text-based information since they usually incorporate images, color, movement, and content that naturally grab the attention. Lots of information about a single subject contained in one single infographic makes it ideal for sharing via social media. By utilizing captivating visuals, one can display complicated information and be understood relatively quickly and easily.
Demonstrate Expertise
A well-designed infographic probes into a very complex idea and explain it plainly. The saying goes, images speak louder than words. Effective infographics usually integrate lots of data and information in a relatively limited space, which extracts the most essential facts and figures and simplifies them in a relevant way.
By combining and making good use of graphs, images, charts, and other information, this visual representation of extensive research shows subject-related expertise and can enhance credibility.
Every great infographic walks the person through the concept and helps drive them to a CTA (call-to-action). In advertising material, a CTA is a piece of content intended to induce a viewer, reader, or listener to perform a specific act, typically taking the form of an instruction or directive (e.g. "buy now" or "click here"). B2B marketers love infographics simply because they can provide the problem, the solution, their differentiation, testimonials, and call-to-action all in a single image.
Raise Brand Awareness
Infographics can be utilized to strengthen a brand simply because they contain a lot of visually attractive and engaging elements. To imprint, your logo and brand name within an infographic is a practical method of increasing brand awareness.
Branded infographics are crucial in expanding brand awareness because they provide a statistics-based story aside from your brand's description. Whether it is designed for analytical reports or an online post, a striking and relevant infographic will lead people to evaluate a brand's credibility.
Meanwhile, infographics extend beyond simply telling a brand story. They depict your value and pursuit vividly. This explains the significance of including your thoughtful content, well-designed company logo, and accurate website address or other contact information in infographics.
What's more, effective infographics won't simply display data – they tend to establish an emotional bond with potential audiences. Ultimately, your infographics filled with visual elements - such as your company logo, color preference, and font choice – will linger on and remind people of your brand.
Benefit Search Engine Optimization
Infographics, often presented as a single image, can be easily published and shared on Twitter, Facebook, Instagram, Reddit, or Pinterest accounts and it stands there open to all your followers and friends. According to statistics, images are shared on social media with more frequency than pure text. Infographics are liked and shared on social media 3 times more than any other nameable type of content.
Once your infographic is published on your website and shared via social media, it can create backlinks that are significant to SEO. The viral nature of infographics can generate a large number of backlinks which in return eventually increases popularity, brings traffic to your site, and ultimately exerts a positive impact on SEO.
Dwell time is another important factor affecting SEO results. Visitors who leave your site typically leave within 2-4 seconds. With such a short time frame to persuade visitors to stay on your page, visuals and infographics may be a superb option to catch their attention. For instance, Brian Dean, a famous SEO blogger, frequently utilizes infographics in his articles to clearly illustrate a complex topic.
What Can SwifDoo PDF Do?
Edit
Editing must be the most basic feature of any suitable PDF software. In some cases, your infographic may need a further reference to render a whole view of a topic, and accordingly, you may require an external link to achieve this. There are times people may need to create margins of a specific size. One can also select the "Crop" option for adjusting the visible page area and trimming the margins in a bid to make the infographic more fitted and consistent with the page.
SwifDoo PDF offers "Crop", "Link" and "Insert Image" in the tab of "Edit" to satisfy your needs.
Convert
The next helpful feature in making an infographic should be "Convert". How does "Convert" help you? Color or quality loss may happen during the transferring of an infographic. Correspondingly, converting images to PDF can be of great help. One can transform the infographic in image format into PDF to avoid any potential losses.
It is known that PDF will not be distorted or altered during file transfer, and it is a stable and consistent format. Therefore, turning your important infographic into PDF is a good option. More than that, SwifDoo can assist in converting PDF to other MS formats.
Watermark
Watermark, one of the most fundamental but effective forms of file security, refers to an imprinted text or image appearing on the document, to protect sensitive information from any unauthorized copying or forwarding. A watermark can serve to monitor the spread of your files.
SwifDoo PDF enables users to apply their company logos or other branding-related materials on infographics to privatize and personalize their documents. Add to this, the inserted position of watermarks and page range of adding watermarks are accessible based on the needs.