Introduction:
The iLovePDF Compress tool is one of the most popular online PDF features. The powerful processing ability lets you complete a PDF-related task efficiently and with quality. You can largely a PDF to even 100 KB in iLovePDF and saves lots of storage space. If you are a beginner to this software, how to compress PDFs online in iLovePDF is a problem.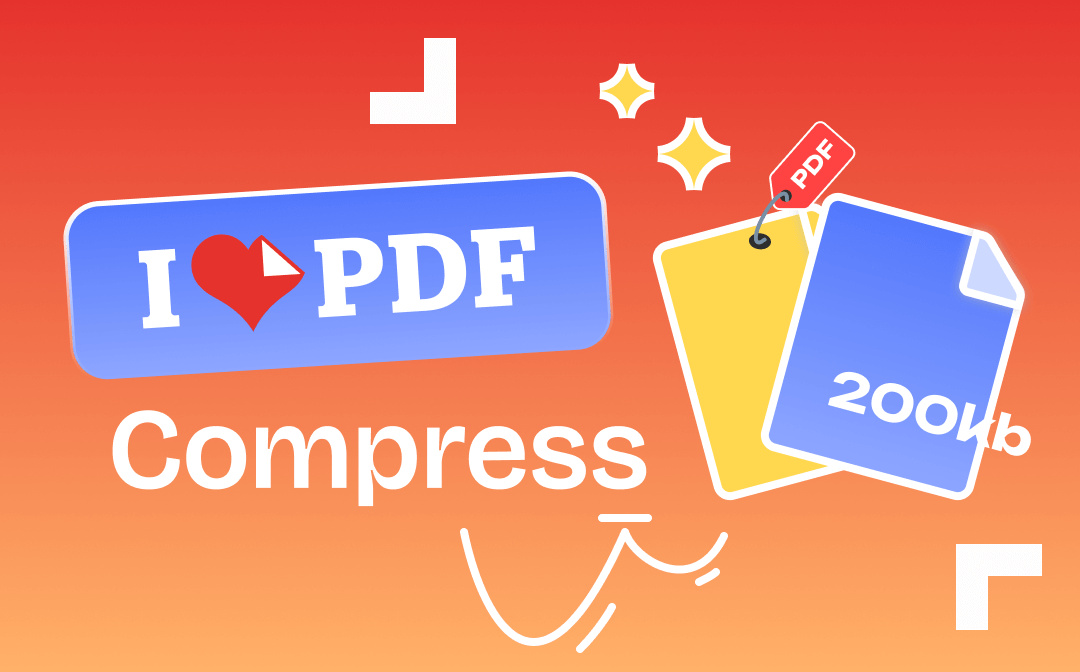 If you are not familiar with the iLovePDF compressor, this article will help you a lot. We introduce the iLovePDF Compress PDF feature in detail, including its basic capabilities, how to use it, its advantages and disadvantages, and the great alternative – SwifDoo PDF.
What Is the iLovePDF Compress Feature
iLovePDF is a web-based PDF toolkit that deals with various PDF tasks. The iLovePDF Compress tool is one of its nuts-and-bolts to reduce the file size for better transfer and storage. It enables you to process 2 PDFs for free per day with a maximum file size of 200 MB for each task. 2 PDFs can be free compressed at a time to let you enjoy the batch compression feature.
Now iLovePDF has launched its desktop and mobile applications to provide the same PDF features. However, free users can only use limited PDF reading tools to view a PDF.
How to Use the iLovePDF Compress Tool Online
iLovePDF Compressor allows you to compress PDF files online for free. It offers three standard options regarding the compression level: extreme compression, recommended compression, and less compression. Among the three selections, the recommended compression reduces large file size while retaining good quality.
Read on to see how to compress PDFs online in iLovePDF:
Step 1: Locate the iLovePDF Compress PDF tool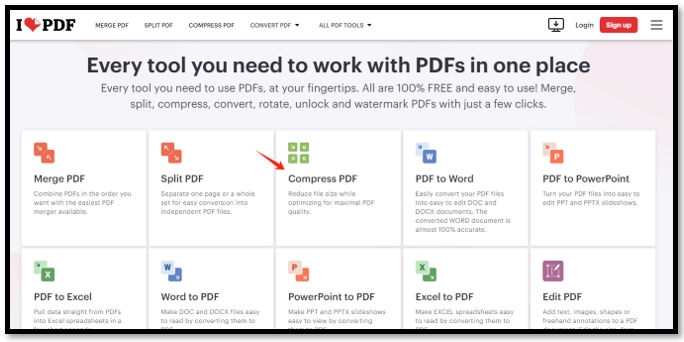 Visit the website of this online PDF compressor and choose "Compress PDF" (the third icon from the left). Alternatively, go to "All PDF Tools" on the top toolbar and navigate to "Compress PDF" under the OPTIMIZE PDF tab.

Step 2: Upload your file to the site
Press "Select PDF files" to add the PDF document from your device. The iLovePDF compressor also allows you to import files from Dropbox or Google Drive without downloading them.

Step 3: Compress the PDF online in iLovePDF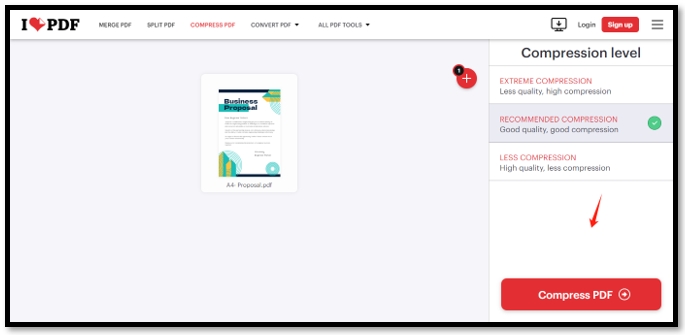 Select the compression level on the right. The second option is recommended to reduce the file size without losing the quality. Then press "Compress PDF" to finish the task. For resizing multiple documents, press the plus icon in the upper right corner to add other PDFs.

Step 4: Save the compressed file



After the iLovePDF compression, the PDF will be automatically downloaded to your local folder. If you don't find the file, tap "Download compressed PDF" to save it. To save the PDF to Google Drive or Dropbox, just click on the corresponding icon to store it.
If you want to search for more online tools like iLovePDF, here are some recommended software: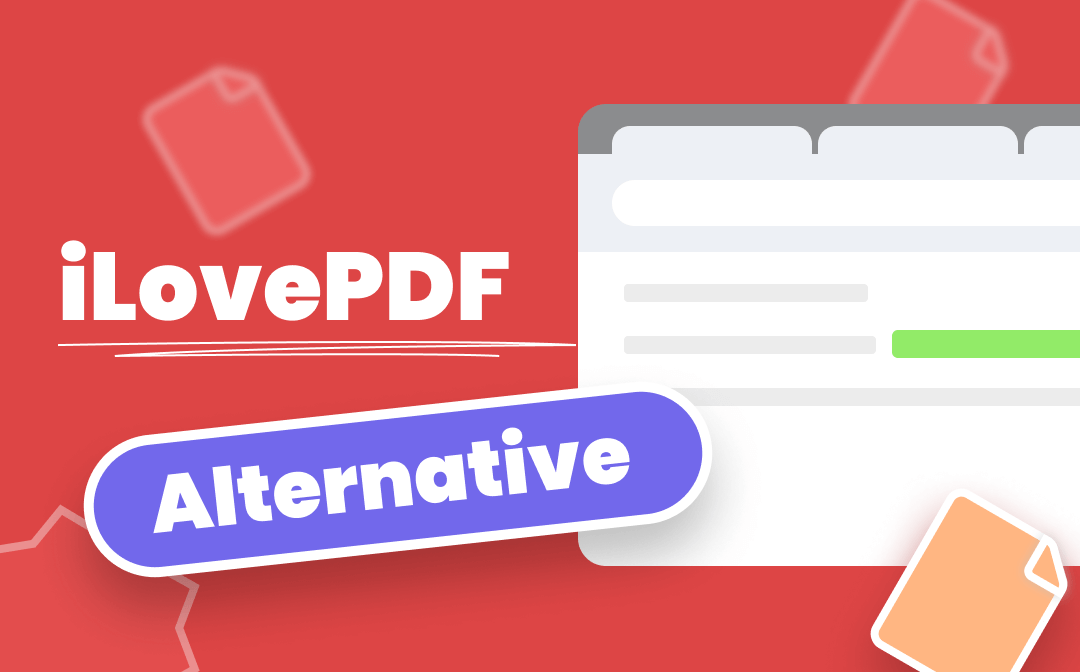 5 iLovePDF Editor Alternatives for Better PDF Editing Experiences
Some iLovePDF editor alternatives for you to edit, convert, and annotate PDFs easily are introduced. Check them to replace iLovePDF for better experiences.
READ MORE >
Pros and Cons of iLovePDF Compress Tool
To let you have a clearer understanding of the iLovePDF Compress PDF feature, we list its advantages and disadvantages. You can compare its pros and cons to make sure which feature is helpful when trying to compress PDFs.
Pros:
It is easy to access most of its PDF tools online for free;
Simplified user interface that lets you compress a PDF without being tech-savvy;
The iLovePDF compressor performs quality compression to preserve the file quality;
No need to register to enjoy the online services.
Cons:
You can compress no more than 10 PDF files at a time even after upgrading to the premium;
Compressing PDFs online in iLovePDF has a size limit for both free and paid versions;
The original file size only displays when the task is completed;
Online sites always have the risk of information leakage;
No translating tool to translate a PDF to any other language.
PDF converting feature has limited options;
Reduce PDF Size with iLovePDF Compress Alternative
After a more detailed understanding of the online software, are you thinking of finding an alternative to iLovePDF to resize PDF files? SwifDoo PDF enables you to compress PDFs by customizing the quality and resolution except for the available compressing options. File quality can be well preserved to ensure readability. The change in file size is displayed to help you check whether the results meet your needs.
Follow the quick write-up on how to utilize the iLovePDF Compress alternative to reduce PDF file size without losing quality:
Step 1: Launch the program by double-clicking on it. Tap on the Compress PDF button to enable the feature;


Step 2: When the Compress PDF window pops up, drag and drop your file to the designated area;
Step 3: Click the drop-down arrow below Compression Level to specify how much you want to reduce the file size. Press Start to resize the PDF.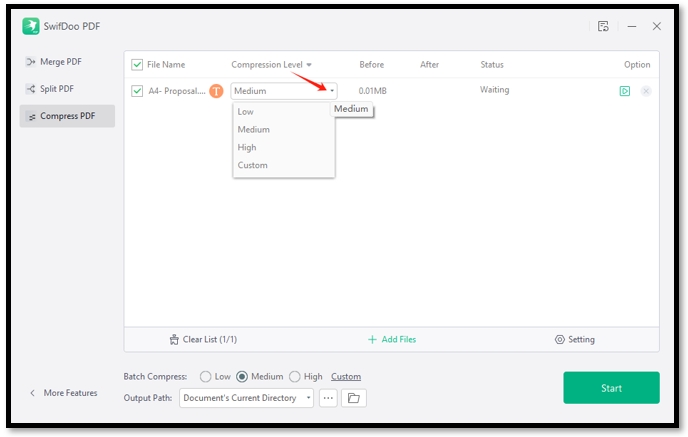 Verdict
Compressing PDFs online in iLovePDF is the choice of many PDF users. This article shows you a walkaround of the iLovePDF Compress PDF tool and provides a step-by-step guide on how to use it.
Despite the many advantages of this online tool, there are still some inevitable flaws. If iLovePDF can't meet your PDF compression needs, give SwifDoo PDF a try. It allows you to customize the compression result, helping you to achieve the desired compression size in one step.