Introduction:
Often while working on the systems, you may forget to save your essential files, accidentally delete them while clearing the system mess, files disappear due to a virus attack, or worse, your system might crash, resulting in permanent file loss. So is there a fool-proof way to restore deleted files?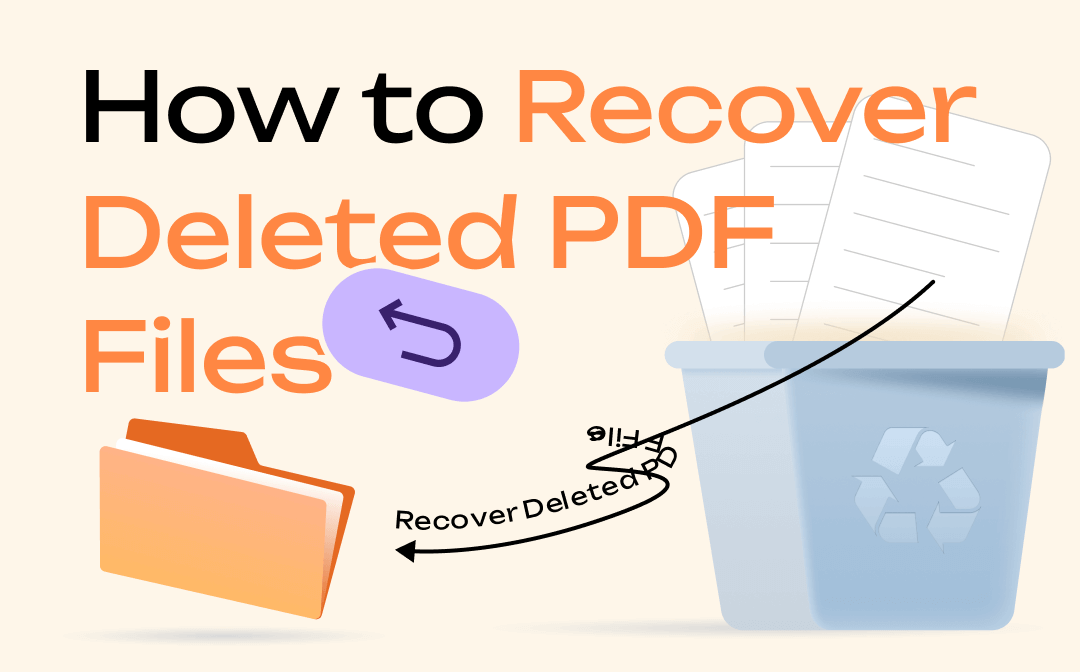 While Adobe lets you create a PDF document, recovering a deleted PDF file may sound complicated. But there are many data recovery software to ease your job. So stay tuned to get hold of some tools for deleted PDF file recovery on Windows, Mac, and Linux systems. So let's have a look!
How to Recover Deleted PDF Files on Windows, Mac, and Linux Systems
Fortunately, all operating systems have built-in features to recover a deleted or lost file or repair a corrupted file. For example, Windows users can use Recycle Bin, File History, and Autosave feature in Adobe Acrobat Reader to restore deleted files.
Similarly, Mac users can use built-in PDF recovery options like Time Machine, iCloud Drive, and more.
However, if you are a novice or none of those mentioned options prove helpful, you must tune in to data recovery software to recover PDFs without further delay. Here are a few software options to help you recover your deleted PDF files within no time. Have a look!
MiniTool Partition Wizard
EaseUS Data Recovery
Wondershare Recoverit
Linux
Let's look at each one of them one by one.
How to Recover Deleted PDF Files Using MiniTool Partition Wizard
MiniTool Partition Wizard free is a great tool to recover deleted PDFs. It offers the perfect solution to restore deleted files and lost documents. MiniTool finds and recovers the lost partitions, and its Data Recovery feature recognizes and retrieves deleted and lost files in multiple loss situations. MiniTool Partition Wizard is compatible with Windows and Mac PCs.
Step 1: Run the MiniTool Power Data Recovery software and select Logical Drives from the main window. Generally, it is chosen as default.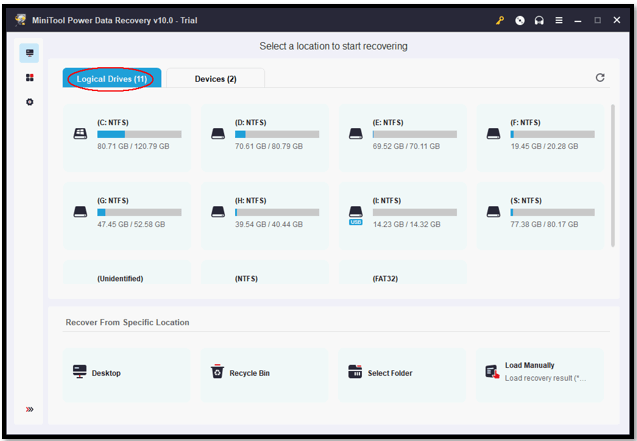 Step 2: Choose the drive with the deleted PDF file and tap the Scan button in the screen's lower-right corner.
Step 3: Preview the scanned results and select the PDF file you are searching for to recover.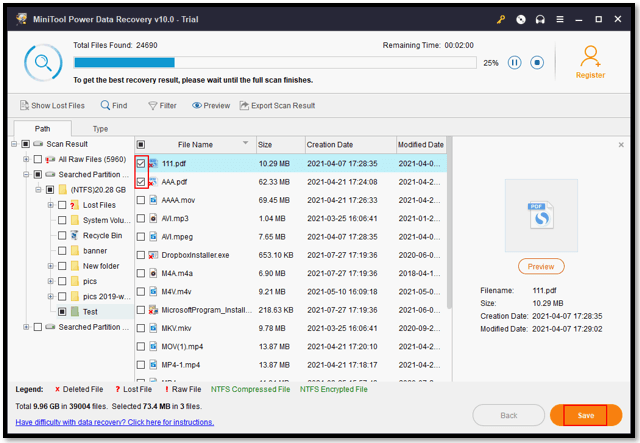 Step 4: Once found, press the Save button.
Step 5: Set a destination path for the recovered files and hit the OK button to confirm.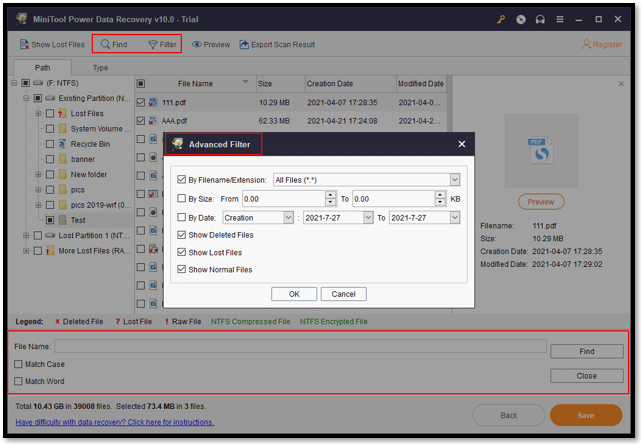 Note: Avoid saving the recovered files to the original drive to avoid any losses.
How to Recover Deleted File on PC With EaseUS Data Recovery
EaseUS Data Recovery software recovers permanently deleted, unsaved, and lost files from the hard drive in a few clicks. This software can recover deleted files of all types, including audio, video, emails, images, MS files, Adobe files, PDFs, and more.
Additionally, you can recover deleted PDF data from hard drives, digital cameras, SD cards, and USB flash drives in multiple loss situations like virus attacks, OS crashes, lost partitions, formatted disks, RAW partitions, etc. In addition, it supports Windows and Mac PCs.
Step 1: Install and launch EaseUS Data Recovery Wizard and select the partition or drive where you last stored your deleted PDF files.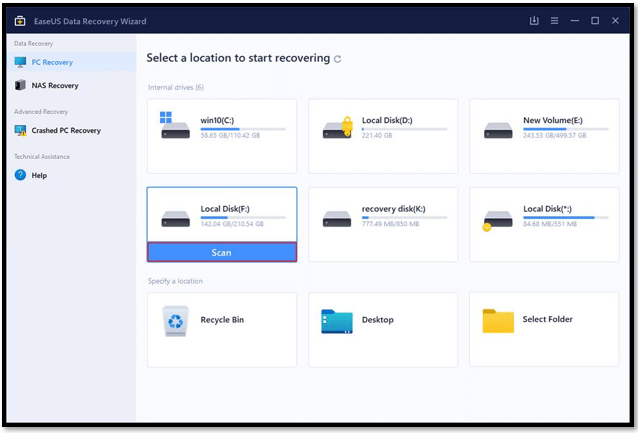 Step 2: Select the Scan button to trace the lost files.
Step 3: Choose the deleted files you wish to recover once scanned. You can click filter to display the file types of your choice. Alternatively, you can search your PDF files by the file name in the Search Files or Folders box to locate your target file quickly.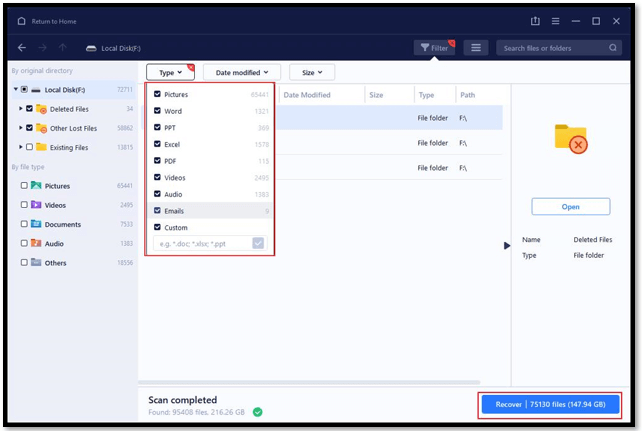 Step 4: Preview the scanned files and select the ones you wish to recover.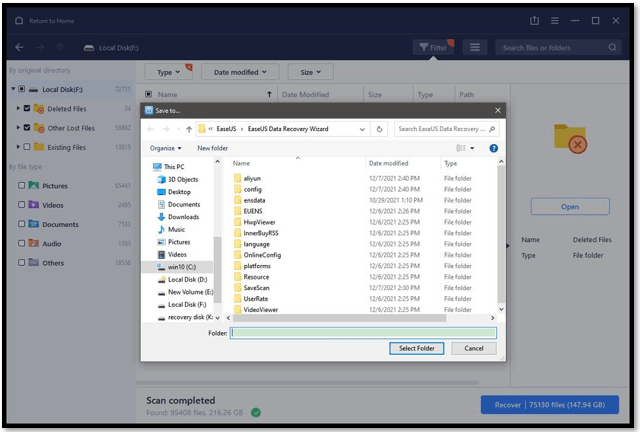 Step 5: Finally, tap Recover to restore the deleted PDF files at a new store location.
How to Recover Deleted Excel File With Wondershare Recoverit
Wondershare Recoverit is a professional data recovery software that supports recovering deleted PDF and Excel Documents, among other file types. This software has a high success rate and restores deleted files without quality loss. It is compatible with Windows Vista, XP, and above and supports Mac OS X 10.10 - macOS 13 (Ventura).
Step 1: Download and launch the Wondershare Recoverit software.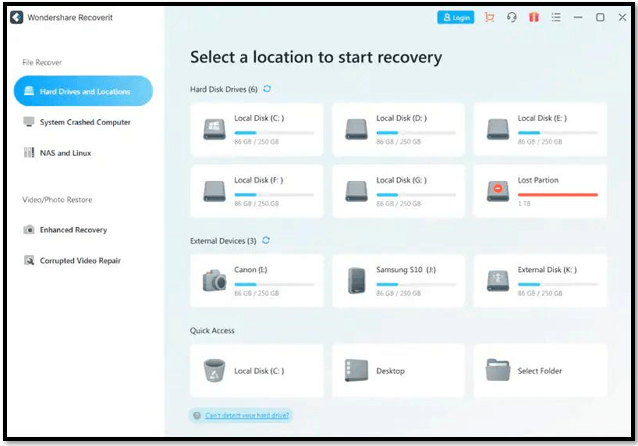 Step 2: Locate the exact drive of your deleted Excel document where it was last stored. Once found, click Start, and the scanning process will start immediately.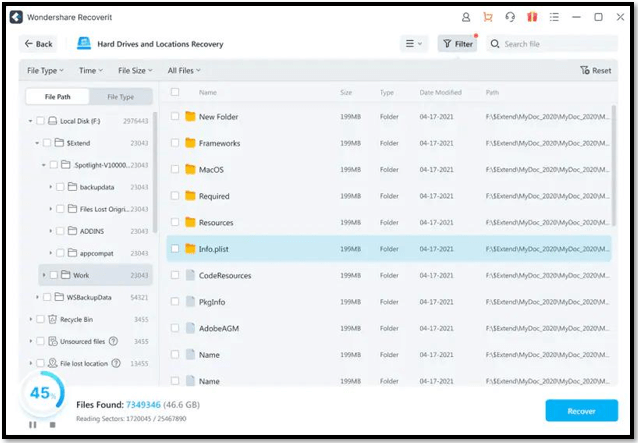 Step 3: The hard disk will scan the files automatically and list them in the left panel. You can find the detailed format in the screen's right section.
Step 4: After scanning, preview the Excel files, check their content, and choose your desired Excel spreadsheet to recover from the scanned files.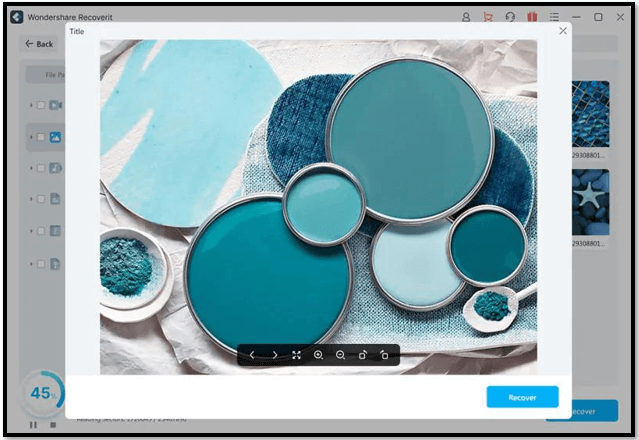 Step 5: Click the Recover button to trigger the file recovery process.
How to Recover Deleted File in Linux Desktops
If you have mistakenly deleted a file on your Linux desktop, you need not fret. Like Windows and Mac PCs, even Linux features a built-in function to recover deleted PDF files. Additionally, you can use data recovery tools like TestDisk, PhotoRec, and Foremost to recover your permanently deleted and lost files.
You can go to the Trash or Recycle Bin icon to restore deleted files instantly. However, if you have deleted the files permanently, you would be required to use data recovery software available for Linux.
How to Delete Adobe Reader Cache
Though Adobe Reader doesn't restore deleted files, it still keeps a list. Clearing old and unused media cache files helps maintain the optimal performance of the app.
For example, Adobe Reader may store the earlier viewed PDF images. You can find them in the temporary Internet files folder. Hence, to prevent such images from being stored locally, you must:
Step 1: Open Adobe Reader, select Edit, and choose Preferences from the menu.
Step 2: Choose the Page Display option in the Categories field.
Step 3: Select the Use page cache option from the Rendering Area.
This process prevents Adobe Reader 8.0 and 9.0 from storing the PDF image's next page in a local cache.
Share Your Recovered PDF Files Online
After recovering deleted PDF files, you can view and print them. To interact further with the PDF content, you can use the SwifDoo PDF tool, a full-feature program designed as a one-stop solution for all your PDF needs.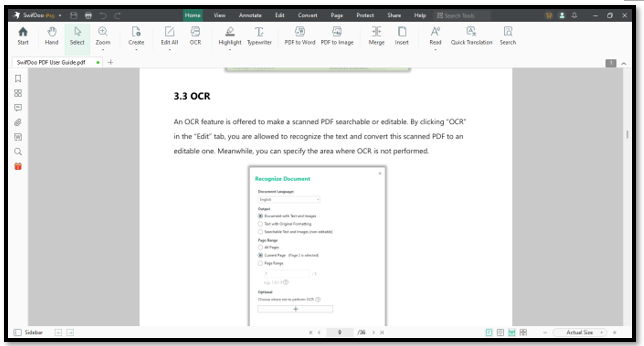 Using the SwifDoo PDF software, you can edit, highlight and annotate your recovered PDFs without much effort. Choose to add notes and texts, and even convert your PDFs to other formats like Excel, Word, CAD, Image, and vice-versa.
You can merge, split, compress, and crop your PDF files without compromising the file quality or loss of data. Moreover, the software lets you digitally sign your essential PDF document whenever required.
With SwifDoo PDF, all your PDF files and documents are password protected to guard them against unwanted access. In addition, using this software, you can share your PDF documents online with your colleagues, team members, fellow users, or anyone you wish.
Final Wrap Up
Deleting a vital document accidentally or permanently can have dangerous repercussions and can cost you your job. Though there are built-in features on Windows, Linux, and Mac operating systems to restore deleted files, at times even, they don't come in handy.
In such cases, we recommend you use professional data recovery software for timely and accurate results. After recovering your deleted PDF files, you can edit, print and share them through SwifDoo PDF software. In addition, SwifDoo PDF provides complete protection for your PDF documents.