Filling out PDF forms is a common scene in people's daily life. With the widespread use of smartphone, more and more people choose to use their phone to fill out some frequently used forms. Therefore, iPhone users are bothered by which tool to use for PDF filling since there are so many of them on the market. Don't worry, follow this guide to fill out a PDF form on iPhone free now.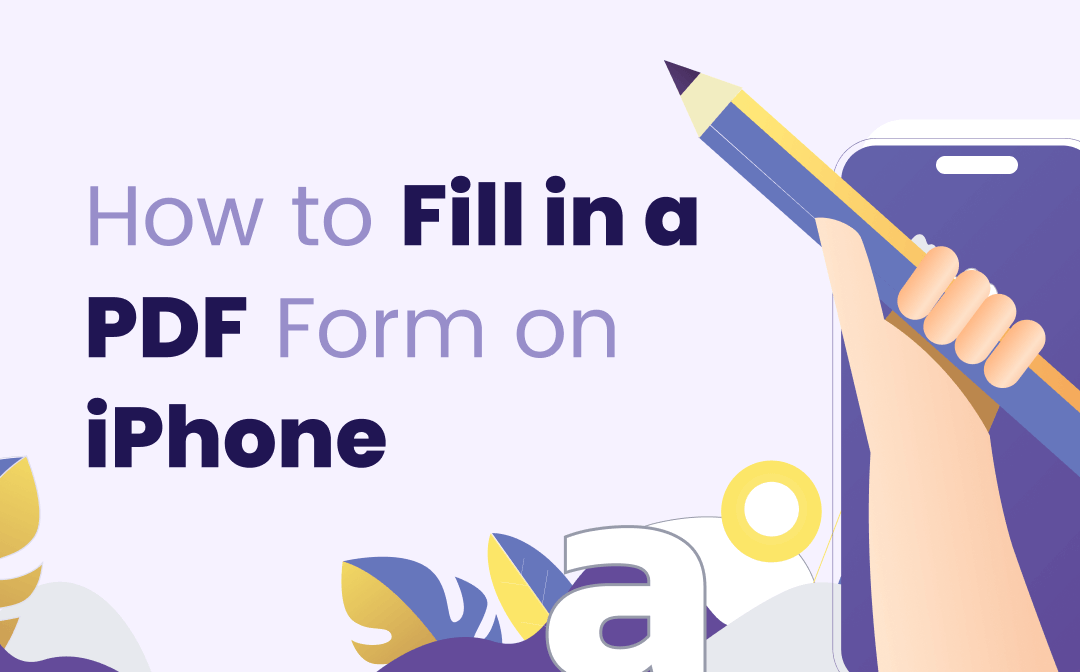 Steps: How to Fill out a PDF Form on iPhone Free
3 methods are listed below for you to choose from. Google Drive is free to download and use. PDF Expert and pdfFiller both need subscriptions. Questions like: are there any differences among them? Or do I just need a free app, so should I choose Google Drive? … must appear in your mind now. Don't worry, answers are lying here:
Availability
Pros
Cons
Google Drive
iOS
Free
Can't fill out some PDF forms
PDF Expert
iOS

Free for 30 days
Powerful PDF editing

/
pdfFiller
iOS & Online website

Filling PDF online
Specially developed for filling PDFs

Subscribe to use
Use Google Drive for Free
Google Drive is a free app to use on your iPhone and you can use it to fill out PDF forms for free. Here's how:
Step 1. Open PDF forms with Google Drive. (Download one if you don't have)
Step 2. Find the Fill out form and tap it.
Step 3. Start filling.
That's all. 3 simple steps ask nothing from you. However, there is a problem: Google Drive does not support filling out some kinds of PDF forms. You cannot find the Fill out form choice when opening some PDF forms in this app. Just like the screenshot below, no Fill out form available, which means you cannot fill out this form in Google Drive.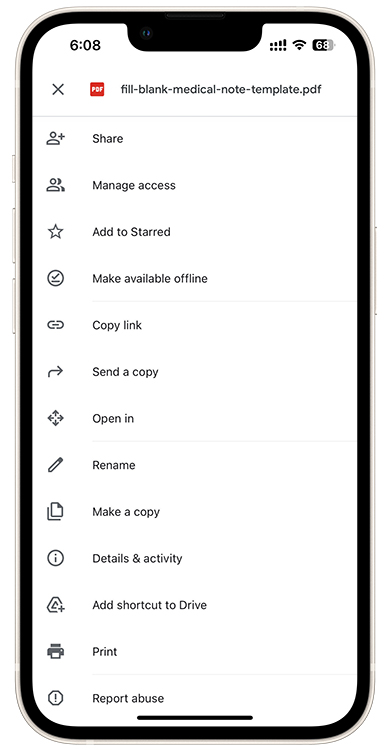 At this moment, you still need to turn to the other 2 PDF fillers below for help.
Use PDF Expert
This is a PDF software specially developed for iOS and an editor's choice in the App Store. Since it's a PDF tool, you can fill out all kinds of PDF forms with it, and no chances for things like using Google Drive as described above.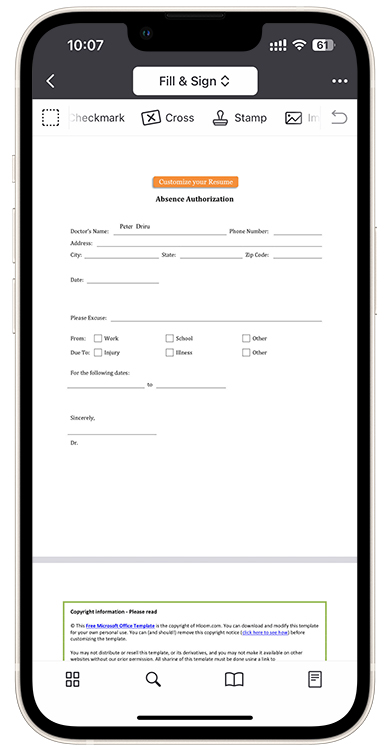 It's easy to use PDF Expert to fill out forms too. You just need to open PDFs with it and choose Fill & Sign at the top of this app. Then you can add texts, signatures, dates, checkmarks, etc. to your documents. The only thing you need to pay heed to is that iPhone is still too small to fill out PDF forms and would make it difficult to enter texts and place them at the right location. Therefore, an iPad and Apple Pencil would be the best for filling out PDF forms if you have them at the same time. But this is the same for all the PDF apps on iPhone.
Use pdfFiller
pdfFiller has an online version that enables you to fill out PDF forms without downloading its app. The experience of using it is outstanding and the only thing you need to be aware of is that exporting PDFs after editing would require you to create an account and then choose a subscription plan. Other experiences are the same as using the PDF expert and it also has other PDF services like converting, compressing, annotating, etc.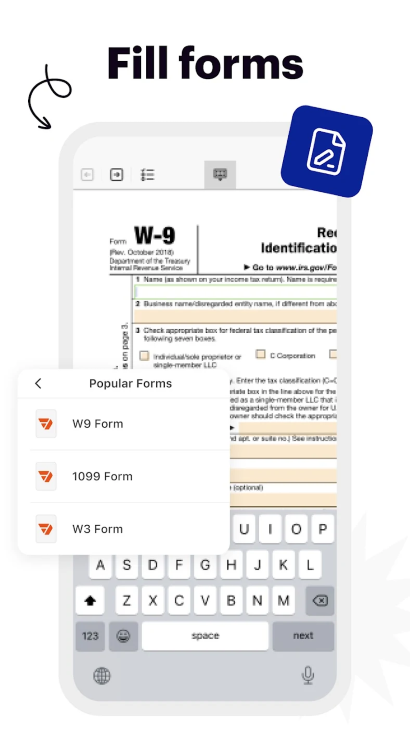 How to Fill out PDF Forms on iPad & Mac
For iPad and Mac users, you can use all the 3 products above to fill out PDF forms since they all work on the Mac and iPad. No more introductions here but if you are also a Windows PC user, just keep reading the next part.
How to Fill out PDF Forms on Windows 10 & 11
For Windows users who also need to fill out PDF forms from time to time, this blog also prepares you with a solution. As mentioned above, pdfFiller's online tool can be used across platforms but exporting PDFs needs a subscription, and PDF expert does not have a Windows version. So a free PDF filler is going to introduce to you - SwifDoo PDF.
Here's how you can use it to fill out PDF forms:
Step 1. Download SwifDoo PDF for free.
Download for PC
Step 2. Open PDFs with it.
Step 3. Find Edit and start to fill out forms.
After editing, you can save the file or export it as a Word file in this PDF editor.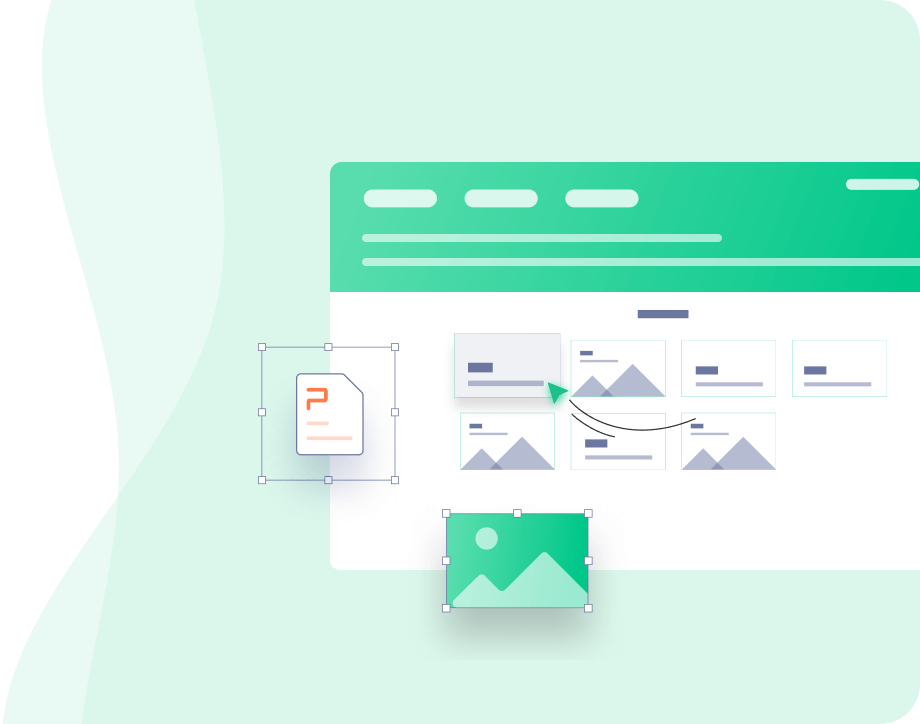 SwifDoo PDF - All-in-One PDF Editor
Annotate PDFs by adding notes, bookmarks, etc.
Convert PDFs to Word, Excel, and other editable files
Edit, compress, organize, and split PDFs
Free Download
Windows 11/10/8.1/7/XP
The Bottom Line
You must have learned how to fill out PDF forms on iPhone after reading the content above and iPad, Mac, as well as Windows PC users can also get solutions. Among those tools, SwifDoo PDF is mentioned as the last software for Windows. It offers a long 15-day trial and a no-login service for new users, so it appears here again to recommend to you. An iOS version of it is also coming. Download SwifDoo PDF now!