Introduction:
Compression is the best way to make your PDF files smaller and lighter. If you want a great
PDF compressor
to
compress PDF to 200KB
, this post introduces the 6 top offline and online choices to you. With them, you won't be stumped by file size limits when emailing, messaging or uploading a PDF to social media sites. Size-reduced PDFs take less storage space on your device as well.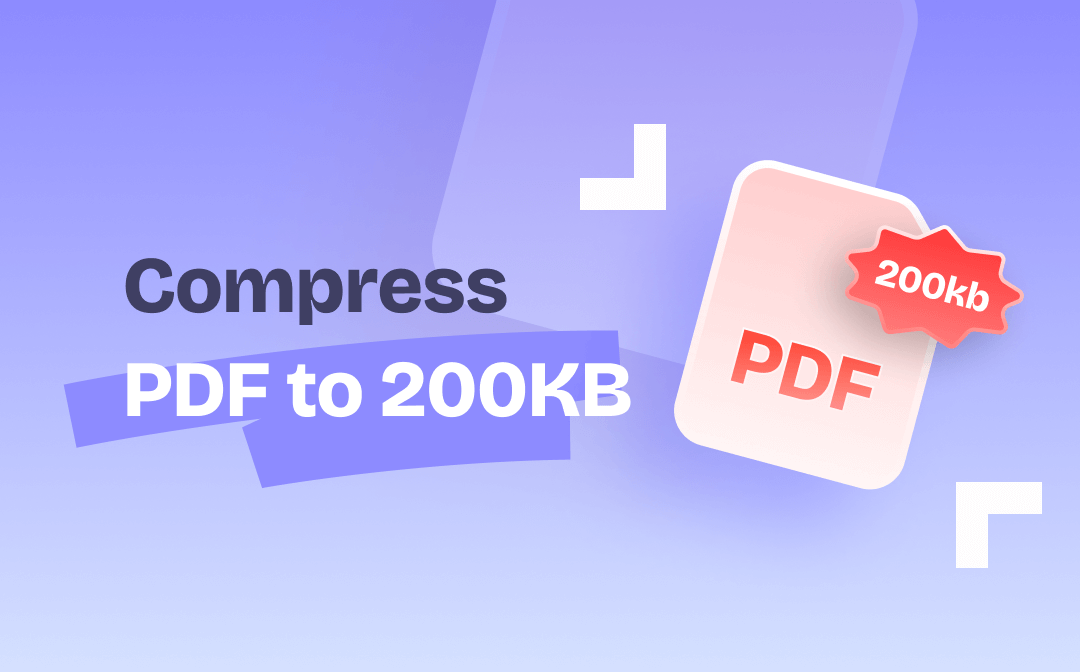 2 PDF Compressors to Compress PDF to 200KB Offline
In order to efficiently and safely compress PDF to 200KB, desktop software should be the primary solution. Without the need to upload PDFs on the web, you can get your job done offline with them. Their file compression ability is often more powerful. Check out how SwifDoo PDF and Foxit PDF compressors let you compress PDFs to below 200KB with ease.
#1. SwifDoo PDF - Best PDF Compressor for Windows
SwifDoo PDF is your ideal app to compress PDF to 200kb without losing quality if the PDF is not large, which is one of the best PDF editors recommended by PCWorld. It offers preset compression levels and allows you to customize the compressed image quality and resolution. The PDF compressor has the ability to batch resize multiple PDFs to 200KB. After compression, you can click other editing tools to make the file smaller.
To compress PDF to 200KB, follow the simple steps below.
Step 1: Install and launch SwifDoo PDF, and drag and drop your PDF into it;
Step 2: Click the Edit menu on the top and choose Compress;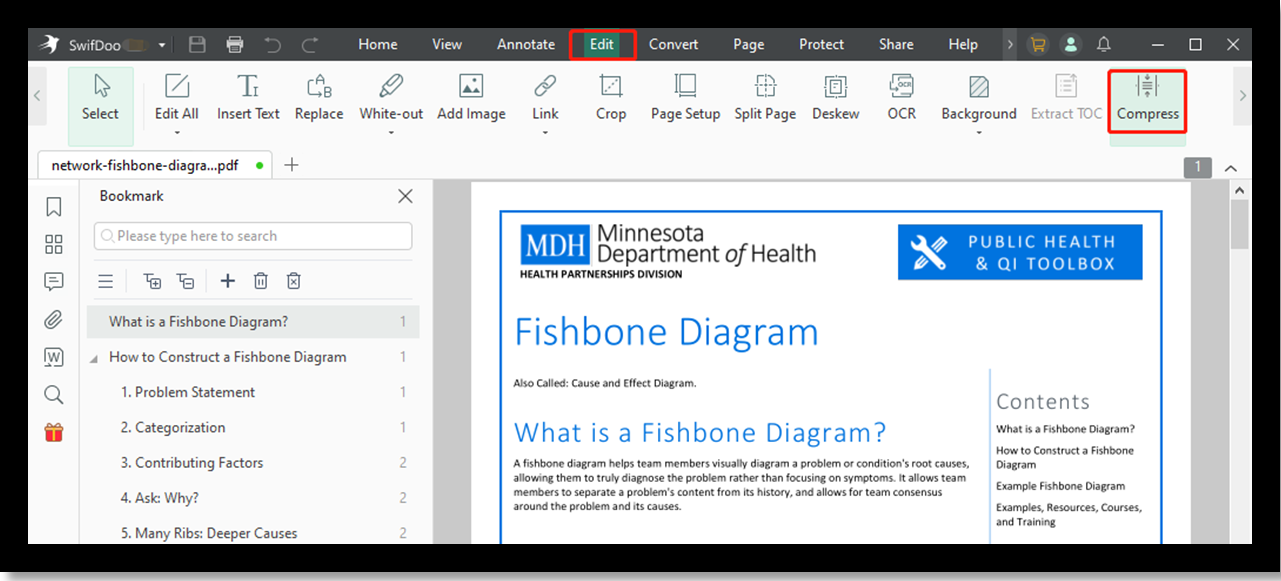 Step 3: Select a compression level or customize the output quality, and specify the saving location;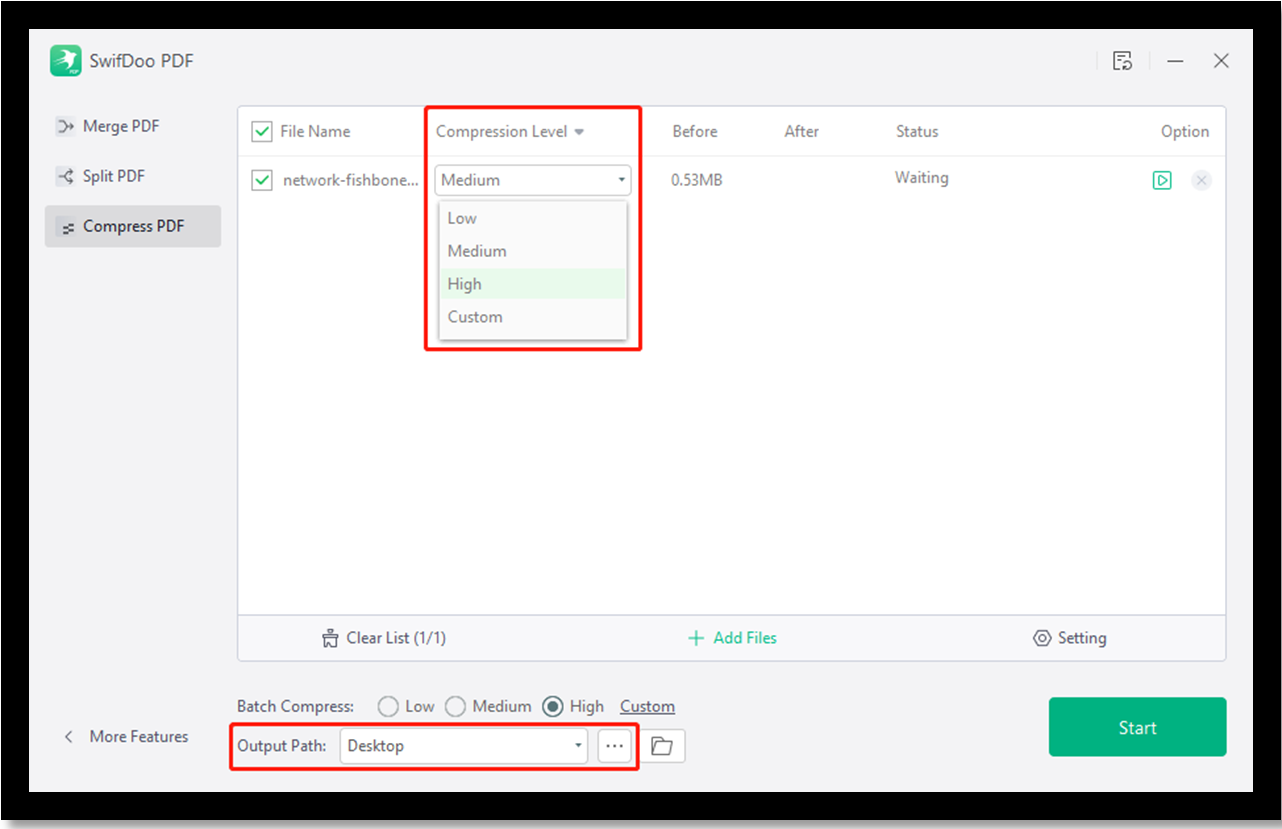 Step 4: Hit Start to compress the PDF to 200KB and check the resulting file size.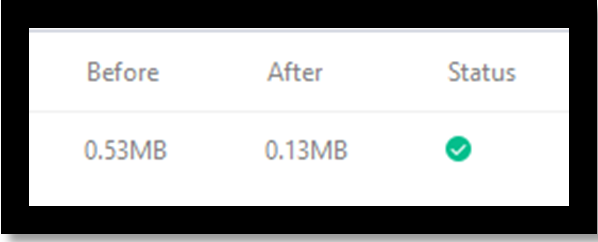 You can compress PDF to 200KB for free using SwifDoo PDF's 15-day free trial and process as many PDFs as you want without limitations. No file size limit either. You should know that the higher the compression level, the lower the quality of the compressed file.
Besides getting a PDF compressed to 200KB, the PDF software can do many more. Take a look at the key features of it.
Have a PDF compressor and size reducer to compress PDF to 200KB or smaller in batches.
Crop PDF pages, change PDF page size, and delete unnecessary content from a PDF to decrease the file size.
Separate, delete, or extract PDF pages.
Edit images, text and rich media in PDFs.
Compress images such as JPEGs to 200KB and convert the images to PDFs.
Convert PDF to JPG or other image formats after you compress PDF to 200KB.
Download SwifDoo PDF to compress your PDF or use other features to reduce the file size.
#2. Foxit PDF Editor
Foxit PDF Editor enables you to create, convert and edit PDF documents. It provides an excellent PDF compressor for users to compress PDF to 200KB without losing quality. Like most PDF applications, it's also capable of batch compression but the workflow is a bit complicated. You have to choose "File" > "Action Wizard" > "Create New Action" and click more options to create an action first. Then use the PDF compressor to compress multiple PDFs to below 200KB at once.

Foxit lets you compress PDF to 200KB on your desktop with a 14-day free trial. However, you will not be able to access any feature or even the program after that. To just compress a single PDF file to 200KB, go to "File" > "PDF Optimizer" > "Reduce File Size", choose "Current File" and save the compressed file.
4 PDF Compressors to Compress PDF to 200KB Online
Sometimes you may wish to compress PDF to 200KB online instantly without spending time installing software. This part covers the 4 best online PDF compressors that will facilitate your work. Browse and pick your favorite one to resize a PDF to 200KB conveniently in your browser.
#1. Online2PDF.com
Online2PDF.com stands out from tons of online PDF software with its rich features and fast response speed. It allows you to compress PDF to 200KB, by over 10% or 50% online for free. You can set the quality and resolution of all images/graphics in the exported PDF to reduce the file size using the PDF compressor. Moreover, the online tool can convert a PDF to black and white to further make it smaller.

To compress a PDF, click "Select files" on the website, change the compression settings and tap "Convert". From the interface, you can notice the software not only helps compress PDF to 200KB, smaller or larger size but also converts PDFs to Office documents, protects and merges them. Compressing and converting PDF to 200KB-sized JPG simultaneously is possible.
#2. iLovePDF
iLovePDF is a popular web software that you can utilize to compress PDF file size online to 200KB. It has three compression levels to choose from and supports bulk compression. The compressed files are available for free download in one click. The software allows you to compress PDF to 200KB, scan, OCR, and sign PDFs without registration. It has a PDF merger and a PDF converter as well.
The downside of iLovePDF is it only compresses a not very large PDF to a 200KB PDF, specifically near 200KB. It reduces the size by a small amount. The user interface is easy to navigate while containing some ads at times. In terms of how to compress PDF to 200KB, tap "Compress PDF" on the top, upload your PDF, select a compression quality, and start.
#3. Adobe Acrobat Online
Adobe Acrobat Online services integrate a set of essential tools to handle PDF files, including a PDF to image converter, a PDF page rotator and a page reorder. Its PDF compressor allows you to choose the high compression, medium compression or low compression level to compress PDF to 200KB for free. You can access the online service from any device, including iPhones, Macs, Linux, and Android. The interface is clean and intuitive.

To compress PDF to less than 200KB online for free with Adobe, choose the "Compress PDF" tool, upload the PDF file you need to compress to 200KB, preview the estimated size of the compressed file and select a compression option, then click the "Compress" button. The disadvantage of using Acrobat to compress PDF to 200KB is the compression speed is much slower than other compressors in this post.
#4. 11zon
11zon is a fast online platform with tools to watermark, page number, and unlock PDFs as well as strong compress PDF to 200KB. It also allows you to select lower compression levels. The PDF compressor doesn't require your signing up or loggin in and can compress a group of PDF files in one go. The created smaller files are downloadable as a zip file. The method to do PDF to PDF compression to 200KB is to upload PDFs, drag the compression level slider and click "Compress".

Understanding of PDF Compression
When you are looking for a way to compress PDF to 200KB, it's necessary to know what compression does. That helps understand the compressed result.
PDF compression is to compress images, embeds fonts, document structure and other elements in a PDF. Compressing PDF images is the key to significantly reducing the PDF size. If your file is already small and doesn't contain images, the compressed file size in KB won't be much less than before.
When you compress PDF to 200KB, you should be aware of the inevitable reduction in document quality. To optimize your document without compromising much quality, select the proper compression level.
To Sum Up
If you compress PDF to 200KB or a different size, the compressed document will be faster to open and load and good for extensive sharing. However, you may be struggling to find the best PDF compressor to perform the task. Among the online ones, Online2PDF.com and Adobe Acrobat Online are most worth trying. The former produces better results than others when compressing a PDF file to 200KB online for free and the latter is the reliable industry leader.
As for offline apps, SwifDoo PDF is a stellar option because it not only allows you to compress PDF to 200KB to reduce the file size but also has nearly all the features included in Adobe Acrobat, and the pro version is absolutely affordable and competitive. Get started to try the PDF compressor and other tools in it for free now!