A smaller PDF file is easy to share via email. What if you have a large PDF file that you cannot share due to its size? The solution is compression. Adobe Acrobat PDF compressor can perfectly do the job and enable the file to be transferred and stored anywhere. How? Let's explore.
On every platform, the standard file size is maintained while you share. For example, you can mail a 25 MB file; if the size exceeds, it will go in parts, which can degrade the quality, and data loss will be risked. Here, a PDF compressor comes to the rescue.
The Adobe PDF compressor helps you when you are worried about how to compress a large PDF file so that you can share it trouble-free. This post will show you how to compress a PDF in Adobe without losing quality or data.
How to Compress a PDF in Adobe Acrobat
To reduce a PDF file, you need a reliable tool that can compress it and enable it to be shared or stored anywhere you want. Let's introduce Adobe Acrobat to answer your PDF queries. Adobe PDF size reducer can optimize the file size and allow it to fit for easy sharing and comfortable storage. Working with Adobe can shrink your time as it works on desktops, phones, tablets, and the web.
Let's know how you can do on your Windows or Mac PC below:
Step 1: Install Adobe Acrobat DC on your PC, and open the program;
Step 2: Click Open to choose a PDF file;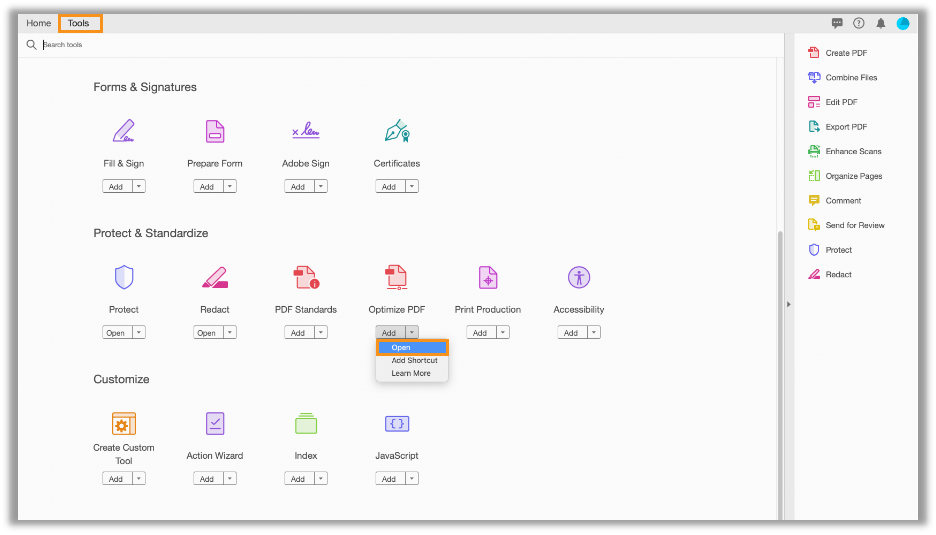 Step 3: Tap on Reduce File Size;

Step 4: Tap on the OK button;
Step 5: Click on Save the file and save it whatever you want.
How to Reduce the File Size with Adobe's Online PDF Compressor
If you don't want to install PDF software on your PC, the Acrobat online PDF compressor can still perform the task in any of your browsers. You can use the online PDF optimizer on any device to reduce PDF file size by following simple steps. For example, let's show you how to shrink your large PDF using the online PDF compressor by Adobe Acrobat.
Step 1: Visit the Adobe Acrobat online optimizer;
Step 2: You can drag and drop a PDF file or choose the Select a file option;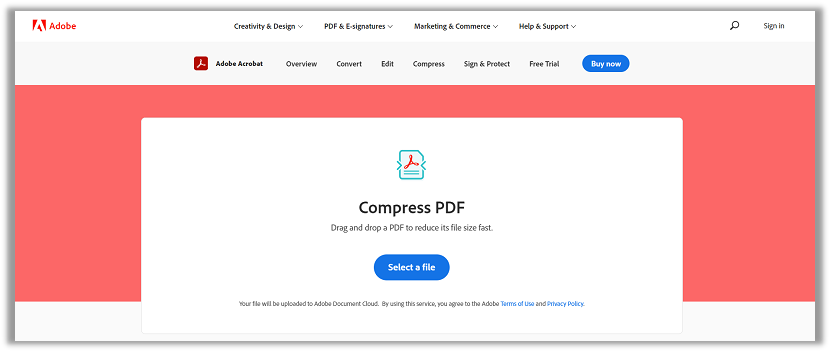 Step 3: Now upload a PDF file you want to optimize its size;
Step 4: Once you add the file to the workstation, the Adobe Acrobat online PDF compressor will reduce the PDF file size automatically;
Step 5: You can download your optimized PDF. If you want to share instantly, you must sign in and share the file anywhere you want.
Adobe reduces file size up to a specific file limit; if you run out of it, you need to switch to its Pro plan to continue your workflow.
How to Compress a PDF with SwifDoo PDF
With SwifDoo PDF, you can reduce the size of PDF files for easy sharing. As Adobe is not pocket-friendly, you can switch to SwifDoo PDF to perform the task. The leading-edge software is an expert in all your PDF requirements and meets your expectations. The best part is that SwifDoo PDF recently upgraded the UI design and molded it to be more user-friendly so that you can get maximum benefits.
It's productive software that understands your needs and does not burn a hole in your pocket. Additionally, you can perform all the PDF tasks like editing, merging, splitting, annotating, and even encrypting for safe use. The SwifDoo PDF tool offers a whole bunch of benefits for its users. Let's find out.
The benefits SwifDoo PDF offers:
The useful PDF tool presents the best features for you, which include:
● You can compress any large PDF file and shrink it
● The tool offers to convert PDFs as well as merge and edit your PDF files
● You can generate an e-signature for your PDF before mailing it to make it more authentic
● You can annotate your PDF file and highlight any part you want to attract readers' attention
● You can change the font size, background color, and add or delete text in your PDF
● It's a lightweight tool that uses few system resources
● The software runs at lightening speed to save your time
● You can encrypt your sensitive PDF documents with double-layer password protection
SwifDoo PDF, the comprehensive PDF compressor on Windows, thus assists you in performing all of your PDF tasks so that you can keep moving forward in your professional life.
How to Compress a PDF in SwifDoo PDF
Let's follow the steps below:
Step 1: Install the software on your PC and run the program;
Step 2: Open the interface, and click on the Compress PDF icon;

Step 3: A new window will open; click on the Add Files tab;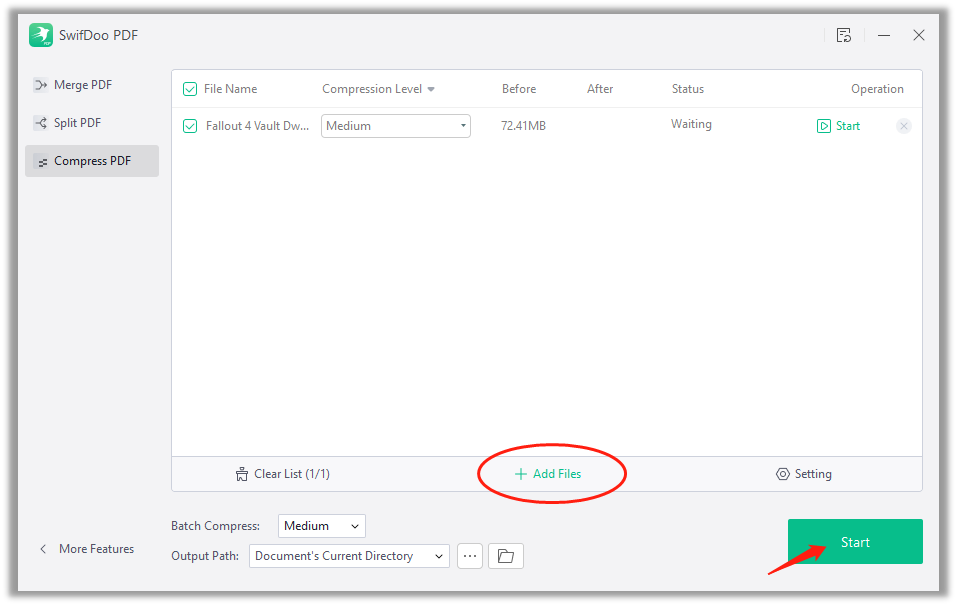 Step 4: Select the large PDF you want to shrink size;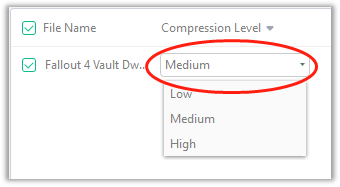 Note:

Tick the "Low" button before proceeding to "Start," as the program may alert you about the quality of the image after the compression. In the "Low" option, the file will be prominently visible for reading.
Step 5: Click on the Start button.
Within a second, your reduced file will be ready in your system storage for further use.
Why Compress a PDF?
Compression of a PDF exhibits various reasons. Suppose you have large PDF files and want to email them to your coordinates. In this scenario, you cannot mail a file that exceeds 25 MB, and you need to reduce its size without any data loss or degrading the quality of the file. Again, large PDF files occupy much space in your system storage. If you're working with a vast database and dealing with large PDF files, you must adopt the habit of compressing files before arranging them categorically.
Due to their size, large PDF files are inaccessible on any device, especially when opened from a mobile device. When its size is reduced, its accessibility rate doubles, allowing mobile users to access files from their phones at any time.
So, in a nutshell, we can summarize the reasons:
You must compress PDF files for easier sharing via email or direct upload to a digital platform.
You can save your system storage if you reduce the PDF file size
You can access compressed PDF files easily by projecting them from your mobile
These are the most compelling reasons to compress PDFs and meet the current requirements.
Summary
Compressed PDF files are currently in demand for various reasons. Working in a modern work culture, you must go with the recent trend to scale up your productivity. A compressed PDF file can give you better sharing options, good storage, and excellent accessibility over your phone.
We have covered Adobe PDF compressors and how you can compress your large PDF using the tool. Additionally, we let you use another high-end PDF technology, SwifDoo PDF, to smooth your various PDF workflows. We hope now you can sort out all your PDF difficulties seamlessly.