Introduction:
The previous two decades have witnessed some of the most influential breakthroughs of the digital market to date, drastically altering the method businesses may go about promoting their products in this ever-changing environment.
By nature, digital marketing programs have become more ubiquitous in the electronic age, considering daily usage of digital devices and platforms by users. This new emerging way of operating enables marketing decision-makers to create tailored information so as to better approach their target audience. Before we jump in, let's have a look at the whole picture of digital marketing.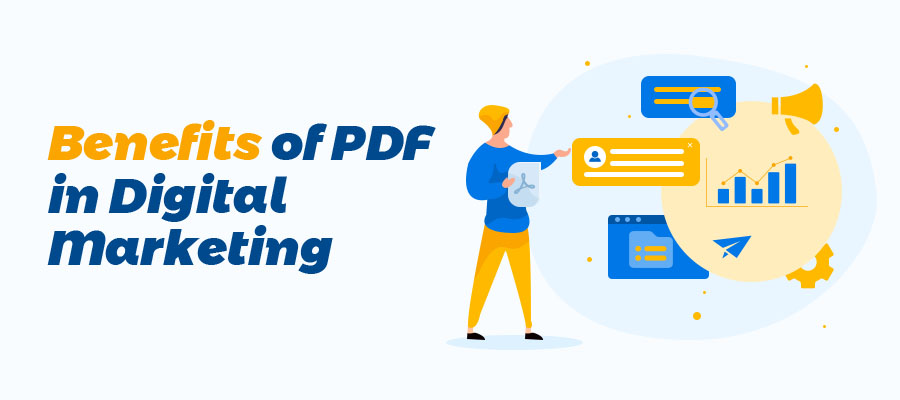 Definition of Digital Marketing
Digital marketing, also known as online and internet marketing, is the component of marketing involving internet and online-based technologies (for example, desktops, mobile phones, and other digital platforms) to promote products and services and to drive traffic to your website.
Key Components of a Successful Internet Marketing Plan
Digital marketing is a broad concept incorporating a broad spectrum of strategies, and generally it can be further classified into 7 parts:
SEO (Search Engine Optimization)
PPC (Pay-per-click advertising)
Affiliate marketing
Content marketing
Social media marketing
Email marketing
Influencer marketing
In this post, we are not going to elaborate on each type of digital marketing. Instead, the center stage will be given to how PDF can help digital marketing, particularly SEO and email marketing.
PDF in Email Marketing
Even though email marketing sounds a little out-of-date, it can return an average of $42 out of every $1 spent on. In other words, email marketing still slays in internet marketing.
Being an inseparable element in digital marketing, email marketing is to expand brand awareness, awake people's memory of your brand via emails, in order to achieve the ultimate goal - promoting products or service. Whilst in the course of sending outreach emails, an invisible bond is developed between you and potential clients.
The forms of email marketing are not limited to email newsletters, but transactional emails and behavioral emails. Regardless if your email is a welcome letter or an order confirmation, attachments are usually utilized to attract users' attention.
However, please remember: an improper email format can result in a rejection or blocking. Sometimes, email attachments may contain spam, so receivers tend to be skeptical about attachments from strange accounts. Therefore, one may ask the question: what are appropriate formats for email attachments?
In most practices, documents in familiar or visible formats will naturally lower people's guard, and will not be intentionally or accidentally misplaced into the trash by target clients. Such formats as .pdf, .gif, .jpg, .txt in attachments are top choices. For example, if you send an attachment with .exe as the file suffix, this email will be rejected by Gmail.
Therefore, it is strongly suggested to send attachments in formats mentioned above. Among them, PDF is a relatively common and popular format. Accordingly, how do you feature a PDF document in your email? When you are confronted with this problem, there are usually two ways to add attachments into your email.
Upload a PDF as an attachment
To send a PDF as an attachment is the easiest method. Just go to Gmail, scroll down to the bottom and click "Attach". Select the PDF document you want to upload from your PC, and click the "Open" button. This is the whole process. So far, it is the most frequently used method.
However, if the file you want to share happens to be overlarge, or this feature is unavailable, this method is not an appropriate choice as the time taken to upload the document lacks efficiency. In this case, the following option would be more suitable.
Attach the PDF as a link from any cloud storage platform
If you are a regular user of Gmail, Google Drive can be regarded as a reliable workmate.
Step 1. Open Gmail on your PC. When you see the triangle icon of My Drive, click on this;
Step 2. Choose the PDF files you want to attach from your computer and wait for them to upload;
Step 3. Once files are uploaded, right click the file you'd like to share, and click Get Link. Google Drive will generate a new link for this file. It is up to the user to allow the receiver to edit, comment or simply view the document;
Step 4. Insert the link into your email and send.
This process should take less than a minute, and you don't have to worry about the file format as every file is a URL.
Why are PDFs a special mention? Apart from difficulties in creating and editing PDFs, they are a great contribution to email marketing. Notably, make sure an acceptable attachment format is used, the file size is within 10 MB and content of the message is within 15-100 KB, otherwise your potential clients may not find it user-friendly enough.
PDF in SEO
There are a number of documents Googlebot crawls and collects, among which are instance pages, images or PDF files. PDF is a common file for presenting content. In digital marketing, statistical reports, archives, eBooks, whitepapers, and specification documents are often displayed by PDFs. That being said, PDFs have the potential to be ranked.
But spending time on optimizing PDF files for search is backlashed by some SEOers. On the contrary, another group of people hold a different attitude: PDFs are searchable and can be indexed as long as well optimized. In the following paragraphs, frequently asked questions will be answered.
Can PDFs really get ranked?
Yes, they can get a good ranking position. For most cases, PDFs will be converted and decoded into HTML web pages. With the help of OCR technology (Optical Character Recognition), Google or other search engines are capable of identifying images of text, and thus convert these image texts into pure texts.
Meanwhile, images in PDFs will also be indexed and appear in image search results. If your search results are PDFs by chance, then a "PDF" tag will be added at the title of the results. To put it straightforward, PDFs can possibly get high positions.
Does Google love HTML web pages more than PDFs?
Generally, Google (or other search engines) prefers HTML coded webpages over PDFs. But this doesn't mean PDFs do harm to SEO. Reasons are provided below:
Metadata: metadata elements such as marked up title tags, descriptions and H1 are rarely seen in PDF, and it is these elements that make PDF easily understood by search engines.
Formatting: weird formatting will lead to a lower CTR (click-through-rate) on the SERPs, and links in PDFs will not be processed like they are on web pages. The way of passing authority is also different from that on web pages. Therefore, if a large number of internal links are added in PDFs, they may not meet your expectations.
File size and length: these two factors sometimes can exert a negative impact on your SEO results. For instance, when it comes to a report, it is possible for this document to contain more than hundreds of pages.
This will increase the difficulty for crawling since more texts in PDFs means more topics. As for Google, PDFs should be divided into multiple website pages in HTML firstly. This process takes up a lot of resources which can be allocated to other pages.
PDFs are not easy to be tracked: most common trackers like JavaScript on a web page fail to work in PDF documents. Unlike a HTML web page, PDFs can barely understand a visitor's behavior. Google Analytics can track your site including downloading PDFs, but to track further actions is not always simple.
Not mobile-friendly: the best part of a PDF is that this format is always consistent regardless of where and what platforms you open it with. So here is the question: Are PDFs responsive and interactive like web pages? A mobile-friendly PDF does not exist.
Lack of navigation: site navigation is an important element for web pages. Hence, visitors to your pages will clearly know where they are. However, if it is a PDF document, how can visitors jump to the main website? Then how does the website master increase time spent on your page?
How does SEOers optimize PDF documents for ranking?
Reduces the file size
Be careful of the PDF size. Not only for mobile users, PC users put an emphasis on loading speed. If a file is too large, the server may take some time to display the PDF document. But this loading time depends on uncontrollable factors. In general, a file of over 5 MB should be compressed.
Optimized PDF for mobile users
Mobile users are on the increase, if people think your PDF page is not mobile friendly enough, they will leave. Thus, your page rank will be negatively affected.
So, you can left align your text to allow people to scroll down the document, thereby people won't have to view the document horizontally.
Divide the content with subheadings to structure the PDF document. It is a good way to tell Google how this PDF document is organized with H1-H6 headings. Please remember every PDF document has only one unique H1 heading, which acts as a headline on the web page.
Try to keep every paragraph shorter. An optimal range for each paragraph should be within 3 to 4 sentences. Long sentences in PDFs cannot be easily digested by Google.
Add SEO elements to your PDF document
Akin to web pages, PDFs have titles, names and descriptions. These elements do matter when in ranking. You can edit PDF properties, the PDF version of a page's metadata, by any available PDF tools, such as SwifDoo PDF.
Google crawls billions of pages every day, and spending resources on a nearly unknown page is time-wasting. Consequently, you'd better tell Google what this PDF is about, so that the search engine knows whether the provided title and description meets users' demands.
And what is noteworthy is that a keyword-rich file name makes this PDF document SEO friendly. Therefore, try to include relevant and search-friendly keywords in URLs and use hyphens to separate each word. If possible, it is better to keep the title and the URL the same. Besides, shorter names and content words are recommended.
Don't forget to optimize your URLs before uploading as URLs containing a string of randomly generated characters are not beneficial for ranking.
Conclusion
In the 2020s, a robust growth is a must for the internet marketing industry. PDF, this common and useful format, will be frequently used in digital marketing. Maybe the usage of PDF documents can unavoidably bring about some inconveniences, but we still have corresponding solutions to unleash its full potential.