Imagine being able to highlight key points, add comments, and draw attention to specific sections of a PDF, all within a web browser. Isn't it attractive? Yes, you can easily mark PDFs using online annotation tools, helping you mark up PDF files more efficiently when necessary. In this blog, we will introduce you to the world of online PDF annotation and bring you through the process of doing so. After reading this article, you'll be equipped with all the information and tools needed to easily annotate PDFs online and unleash their potential. Are you prepared to step up your PDF annotating game? Let's get started!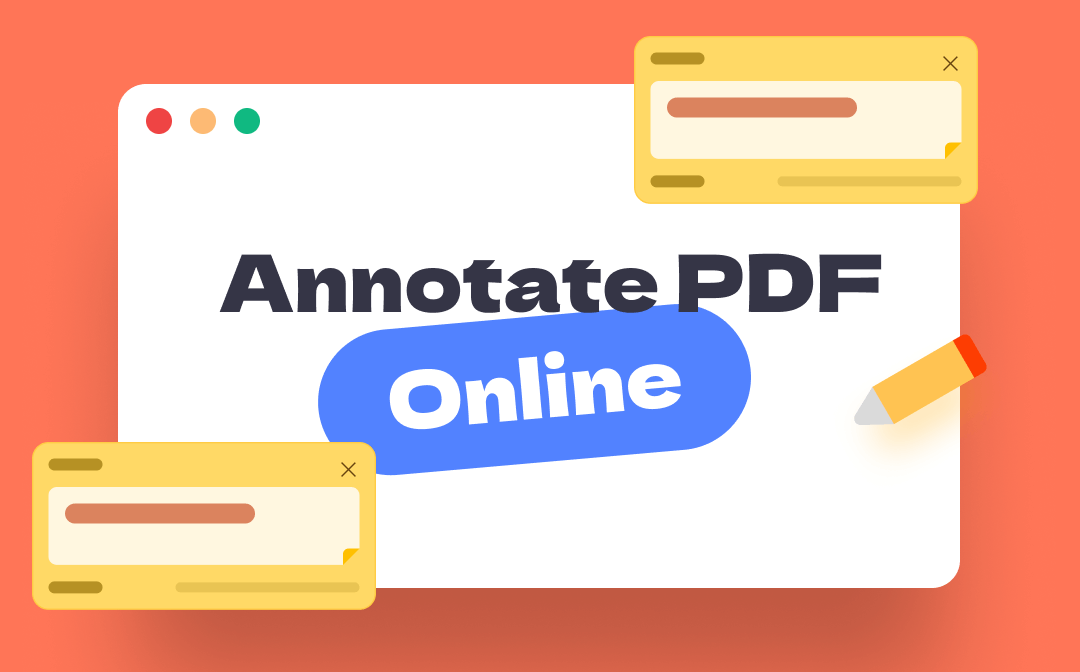 Benefits of Annotating PDFs Online
Online tools become more and more popular. Most PDF editing requirements can be finished online, saving you much time and effort on downloading a third-party tool. Here are several major benefits of annotating PDFs online:
Convenience and accessibility: As long as you're connected to the Internet, you can use any online tools without spending time downloading and installing desktop programs.
Privacy protection: Downloading desktop tools may carry unknown viruses to your computers, and they may detect data saved on your device, increasing the risk of information leakage.
Real-time collaboration: Some online PDF annotators enable you to share the work with others and all the people who have access can add annotations to the file simultaneously, which helps boost productivity clearly.
Top Online Tools for Annotating PDFs
You can get lots of online PDF markup software by searching on a browser. Getting a proper online PDF annotator starts by identifying your requirements. In this part, we'll introduce 4 top-rated online PDF annotators and list their key features. So, you can choose one tool directly by reading the following content. Let's find out more!
#1. Lumin PDF
Lumin PDF is an all-in-one online PDF editor that enables you to edit, annotate, collaborate, and share PDFs in the cloud. With an intuitive and clean interface, annotating PDFs would be an easy thing because you don't need to spend time getting familiar with this tool. Lumin PDF offers five subscription plans: Free, Starter, Pro, Business, and Enterprise. It enables free users to edit 3 PDF files per month and digitally sign PDFs for protecting their information.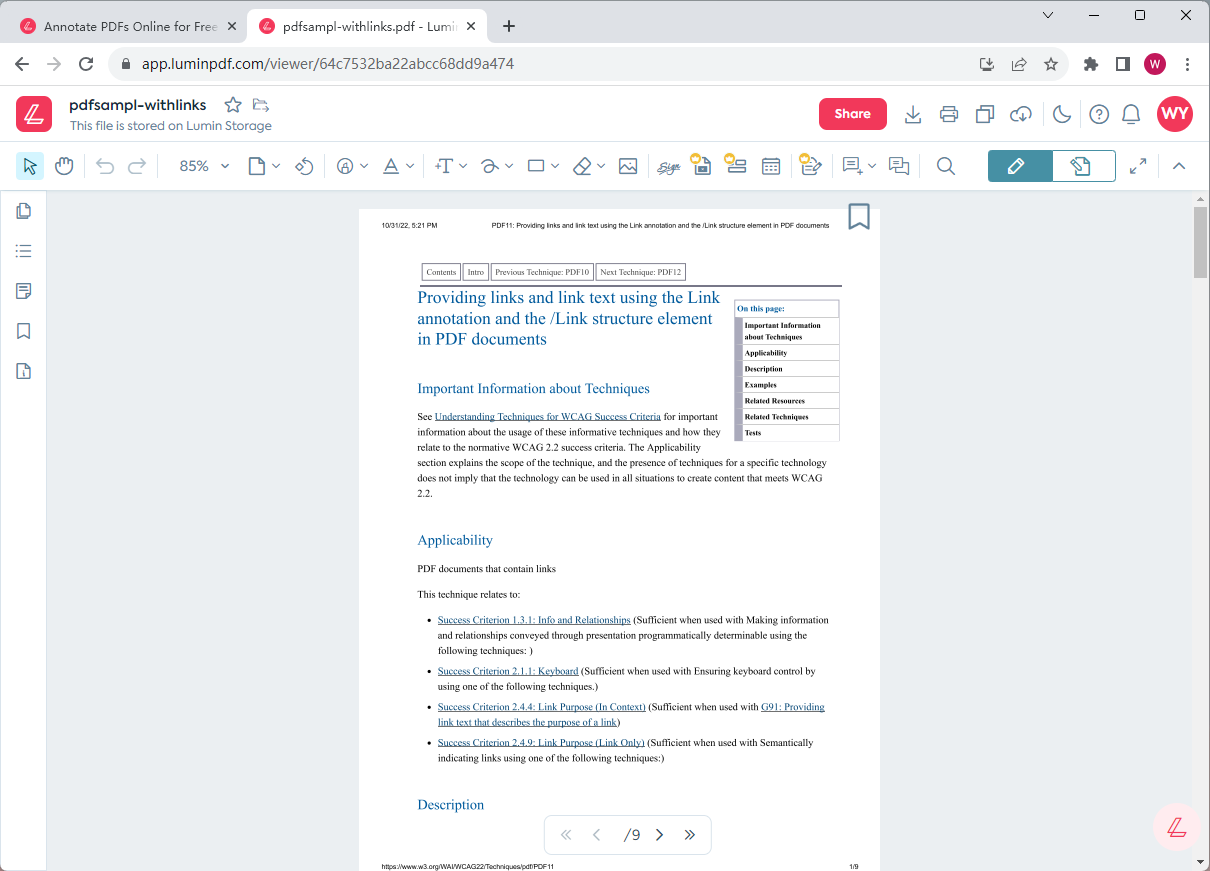 Speaking of annotating PDF online with Lumin PDF, it helps you to:
Rotate PDF pages
Underline important information
Add text annotation anywhere
Draw on PDF pages
Insert shapes and images into PDF
#2. LightPDF
LightPDF is a login-free PDF tool that provides simple PDF annotating tools to help you annotate PDF online for free. With LightPDF, you can easily mark up your PDFs to emphasize key points or make important notes. In addition to annotating PDFs, LightPDF also supports converting, editing, optimizing, and protecting PDFs online directly. The tool's clean and intuitive interface ensures a smooth and hassle-free annotation experience, making it an ideal choice for both personal and professional use.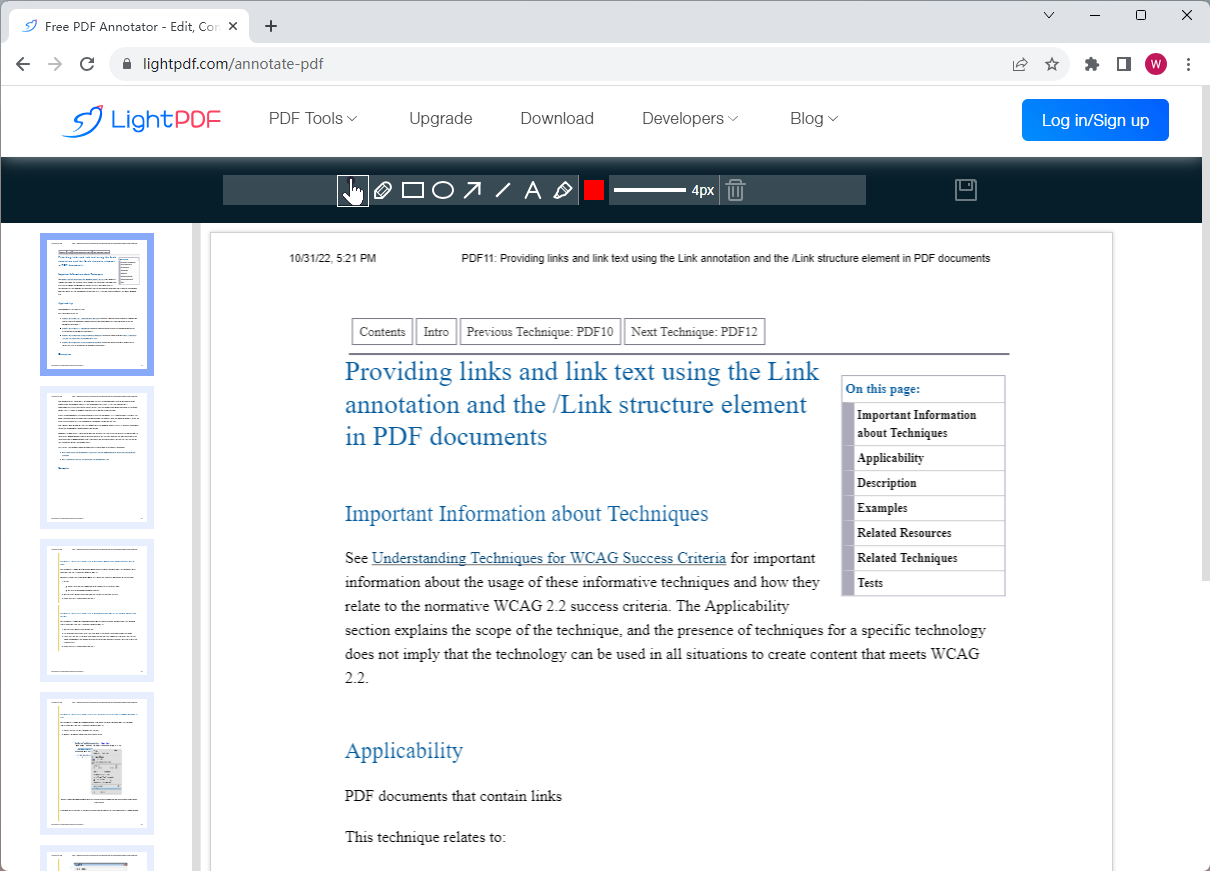 With the help of LightPDF, you can:
Draw free lines on a PDF page
Add shapes, arrows, and lines to PDF
Insert text boxes into PDF
Highlight PDF text
Add images and stamps to PDFs
#3. AvePDF
AvePDF is a comprehensive online PDF solution that not only helps annotate PDFs but also offers a plethora of other PDF-related features. With a wide range of tools available to assist you in annotating PDFs online, this all-in-one platform enables you to do so precisely. In addition to annotation, AvePDF also provides options for merging multiple documents, converting PDFs, compressing files, etc., all becomes effortlessly. Moreover, 31 different languages are supported in AvePDF, making it much easier to use if you're not familiar with English. If you're seeking a versatile tool that goes beyond annotation and encompasses various PDF-related tasks, AvePDF is an excellent choice.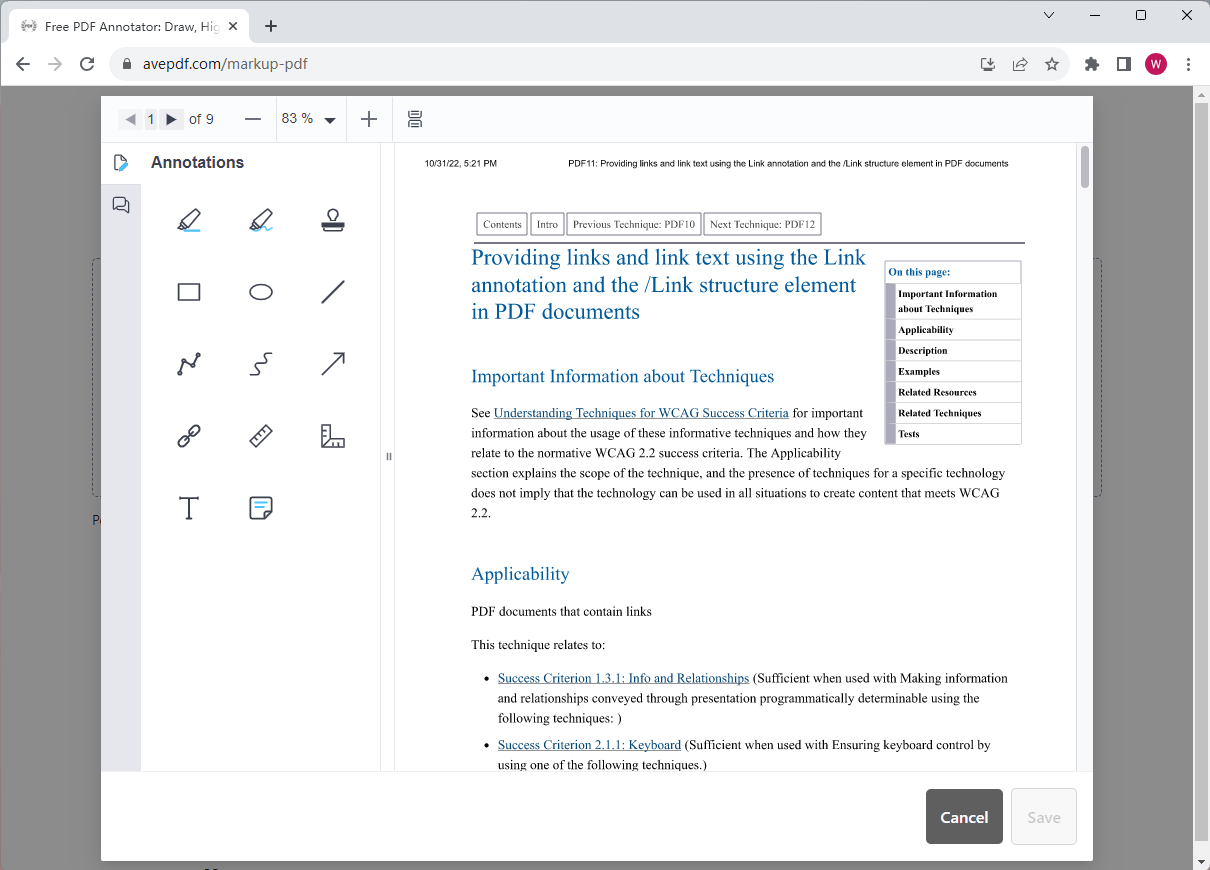 Here's what you can do with AvePDF:
Highlight PDF text
Insert shapes, stamps, and arrows into PDF
Add text boxes and links to a PDF
Annotate PDFs with sticky notes
#4. Xodo PDF
Xodo PDF is a popular and feature-rich online PDF annotator that stands out for its extensive annotation capabilities and collaboration features. You can simply annotate PDF files online with the help of Xodo PDF. Moreover, the tool's real-time collaboration feature enables multiple users to annotate and edit the same PDF file simultaneously, making it a great choice for team projects and collaborative workflows. Additionally, Xodo PDF offers seamless integration with popular cloud storage services, allowing easy access to your annotated PDFs across multiple devices.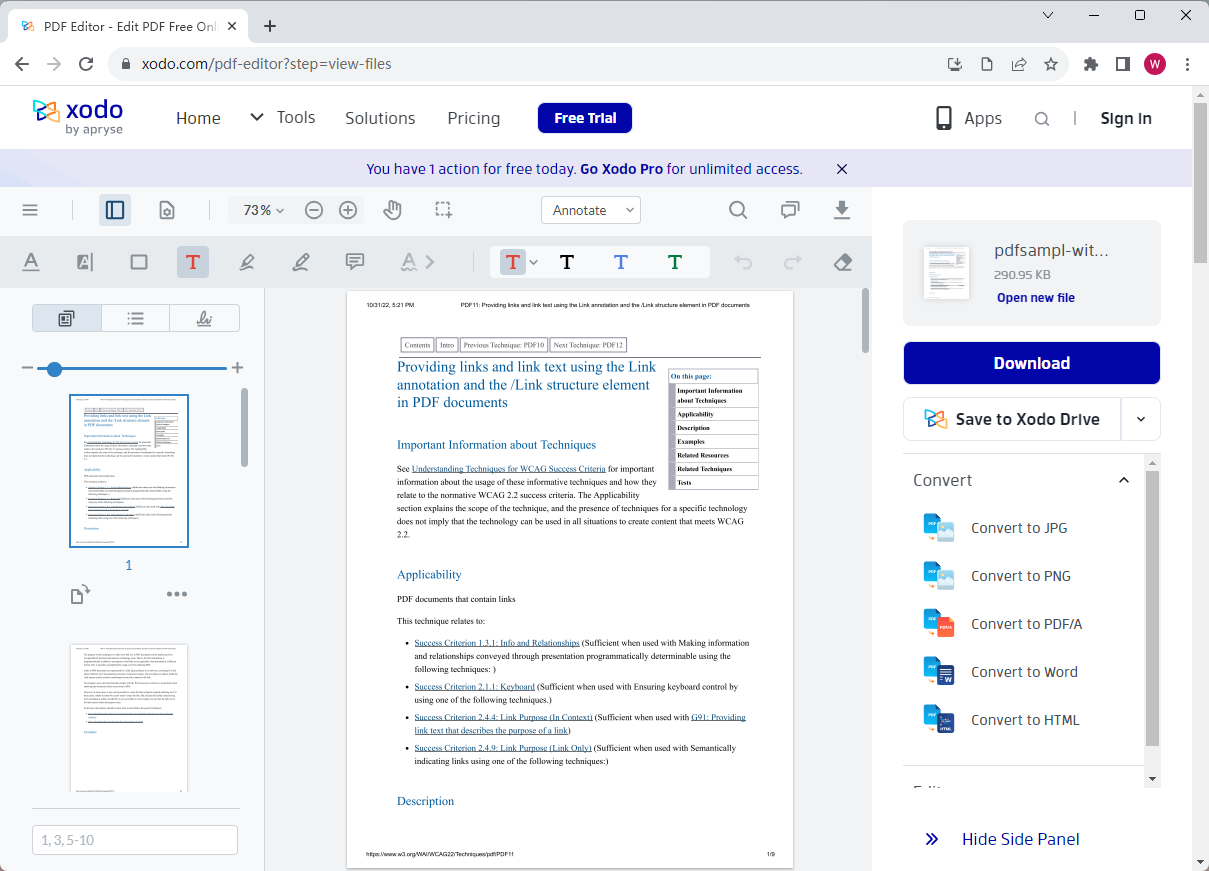 Xodo PDF enables you to:
Add free hand highlights and lines to PDF
Underline important PDF text and strikethrough unnecessary information
Insert new text into PDF
Bonus Part: Annotate PDF on Windows for Free
Having an online PDF annotator prepared does help a lot when you are in an emergency. But what if there's no Internet connection? Luckily, if you have installed a desktop PDF tool, editing PDF files would be easy.
Looking for a handy desktop PDF annotator? SwifDoo PDF is a comprehensive PDF editor that provides all necessary annotating tools. With the help of SwifDoo PDF, you can easily annotate a PDF file, such as highlighting, adding new text boxes, markup text, inserting shapes and lines, etc., all becomes effortless and efficient.
Here's how you can annotate PDFs on Windows for free with the help of SwifDoo PDF:
Step 1. Download and install SwifDoo PDF on your PC. Then launch it.
Step 2. Open a PDF file and click on Annotate in the top navigation bar.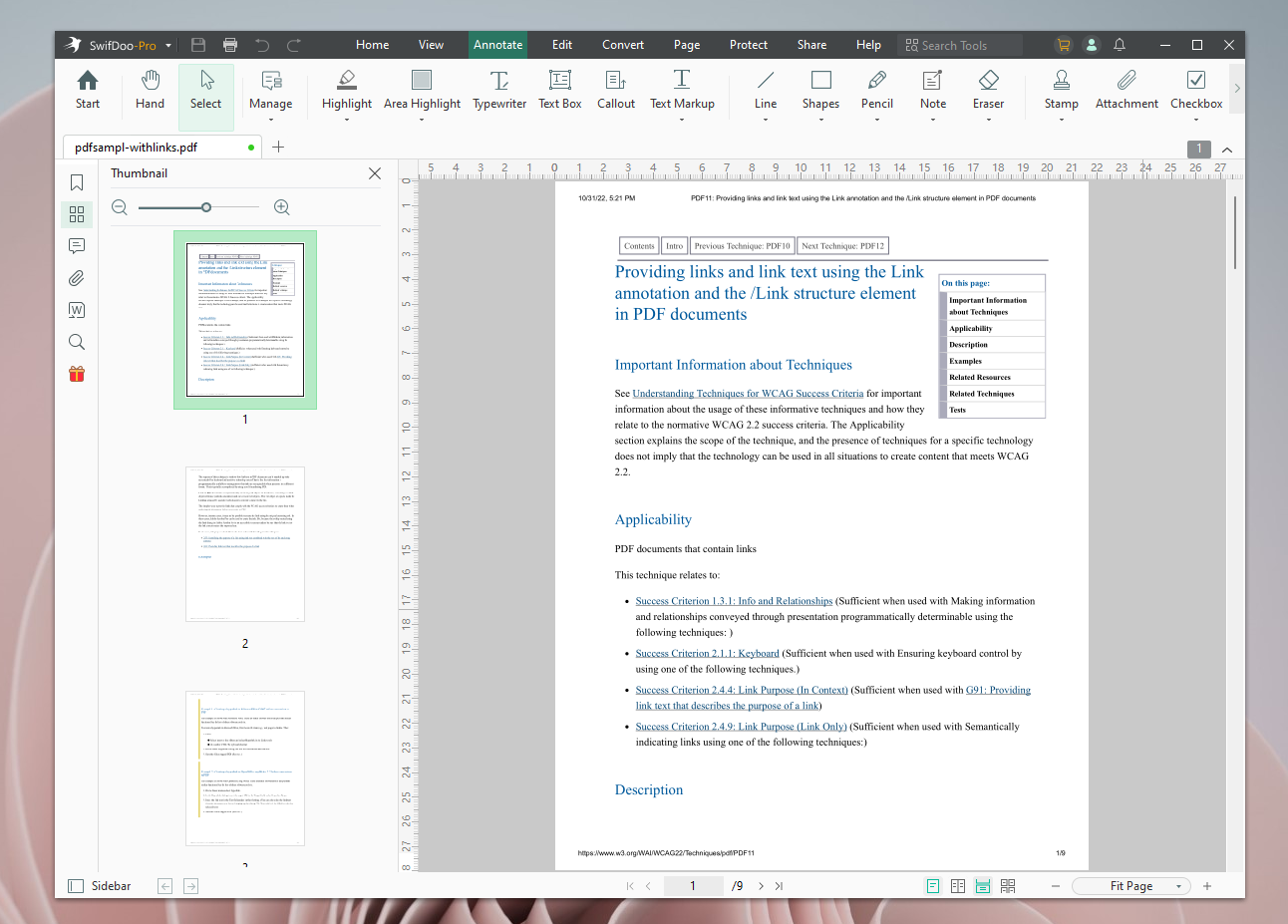 Step 3. Start annotating your PDF file with offered tools.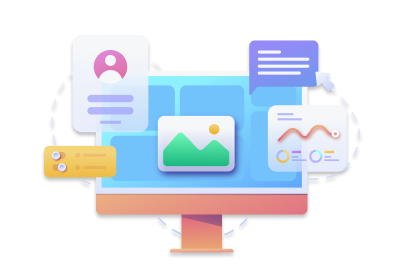 SwifDoo PDF: All-in-One Free PDF Tool
Annotate PDFs by adding notes, bookmarks, etc.
Convert PDFs to Word, Excel, and other editable files
Edit, compress, organize, and split PDFs
Try It Now
Buy Now
The Bottom Line
In this post, we've introduced you to 4 top-rated online PDF annotators, with detailed information covered. Select one PDF tool offered in this article and annotate PDF online with ease! You'll find how easy it is to mark up your PDF files! Also, don't forget to try SwifDoo PDF, the best Windows PDF editor on this market. It enables you to perform more advanced functions to edit PDF files efficiently. Free download it now!