Introduction:
A good teacher can be a role model, a guiding light, a best friend, and an inspiration. Teachers impart the power of knowledge and help you learn the way to understand and interpret information. If you want to say thanks to your favorite teachers, writing heart-touching birthday wishes for teacher is an optimal choice to express your gratitude.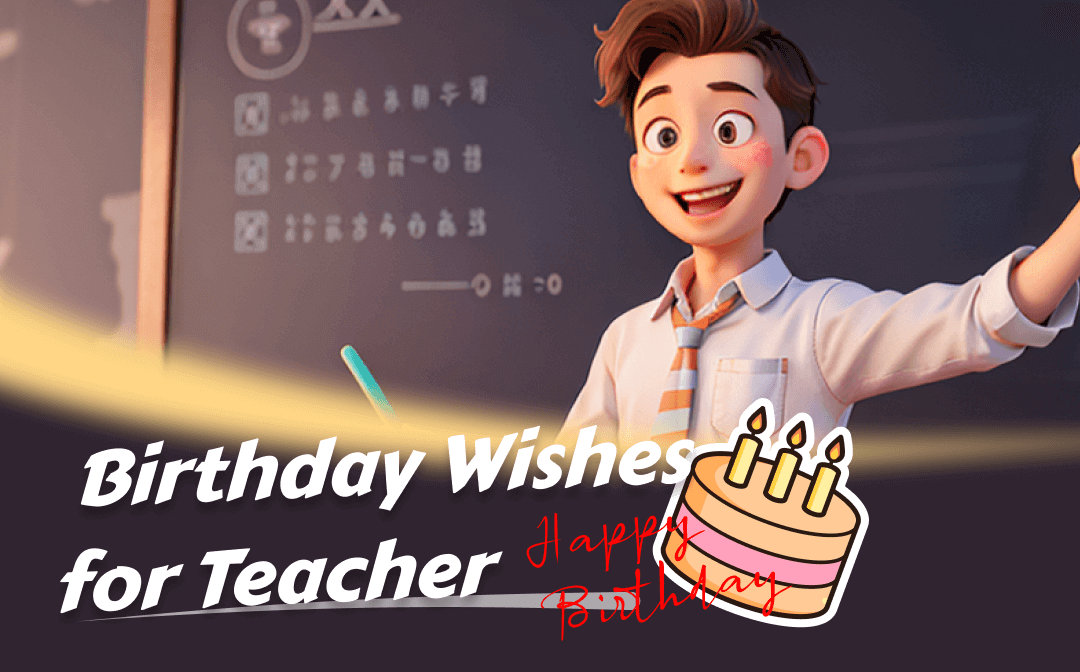 This post has collected 30 happy birthday wishes for teacher from students and you can pick one to wish your best teachers. Send your teachers unique birthday wishes to let them know how much their work means to you.
10 Short Birthday Wishes for Teacher
To express your appreciation for teachers, there is no need to write a long message. Short birthday wishes for teachers still make your favorite teachers feel special on their birthdays. In addition, short teacher birthday wishes are optimal for those who are busy. Let's check the quick but warm birthday quotes for a teacher:
1. Happy birthday dear teacher. It is a great privilege to be taught by you, who weave knowledge with life lessons outside the book.
2. Wishing you a happy birthday my teacher. You truly are as committed as you are, and you never fail to motivate me to do better.
3. Thank you for inspiring me to follow my dreams. You are the most caring and friendly teacher I've ever met. Happy birthday.
4. Happy birthday to my favorite teacher. Your enthusiasm for teaching and positive vibes have made learning joyous for me.
5. Thanks for making our classroom feel like our second home. Happy birthday to the best teacher.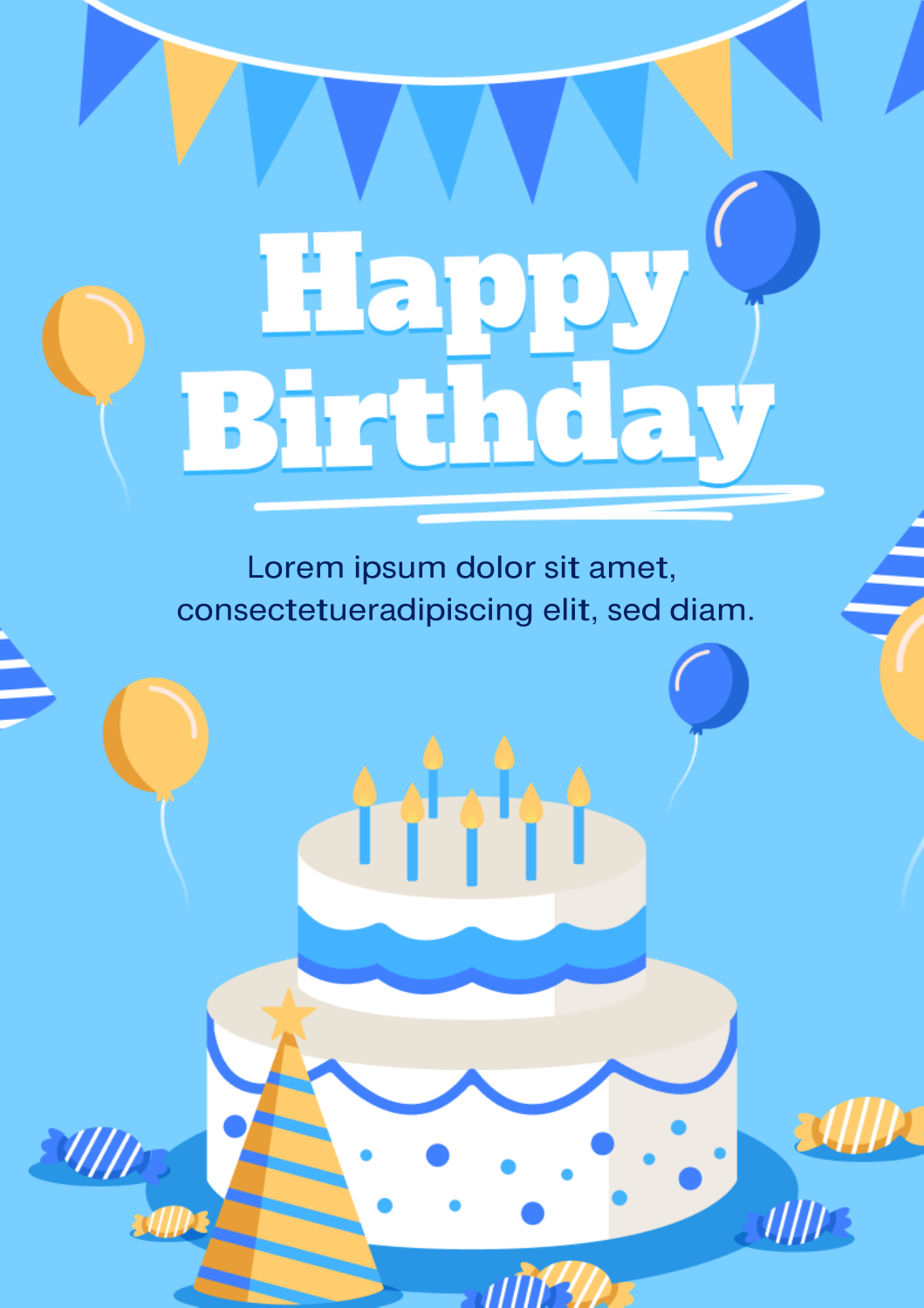 Free Access Birthday Wishes Card for Teacher >>
6. I can't fully appreciate how much you've helped me with my learning and the knowledge you imparted to me. Happy birthday to you.
7. May your special day of this year be filled with success, happiness, and all the things you want. Thank you for being a fantastic teacher.
8. You always inspire us to be ourselves and use our knowledge and gifts wisely. Wish you all the happiness on your birthday.
9. The best thing you've done for us is to lead us to find the way we want. Wish you a happy birthday with lots of happy memories.
10. Happy birthday teacher! You helped me shape my future plan and push me to achieve my goals.
If you have downloaded the PDF template above, you may need a PDF tool to edit the default text on the birthday card. SwifDoo PDF is a top-notch PDF editor that can help you straightforwardly paste the copied birthday wishes for teachers to the template card.
10 Birthday Wishes for Teacher (Female)
If your favorite teacher is a female, then you might need some tailor-made best wishes for her. The following lists 10 birthday wishes for female teachers from students. You can choose one you like and write it on a card.
1. You brighten the mind of mine with ease and elegance. I am grateful to have you as my teacher. Happy birthday to my dear teacher.
2. You are truly one of a kind, mam. Your passion for teaching inspires and motivates all of us. Wish you a cheerful birthday.
3. Happy birthday to my teacher. I want to both congratulate and appreciate you today, mam, for you are such a role model from whom I've learned a lot.
4. You helped us find our hidden talent. What else do we need to feel thankful for an amazing teacher like you? Happy birthday, mam!
5. Wishing a happy and blessed birthday to the best teacher in the world. You have had a great influence on my life. Without your drive, I wouldn't have realized my dream.
Write Down the Best Birthday Wishes for Teacher Now >>
6. Happy birthday Miss [Her name]. You really mean a lot to me for you are not only my favorite teacher but also my close friend. Thank you for your guidance and encouragement.
7. The best birthday wishes to my favorite teacher. Thank you for giving me a life purpose. Many many returns of the special day.
8. Ma'am, I want to use this opportunity to appreciate you for all you have taught me since we met. Wishing you all the happiness in life as you mark another journey around the sun.
9. Happy birthday to you Miss. You have been a guiding light in my academic journey and I am grateful for your professional and kind support to complete my education.
10. Over the years, you've seamlessly switched between the roles of being a teacher and a close friend. We are thankful for your efforts and encouragement. Happy birthday!
To edit your birthday wishes for teachers, you can insert beautiful images to your PDF template card for decoration. Take a selfie or a photo of a chalkboard drawing to make your wishes more special.
10 Birthday Wishes for Teacher (Male)
If you have a male teacher, then these birthday wishes for teachers might be right for you. Just copy one of them and make some edits. Then you will have unique heart-touching birthday wishes for your loved teacher.
1. Dear Sir, you are my inspiration and role model. May your birthday this year bring you happiness and success. Happy birthday to my dear teacher.
2. Sir, all your teachings and encouragement have made me a better person in my life. You deserve all the happiness. Happy birthday to you.
3. You are our mentor and guiding light. Thank you for teaching us a real education. Every single day we follow your advice and make changes. Wishing you a happy birthday!
4. Sir, you are more than a teacher to us. Your unique soul and helping hand are always ready for us. May you enjoy a joyous birthday.
5. Sending you the best wishes of respect and blessings. Happy birthday, sir!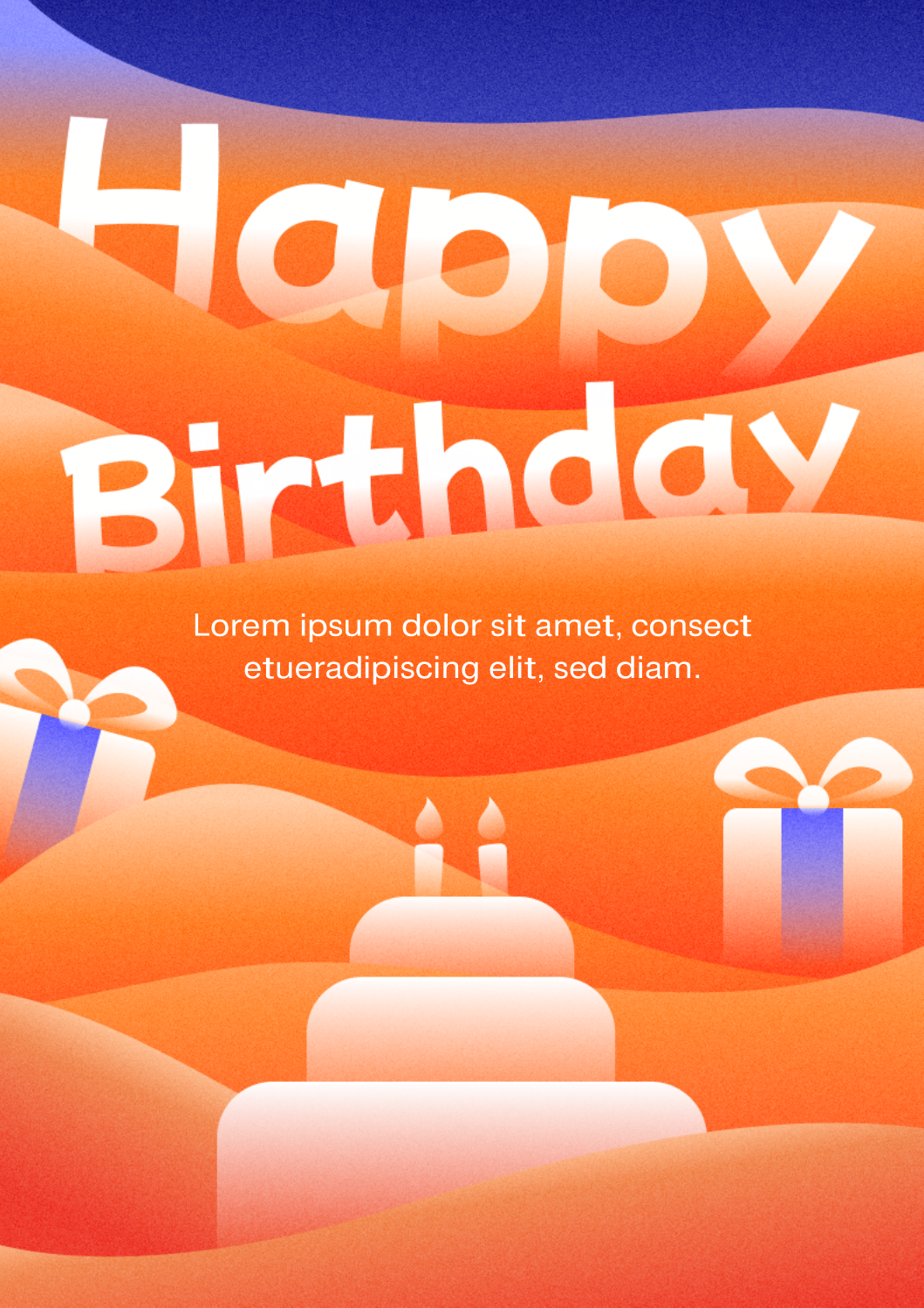 Download the Birthday Wishes Card for Teacher for Free >>
6. You are a teacher who cares with the kindest heart. I am very appreciative and fortunate to be your student. Happy birthday!
7. Sir, thank you for encouraging me and making me believe in myself. Wish you a happy birthday and a brilliant life ahead.
8. Happy birthday to my teacher. Having a kind and committed teacher like you let me know no matter how difficult life becomes, I will not be lost in my dark time.
9. Happy birthday, sir! May you have a nice day without grading papers or dealing with misbehaving students.
10. For a teacher who offers invaluable guidance and support, I am wishing you a happy birthday that rewards you for your sacrifice and greatness.
With one click, you can access a free and beautiful PDF birthday card template. It is optimal to send a gift attached to a card with birthday wishes for teachers. Use a good PDF printer to print the PDF card in color using flexible tools.
How to Make a Special Birthday Wishes Card for Teacher
The provided PDF template cards have a predesigned format and won't be changed across any device. It is convenient to use SwifDoo PDF to create a birthday card you like by editing the PDF text, font style, and other elements. Here is a step-by-step guide to help you design a unique birthday wish card:
Step 1: Copy and paste your birthday wishes for teacher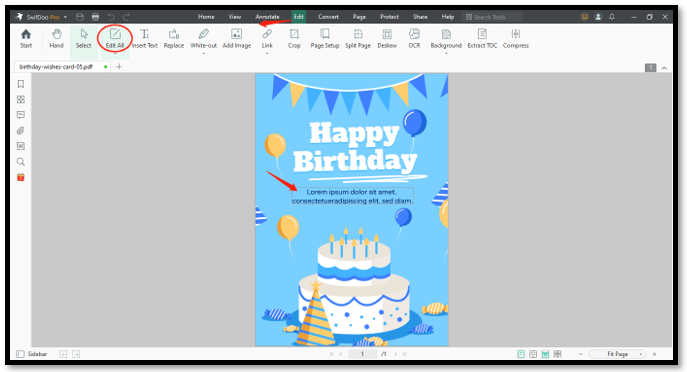 After installing the PDF editor, open it and drag and drop your PDF template to open it. Go to "Edit" and hit "Edit All". Then click on the editable text to paste your copied best teacher birthday wishes.
Step 2: Insert images to the PDF card template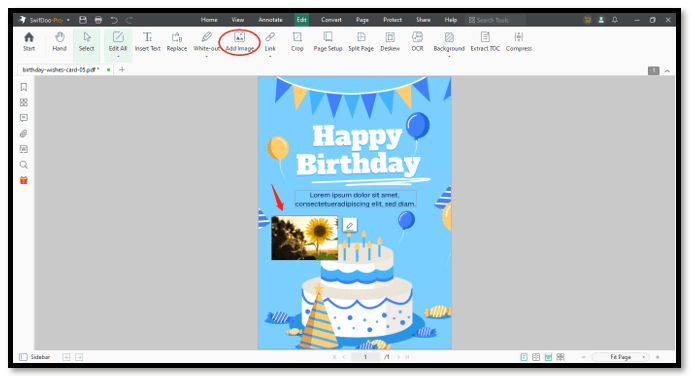 Click "Add Image" and choose a picture from your local folder. Move your cursor to a desired place and click on it to insert the image. You can select the image and tap the pencil icon next to it to adjust its size.
Step 3: Print the PDF card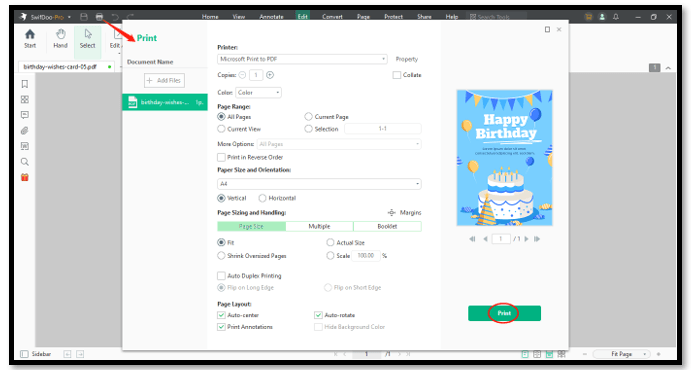 To print the birthday card, tap the save button to save the changes first. Then click "Print" and configure the print settings. Then go to "Print" to make the birthday wishes card for teachers