Introduction:
Life is all about celebrating little joys and the special people who make your life wonderful. Birthdays are one of the many opportunities to show how much we love and care. This year, admire the boys in your life with our collection of birthday wishes for boys to fill them with warmth, joy, and laughter. You want to make the day memorable for your best friend, little kid, lover, siblings, close associate, or anyone who matters to you.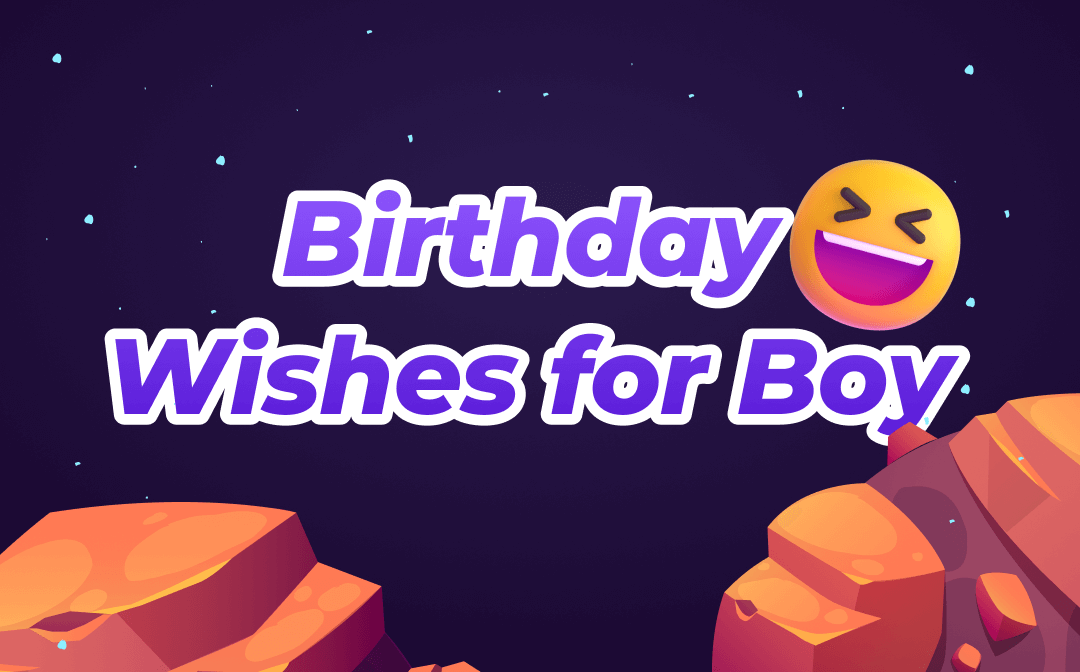 While a birthday card is a sweet addition to their blessing and gifts, you can pick your favorite happy birthday wishes for boys and make a free birthday card using the SwifDoo PDF editor. So make their birthday an unforgettable experience by crafting your birthday message in a beautiful card and delving into laughter-inducing sentiments. Read on to discover such memorable ways and messages.
15 Birthday Wishes for Boy Best Friend
Check the fantastic range of 15 birthday wishes for boy best friends. You can bring them laughter and joyous moments eve in your days. You will be able to express your love and appreciation with the perfect words. Get inspiration from or directly send any of our collection of beautiful birthday wishes for your best friends who are boys.
Best friends are the family you can choose, and I am so glad we chose each other. Happy Birthday, handsome! I wish you a day filled with happiness and a year filled with joy.

Cheers to another year of adventures and making beautiful, unforgettable memories together. May your day be filled with love, laughter, good food, and great memories. Happy Birthday, my friend.

Happy Birthday to a charming, thoughtful, and all-around fantastic person. It takes one to know one! Enjoy your day.

I am grateful that you are a part of my life. May you have all the happiness and love in the world, all of which you deserve. Happy Birthday, my best buddy!

Like a fine wine, you only get better with age. May this birthday be the beginning of a happy journey leading you to an even more incredible future. Happy Birthday, my friend.

The Lord blessed me when our paths crossed. Thank you for being the best friend a person could ask for! Cheers to another trip around the sun! Keep on shining, bestie.

Happy Birthday to my one-in-a-million friend. Sending you warm birthday wishes, a trillion smiles, and a big hug on your special day. May this day be your best one yet!

One of the best parts of life is friendship. Thanks for being my best friend. You're more than a friend; you're family. Happy Birthday!

Happy Birthday, my crime partner, who laughs at my silly jokes and remains beside me even when I do dumb and stupid things! I'll always be by your side.

Your friendship is one of the most valued relationships in my life. I can't wait to continue growing together. Here's to more energy, love, and adventures along the way!

May your birthday be a celebration of everything that makes you special and unique. Happy Birthday to my bestie, who always brightens my day. May your day be as wonderful as you are.

Happy Birthday to my dearest friend! Thank you for always being there to listen. May your special day be filled with love, laughter, and everything that makes you happy. I wish you a fantastic year ahead!

My birthday wish is that you get every good thing you deserve this year—Happy Birthday to a true treasure of a friend.

Happy Birthday to the most wonderful person I know! You inspire me with your kindness, strength, and positivity, and I am blessed to call you my friend. Have a fantastic birthday celebration!

Happy Birthday to my BFF, who always knows how to have a good time! Let's party like it's your last year in your 20s. May this day be filled with love, happiness, and lots of cake!
If you have not grabbed a gift just yet, don't stress. With these funny and thoughtful happy birthday wishes for boys who are your best friends, you can show them how much they mean to you by creating a PDF birthday card.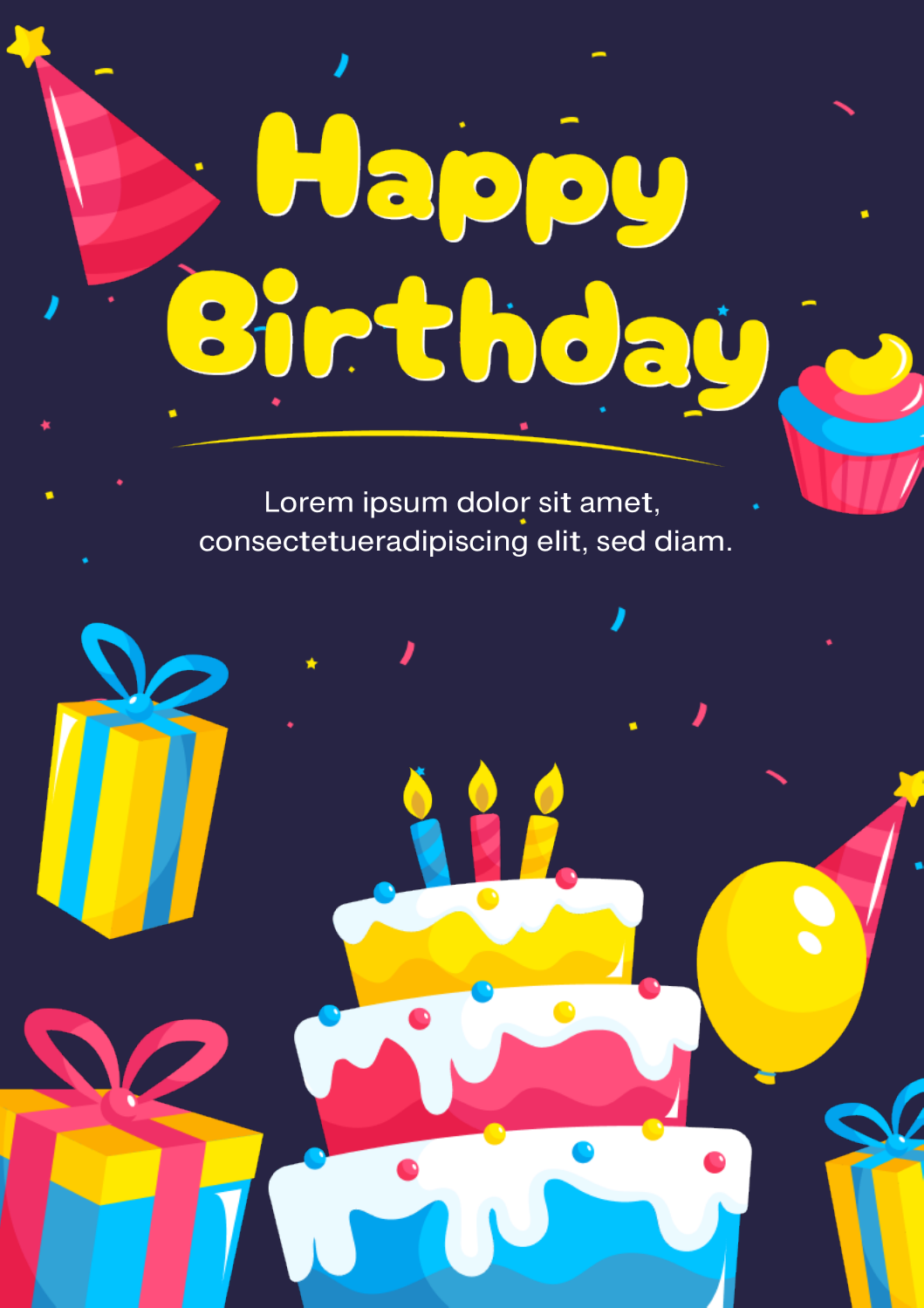 Get This Free Birthday Wishes for Boy Card>>
15 Birthday Wishes for Baby Boy
1st birthday wishes and quotes for a baby boy are special as he has filled your life with adorable laughs to uplift your spirit in all conditions. You can pass on each of your emotions on his special day with our unique set of 15 birthday wishes for boys who are children.
Happy 1st Birthday to our little sunshine! You filled up our lives with everlasting joy and happiness! I hope you grow up beautifully as well. We love you!

Our little Baby boy, your first birthday wishes are some of the most precious words ever from your parent's heart. Happy Birthday, our Angel!

You're precious to everyone around you. We'll take care of you until you reach the age of caring for us. Happy Birthday, sweetheart!

You are the cutest baby in town and look adorable even when you frown. Happy 1st Birthday, handsome baby!

Look who's turned one super soon. May you grow steadily, my honey bun. Happy 1st birthday! May you always crawl your way out!

Hey, toddler, you have started to walk and talk a little. Happy Birthday, baby boy. It feels fantastic to see you grow. God bless you!

There's no stronger bond than that between a mother and her son. Happy 1st Birthday, baby boy!

Happy Birthday to the cutest boy I have ever seen. I'm the biggest fan of your cheeks.

My sweetest munchkin, you're not just the favorite of your parents but all of us. Happy Birthday, our rock star. Have a rocking day.

Your little fingers, your little feet, your little palms, and your little toes. It reminds us that soon you will be growing up. I wish you a delighted 1st birthday, my baby boy!

You may still be tiny and small, but you have stolen the hearts of one and all. Happy First Birthday, sweet boy!

You're sweet, adorable, and full of insanity. Happy Birthday, my little boy, and keep growing as cute as you are!

This cute boy has stolen our hearts. I hope that his Birthday will be as special as he is. Happy Birthday, our little Prince.

May your first birthday be filled with sunshine, smiles, laughter, and love. Happy 1st Birthday, my cuddle bug!

Happy First Birthday! Don't be shy, my little guy. Blow out that candle and enjoy your beautiful cake because today is all about you!
Your toddler will not understand these birthday wishes for little kid boys today but will appreciate your love for him when he grows up. Capture the special moments with your heartfelt messages in a birthday card to keep them forever.
10 Short Birthday Wishes for Boy
Sometimes, capturing your feelings in words is difficult. But you need not necessarily write poetic wishes or long messages. At times, short and simple birthday wishes for boys work wonders to express your sentiments with a wish or blessing. Pick any of these beautiful wishes, as they will surely make his day.
Cool and cute kids like you make the world a wonderful place. I hope you have a great deal of fun on your birthday.

Happiest birthday to the most incredible young man in my world. Thank you for being yourself – you're my handsome hero!

My hunky boy is another year older and another year taller! Happy Birthday, buddy!

Happy Birthday! Here's to being immature for a lifetime.

Happy Birthday to someone who's not completely annoying most of the time.

Happy Birthday to the smart, funny, witty, and charming boy. You remind me a lot of myself!

Happy Birthday to the guy who always brings a smile to my face.

Happy Birthday. You always know the right thing to say to make me laugh. Thank you for being you.

Happy Birthday to the charming boy who always knew the right words to say.

Happy Birthday, Boy! You're intelligent, funny, thoughtful, and, best of all, a terrific son!
These birthday wishes for boys are perfect to add as a caption under your post on their social media handles or as messages on WhatsApp and Instagram. These cute birthday messages will surely make their birthday all the more special.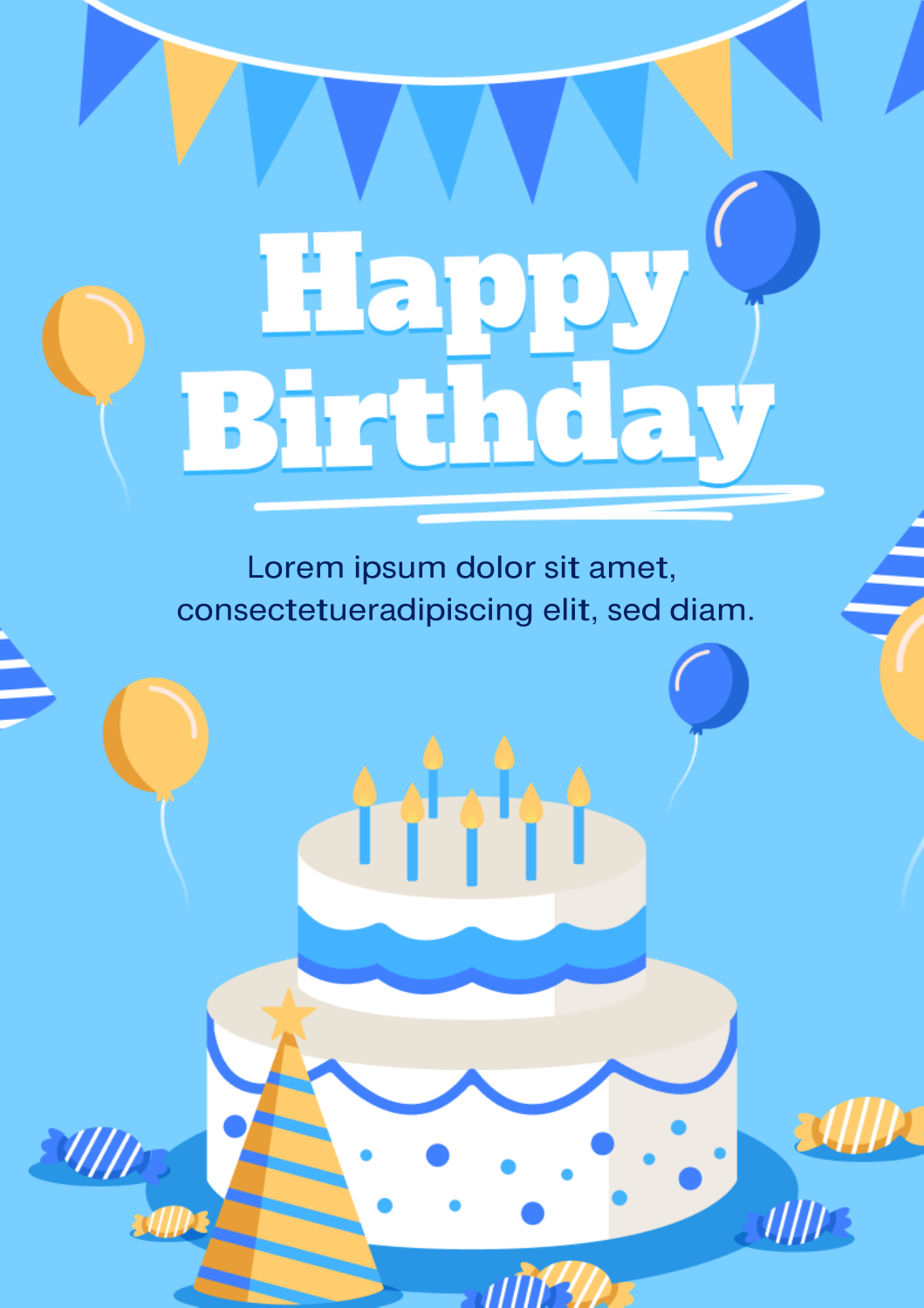 Download This Birthday Card Template>>
8 Birthday Wishes for Boy Who Is Your Lover
Your lover is your soulmate. And when his special day is approaching, you must surprise him with the best birthday message for the boy. Hand-pick any of our cute, heartfelt, and unique birthday wishes for boys to celebrate your boyfriend's birthday and put a smile on his face. You can add your name, initials, or cute names to these messages to make them more unique and unforgettable.
I love you more than anything in this world, and I hope you know that on your birthday and every day—Happy Birthday to my soulmate. I love you to the moon and back.

Happy Birthday to my special guy. I love spending time with you and can't wait to make more memories. My love for you grows stronger every day.

You're so much fun. Being around you makes me feel like a kid again. Time with you always brings out the best in me. Happy Birthday, darling.

I hope you stay with me forever and we celebrate many more birthdays together. Happy Birthday, my entire world.

Happy Birthday, Baby! I'll be thinking of you today, like every day, and hoping you're having a great time celebrating! I hope your cake is as sweet as you are.

Happy Birthday to the most good-looking guy I know. With every kiss I give you, I share the many reasons why I love you.

One day a year isn't enough to celebrate someone as special as you—the happiest of Birthdays to the best boyfriend. You make me the most joyful person in the world.

I'll do everything possible to ensure you have a jolly birthday and an even better year ahead. You deserve it! Happy Birthday to my Prince Charming.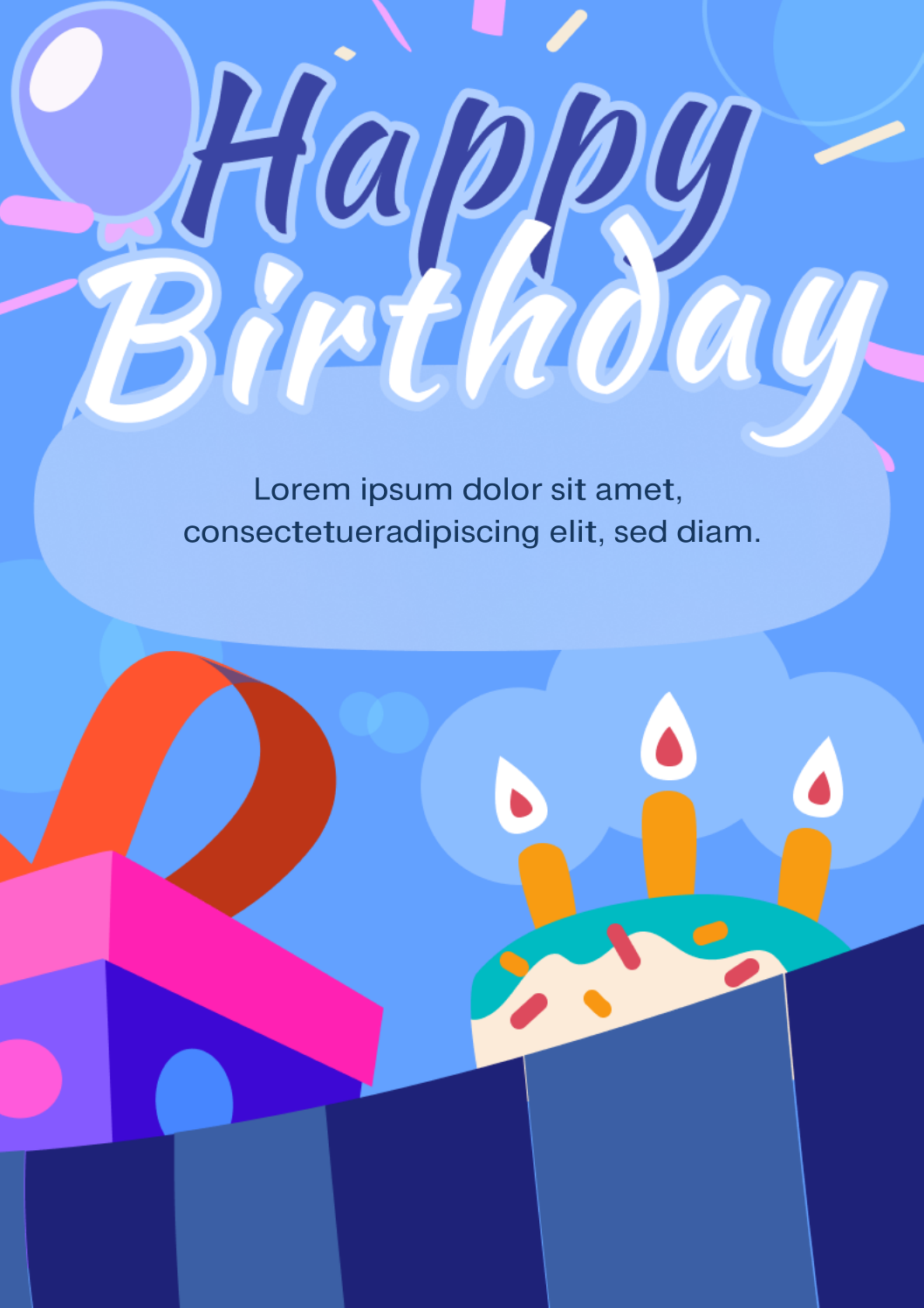 Download the Card Template>>
How to Make Birthday Wish for Boy Card for Free
Are you willing to make a birthday card with the best birthday wishes for boys?
Now, you have the perfect ones for your best friend, son, lover, or anyone. You can select the best birthday wishes from the above list to use them as they are or customize them to add a personal touch. Furthermore, SwifDoo PDF offers a free template to make a birthday card. You can tailor-make it to fit your needs and add cute, memorable photos, personalized texts and beautiful stickers. Then, even format them to perfect their appearance and design for your birthday boy.
So choose your preferred birthday wishes for boys and check how to make a birthday card with the SwifDoo PDF below.
Step 1: Download the SwifDoo PDF and open the card template in the program.
Step 2: Select Edit in the top menu bar and click Edit All.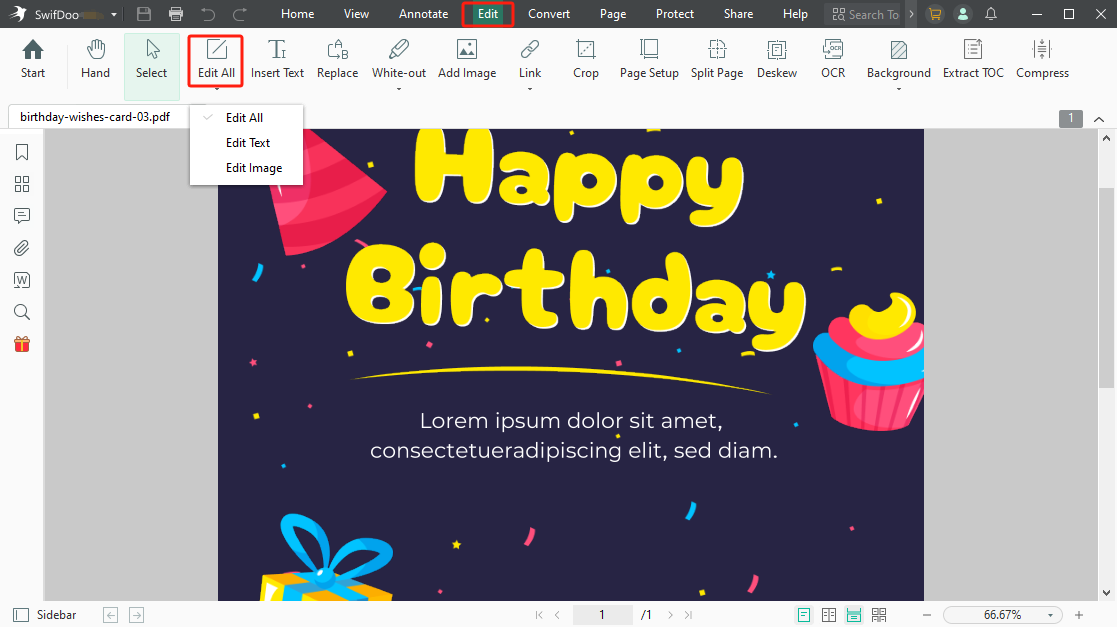 Step 3: Now, pick your selected birthday wishes for boys who are your friends, lovers or some others, and copy and paste them into the text box in the PDF.
Step 4: You can add more wishes at different places in the template by choosing Edit and tapping Insert Text.
Step 5: Choose Annotate and click Stickers to add some colorful and funny birthday stickers.

You can add images to the PDF template that have your memorable moments. Once your card is final, you can change the image and text's properties.