Often your routine work might lead you to some stress. Have you ever thought of a quick escape? You can now log in to Wordle for a swift and interactive word gaming session. This word game is nostalgia redefined, a digitized version of the traditional crosswords and pen and paper games.
It is one such game that took the internet by storm in 2022, becoming the most played word game ever. It is that delightful snack that is made to be consumed daily in little quantities to retain its charm.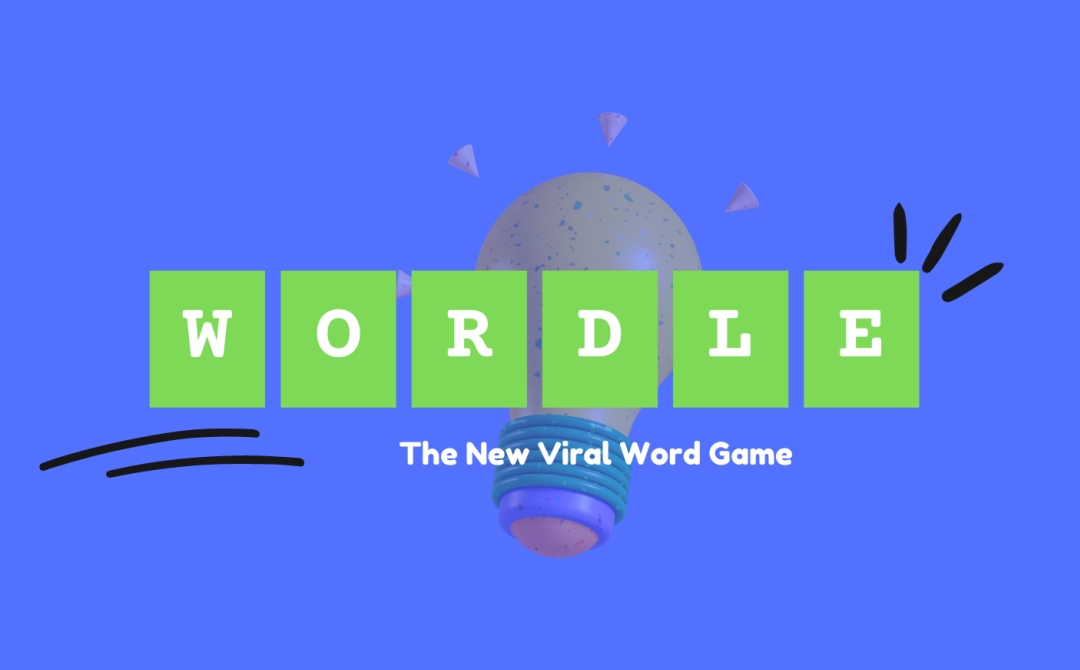 Wordle: Fun Facts about The Viral Word Game Sensation!
Similar to a crossword, it is a simple, fun, and randomly selected five-letter daily web-based word game that challenges you to attempt and win the gaming streak in a maximum of 6 guesses. It is a word game that publishes a new word daily for you to run your mind's horses and keep them active.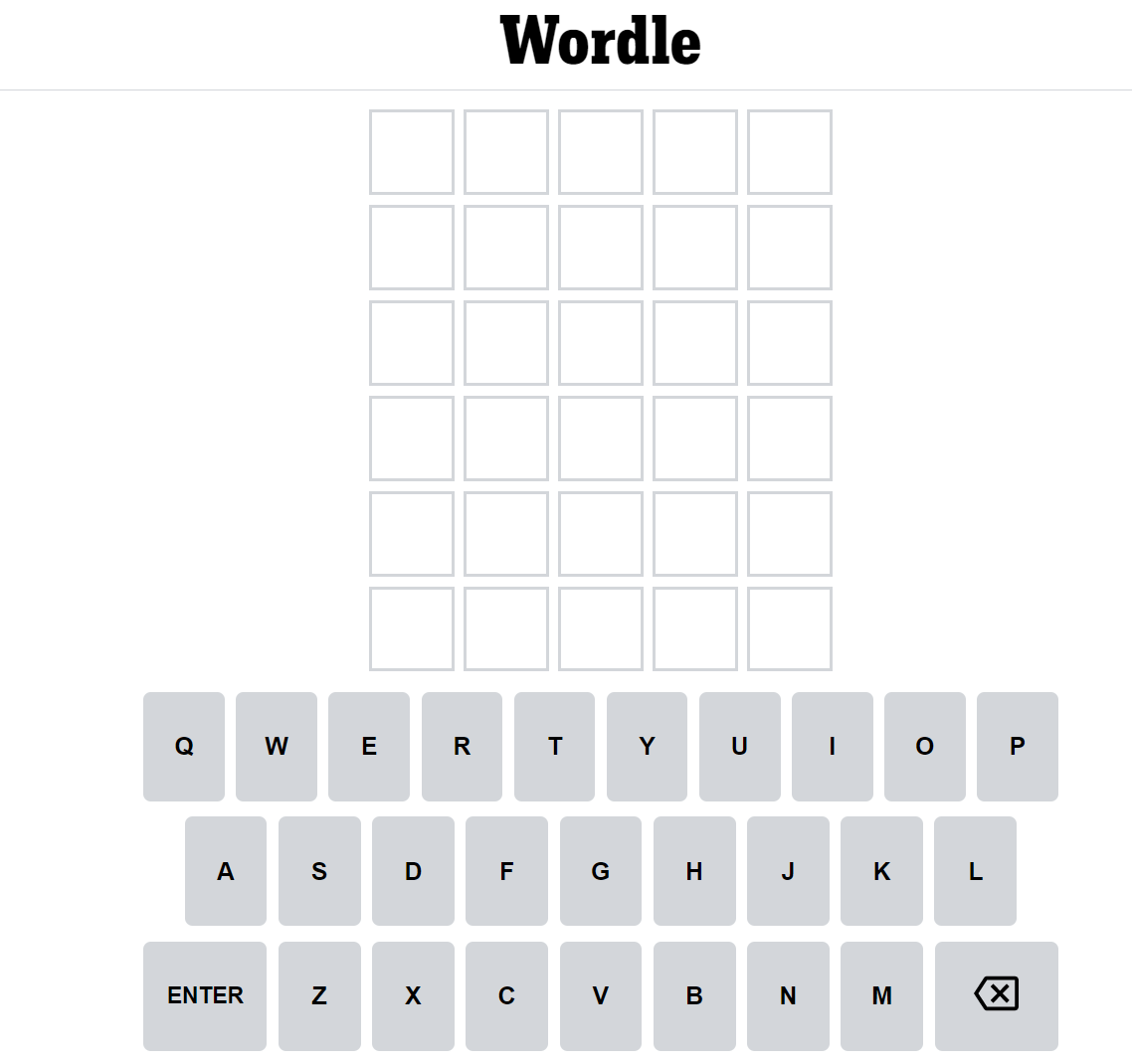 Every 24 hours, the players are presented with a new word and challenge depending on their time zone.
What Is The Reason Behind Wordle's Popularity
This word game rose to universal fame within no time. From an app restricted with an audience of 2 players, it soon grew to 90 players in November. While in the rise of 2022, the count rose to 3,00,000 players engaging in the word game daily.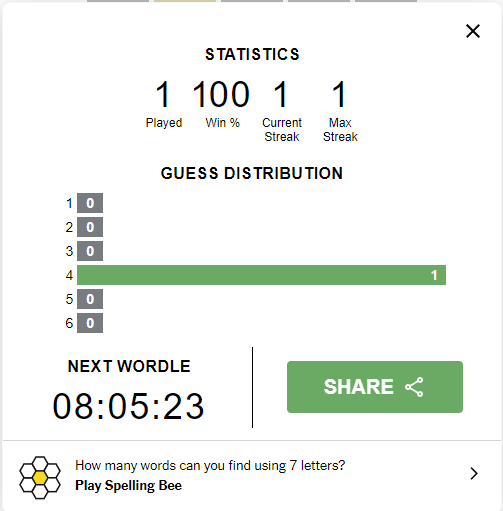 Its immense popularity is not only its simple and easy user interface but the fun it brings along. Friends can challenge each other in the game to see who won and who took the least number of attempts to get to the winning streak.
The Unique Features of Wordle
Simple Word Game:
It is a simple word game that doesn't require you to have thorough technical knowledge. It can be played by people of all ages, including kids and adults. You can also play in a group to engage in a brain-churning process.
Available on All Platforms:
Wordle only requires an active internet connection; as long as you have that, you can play this word game on any platform.
Daily Challenges:
It is a word game that throws a random five-letter word with just six guesses each day for you to indulge in some intellectual challenges.
Completely Ad-free:
It is completely ad-free and doesn't even annoy you with push notifications to indulge in a patient word gaming experience.
Educational Word Game:
Engaging you in thinking of a five-letter word is quite an educational word game, and it challenges you to think on point and levels up your game with the right set of letters to guess the exact word.
Absolutely Free:
It engages you in an educational, mental word game absolutely free of cost.
How to Play Wordle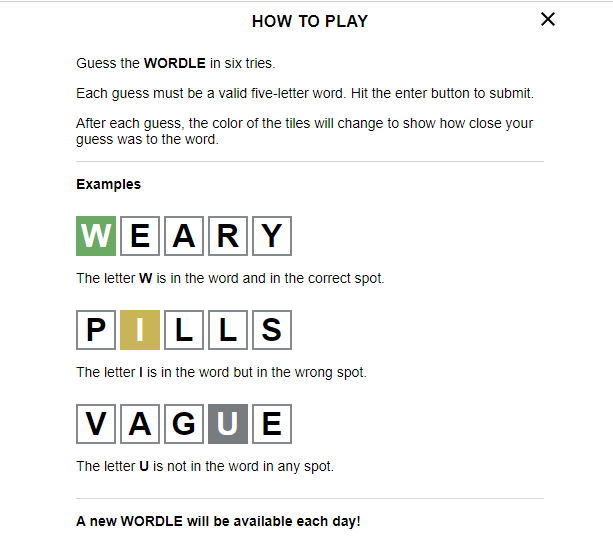 It is a simple word game you can play daily using an active internet connection. The basic steps to recreate it include:
Step 1: Open the browser:
It can be played on any web browser, including Chrome, Edge, etc. simply open any web browser.
Step 2: Visit the official website:
Now visit the official gaming website or simply type 'Wordle' in the browser to open it.
Step 3: Make a random guess:
Once the game opens before you, make a random five-letter word guess to start with the game.
Step 4: Decode the colored letters:
After entering your first wild guess, decode the colored letters to proceed further in the game. Ignore the gray-colored letters and proceed with the yellow and green colored letters.
Step 5: Proceed to guess accurately:
With the colored hints above, proceed carefully as you have only four options left to guess the correct word for the day.
Step 6: Final Result:
If you successfully crack the word, you get a congratulatory text. But a failure will result in the revelation of the answer after your sixth guess.
You can either build a fan community or be a part of one to share your game score and indulge in an interactive session.
How to Play Wordle: Rules, Tips, and Tricks
Even if you are a novice or a pro, you can kickstart your word gaming journey smoothly with some clues. Here we are sharing some tips and tricks so that you can understand the game better and earn a winning streak without failing your possible number of attempts.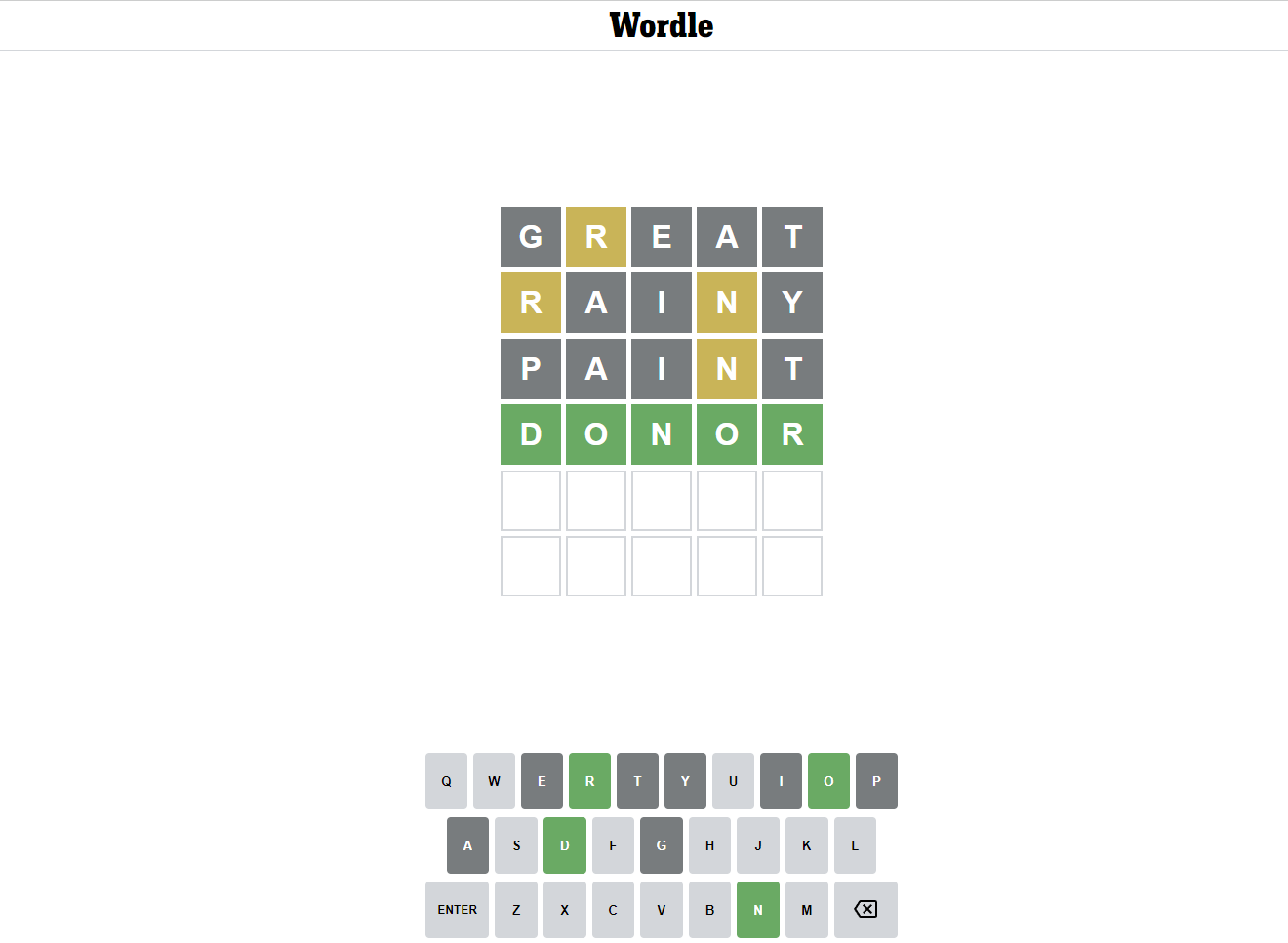 Colorful Hints
This word game is colorful, dropping hints to move in the right direction. The game uses three colors, each depicting a unique tip for the players.
Gray Color:
A gray color depicts that the chosen letter is not a part of the word for the day.
Yellow Color:
The yellow color shows that the chosen letter is in the five-letter word for the day but is not in the right place.
Green Color:
A green color indicates that not only the chosen letter is in the word for the day but also rightly placed.
The game is also available for players who are color blind. It uses a combination of orange and blue colors in place of green and yellow for color-blind accessibility.
This way, you can get hints to think of the word and move a step closer to winning the streak.
Tips To Kickstart Your Gaming Journey
With the help of a few tips, you can easily crack the word for the day. You need to be a little aware of the following points:
A Decent Knowledge of Words:
To play the popular word game, you need to have a decent knowledge of 5 letter words, making it easier to guess once you hit the right color.
Guessing Using Common Letters:
Start by using vowels. Vowels are common in all English words, and you should choose a comment with five different letters consisting of at least three vowels. You never know; you may hit the bull's eye by getting a green color in your first attempt.
You can start your game with words like 'Adieu' and 'Roate' to increase your chances of maximum green hits.
Use a Word Finder:
You can improve your Wordle game score by using a word finder app to assist you in gaming for more excellent knowledge of available words.
Think Out of The Box:
The game uses a combination of more than 2k words for its gameplay. You should always think out of the box to guess the maximum words closest to your colored letters.
Play in Group:
You may want to play in a group to expand your social circle to have a more excellent knowledge of words and exposure to win the gaming streak.
Tricks To Play Wordle
A few tricks to help you play Wordle includes:
Visualize Possible Letter Chances:
At times, a letter can be repeated multiple times in the word. Such as in flood or tooth, etc. So make sure to visualize all the possible chances to hit the word correctly. This not only makes the game more challenging but also enjoyable.
Consider American Spellings:
Wordle uses the concept of American spelling. So even a six-letter word for other countries is accepted as a five-letter word for this game, such as favor, color, etc. So consider the American spellings while playing the game for more accurate guesswork.
Wordle Spin-Off Games: Puzzles to Try after Finishing Today's Wordle
Wordle is addictive, but after solving the daily puzzle or exhausting all your guesses, you have to wait until the next day to play again.
Here are 3 word games to play after you have finished Wordle today.
Master of Words
This Wordle remake gives you six attempts to guess a five-letter word, but with a slight change. Word Master uses gray, yellow, and green blocks in the same way as the original. Word Master offers unlimited games, so you don't have to wait 24 hours.
Crosswords
Wordle is fun, but what if there was a crossword puzzle? In this Wordle-inspired game, you have to find two words of different lengths that overlap like a crossword puzzle. The gray, yellow, and green blocks are the same and there is one puzzle a day.
However, it seems like you can guess as many times as you want until you get the word out or give up. Unlike other Wordle-based games, Crosswordle lets you create your own custom crossword puzzles to share with your friends.
Wordscapes
Wordscapes is a combination of Boggle and Wordle games. You'll see a line of letters at the bottom of the screen and a crossword at the top. Form words with the letters in your bank and use them to complete the crossword puzzle.
Based on Wordle popularity, many similar word games were also developed. Rather with a slight change in design and theme, Globle was recently released as a geographical spin-off to the classic word game.
Wordle Template PDFs
Now you can download the templates for the Wordle game to practice and teach your kids in a fun and educational session by engaging them in a great mental activity.
You can download Wordle game helpers and cheat sheets for better gameplay. Practice the word game thoroughly using the PDF templates to have more accurate guesses the next time you play the game.
With a printable PDF for this game, you can also play interactive kids' games for great and playful learning. It also allows you to create word clouds, and you can easily save these by printing them into a PDF.
Some of the websites from where you can download the PDFs for word game templates include:
The best ideas for kids
Cvisd
Teachers pay teachers
Etsy
Research gate
Game card
Student handouts
Having a PDF on your device also requires a PDF reader to access the document anytime at your convenience. Now you can use a PDF Reader such as SwifDoo PDF to open and read the downloaded PDF files.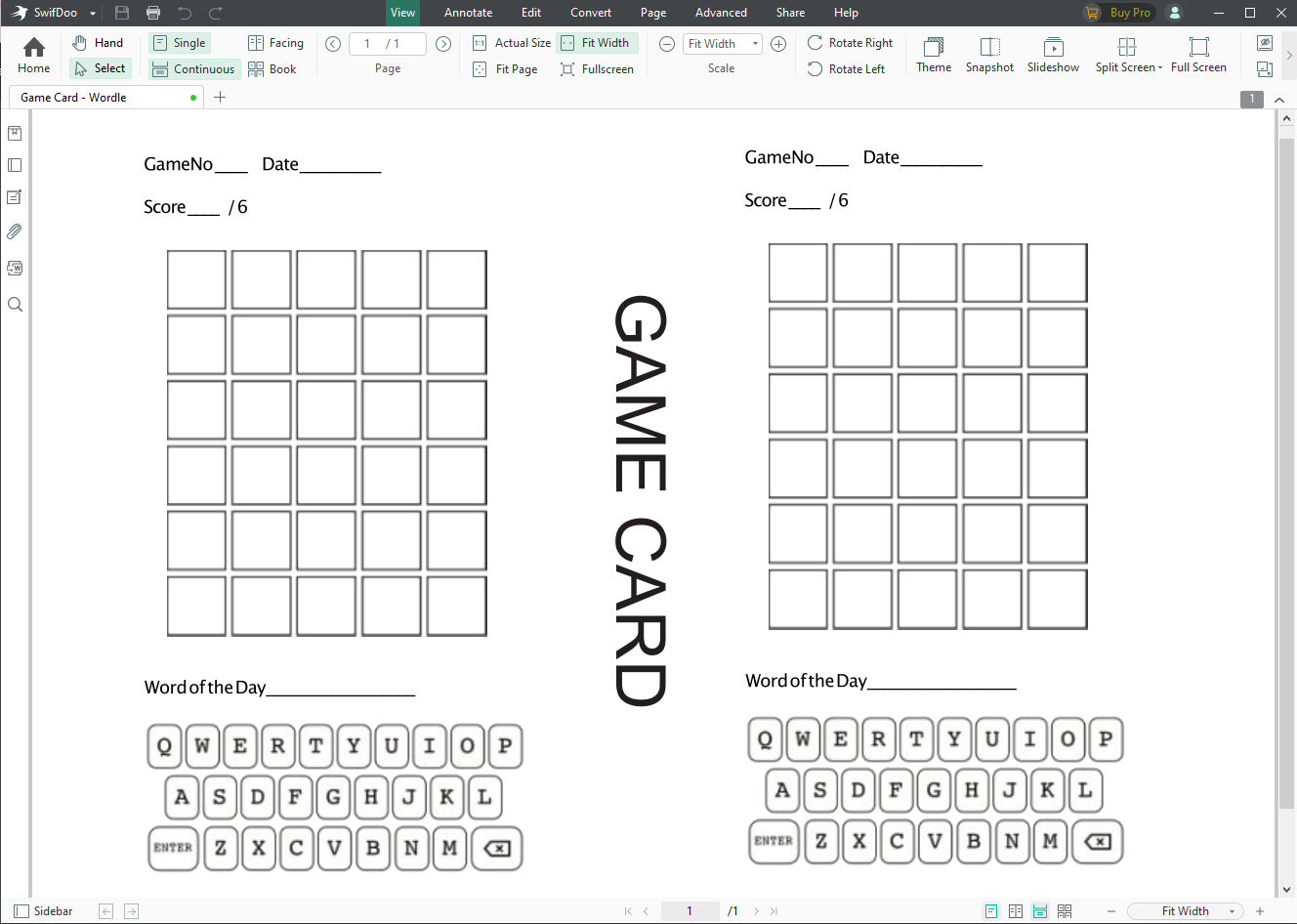 With SwifDoo PDF software, you can also edit and merge your word game PDFs to arrange them neatly in a library.
A Quick Sum Up
Wordle is one such game that is not only simple but also free of cost. It helps you take a short break from your routine work and also helps to enhance your word knowledge.
Now you can not only play the popular game alone or with a group of friends but also create one yourself to play with your kids, friends, family, and fellow word game mates. Whether you are good with words or not, you must give it a try. After all, Wordle is not only a free game but also challenges your intellect and knowledge enabling your learning and growth.
FAQs
Is The Wordle Game Discontinued?
Josh Wardle, a British software engineer, created it for his partner, Palak Shah, who is passionate about word games. Josh never intended to make money out of the game, and for this reason, he not only kept it absolutely free but also completely ad-free.
In January 2022, Josh sold the classic word game to The New York Times for more than $1 million as he felt that his competitors might exploit his game for their benefit. Currently, the game is not discontinued, and millions of players across the globe play this word game daily.
Is the Wordle Game Still Free Online?
Though the original word game was bought by the New York Times, it still does not charge any subscription fee. Players can play it online absolutely free.
Is There an App For the Real Wordle?
The Wordle game is free, completely web-based, and not made into any app over Play Store or iOS yet. And some Wordle copycats that came out on the App Store were eventually taken down by Apple.
Where to play Wordle?
You can easily play it through any of the below-mentioned websites
nytimes.com/wordle
powerlanguage.co.uk/wordle/
Wordlegame.org
Or you can simply type 'Wordle' on any search engine to help you open the word game.