Introduction:
Rapid development of the internet has drastically changed the world and reshaped traditional thinking. As a result, various new industries have gradually taken shape, including online education. In early 2020, the pandemic of Covid-19 spread across the world, bringing it to a standstill with closed borders closing and implemented lockdowns. Lockdowns impacted everyone, as businesses are driven online and students are unable to physically attend a school or other educational institutions. This resulted in the switch towards web-based education and learning for many students and teachers.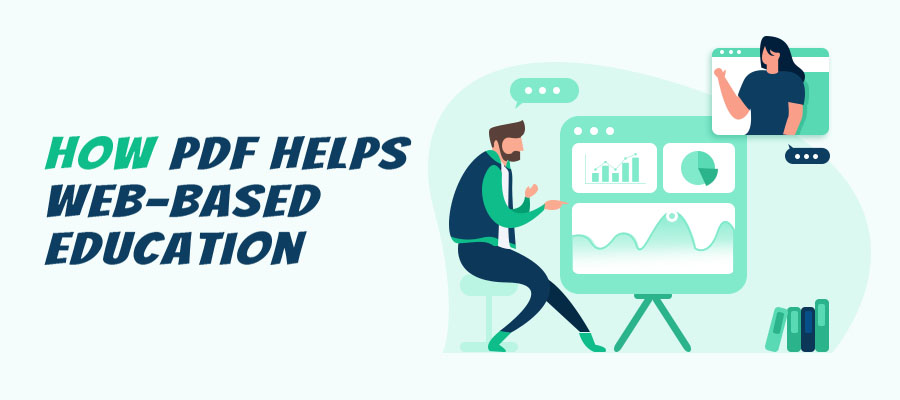 Online education is no longer a brand-new concept. This term is defined as technological learning, instruction, and assessment through the internet. Strong demands for online education have encouraged people to embrace and employ hardware and software resources, and PDF is a vital component in remote education.
This article will talk about why we should switch to online education and how PDFs facilitate online education.
Four Practices to Utilize PDF in Online Education
Edit
Editing is the most fundamental feature for an eligible PDF tool. Most PDF tools provide access to add texts, images, links. As for teachers, they might need to modify texts and edit images in PDFs occasionally without the need to convert them into another format.
When distributing teaching materials to students, teachers may need to add external links for reference. So that recipients can have a whole picture of the specific knowledge point.
E-Signature
The outbreak of Coronavirus has considerably altered daily life from different perspectives. For students who need to send documents or homework signed by parents, conventional "real" signatures can be bothersome. This reality drives people to seek help from the electronic signature.
E-signature can be applied to both agreements and paper documents. There are various ways to add signatures to PDFs. For instance, SwifDoo provides three different ways to paste signatures into the clipboard: from image, typewriting, and handwriting. By offering these versatile tools, SwifDoo wishes to cover all your needs in this all-in-one software.
Annotation
When lecturers need to give feedback on documents presented in PDFs, the most direct and efficient way is to make comments or draw attention to what the teacher wants to highlight, rather than emailing each other repeatedly.
With annotation tools, teachers can highlight, underline and strikethrough texts. If one needs to communicate with students, just click the "Note" button to attach a stick note to the document which is akin to the paper "Post-it" note. The whole process is similar to everything teachers used to do on paper: collecting homework, making annotations for every piece of work, and giving feedback to every student.
Convert
The uninvited pandemic, in a sense, did prompt schools and companies to go digital. Information exchange during quarantine has shifted from traditional paper files to e-files stored in PCs, tablets, or other devices. In this case, some files are generated, which triggers the need for converting files.
Among nameable formats, PDF is the only one that can reproduce and present the same styling, content, layout, and colors of the original document when converting from or to other formats. That being said, PDF is an ideal choice for students to share files, especially their assignments, without the worry about distortion in transmission.
Whether it is a Word document, an Excel spreadsheet, or any other format, users always want to turn information into a PDF to avoid any distortion or styling problems. A versatile PDF converter like SwifDoo PDF can help you with batch conversion tasks. Once you download it, file conversion is no longer a problem.
Advantages of Online Education
Personal Safety
Remote education happens when learners and instructors, or the source of information, are parted by time and distance and cannot make it to a traditional classroom.
When the pandemic closed down the world, social distance and isolation were strongly advocated and implemented. Schools, universities, and other educational institutions were closed in an effort to reduce the spread of Covid-19 and keep students and teaching staff safe.
This saw governments, educational facilities and teaching staff urgently implement online learning.
Flexibility/Accessibility
Remote education allows teachers and students to flexibly manage their pace, and thus students enjoy more freedom to attend classes from any place and time. Add to this, online classes can be filmed, downloaded, and shared via different channels in various formats.
This method enables students to access the courses at any time they want, greatly enhancing the accessibility of time and distance. In some cases, students in face-to-face classrooms may be constrained by the course duration, while in online classes, you can learn on your schedule.
Besides that, online courses can be relatively comfortable for students who don't need to ask instructors in-depth questions or details. With online courses, one can re-access the courses at one's convenience.
When you encounter questions, just click the pause button to search for additional information or write down notes. Online courses, for both students and lecturers, leave much room to strike a balance between work and life.
Efficiency
When it comes to traditional classes, students have to travel to school. But school closures force everything to go online. Consequently, brick-and-mortar classrooms, physical teaching tools, and attendance are no longer required. Time and expenses spent on commuting are saved, which reduces the waste and lowers the footprint.
Meanwhile, online efficiency tools play a vital role in delivering lessons to students. Lecturers take advantage of a number of tools as part of their teaching plans, such as web conferencing rooms, PDF tools, messaging services, and project management tools.
Helped by these document management and communication tools, teachers can, in a carefree manner, switch the lesson plan online without being restricted by paper textbooks, and better improve efficiency.