Introduction:
Writers and journalists need to be creative in their work and improve their writing for more excellent readability to their audience. While manual processes are time-taking, QuillBot summarizer does the job in no time. Though it helps write creative content, its premium plans might not fit everyone's pockets, resulting in finding QuillBot summarizing tool alternatives.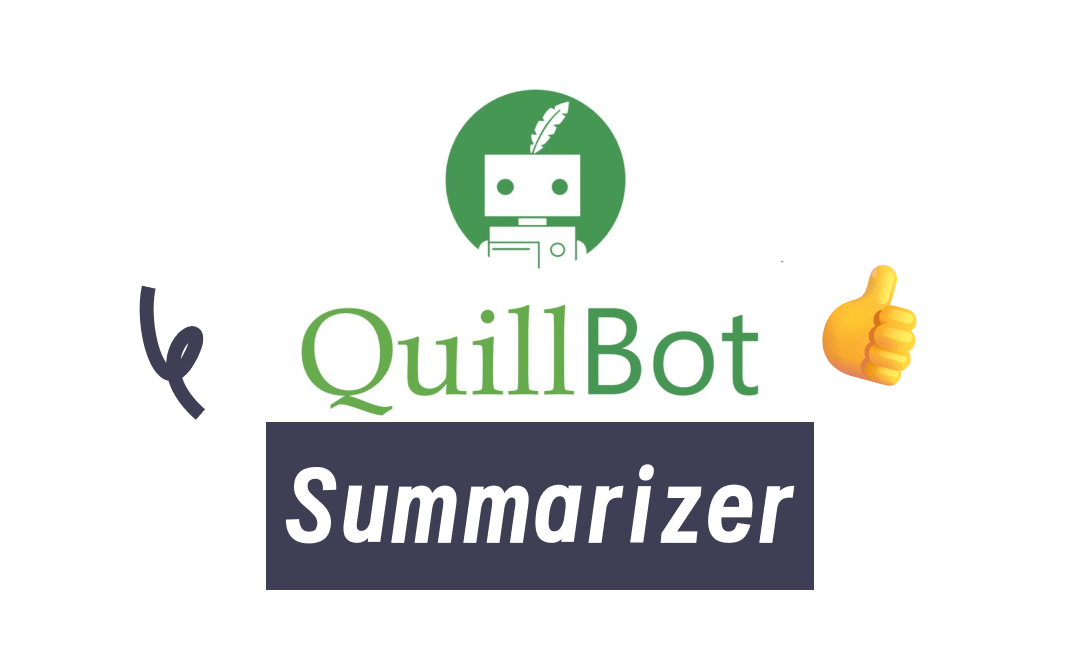 As ample AI copywriting tools are available in the market, with your query in mind, we have introduced the top 5 free alternatives to paraphrase and summarize your work without putting a load on your pockets. So let's look at the QuillBot summarizer free options to help switch to one whenever needed.
What Is QuillBot Summarizer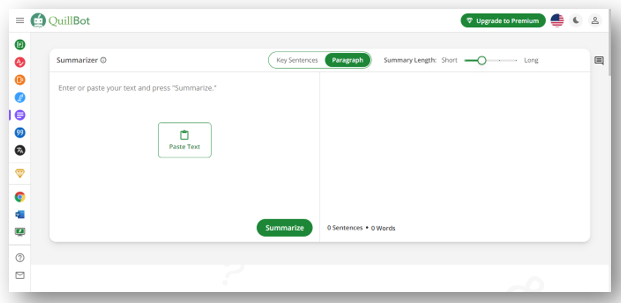 QuillBot Summarizer is a web-based writing tool to simplify your writing. Wonder what does the Summarizer do in QuillBot? It condenses articles, documents, or papers instantly to the key points. The program's AI uses natural language processing to locate critical information while maintaining the original context. Quillbot has two free modes and five Premium modes to assist users with broader plans.
Some of the notable highlights of the QuillBot summarize tool are;
Summarizes larger articles into smaller and more manageable paragraphs
Offers two free modes and five Premium modes to set the right tone of the document
Provides extensions and add-ons to make the writing process more accessible
Recommends synonyms and checks grammatical errors for free
Checks plagiarism to know if the content is unique and original
Is QuillBot Summarizer Free
QuillBot Summarizer is a free online paraphrasing tool. But the free version has limitations of 125 words in the paraphraser, three synonym options, one free word or phrase, 1200 words in the Summarizer, and more. So, users can take a premium subscription plan to avail themselves of the program's full functions.
The premium plans of the QuillBot summarizing tool include the following;
Monthly Plan: US$ 9.95/month
Semi-Annual Plan: US$ 6.66/month (US$ 39.95 billed every six months)
Annual Plan: US$ 4.17/month (US$ 49.95 billed every 12 months)
QuillBot Summarizer Free Alternatives
QuillBot paraphrasing and summarizing tool work great to summarize lengthy articles, but it may not be affordable for everyone. So instead, users seek a QuillBot summarizing tool alternative to paraphrase their texts online. Let's look at some of the hand-picked finds.
1. Summarizing Tool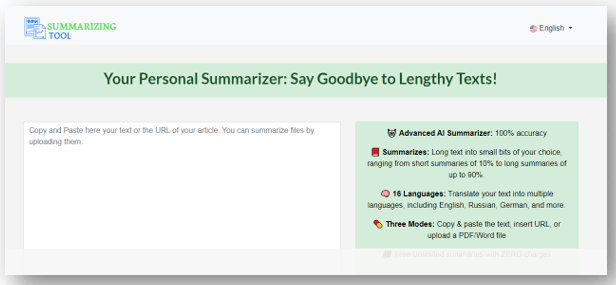 Summarizing Tool QuillBot alternative is an online text summarizer to control your workload with 100% accuracy. With advanced AI technology, it breaks down lengthy articles into concise and easy-to-understand summaries. The QuillBot summarize tool lets users stay up-to-date and accurate with the latest news and information and summarizes long text into small bits of your preference. You can set a range to choose from short summaries of 10% or lengthy summaries of up to 90%.
Some notable highlights of this QuillBot summarizer free alternative tool include;
Quickly summarizes PDF and doc files with accurate results
Offers three modes to summarize: Copy-paste text, upload a document, and enter the URL
Simplifies information and enhances productivity
Translate your text into 16 languages like English, Chinese, French, German, Italian, Russian, etc.
Pricing Plans
Free unlimited summaries with 0 charges
2. Scribbr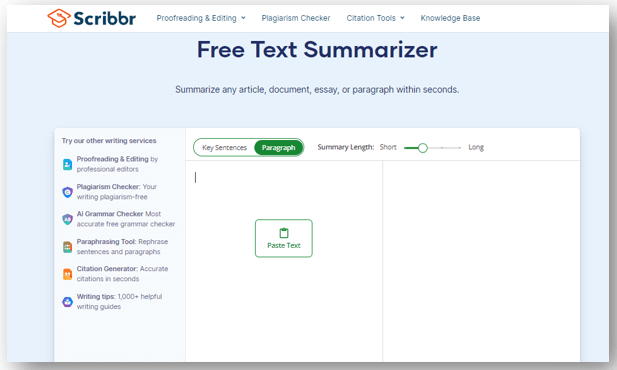 Scribbr is an excellent free QuillBot summarizer alternative that lets students, writers, journalists, teachers, institutions, and individuals summarize any article, essay, document, or paragraph in seconds. This QuillBot summarizing tool alternative lets users proofread, edit, check plagiarism, and use citation tools to add value and enhance their created documents. With AI technology, Scribbr ensures accurate summaries within seconds and allows users to adjust the summary length of their texts.
Some of the features of this QuillBot summarizing alternative tool include;
Summarizes large and small PDF files hassle-free in seconds
100% free and accurate without any errors
It does not require sign-up or personal data
It does not store summary data to guarantee your privacy
Pricing Plans
Free with unlimited text summarization
3. Paraphraser.io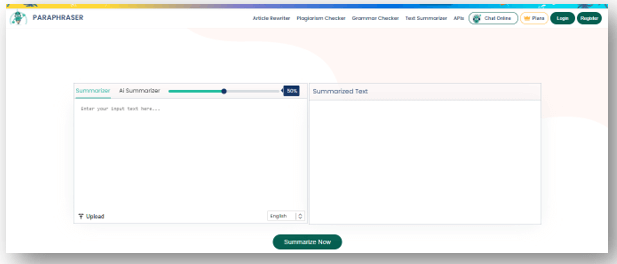 Paraphraser.io is a QuillBot summarizer free alternative that lets users paraphrase up to 600 words at once. It is an article rewriter, plagiarism checker, grammar checker, paraphrasing tool, and text summarizer program to allow users to create engaging work and convert PDF to text. Paraphraser.io can be used by students, freelancers, academic writers, and SEO content writers to improve their articles and write-ups. The tool uses AI algorithms to enhance clarity and engagement and provides uniqueness to the text.
This QuillBot summarizing tool alternative performs the following features and functions:
Offers three paraphrasing options: Fluency, Standard, and Word Changer
Supports four languages: English, Espanol, French, and Portuguese
Uses GPT-3 and NLP to drive its algorithms and understand content
Makes changes in natural language to mimic human-like changes
Pricing Plans
Monthly Plan: USD 7/month
Yearly Plan: USD 5/month
Enterprise 1: USD 50
Enterprise 2: USD 125
Enterprise 3: USD 225
4. TLDR This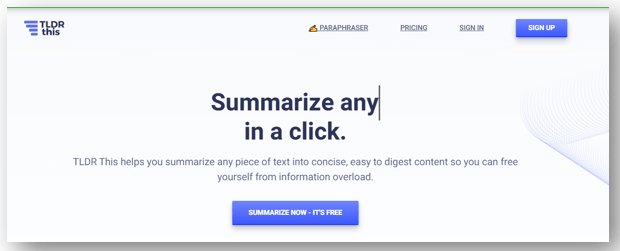 TLDR This is a QuillBot summarizer free alternative that lets users paraphrase and rewrite any text in a different voice and style depending on the audience's requirements. In addition, the output copy generated is 100% plagiarism free. Users can input their text manually or enter the article URL and choose to get a Short/Concise output or a Detailed/Section-wise one. Best for individuals, startups, and large businesses to quickly summarize and paraphrase their texts and valuable work.
TLDRThis QuillBot summarizing tool alternative has many rich features to function, like,
Delivers smooth and hassle-free paraphrasing services online
Uses advanced abstractive summarization models to extract and rephrase sentences
Presents content in a simple and clear format to free users
The free version gives 10 Advanced AI summaries and up to 10 paraphrases (one-time)
Pricing Plans
Free: For new users
Starter Plan: USD 4/month
Professional Plan: USD 8.25/month
Business Plan: USD 16.60/month
5. Text Summarizer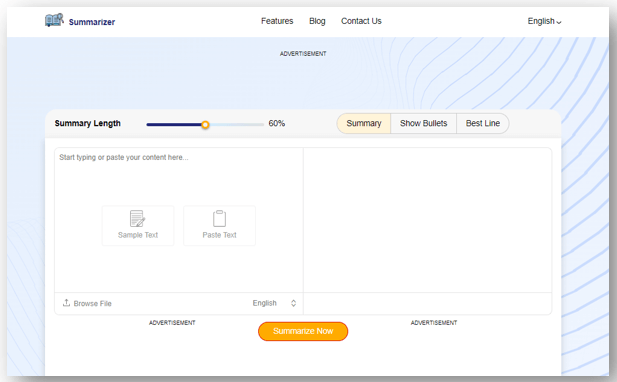 Text Summarizer is another QuillBot summarizer free alternative that uses advanced AI techniques to extract key sentences with accuracy and ensures data safety. The QuillBot summarize tool allows users to add bullets and choose the best line feature to increase the text readability and control summary length to modify the final output.
The Text Summarizer QuillBot alternative has advanced features to serve its users;
Summarizes text with state-of-the-art AI
Helps summarize PDF and doc files with accuracy
It supports six different languages, including English, French, Dutch, etc.
Shows the word count of input and output text
Pricing Plans
Free with no word limit or daily limit
Bonus Part: Annotate Your PDF with Ease
QuillBot Summarizer is an effective tool to summarize and paraphrase the required text. In addition, QuillBot summarizing tool alternatives allow users to upload PDF files and summarize them hassle-free. Once summarized, SwifDoo PDF can come in handy to better comprehend PDF files. For instance, it lets users create, edit, convert, merge, crop, compress, and highlight text in PDF hassle-free. The program helps add value and enhance creative work.
Some notable highlights of the program;
Edits PDF content in a breeze
Adds customized elements and crops the files
Converts other formats to PDF and vice versa
Compresses files without losing original quality
Here's the quick process to annotate your PDF files with SwifDoo PDF:
Step 1: Launch SwifDoo PDF and open your PDF file with the program.
Step 2: Click the Annotate menu and select the annotation tool.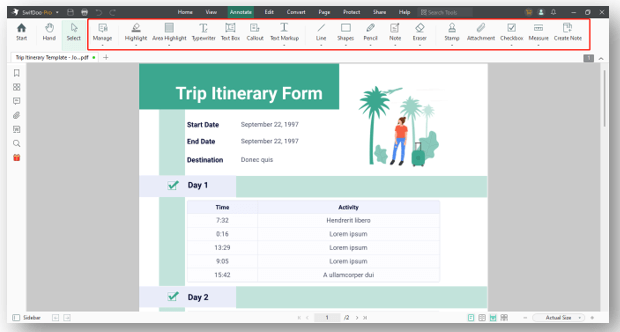 Step 3: Add PDF annotations to your selected document and save the changes.
To Sum Up
QuillBot Summarizer is a popular paraphrasing tool but may fail to deliver the best solutions. With tons of AI copywriting tools in hand, you can seek help from free QuillBot summarizing tool alternatives to get the required assistance in your budget. After using QuillBot summarize, you can try SwifDoo PDF, the ultimate PDF solution, to perform the necessary editing functions and seamlessly enhance your summarized PDF documents.