Since childhood, we have been playing indoors, resorting to one of the most inexpensive materials for our gaming ideas: paper. Yes! Paper has always been a savior for indoor gaming, especially during the rainy seasons.
Over time the essential paper fans, paper boats, paper planes, and handmade cards developed into crafts and hence evolved the paper activities.
Paper Craft is a medium of expression for all souls. Paper art has come a long way from being nostalgic to aesthetically therapeutic. People look forward to activities involving papers to make a stable career in their therapeutic passion.
Such crafts require a great deal of patience and precision to get the most from the result. With paper craft template PDF, you can level your paper gaming by learning and practicing some of the most intricate and complex paper designs.
If you, too, are interested in a paper designing and crafting activity, you may start now. After all, it's never too late for a new beginning. You never know if you might develop a good understanding of the same and opt for a stable career indulging in a tech-free life.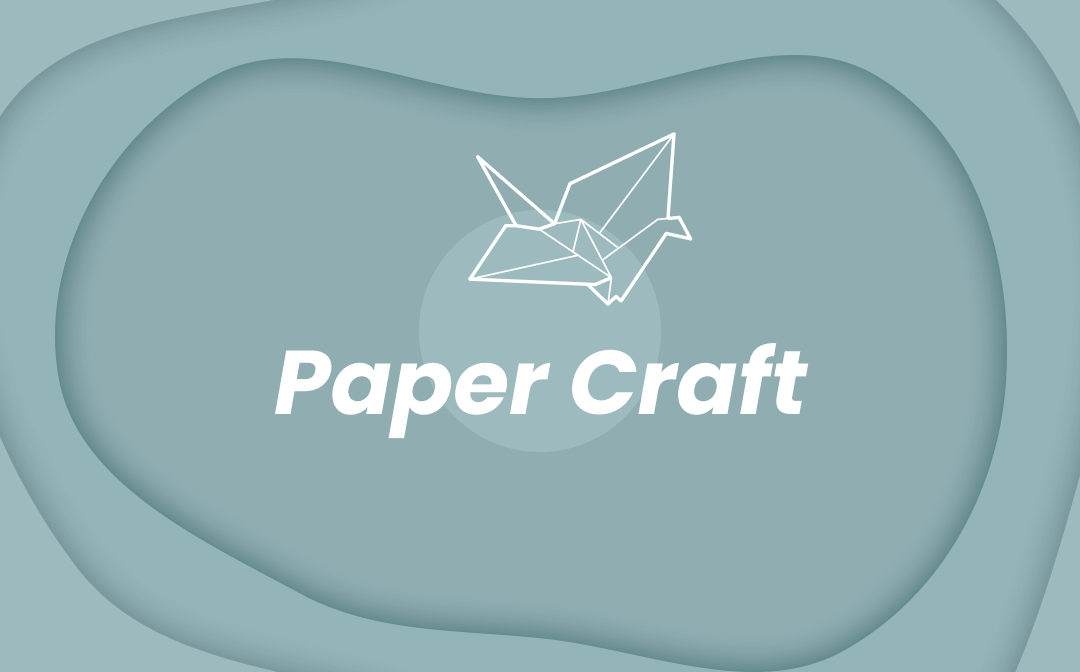 Paper Craft: Types, Benefits, and Ideas for a Soulful Journey!
A craft involving paper is roughly referred to as paper-made objects. Not only that everyone is familiar with writing, but also it is one of the most inexpensive materials available in the market to start and practice your skills.
It has recently gained immense popularity with many techniques and designs. From the simple designs to the more complex ones, such crafts started as an indoor activity and are soon building into a vast industry.
People of all ages can easily create paper art. Though middle-aged children are the most fascinated by origami and paper folding stuff as it is not only appealing but has tremendous educational and learning-building values.
Types of Paper Crafts
Paper art and craft is a broad term that comprises a wide variety of forms of paper activities. Some of the widely used ones include:
Origami
Quilling
Scrapbooking
Bookbinding
Papermaking
Decoupage
Card making
Paper flowers
Paper layering
Benefits of Paper Craft Activities:
Paper activities are proven to have aesthetic and therapeutic effects. They are not only a quick escape from the high-tech digital world but also aid in all individuals' cognitive learning and growth.
A few benefits of such craft activities for your kids include:
Creating paper art and designs enables the use of fingers and both hands simultaneously, allowing fine motor skills.
Paper activities enhance creativity developing your kid's mental activity and focus.
You can develop a more excellent bonding with your kids by indulging in some quality time crafting things with paper.
Crafting with paper helps focus and maintain the good mental health of your kids.
Develops communication skills:
By taking verbal instructions, kids develop listening skills, and while talking about their crafts, they tend to produce communication skills.
Paper art helps build confidence, patience, and self-regulation skills in your kids.
Paper designs help boost self-esteem by focusing on and accomplishing our required tasks.
Helps relax and meditate:
Paper art and craft is a therapeutic activity that helps relax our minds to focus, create, and strengthen mental health.
Most paper activities can be done by either reusing or recycling the waste materials. In turn, they are reducing waste by putting it to creative use.
Paper Craft Ideas
Whether you are getting bored or want to indulge in a fun paper art and craft activity with your kids, you can try some fantastic suggestions that we have listed for you to start with:
Rolled paper flowers
Woven paper baskets
Paper fan wall art
Paper Butterflies
Paper orbs
Geometric paper bowls
DIY paper explosion box
Accordion fold paper wreath layered paper cut Toucan art
Paper chain rainbow wall hanging
Paper treat boxes
Paper snowflakes
3D paper stars
Types of Craft Papers
Papers can be of many different types to assist you in making some intelligent paper art and crafts, including paper toys. Selecting the craft paper wisely eases the process of crafting things with paper and yields more significant results.
Some of the popularly used craft papers include:
Crepe paper
Vellum paper
Construction paper
Washi paper
Kraft paper
Cardstock
Newsprint
Mulberry paper
Printer paper
Tissue paper
Posterboard
Watercolor paper
Features of Craft Paper
Each craft paper has unique properties, which is what differentiates them from one another. Paper designing activities can be tedious if you fail to select the right paper for your crafting. Make sure you choose the correct craft paper after carefully going through its features.
The weight of the craft paper plays a crucial role in your craft activities. The paper's thickness and thinness decide which form to be used for crafting.
Thin papers are easily foldable but are fragile, while thick papers are long-lasting but tough to fold.
The opacity of the paper:
Thick papers are more opaque than thin ones, and tender documents provide a more fabulous transparency option.
The texture of the craft paper is determined by its coating. The documents with a layer are usually smooth in texture, having either a glossy or matte finish—the absence of coating results in a rough paper texture.
Craft papers also have a brightness scale. You may choose any craft paper depending upon the level of its brightness for your paper designing activity.
What is the best craft paper?
All the papers are good in themselves, but their correct use makes them best. You can't use each craft paper for any paper art and craft activity. You need to choose your craft paper smartly, depending upon many factors like thickness of paper, usage, etc., to make the best out of your time, efforts, and craft.
Paper Craft Ideas for Kids
To start with, you can try some simple activity ideas so that your kids develop an interest in the crafting and designing process. Then slowly and gradually, you can get up your game by going a few levels higher with time, depending upon your kid's growth and interest.
A few crafting ideas for your kids include:
1. Paper Butterflies:
Paper butterflies are some of the easiest and quickest to begin with, as your kid might feel close to nature.
Items Required:
A colorful sheet of paper
A pair of scissors
Glue stick
Embroidery thread
Ribbons
2. Paper Lanterns:
Paper lanterns are an easy way to express emotions on a festive occasion.
Items Required:
A4 sheet of colorful paper
A pair of scissors
Stapler
Glue stick
Decorative stars
Decorative mirrors
3. Paper Flowers:
Flowers are all-time classics and loved by everyone. Paper flowers are effortless, and your kid may find them fascinating enough to create them all by himself.
Items Required:
A handful of colored paper sheets
Ruler
Pencil
Glue Stick
Scissors
Stapler
Colorful beads
Decorative pearls
4. Paper Flower Vase:
Flowers usually require a vase to be kept at home. By creating a paper flower vase, your child can engage in his room decor activity from a very young age.
Items Required:
A colorful sheet of paper
Glue stick
Scissors
Pencil
Compass or a bottle cap
Colorful lace
Decorative items
5. Paper Umbrellas:
Paper umbrellas are pretty cute and easy to create. They require very few materials and can be made quickly, and they can be a fun indoor activity, especially during the rainy seasons.
Items Required:
Colored sheet of paper
Pencil
Eraser
A pair of scissors
Glue stick
Decorative beads
A wooden stick
Glue gun
6. A Paper House:
A paper house helps your kid to learn and grow smartly. You can indulge him in making one for his mini toys and dolls.
Items Required:
A few colorful paper sheets
A pair of scissors
A ruler
Glue stick
Sketch pen
Note: If your child is less than five years of age, indulge in only foldable paper art and design activities. Do not allow your child to use scissors without your presence or guidance.
3D Paper Craft For Adults
You might want to pursue a new paper activity or level your paper game by indulging in 3D crafting and designing using different craft papers and methods.
Some fantastic ideas for you to try are:
1. Paper Eiffel Tower:
A 3D Paper Eiffel Tower can be a great start to creating a paper model. You can get it right with utmost precision by having your own 3D model for some romantic Paris vibes.
Items Required:
5-6 sheets of printer paper
A thick cardboard
Glue stick
Scissors
Ruler
Pencil
Compass
2. Paper Peacock:
For the love of nature, you can create your peacock to add a showpiece to your living room.
Items Required:
A foam sheet
Acrylic colors (blue, black, green, golden, and metallic bronze)
Aluminum foil or newspaper
A thick cardboard
Stationery
Scissors
Aluminum wire
Glue gun
Glue stick
Masking tape
Air-dry clay
Clay modeling tools
Decorative golden beads
Decorative blue beads
Paintbrush
Sponge
3. Paper Unicorn:
Paper Unicorns call for a great room decor item. With some of the bare minimum items, you can create them easily and quickly to give your room a quick makeover.
Items Required:
Colorful sheets of paper
Thick cardboard
Soft cardboard
Double-sided tape
Glitter tape
Scissors
Sketch pens
Stationery
Glue gun
Glue stick
Cotton
Decorative beads
Decorative stickers
Battery-operated LED lights
4. Paper Wall Chandelier:
Chandeliers are costly. But you can create a DIY paper wall chandelier that will be way cheaper and customized according to your required needs.
Items Required:
Few colorful paper sheets
Thick cardboard
Stationery
Scissors
Needle
Embroidery thread
Decorative beads
Fabric glue
Glue gun
LED lights/ CFL bulb
5. Paper Doll:
Paper dolls are some classic paper designs that are quick and easy to make. They can be gifted to your loved ones as well.
Items Required:
Colorful crepe paper
Plain crepe paper
Thread
Needle
Double-sided tape
Kitchen towel
Glue gun
Steel floral wire
Decorative small flowers
6. Paper Heart Showpiece:
Whether planning to gift something to a loved one or wanna share your feelings through some creativity, paper heart showpieces are indeed the best way to express yourself.
Items required:
A plain sheet of paper
Colored sheet of paper
Glitter paper sheet
Thick cardboard
Stationery
Needle
Thread
Scissors
Colorful pearl beads
Wooden sticks
LED lights
Photos
Paper Craft Template PDF
Crafting and designing with paper becomes easier to create once you are guided through a template tutorial with step-by-step directions to help you know the exact measurement and foldable areas. PDFs are easy to access, and once saved, they can be accessed at any hour of the day.
Help your kids learn and grow by engaging them in such craft activities with the help of some paper craft template PDF.
You can download the PDFs for these crafting templates from any of the few websites mentioned below:
Super coloring
Hobbylark
Ninjatoes
Desktop gremlins
Paper foldables
Pinterest
Paper Critters
Paper toys
Pixel papercraft
Ecogami shop
Canon creative park
Cubee craft
You can download and save the PDFs to use anytime for a good guide and visual tutorial for better clarity and understanding.
Once you download the PDF files of the craft templates, these can be accessed through a PDF Reader, say SwifDoo PDF Reader, to open and read them.
With SwifDoo PDF software, you can also edit these PDFs to make a file of your own customized templates and maintain a library of the same.
A Quick Sum Up
Paper Craft is indeed a fun activity that not only helps you to relax and meditate but also creates something in the process.
You can also include your kids in this activity, helping them to learn and grow educationally. It will help strengthen your kid's mind and help him become more competent and confident, building his self-esteem.
The best part is you can bond well with your kid in this guilt-free educational crafting activity. Your grown-up kids can even self-learn through the PDFs of paper templates involving crafting.
Papercraft template PDF aids in learning new techniques and complex designs quickly by being available at any time of your need. You can practice multiple times and create your own designs as well.
So take a break from the routine stress-free life and craft a paper design today. You may also start with an introductory paper boat or paper plane to reminisce about the good old days.