Dealing with surplus paper works, textual electronic images, PDFs, and hard copy documents can be cumbersome, whether in a job or business. Here's where the Optical Character Recognition (OCR) technology steps in to ease your work.
OCR enables the user to scan and convert the soft copies of the non-editable document into editable text documents, saving you the trouble and time of manually retyping the texts in the images, magazines, or PDFs to make the required changes to them. Instead, OCR quickly converts such files into editable text versions.
Like, when you receive an electronic image of a brochure, you must use Optical Character Recognition (OCR) to convert it into a fully editable file. This way, you can easily update its text.
And if you have an electronic image in the .jpg, .jpeg, .png, PDF, or other similar files, you can use the SwifDoo PDF OCR to transform it into the textual version. This way, you can edit, copy, paste and do much more. In addition, SwifDoo PDF provides a complete aid to your PDF files.
Let's explore some reasons why you should adapt the OCR technology in your business operations and manage your work.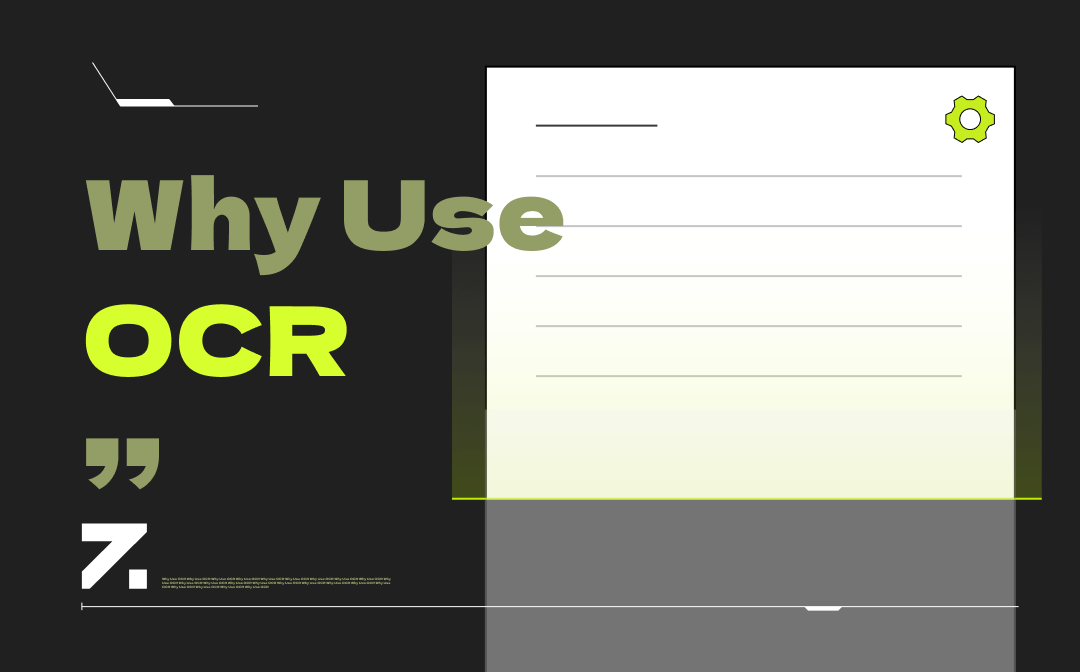 Why You Should Use OCR
1. OCR Makes Your Edits Easy
Regardless of your field, change is inevitable. And if you are a businessman, you are not left with an option other than changing with the dynamic environment to be successful.
Here's where OCR comes to use. It is more of an asset that makes your business operations adaptable to changes. With OCR, users can easily convert their immutable files to text documents and edit them effortlessly.
An OCR assists you in converting your PDF files to editable text documents anytime and anywhere. So now, even if any document requires changes, you need not compose a new document from scratch. Instead, you can simply open your document and change the section that needs to be improved.
2. Helps Save Time and Money
With OCR technology, the paperwork is reduced considerably, saving ample time and money. However, many operating businesses still deal with comprehensive documents in hard copy, handling a large chunk of data in the form of paper.
So using the OCR technology, users can scan the printed data and electronic images that contain texts and obtain a digitized form. As a result, it reduces sufficient time and money spent on manually entering the data into the PC from scratch.
3. Helps Prevent Human Errors
To err is human, and human errors are inescapable. But that shouldn't refrain you from making any changes to your critical files. With OCR, users can search and edit their immutable and frozen documents and find and locate incorrect or misprinted data in their text files.
Therefore, OCR technology enables users to undo human errors and proactively resolve them by rectifying the mistakes.
4. Makes Your Frozen Files Searchable
Often, when there are plenty of PDF files and electronic images (containing texts), the vital information is not easily searchable and editable. As a result, it leads to abundant frozen texts that hamper your ability to quickly search for any essential information or something specific.
Generally, if large amounts of PDF files and electronic images contain essential data but are unsearchable, they hold no purpose to the users and are no more than junk files.
With the help of OCR technology, users can convert immutable and frozen texts to machine-readable data, making Image and scanned PDFs easily searchable. Instead, you can easily find the specific information in your files and documents using OCR and copy and paste it for other uses.
5. Saves Space
Quite often, piles of paper can easily be found on office desks, causing uncalled panic attacks. Generally, invoices, receipts, and other vital hard-copy documents need additional space on the premises and involve dedicated manual handling too.
So using the OCR technology, users can save a lot of the office space that heaps of paper documents have occupied.
OCR helps to digitize all your paper files (hard copy documents) and free your office desk giving it sufficient space to breathe. With less paper under your nose, you can have a more orderly arrangement and visible area in your workspace.
Conclusion
Unquestionably, Optical Character Recognition (OCR) technology is the need of the hour for your job and business operations. If you haven't adapted to its supreme functionality yet, we have provided you with enough reasons to switch to OCR right away.
SwifDoo PDF OCR can be your right hook to manage your piles of paper and work effectively. Moreover, it provides a complete solution for all your PDF files.