Every business has some fundamental inclusions to help it run smoothly and efficiently. Like other departments, even an accounts department has a significant role. For example, suppose you are a business in making and are under budget. You need not have a separate department for the same. Instead, you can take charge yourself.
Whether you are a small business owner, an established name in the industry, or someone who has just conceived an idea for a start-up, a profit and loss statement is an essential part of your business accounting.
With the help of a profit and loss statement template, you can quickly create one effortlessly. We have also listed some helpful tips so you can be extra careful while drafting your income statement.
But before you start making one, let us quickly learn more about this valuable statement and what makes it essential for any business owner.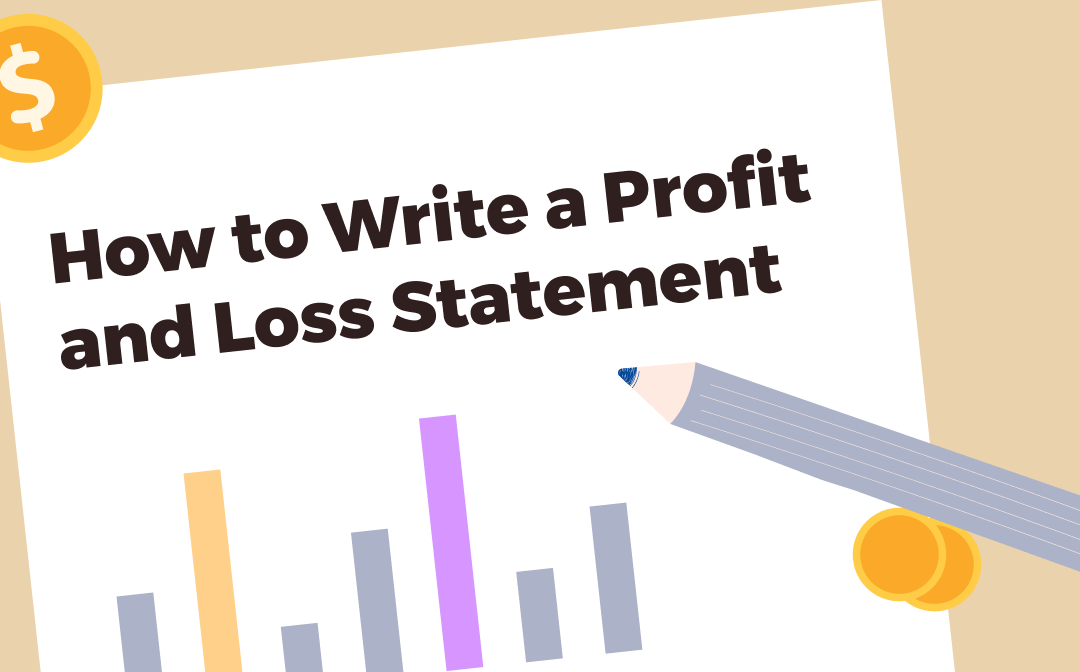 Profit and Loss Statement: A Guiding Force For Every Business Owner
A profit and loss statement provides you with a clear view of your business' revenues, expenses, and income over a specific period to help you ascertain the profit/loss of your business. It is also known as income statement, profit, and loss report, statement of operations, and statement of profit.
You can track your business' financial progress and check whether your business is profit-making, rewarding, and growing or losing money and needs special attention in certain areas.
You can make a profit and loss statement as and when you feel like assessing your business' position. Or you can also resort to the following periods:
Monthly
Quarterly
Annually
Is It Purposeful to Make a Profit and Loss Statement?
Being a small business owner, not everyone might have an interest in accounting. But whether you have an interest or not is not the primary aim of concern. You must know the fruitful advantages of a profit and loss statement to be a big star in the long run.
Here is where you can think of making this statement if you have not thought about it yet.
It helps in the calculation of net operating profit (or loss).
It enables you to educate yourself about your business's overall health.
Assists in business decision-making.
It helps to know whether to hire new employees or not.
Assists in determining the pricing strategy.
Assists in planning the taxes.
It guides you to see the effectiveness of your current growth strategy.
Aids the investors and lenders to check your business' profits and current standing.
It helps to know the efficiency of business operations.
Assists you in determining whether your services and products are profitable.
What Shall You Include In a Profit and Loss Statement?
The critical components of a profit and loss statement are:
Revenue
Expenditure
Cost of goods sold (COGS)/ Direct costs
Operating and non-operating expenses:
-advertising and marketing costs
-administrative costs
-employee salaries
-employee benefits
-payroll taxes
-insurance
-interest expenses
-phone and internet services
-office supplies
-rent
-payments to contractors
-vendor payments
-the professional fee to attorneys, accountants, etc.
Gross profit (Gross margin)
Depreciation
Earnings before interest and taxes (EBIT)
Earnings before tax (EBT)
Net income (profit or loss)
Ideal Ways to Draft a Profit and Loss Statement
The two methods to create and analyze a profit and loss statement are:
1. Horizontal (or series analysis) method:
Horizontal analysis is made when you need to look for possible changes in an item over a due course. It helps you detect the pattern of business fluctuations like cyclical occurrences. It also assists you in learning about the possible signs of danger that can harm your business in the long run.
2. Vertical (or common size analysis) method:
Vertical analysis is made when you need to look at the size of expenses to the company's revenue. It helps you know the company's costs and their allocations.
Profit and Loss statement Template: Guide, Layout, and Websites
When you are thorough with your requirements for creating such a statement, you can take the help of the readily available templates to help you guide with the format. For example, a profit and loss statement template can be your go-to guide once you know how you can use it to fulfill your needs and purpose. These are the readymade structures and principles to help you rapidly create a profit and loss statement.
You can quickly download and print these templates to your devices. For example, suppose you are new to the business and industry and have no idea about the accounting concepts and necessities. In such a case, these templates can help you quickly. Simply download and edit them to tailor-make them to your needs.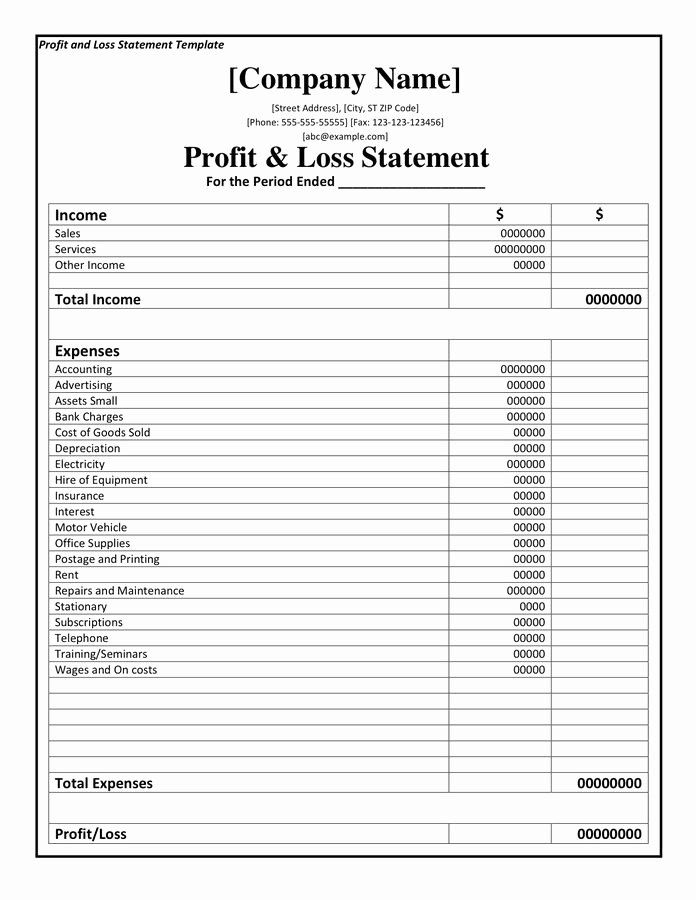 A handful of websites that you can check out to download a business standard structure for profit and loss statement template are:
Fresh books
Templates office
Wells Fargo media
Form swift
Monday
Wise
Live flow
Smart sheet
Jot form
Business Victoria
Profit and loss form PDF filler
Template lab
Corporate finance institute
The templates are usually in PDF layout and may require a professional PDF tool to access them quickly on your systems. For example, suppose you can use the SwifDoo PDF reader to open, read and edit these profit and loss statement template within no time.
SwifDoo PDF software allows you to easily access the preloaded templates and other documents on your device. Instead, you can segregate all your templates and documents neatly with the help of its incredible library feature.
That's not it. SwifDoo assists you in working with all the formats. For example, you can convert PDF to Word, Excel, PPT, Images, CAD, HTML, etc., and vice versa. You can merge and compress the files without losing on the font styles and formats. Even cropping a document takes minimal effort and time to fit it to your requirements.
You can even make your own template for income statements and save it for future use. You can also share your creations with your team members and other necessary people to help you assist with your work.
How to Create a Profit and Loss Statement: A Foolproof Structure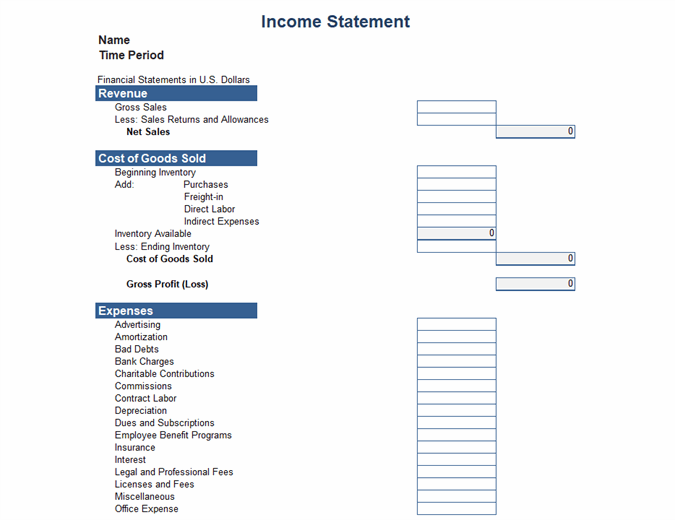 Now create a profit and loss statement quickly with the help of a readily available template. All you must do is download and edit it to fit your needs. But having sufficient wise data can help you fill in the blank spaces of your editable template quickly. To create an income statement, simply follow the below-given quick steps:
1. Gather all the relevant information:
You must track and assemble all the necessary pieces of information that will be a part of your statement. It includes your income and expenses. You can collect this information from your receipts, invoices, bank account transactions, and credit card statements.
2. Track and calculate the business revenue:
With the help of a general ledger, you can track and calculate all the collected revenue in the given time frame- monthly, quarterly, or annually.
3. Determine the cost of goods sold (COGS):
Next, you must calculate your cost of sales or the cost of goods sold (COGS). These expenses vary with the amount of business you are doing. It includes:
Inventory (stock)
Raw manufacturing materials
The hiring of temporary/additional staff
4. Determine the gross profit/loss:
Deduct the cost of goods sold from the calculated revenue to determine your gross profit or loss.
For example, Revenue - Cost Of Goods Sold(COGS) = Gross profit/loss
5. Track and calculate operating expenses/overhead:
Calculate your operating expenses carefully. It includes travel, rent, utilities, postage, payroll, and equipment.
6. Obtain the operating profit/operating income/operating loss:
Now deduct the calculated operating expenses from the gross profit/loss to determine the operating profit or loss.
For example, Gross Profit/loss - Operating Expenses = Operating profit/loss.
7. Calculate the EBITDA:
Include the additional incomes like interest and dividends to the operating profit/loss. When the income from interest and investments and other revenues add to the operating profit, it is termed EBITDA (i.e., Earnings Before Interest, Taxes, Depreciation, and Amortization)
For example, Operating Profit + Interest Income + Dividends from Investments = EBITDA
8. Calculation of interest and other expenses:
It would be best if you calculated for expenses due like taxes, interest payments, depreciation, and amortization expenses.
9. Determine the net profit/loss:
You must deduct the calculated expenses of interest, taxes, depreciation, and amortization from the calculated EBITDA to obtain the net income or net profit/loss.
For example, EBITDA - (Interest + Taxes + Depreciation) = Net profit/loss
Valuable Tips To Remember While Creating a Profit and Loss Statement
While you can make an income statement anytime, you must be careful while drafting one. Remember some valuable tips to be extra cautious with your information.
1. Select the method wisely - horizontal/vertical that best fits your needs.
2. Gather all the necessary and relevant information from all available sources.
3. Remember to consider all the records for calculations.
4. Have a thorough knowledge of your expenses as operating and non-operating.
5. Pre-decide on the method you want to use for listing your entries.
6. Maintain your ledgers properly to write a foolproof income statement.
7. Remember to record your journal entries carefully for writing flawless ledgers.
8. Keep the invoices and vouchers safe for future use.
9. Remember to show your business's losses, if any.
10. Refer to a profit and loss statement template for a quick guide and standard structure.
11. Proofread your income statement carefully before publishing it for your investors, lenders, and analysts, etc.
Quick Sum Up
Irrespective of your interest, you must make a profit and loss statement to determine the efficiency and overall health of your business and its operations. It can aid you in innumerable ways.
We have guided you with the thorough details of an income statement. But, having learned its importance, you cannot choose to ignore how crucial it is for the growth of your business, especially to have your undivided attention to the specific loopholes.
Suppose if you want to create one, you can resort to a profit and loss statement template. It has the business standard layout that can help you save time and effort, and you can edit it quickly by tailor-making it to your needs. Using the valuable tips, you can be sure you are heading in the right direction.
So, make a profit and loss statement today and help your investors and lenders learn more about your business.
Have a Happy Accounting!