Translation has become an integral part of our work and life. Whenever we trade with clients from or travel to another country, Google Translate comes in handy to help us communicate with others who don't speak our language. You must have heard of or used it before, but do you really get how to use Google Translate?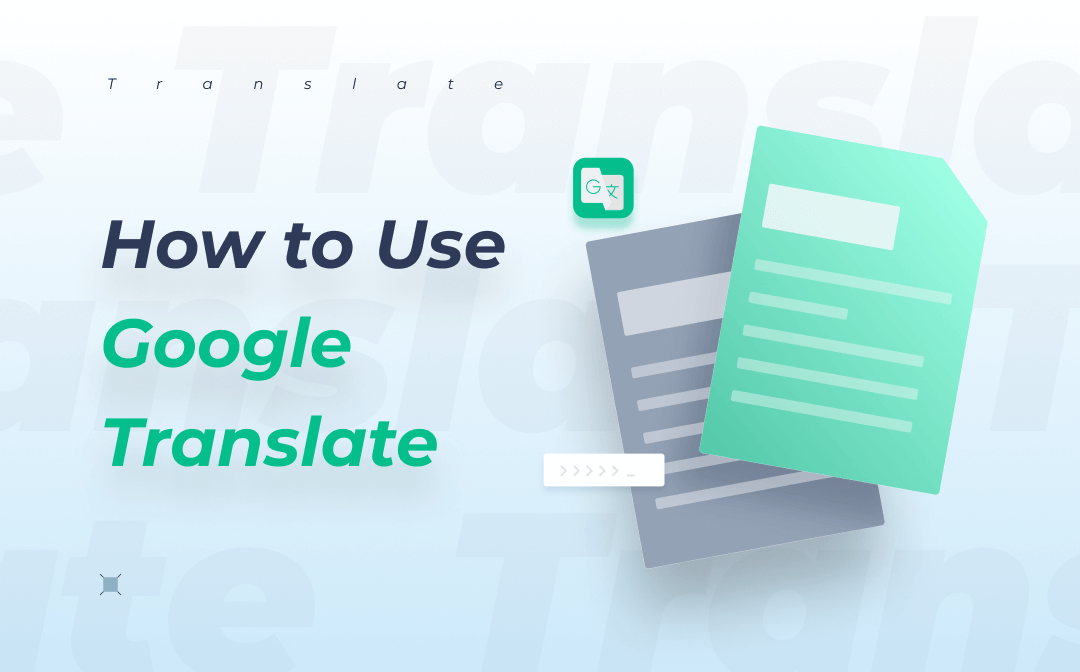 Many people use Google Translate to translate text online, but it can do much more than that, such as translating a PDF. We will cover some tips and tricks you may have never tried and now wish to master.
A Brief Look at Google Translate
Before we dive into how to use Google Translate, let's briefly look at a few facts.
Google Translate is a machine translation tool developed and launched by Google LLC on April 28, 2006, to translate text, documents, websites, and speech. As of 2018, it translates over 100 billion words every day. Till now, Google Translate supports 109 languages, enabling people worldwide to translate English to/from Spanish, French, Japanese, Chinese, etc.
The popular translation software has been a favorite of many developers and end-users for various translation needs. Now, let's start to learn how to get the most out of Google Translate.
How to Use Google Translate on Mobile
In this day and age, people are increasingly relying on their phones for work and communication. Google Translate enables you to translate words, phrases, speech and pictures on your Android or tablet, iPhone, or iPad on the go. All you need is to download the Google Translate app from Google Play and Apple Store.
Use Google Translate Offline
In case of traveling or working somewhere without a network, you may wish to learn how to use Google Translate offline. Open the Google Translate app on your iPhone and Android, navigate to the hamburger icon, choose "Offline translation" to download the language packs, and you then will be able to perform translation tasks offline using Google Translate. The Translate app can translate 59 languages offline, including English, French, Japanese, etc.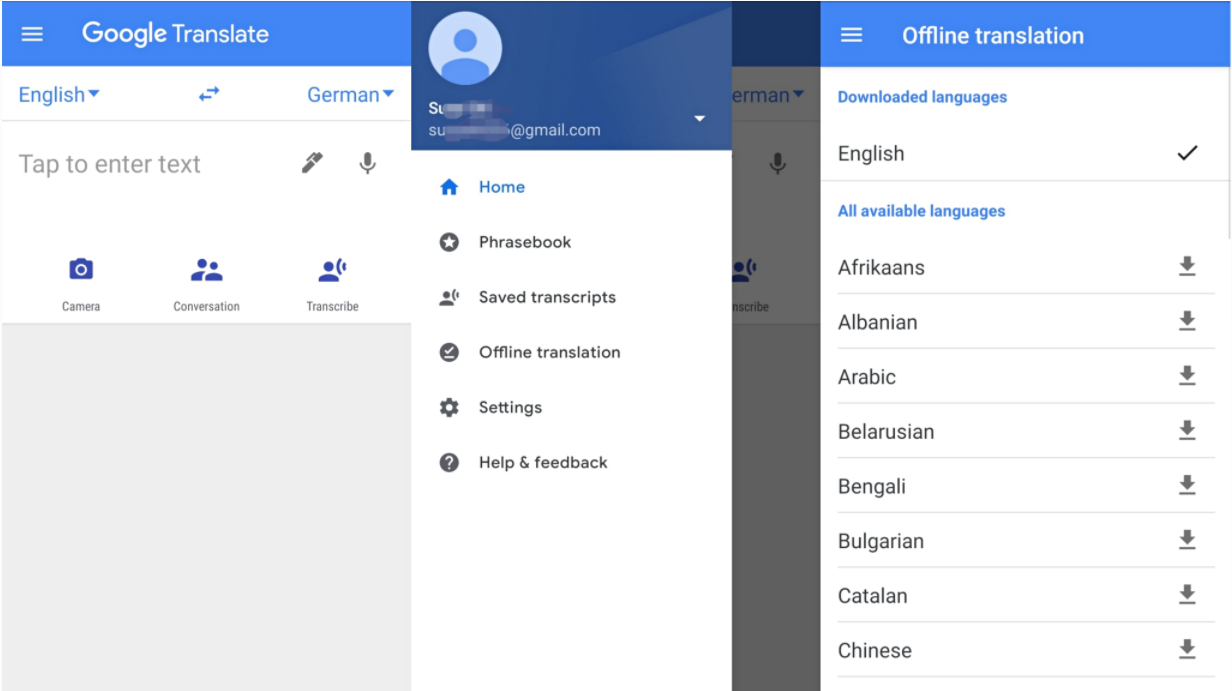 Text Translation and Share
The text translation feature of the Google Translate app supports 108 languages and will automatically translate the text you're typing in. A tip for using this feature is to hit the vertical three dots below the translation and choose "Share" to share the result on another application with somebody. It is very convenient because you don't need to copy and paste the text.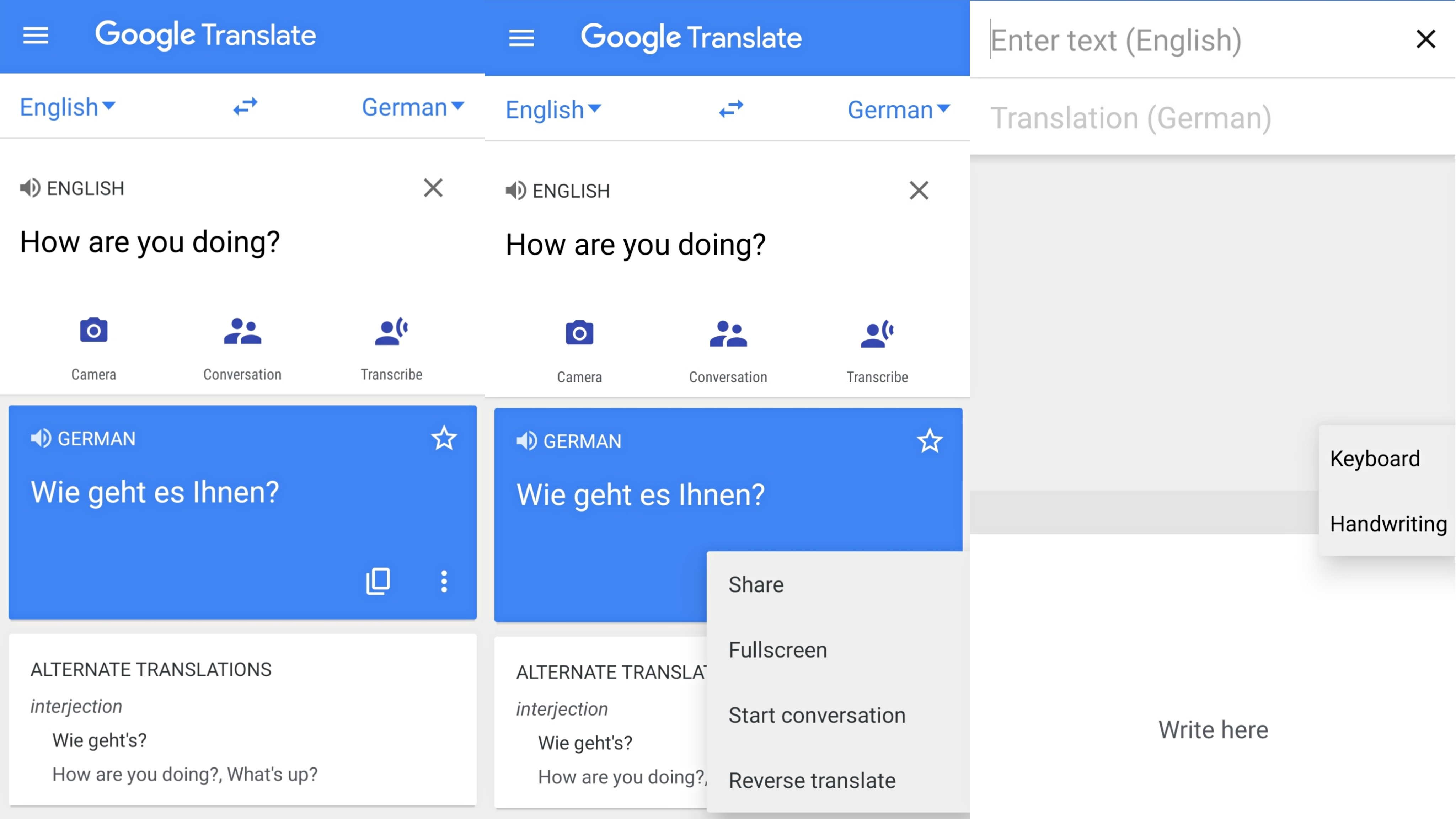 Besides, tapping the speaker icon above the translation will speak the translation aloud, which can help learn the pronunciation. In addition, the pen icon on the right side of the blank text box enables you to choose handwriting or a keyboard for typing your words.
Camera Translation
In terms of using Google Translate, one of the most useful tips is to recognize text in an image. Once you open the app, click "Camera" and there are "Instant", "Scan" and "Import" three options to select. The Google Translate app can translate a picture stored on your phone and what you currently see through your camera.
That is to say, you can get the text on a screen or handwritten notes translated as soon as you point the camera at them, more than just a photo you've already taken. The real-time picture translation feature supports 94 languages.
Conversation Translation
Speaking of how to use Google Translate, conversation translation has to be mentioned. The Translate app can translate between two languages on the fly. This function is undoubtedly a gift for travelers. The two-way conversation mode allows you to talk and listen to someone who speaks a different language.
To start a conversation, go to "Conversation" under the text box in the app, select source language and target language, and tap the microphone below each language to stop or start the translation.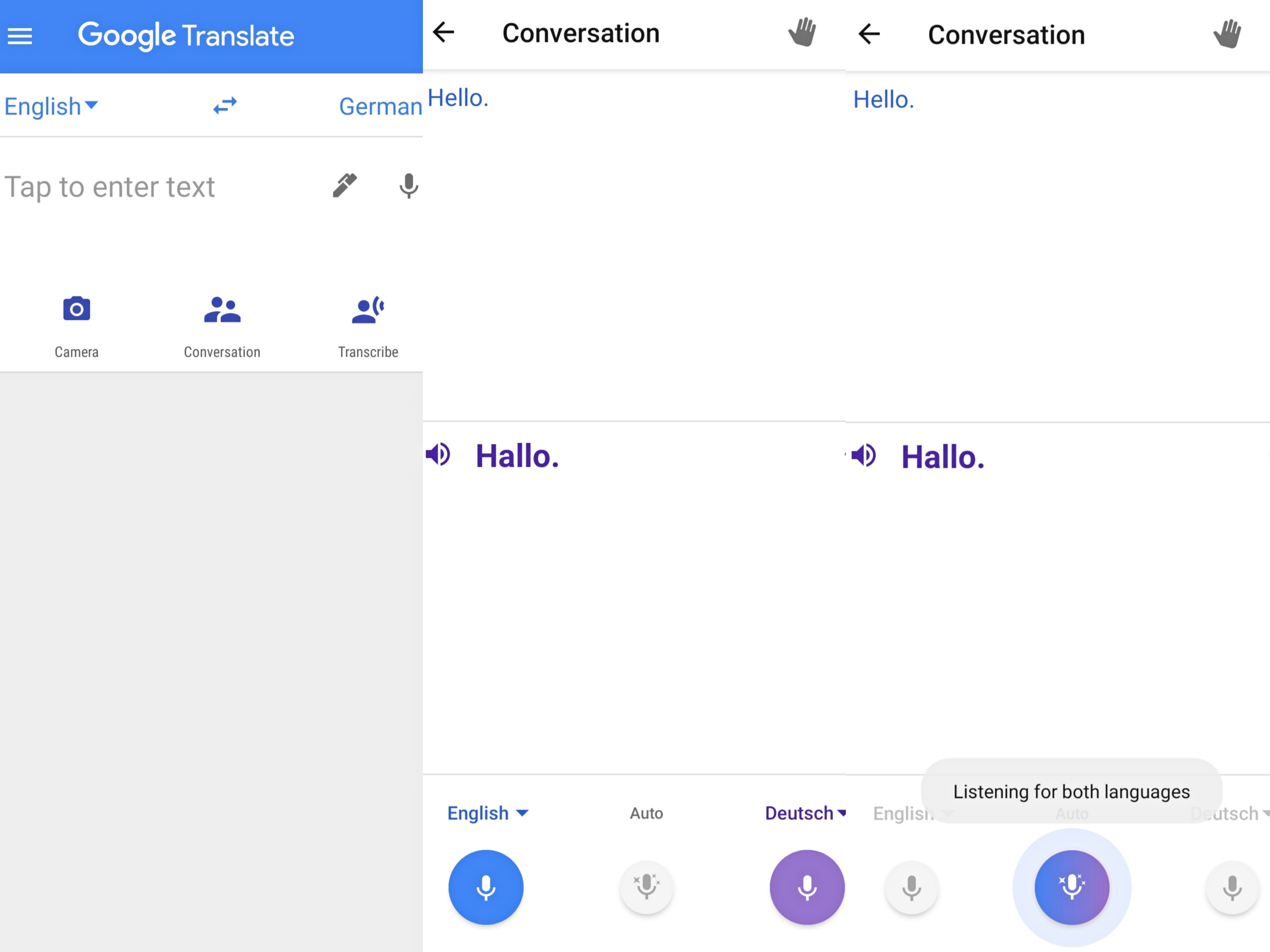 All you have to do is say what you want to tell others and the Google Translate app will automatically translate the speech to text and speak it aloud. You and the listener can use this function to take turns to make the conversations, and there will be no communication barrier.
Transcribe Audio
The Transcribe function is developed to continuously translate what someone is speaking to a different language in real time. It focuses on a long-form speech such as a lecture. After clicking the "Transcribe" on the Google Translate app, the speech-to-text engine starts translating your speech or audio to text or transcript.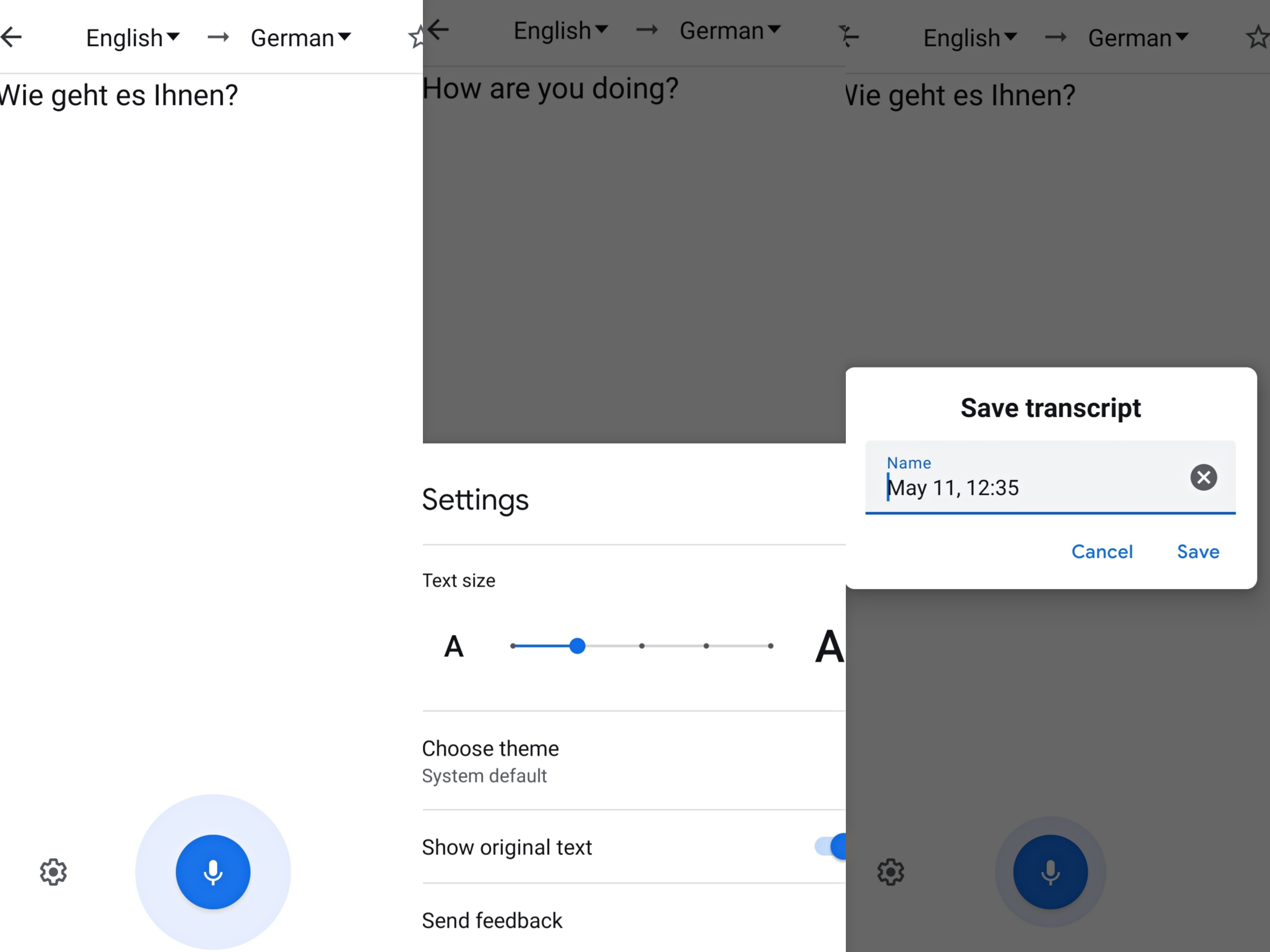 The Google Translate audio translator can translate eight languages, show the speech's original text, and change the font size. When you complete a transcription, you can tap the star icon on the top right corner to save the transcript and review it later by choosing the hamburger icon and "Saved transcripts".
How to Use Google Translate Online
Google Translate lets you instantly translate websites, documents, text and voices online in a web browser without downloading the application.
Translate a Website
By default, a Google Translate popup will appear when you open a web page not written in the default language of the Chrome browser, but you can use Google Translate to translate a whole website by accessing https://translate.google.com. That makes much sense, especially if you are using another browser.
To use Google Translate for website translation, here is a simple tutorial. When you enter into the Google Translate online page, tap "Websites" on the top, enter a URL of your website and click the arrow right beside the box to translate the whole website and open it in a new tab.
At the top of the website, you can switch between the two languages and change to other languages in the drop-down list. Google Translate allows you to choose "Detect language" if you are unsure which language it is.
Translate Documents
Google Translate is a free translator enabling you to translate documents online, translating any PDF, DOCX, PPTX, or XLSX document smaller than 10Mb. One thing to note is the online service can not work with scanned PDFs, and a PDF file must contain no more than 300 pages.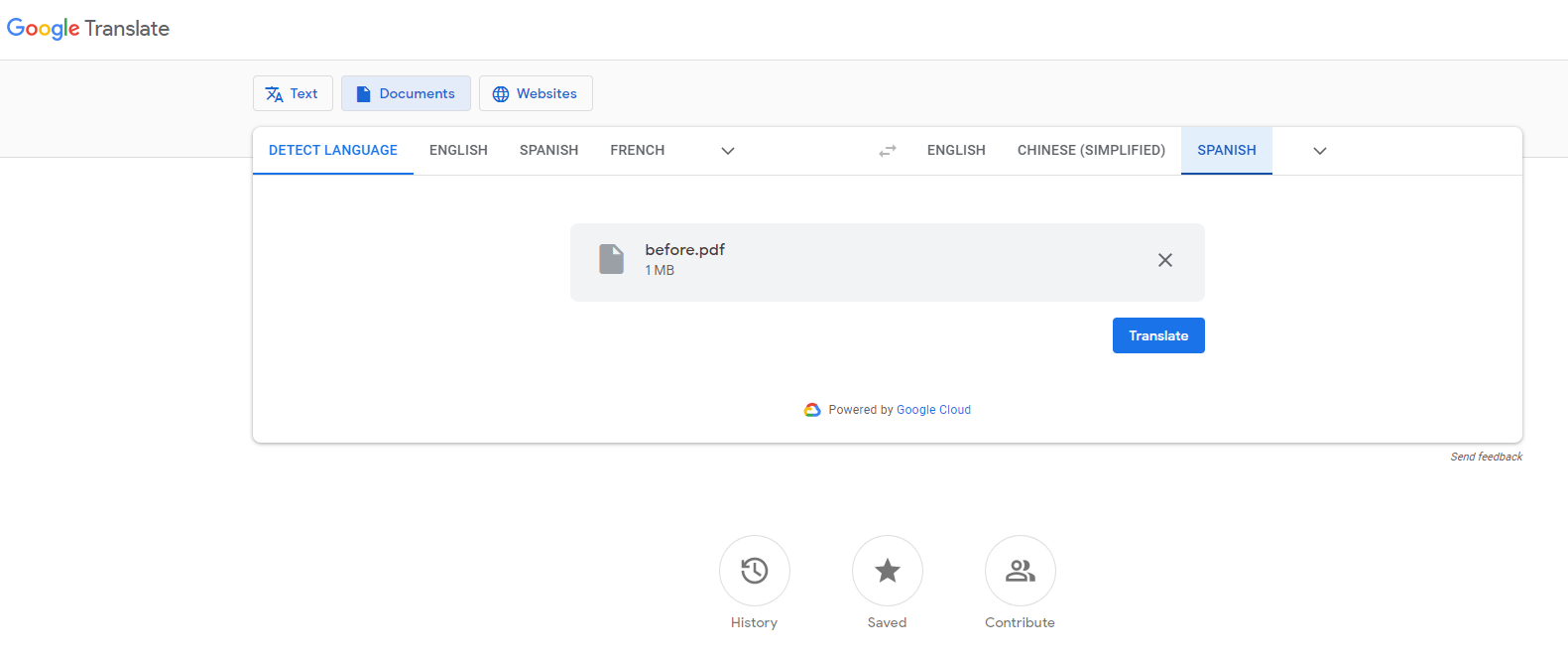 Here is how to use Google Translate to translate documents: Tap "Documents" > "Browser your computer" > "Translate" > "Download translation".
Translate Text and Voice
When using Google Translate, you can type the words and phrases by either a keyboard or handwriting. Clicking on the pencil icon within the text box will turn on the handwriting mode. Moreover, you can utilize the Google Translate "Translate by voice" feature to input a voice, translate the content and speak the translation aloud.
The voice translation requires a microphone on your device and your browser permission to use your microphone. It cannot detect language, so you need to select a specific language to enable the voice input.
Google Translate Plugin
If you don't want to open the online Translate page every time you need to translate a word or phrase, installing the Google Translate plugin or extension from Chrome Web Store is a good solution. The plugin can be added to Chrome, Microsoft Edge, and other major browsers.
Then how to use Google Translate to view translations as you browse the web? Just highlight the particular text and click on the Translate icon, and the plugin will translate for you immediately.
Website Translation Widget
If your website is a government, academic institution, nonprofit, or non-commercial website, you may be eligible to use the Google Translate Website Translator widget. This tool translates a website into over 100 languages with the latest machine translation technology. It is easy to be integrated into your website and is widely used by webmasters to reach more clients.
Conclusion
Google Translate has a wide range of functions and its derivatives that work on translating one language to another offline and online. It is like a personal interpreter to make our life and work easier. The software is still being improved, which now uses AI and machine learning, pivoting to deep learning methodology. It may bring us other surprises in the future.
Frequently Asked Questions about How to Use Google Translate
Can Google Translate translate an image online?
Google Translate cannot help translate images online on PC but translate text, speech, documents and websites. The Translate app is available for picture translation.
How do I use Google Translate offline on a PC?
Google Translate doesn't have a desktop version for offline use, but you can download the Google Translate app on iPhones, iPads, Android phones or tablets to use it without the Internet. If you really want to translate offline on your PC, you can search for and turn to a reliable Android emulator, install the Translate app, and download the language packs.