Embracing motherhood is one of the most precious gifts a woman can ever oblige in her life. If you are pregnant or planning to conceive, you must have heard about the birth plan from midwives to state your delivery preferences.
But if you are confused about a baby care plan and what goes there, you can get a little assistance from the birth plan template.
Here we are to help you from your prenatal needs to the labor room and even the postpartum ones to help you prepare for the entire process smoothly. Let us quickly learn about the baby care plans and why it is essential to make one for an easy arrival of your little bundle of joy.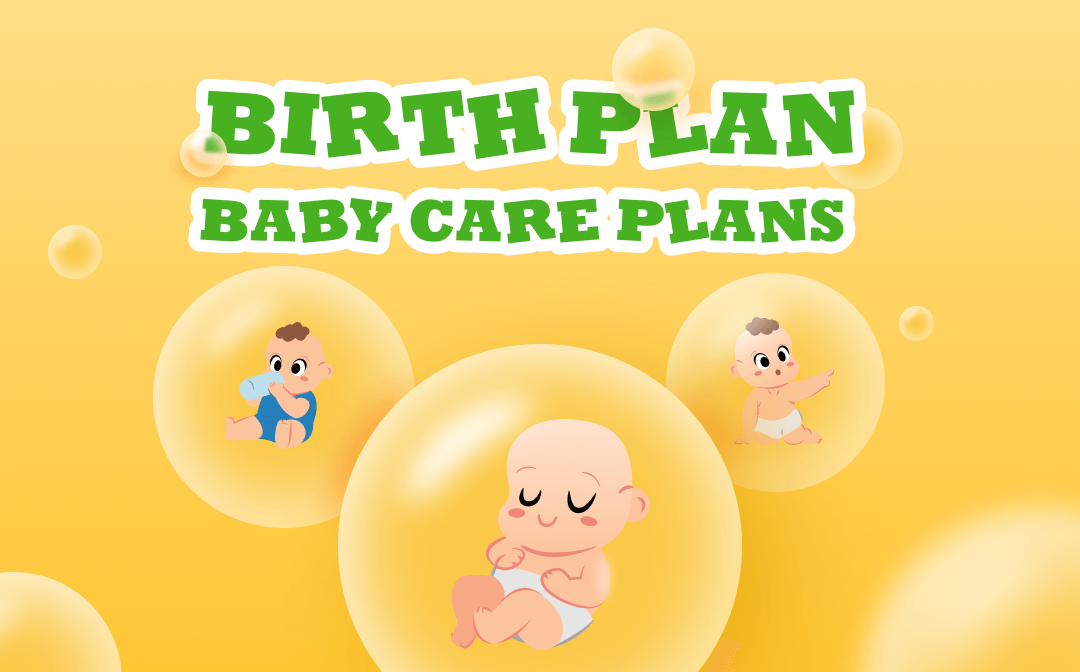 Birth Plan: State Your Preferences for a Healthy Delivery
Whether embracing a pregnancy or planning one, you must be aware of your birth plans. Now, if you are thinking about what a birth plan is, it summarizes how you need to be treated during labor and childbirth, and it is a plan that envisions your ideal labor settings and birth experience.
It can include your delivery and labor preferences, medical history, maternity service, etc. It eases the doctor to understand and take care of your pain management, procedures regarding the newborn, and postpartum care.
Why Should You Prefer Writing a Birth Plan before Delivery?
Every birth is a special and unique experience, especially for new mothers. A plan can surely assist you in making your experience a memorable one. A birth care plan helps you explore all the possible options of labor and help you make better decisions as well.
It helps you communicate with your doctors and health care providers and enables them to be prepared and make necessary arrangements for your preferences before your delivery.
Usually, a baby care plan can be thought upon in the second trimester and written in the third trimester of your pregnancy. But make sure to hand over your written plan to your healthcare team a week before the delivery due date so that the staff can make the necessary arrangements that best suit your needs.
Let us help you customize a birth plan by giving you some essential hints to include those concerns while making one.
Customizing Your Birth Plan for Your Needs: Easy Tips and Guide
Now create a plan that best suits you and your baby's care. A well-written plan can help your healthcare team treat you the way you have opted for. After all, you are the person who knows best about you.
Your birth plan may include various factors like:
Where do you plan to deliver your baby?
How do you plan to deliver your baby?
Who will assist you in the labor room?
Are you allergic to any fragrance?
Are you allergic to any medicines?
What are your lactation preferences?
Do you want any cultural needs to be followed?
Similarly, there can be more to this. Make sure to write everything down beforehand so you are all relaxed on your special day. For special assistance, you can also check some templates for baby care to get an idea of your inclusions. Let us review some readily available templates.
Birth Plan Template
A birth plan template can assist you with all the details you need to create and customize your preferences before heading towards the labor room.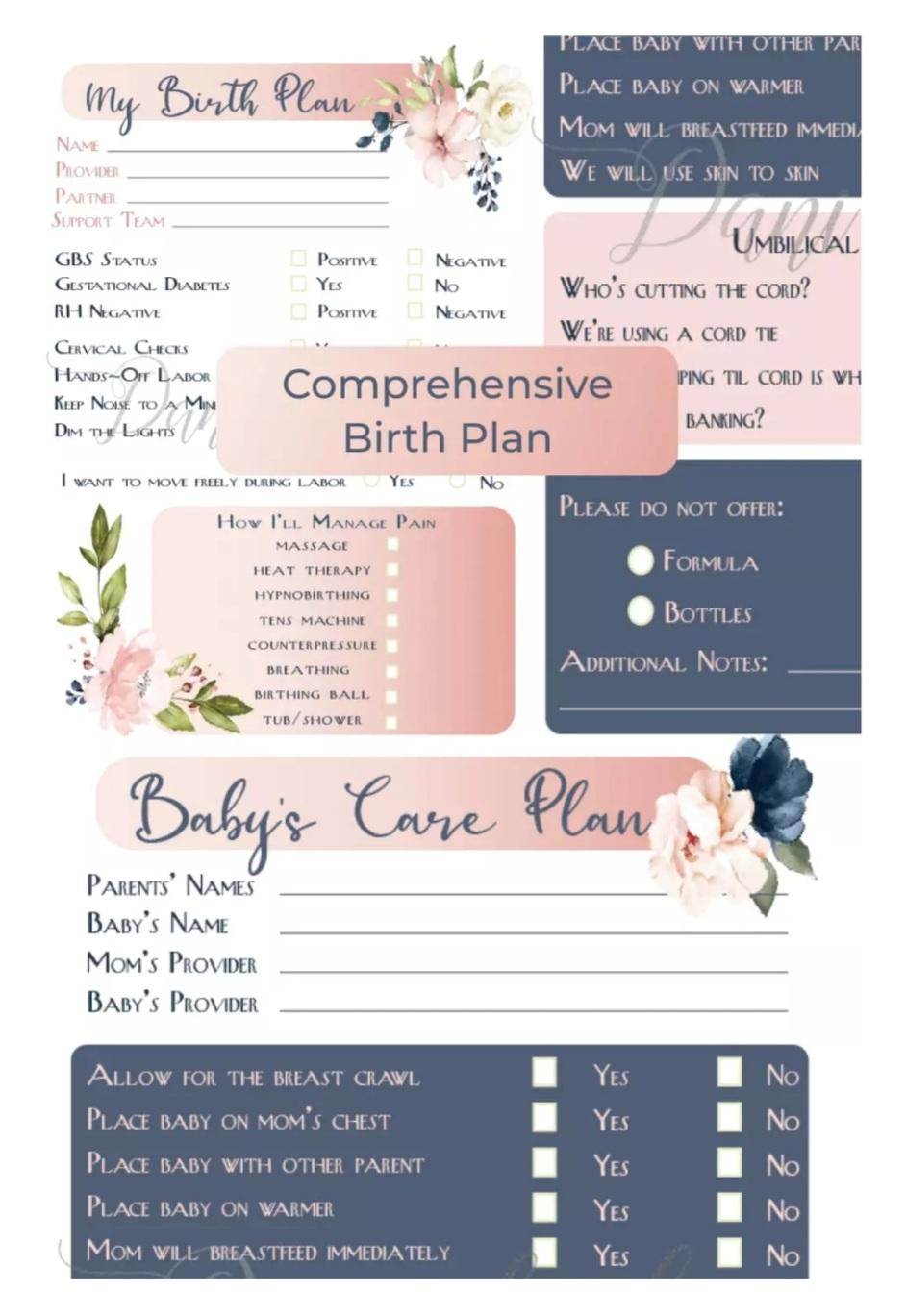 A few websites that can assist you in downloading templates regarding the childbirth and postpartum care include:
The bump
What to expect
NHS
Birth plan creator form
Pinterest
My birth plan
Baby center
Pampers
Baby chick
Mama natural
Parents
Gentle nursery
The templates are usually in PDF format, and you can easily access these files through a PDF Reader such as SwifDoo PDF software. This software also allows you to create your own plan the way you like it before heading for a blessed delivery.
With SwifDoo PDF Reader, you can edit and share your customized baby care plans with fellow expectant mothers and others looking forward to a healthy pregnancy and delivery. Stay tuned to know what all you can include while preparing your own baby care plan.
Essentials to Include in Your Birth Care Plan
A well-planned birth care plan helps the midwives and your healthcare team provide you with preferred facilities in the labor room. It supports you in making better and informed decisions regarding your health and care.
Before making a birth care plan, make sure to include these basic and essential points to help the maternity care workers serve with the best:
Birth companions
Environment and location of birth
Position for birth
Birthing chair/ birthing bed
Pain relief medication for labor
Delivery assistance
Delivery of the placenta
Delayed clamping of umbilical cord
Breast milk or formula milk
Special needs (in case of parent disability)
Postpartum needs
Once you have created your baby care plan successfully, you shall send its copies to your doctor and birthing attendant and retain one with yourself. But do you know that the pregnancy journey begins much before you even conceive?
The expectant mothers need to take excellent care of themselves to ensure that no complications arise in their pregnancy. And for that, the process starts even a quarter before conception. Let us quickly check how you can take care of a pregnant/ nursing mother depending upon the stage of pregnancy.
Tips to Take Care for Expected and Nursing Mothers
Childbearing is not an easy process, and it brings with it loads of responsibilities, especially for the new mothers. Following the right tips, you can maintain the expectant mother's good health and safeguard the child's health.
Prenatal Care:
Prenatal care begins even before conception. It ensures that you and your body are healthy and fully prepared to conceive and embrace a healthy pregnancy minimizing the risk of complications.
Regular doctor visits to identify any problems
Maintain a healthy diet
Ensure proper weight
Intake of folic acid supplements
Avoid toxic and harmful chemicals
During Pregnancy:
Once your prenatal care period is taken care of, you step on a beautiful pregnancy journey where taking a slightly extra care result in a healthy birth of your baby.
Schedule doctor appointments monthly
Routine tests and scans
Measure your weight gain
Monitor your blood pressure
Monitor baby's movement and heart rate
Engage in light exercise and meditation
Maintain a healthy diet
Mentally prepared for hormonal changes and mood swings
Take rest at frequent intervals
Prepare basic skills for baby care
Postpartum Care:
Postpartum care is equally important and often the most ignored as all the attention goes only to the little one. New and nursing mothers are also prone to infection and need to be taken care of the physical and emotional changes until their body heals.
If the delivery takes place through a C-Section, the mother should be given more attention and care, at least six to eight weeks, as the body takes a long time to heal. With proper care and attention, you can minimize the risk of baby blues and postpartum depression in nursing mothers.
Ensure that the mother takes proper rest
Maintain a nutrition-rich diet
Avoid any junk or fast food
Consume plenty fluids
Eat healthily
Maintain a healthy family atmosphere
Light exercise
Ensure a good vaginal care
Cope with body changes
Seek help whenever necessary
Let us quickly check what precautions you and everyone can take for your newborn baby and how to provide him with beautiful care.
Healthy Tips to Take Care of Your Newborn Baby
A newborn baby is sensitive to its environment. It is why doctors often ask the new parents to swaddle the baby from the neck down by wrapping a blanket snuggly to trick him feel his mother's womb. It helps the baby soothe, providing him with a sense of comfort and security.
Since a newborn baby's immunity is extremely low, he is prone to the risk of infection. Hence, you must take the utmost precautions to ensure your child's safety.
Never touch the newborn baby with dirty hands
Ensure the baby's room is free from any artificial fragrance and dirt
Keep the room sanitized
Visit the doctors for routine checkups
Support your baby's head and neck while lifting him up
Ensure infant massages
Learn the bathing basics
Monitor the sleep schedule
Maintain a feeding time
Don't forget to burp your baby
Always keep extra nappies in hand
Any amount of care is less for your newborn. But to start with, these tips can come in handy. As new parents, you can always seek help from your friends, family, and close ones to assist you in baby chores.
Before heading to the hospital, the essential thing that you cannot afford to miss is your hospital bag. Stay tuned to learn what you can include in packing one.
Pack Your Hospital Bags with the Essentials
It would be best if you also start packing your hospital bags as your due date approaches. You never know when you might have to rush to your delivery location. You must always keep your postpartum kit ready. Make sure not to forget these items apart from the ones you prefer to carry.
Hospital paperwork and documents
Baby's nappies, clothes, blankets, wipes, onesie, etc.
Mother's maternity clothing, shower essentials, massaging cream, etc.
Partner's clothing, toiletries, and daily essentials
General things for entertainment like music, chargers, snacks, camera, magazines, etc.
Apart from this, you can choose to carry anything that you feel necessary but make sure not to stuff your bags with any inessential things.
Final Words
Embracing motherhood is one of the best gifts one could ask for. When a child is born, a mother is also born. Remembering this, you should always resort to a birth plan to make the most of your birthing moments.
A baby care plan is not necessary to be written. Still, it is considered ideal to write one, so you can discuss your delivery concerns with your partner, doctor, midwife, and healthcare providers.
A birth plan template can surely assist you in making one yourself to help your healthcare team learn about your delivery and postpartum preferences.