Introduction:
In Too Late, Colleen Hoover said, "Love shouldn't feel like added weight. It should make you feel as light as air". This is a dysfunctional love story of an abusive relationship when one cries for freedom, and the other gets satisfied with dominance and control.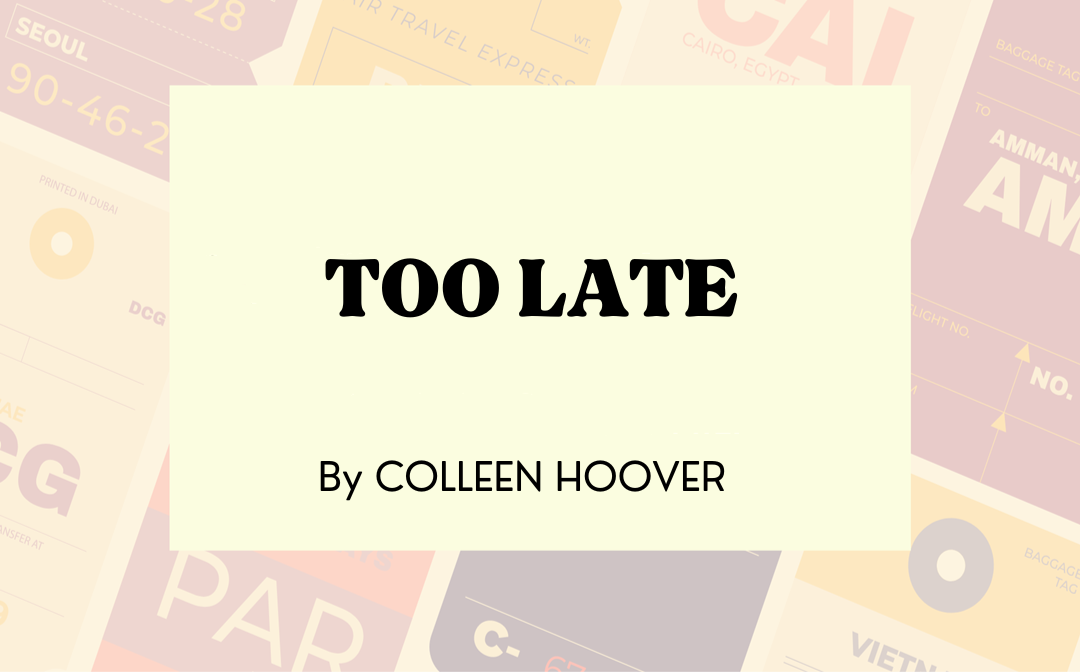 This new Colleen Hoover book focuses on the suffocation of a new-age compulsive relationship. However, despite being a dark love story, it's also a story that breaks all the rules of right and wrong to reach the right hearts. So, let's get a quick insight into the book Too Late by Colleen Hoover.
Too Late By Colleen Hoover: Book Info
Too Late by Colleen Hoover is a new-age creative combination of a love story and a young adult novelist, Colleen Hoover. She is a New York Times bestseller and better known for her fictional romantic novels. In this book, you can experience a variety of multi-genre contemporary concepts of abusive relationships, new-age romance, thriller, dark fiction, etc.
As this book has adult and dark content, it is not suitable for children or young teenagers; it is readable for 18 and above. If you don't want to compromise your reading quality, go for the revised new Colleen Hoover book - Too Late July 2023 edition with additional insights and inputs.
Too Late By Colleen Hoover Summary
In Too Late, Colleen Hoover tells the story of a young woman named Sloan who is stuck in an abusive relationship with an obsessed and controlling drug paddler named Asa. Sloan had no other option but to tolerate Asa's controlling obsession, as he was taking her brother's responsibility in return.
She was emotionally and financially dependent on Asa, who took every possible advantage of her by predicting and manipulating her every move. However, the story started to breathe from this suffocating relationship when a DEA investigator, Carter, came into Sloan's life to investigate Asa's illegal activity.
Soon, Carter and Sloan felt for each other, and he made her feel the way she never felt before. She said, "I guess that's the difference in being loved the right way and the wrong way. You either feel tethered to an anchor...or you feel like you're flying." To know how and where they head in this story, you should immediately open the Too Late by Colleen Hoover in PDF on your device for hassle-free and flexible reading.
Enjoy Too Late Definitive Edition PDF
Reading Colleen Hoover's Too Late makes you relate to her pain and suffocation as we all have been dealing with our compulsions in life. So, if you want to be a part of her struggle and desire for true love while swinging between right and wrong, you just read Too Late by Colleen Hoover in PDF version instead of carrying the heavy physical book. Many online PDF websites are available in the web world for your free online ebook reading experience.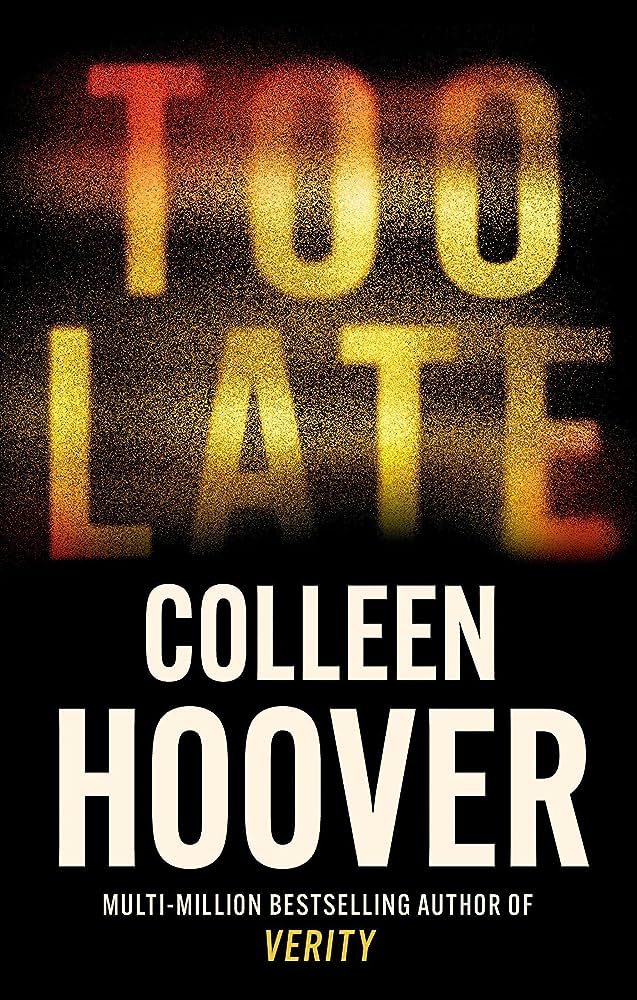 Too Late by Colleen Hoover
If you have ever purchased or downloaded Too Late from online ebook stores or any other sources, and are looking for a tool to convert the ebook formats in order to read on a selected device, you must download SwifDoo PDF to have a try.
It offers the most powerful functions for decrypting and converting any ebooks to PDF and ePub.
Or you can continue reading Too Late online.
However, if you like to read the Too Late PDF offline without the internet, you must download the PDF and open it on your Windows PC with a SwifDoo PDF reader for ultimate customization. While highlighting any paragraphs or lines, you can convert the entire PDF to audio format. You can try endless additions and alterations to your PDF with the SwifDoo program. So, let's see the steps to highlight your Too Late by Colleen Hoover in PDF.
Step 1: After launching the SwifDoo program on your PC, upload the Too Late PDF and head to the "Annotation" tab to select the "Highlight" option.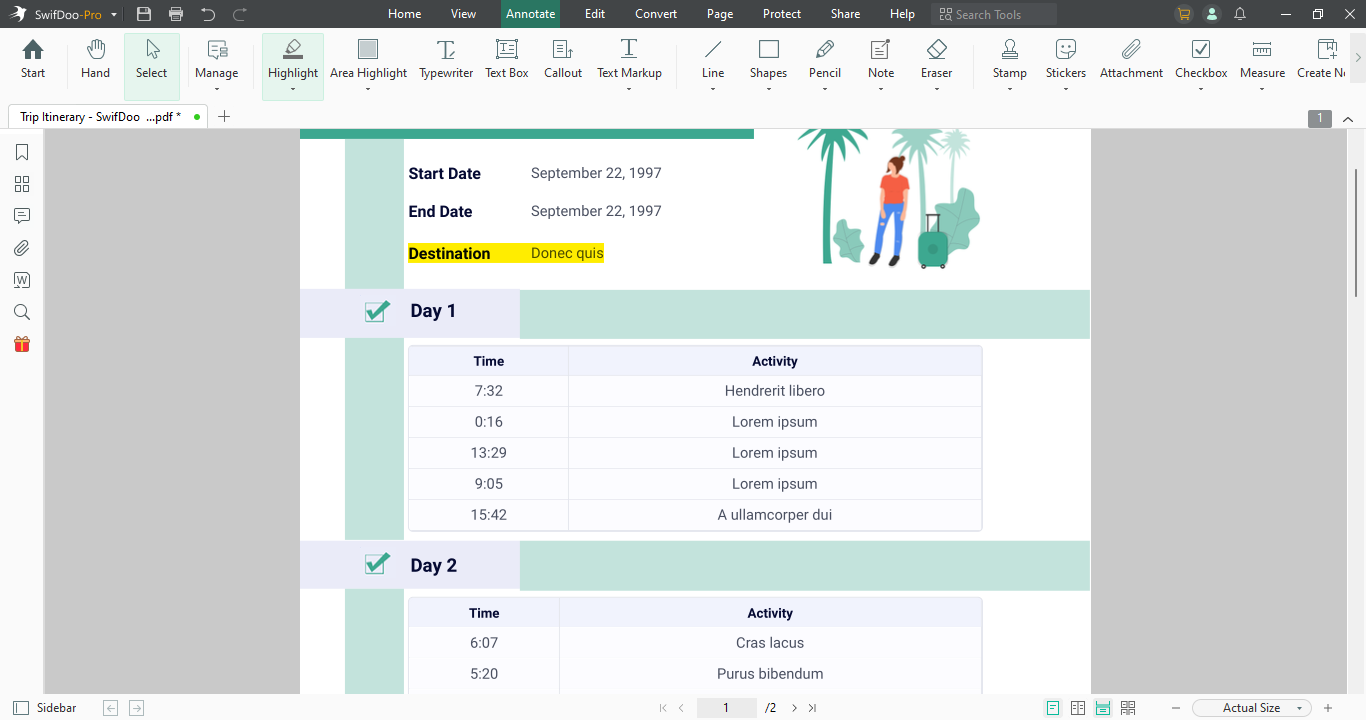 Step 2: Place your computer's cursor on the line or paragraph you want to be highlighted and hit the "Save" option to keep the changes.
Step 3: If you select any wrong portion of the PDF, you need to right-click on that area. Then, go to the upper left corner to select the "Delete" or "Undo" option. Your highlighted portion will be removed from the PDF.
Apart from highlighting, you can also try several other advanced customizations of the SwifDoo PDF reader. Let's look at some exclusive functions of this program.
With PDF viewer, you can read it loud, change display mode or theme, translate PDF, etc
Add/delete any part of the PDF while changing text color, size, style, etc. & inserting photos of hyperlinks to the PDF
Convert PDF from or to any format like JPG, PNG, Microsoft Word, Excel, etc
Customize PDF files in batch with low, medium & high option
PDF merger to combine multiple PDFs in one digital file to save space
Add any type of signature on the PDF to ensure your ownership of the documents
Conclusion
When you want to feel the realistic touch and crisis in a romantic novel, Too Late by Colleen Hoover is the best contemporary romantic book with versatile dimensions of love and emotions. From jealousy, insecurity, and abuse to passion, care, and sympathy, you can experience extensive emotions in this story.
So, if you want to cherish this story with its all emotion and dimension, Too Late by Colleen Hoover in PDF is perfect for your online or offline reading. To create a memory with your reading, try the SwifDoo program and keep close to your PDF book with your personal touch and creativity.