Happy Place is Emily Henry's latest-released book and opens the door to fiction, contemporary, romance, and chick-lit genre. Her romance novels are one of the best romance categories and manage to play the strings of your heart. Whether you are new to Emily's writings or have been following her work since her debut novel, The Love that Split the World (2016), she is a soul whisperer that travels you through unforgettable love stories.
We are here to help you with the plot and review of Happy Place to know what you'll be in for before settling with the book in your comfort zone. We'll also guide you through the Happy Place PDF to take the characters and storyline along with you everywhere you travel. Let's have a quick read!
contents
Introduction to the Author: Emily Henry
Emily Henry is an experienced writer and number one New York Times bestselling author of many hit novels like The Love that Split the World (2016), Beach Read (2020), People We Meet on Vacation (2021), Book Lovers (2022), and the latest-released Happy Place (2023).
Emily's books are more than just romance and infuse the elements of comedy with witty banter leaving you laughing out loud. She writes characters who are often off on some fun adventure and places emphasis on love, family, and friendships. All her novels are standalone, so you can pick any and start reading them afresh. As of today, Emily lives in Cincinnati and the part of Kentucky's Northern Ohio River region.
Summary of Happy Place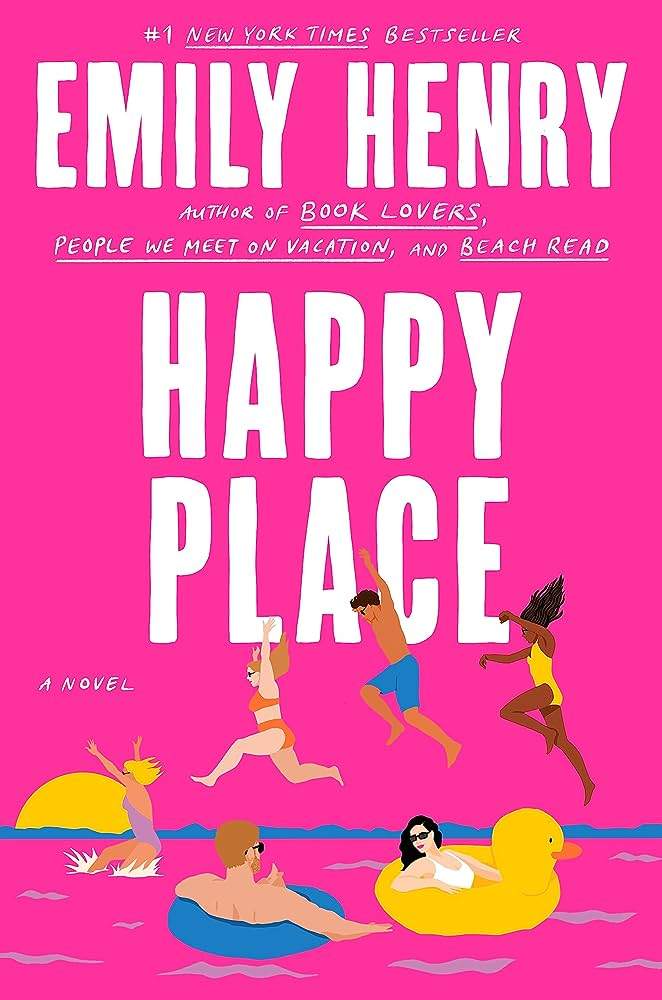 Happy Place is a novel about a perfect couple, Harriet and Wyn, who met in college and gel like salt and pepper and honey and tea but broke up six months ago for undisclosed reasons, and their friends are yet to know of their decision.
Harriet, Wyn, and their friends have shared the largest bedroom at the Maine cottage as a yearly getaway for over a decade for one week leaving behind their daily lives, enjoying their hearts out with wine, cheese, and seafood, soaking up the salty coastal air and find solace in each others' company.
However, this year is different as their cottage is for sale this year, and it is the last week they'll all have together in this place. Harriet and Wyn still want each other, and they don't want to break their friends' hearts, so they fake their relationship and pretend to be together still like all's well for their annual weeklong vacation to ensure everyone's happy around them.
But will it be easy for Harriet and Wyn to fake it for a week, especially before those who know them the best?
The whole plot is from Harriet's viewpoint, and Emily does a beautiful job of depicting the other characters' thoughts through their actions. The chapters are set in a way that narrates the story in the past and present to let the readers know how the friends met and camel together for a decade and what led to the separation of our protagonists, Harriet and Wyn.
Can you guess why they broke up, and will you support their reasons? Did they have a happy ending or take separate paths? These questions can only be answered when you dive into its excellent plot.
Read/Annotate Happy Place PDF
As a tech-savvy bibliophile who loves unlocking the potential of different genres of books, you may find solace in the power of PDF when reading eBooks. You can download the Happy Place PDF as it is portable and convenient, saves shelf space, and can be your best travel buddy on outings and commute without extra weight.
To read Happy Place PDF online, click the following Continue Reading button:
SwifDoo PDF can further assist you in opening and reading PDF eBooks through its advanced features, such as:
Allows users to listen to PDF eBook by reading aloud the PDF

Quickly adds bookmarks to eBooks

Document translation is available in multiple languages

Offers multiple reading modes for an immersive reading
Besides these features, SwifDoo PDF is a complete package and the ideal solution to deliver all PDF-related services like creation, conversion, merge/split, crop/compress, editing, annotating, and more. It lets you organize all your PDF documents safely.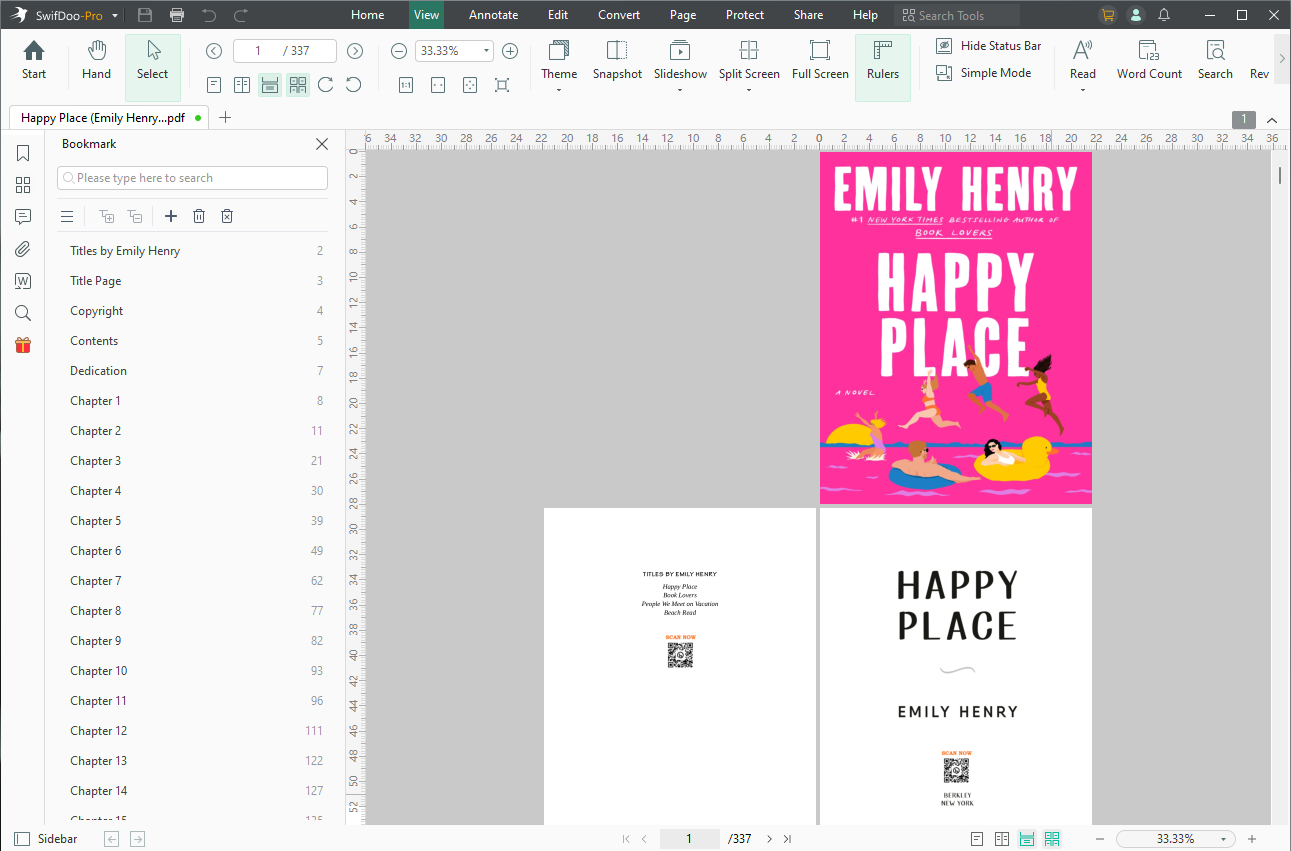 The Bottom Line
No one can describe the characters' feelings and emotions as Emily Henry. Her writings deeply penetrate your heart and status for a long time, even after its end. So is the case with Happy Place. This book introduces you to unique and lovable characters and gives a vibe as if they're one of your friends where you feel connected to them. You cannot miss it to raise your romantic standards. Grab a Happy Place PDF today and try SwifDoo PDF to access it on the go. Have fun!