Introduction:
To talk about love the book Everything I Know About Love explains its true perspective through the quote, "I am always half in life, half in a fantastical version of it in my head." Instead of being in love with someone, people tend to love the concept of love that they believe in. Even though this story is entirely based on finding love in multiple external relationships, the pure essence of love that completes you lies in self-love.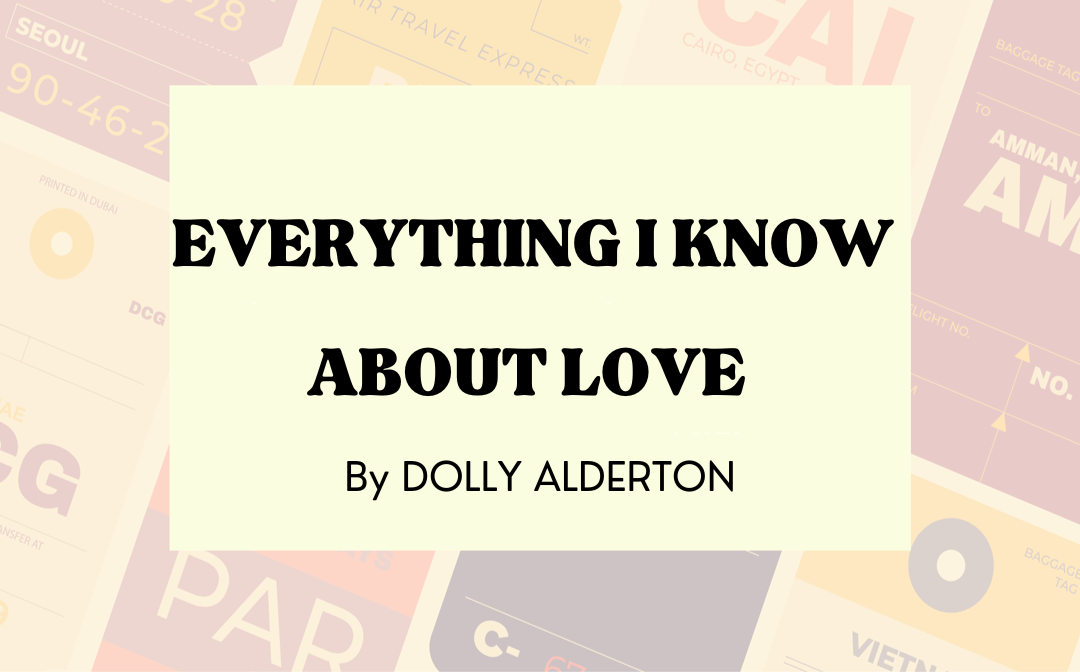 The feeling of love can't be framed in the stereotypical concept of romantic love; it could be driven by any relationship and its experience in your life. So, to introspect the core concept of love and its impact on your life, you must read the Everything I Know About Love PDF version repeatedly at your convenience, time, and device.
Everything I Know About Love: What is it
The Everything I Know About Love book is a memoir of the British author Dolly Alderton, who tries to portray the transformation of love from your teen and twenties to adulthood. Penguin Publications published the English language 368-page book on 1st February 2018. Teenagers and adults can read this book as it covers multiple genres such as memoirs, romance, nonfiction, feminism, self-love, autobiography, etc.
This book has received several prestigious awards, including the National Book Award for autobiography and the British Book Award in the Nonfiction Narrative Book of the Year category. It has also been translated into 20 languages; therefore, you can enjoy reading the Everything I Know About Love PDF in your native language on any device.
Everything I Know About Love: Author
The British author, podcaster, and journalist Dolly Alderton writes this book to share her personal experiences of being in love and realization of love. The memoir Everything I Know About Love by Dolly Alderton reflects her talent, matured thoughts, and self-evolution. She used to be a consistent columnist for The Sunday Times.
This is her debut book; after that, she has written two more books, Ghosts and Dear Dolly. In her first book, she focused on her personal experiences of relationships, female friendships, expectations from others, and many other things that changed the young-age concept of love. As a podcaster, she co-created & co-hosted The High Low with Pandora Sykes, covering all pop culture and current affairs.
Everything I Know About I Love: TV Series
In 2020, the book was adapted for a TV series. Everything I Know About Love show was produced for BBC in the UK and Peacock in the USA by Working Title Television & Universal International Studios. The screenplay was written by the author herself, and it was directed by China Moo-Young.
The seven-part series was aired in the UK on 7th June 2022, and on 25th August 2022, it will be streamed on Peacock service in the USA. The main characters, such as Maggie, is played by Emma Appleton, Birdy by Bel Powley, Nell by Marli Siu, etc.
Everything I Know About Love: Summary
The Everything I Know About Love book is a personal and emotional experience of the author's teenage thoughts and beliefs about love. In the Everything I Know About Love summary, you will witness how the protagonist, aka author Dolly Alderton, evolved with her multiple relationships with her male and female friends.
At the beginning of the story, Dolly becomes friends with Farly, who supports her when her teachers mock her. Gradually, their relationship becomes stronger, and Dolly feels more comfortable with her female friends than her male companions.
Even though Dolly tries to fall in love several times with many boys, she breaks up with them and eventually finds peace and love in her relationship with Farly. Therefore she says in the story, "Nearly everything I know about love, I've learnt from my long-term friendships with women."
Read Everything I Know About Love PDF Book
To read Everything I Know About Love, you don't have to carry a heavy physical copy of the book. Instead, the Everything I Know About Love PDF would be the smart choice for flexible reading and instant sharing. To work on your self-developing process, if you want to keep close to Dolly Alderton's Everything I Know About Love, you can have a free online PDF version.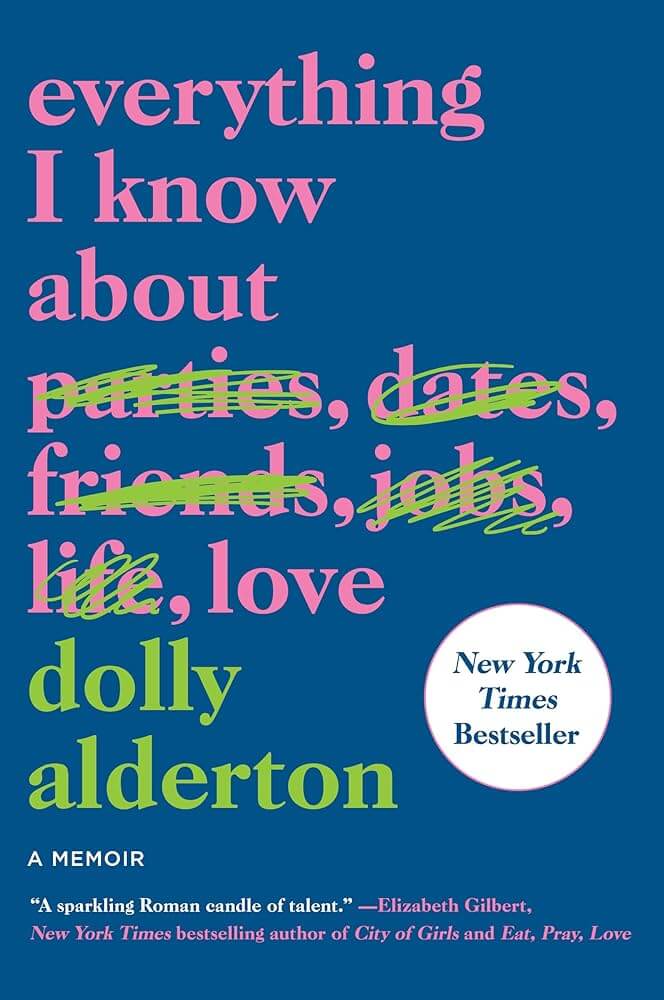 Everything I Know about Love by Dolly Alderton
If you have ever purchased or downloaded Rich Dad Poor Dad from online ebook stores or any other sources, and are looking for a tool to convert the ebook formats in order to read on a selected device, you must download SwifDoo PDF to have a try.
It offers the most powerful functions for decrypting and converting any ebooks to PDF and ePub.
Or you can continue reading Everything I Know about online.
However, if you feel like adding some personal touch to your ebook reading experience, you can download the free PDF book for maximum customization. SwifDoo PDF reader offers ultimate PDF customization under one roof. Let's see the most advanced and flexible PDF viewing function of SwifDoo.
SwifDoo Viewing Features
Access PDF like a pro with multiple display modes like full-screen, dark mode, presentation mode, etc
Text-to-speech function to read the PDF loudly
Translate your PDF into your desired language
You can check the PDF word count of the lines, pages, paragraphs, etc.
How to read PDF aloud with the SwifDoo program
Step 1: After opening the SwifDoo program on your Windows system, head to the "SwifDoo" option at the top left side of the app & then select "Open" to open your desired PDF file.
Step 2: In the Home tab, select the triangle symbol under the "Read" option. Select the language with which you want to read your document.
Step 3: You can select the option of reading the entire page or the current page or drag the specific text. Next, the PDF voice reader will convert text to speech and read the PDF loudly.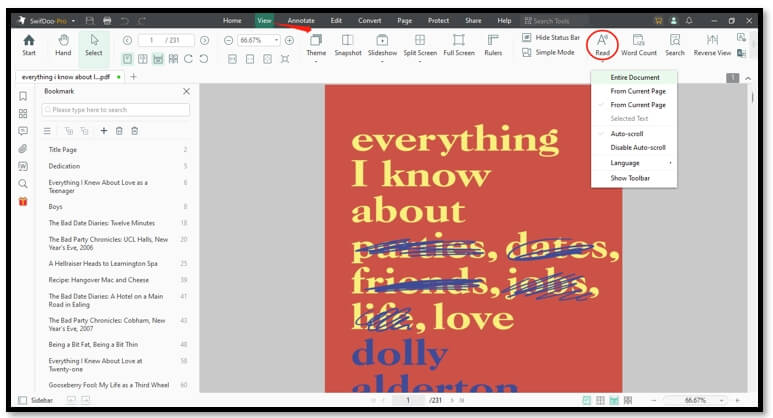 Step 4: Under the "Read" drop-down list, select the "Show Toolbar" option to adjust voice volume, pitch, and speech. Using this toolbar, you can also resume or stop reading.
Final Word
Reading the Everything I Know About Love book will be a thought-evoking and life-transforming experience in realizing love's real meaning. One-time reading is not enough to introspect this book with your interpretation.
So, you must try the online or offline reading of Everything I Know About Love PDF for your all-device reading anytime. With SwifDoo's assistance, you can customize your offline PDF reading according to your priority and specifications.