Introduction:
When dealing with a PDF written in a foreign language, you may need to translate it to Croatian for better understanding. However, not all PDF editors are equipped with the translation feature, even the popular PDF software Adobe Acrobat. Hence, here comes the problem: which tool lets you translate PDFs to Croatian effortlessly?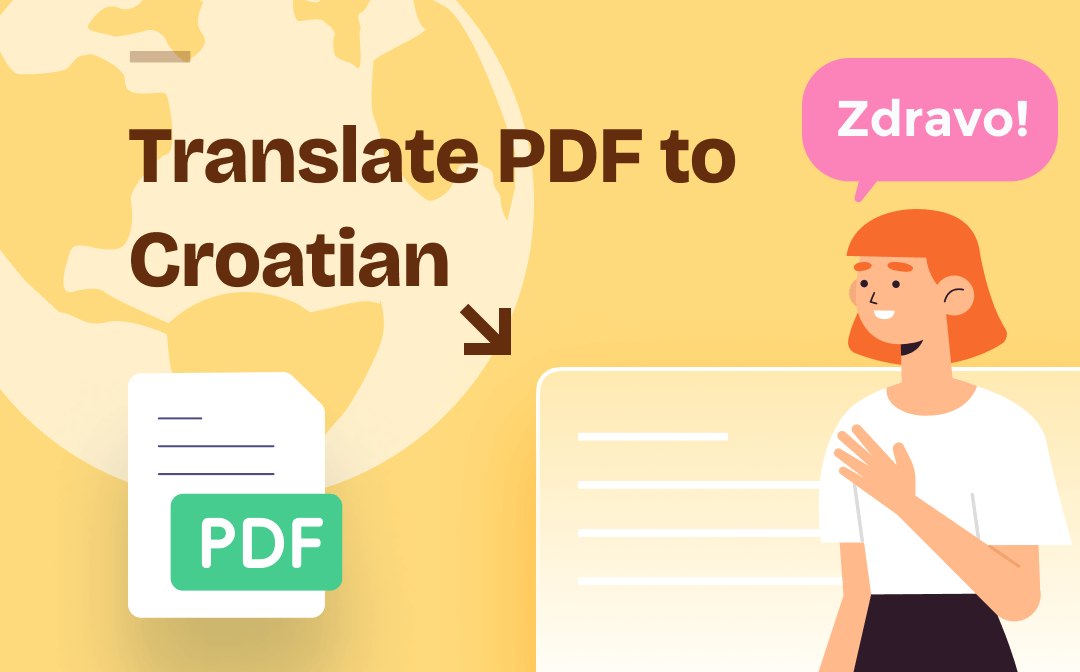 To solve this problem, this article does a quick write-up on how to translate PDF files from English, German, Spanish, and any other language to Croatian. Expert PDF translating programs and translating sites like SwifDoo PDF are introduced. Let's explore how to use them to translate PDFs to Croatian with accuracy!
Translate PDF to Croatian in SwifDoo PDF (Best Pick for Win)
SwifDoo PDF provides two PDF translation tools to help you view a PDF smoothly and efficiently. The Quick Translation and Document Translation features help you accurately translate PDF text, with over 100 languages that can be recognized. In addition, this professional Window-based PDF application also provides various viewing modes to let you enjoy a more comfortable reading environment.
Translate to Croatian While Reading
The Quick Translation tool enables you to understand the PDF text in Croatian while reading the file in the original language. This is useful for students who are learning a foreign language or PDF users who need to annotate the original PDF text. This feature allows you to flexibly select the words, sentences, or paragraphs you want to translate.
Follow the instructions below to translate a PDF to Croatian from any other language:
Step 1: Right-click on the PDF and choose Open with. Select SwifDoo PDF to open the file;
Step 2: Navigate to View and tap Quick Translation to enable the translating feature. Select the text you want to translate;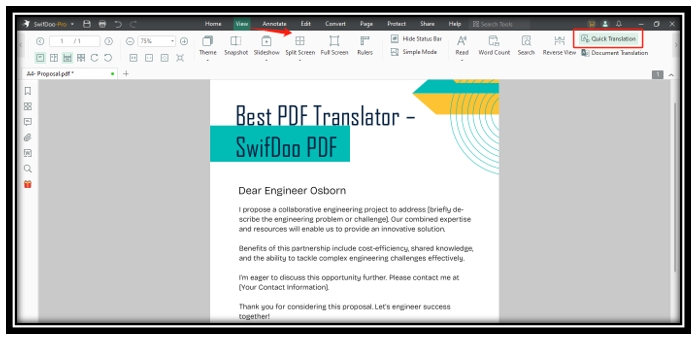 Step 3: In the pop-up window, choose the source language and set the target language as Croatian. The text will be translated to Croatian in seconds.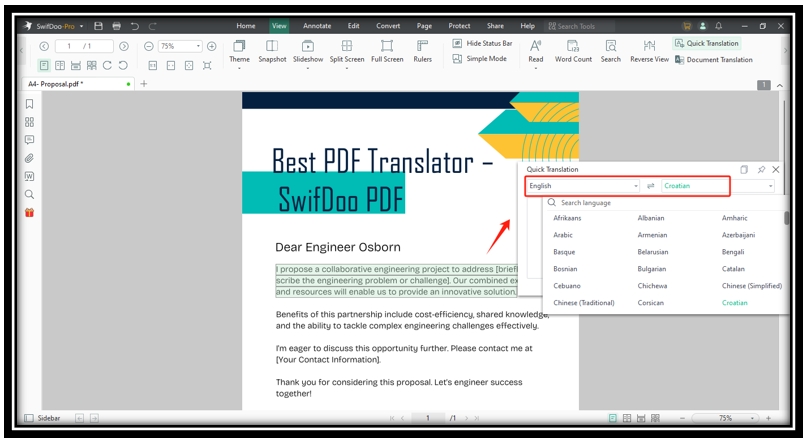 Convert PDF File to Croatian
If you want to directly translate the entire PDF file into Croatian, Document Translation is the most suitable feature. The tool can auto-detect the source language of the uploaded PDF and perform translation to Croatian. The OCR software will be applied to scanned or image-based PDF files, which removes the hassle of taking extra steps to make the PDF editable.
Read on the walkaround on how to translate PDFs to Croatian from English, Italian, and other languages:
Step 1: Run the PDF translator on your PC;
Step 2: Under the Home button, click Document Translation;


Step 3: In the Document Translation window, tap Open File to import the PDF file and select the output language as Croatian. Press Translate to Croatian to finish the task.


Translate PDF to Croatian in PDF Reader Pro (Mac)
PDF Reader Pro has the ability to translate PDFs to Croatian from English, Spain, Germany, and other languages with accuracy. It conducts translation word-by-word or sentence-by-sentence. Editing and annotating are also supported in this PDF editor for Mac. However, an additional scanned PDF translator is required if you need to translate an image-based PDF to Croatian.
Here are the steps you can follow to get your PDF translated to Croatian accurately on Mac:
Step 1: Open a PDF in this PDF editor and select the text that needs translation;
Step 2: Right-click on it and choose Translate from the drop-down list;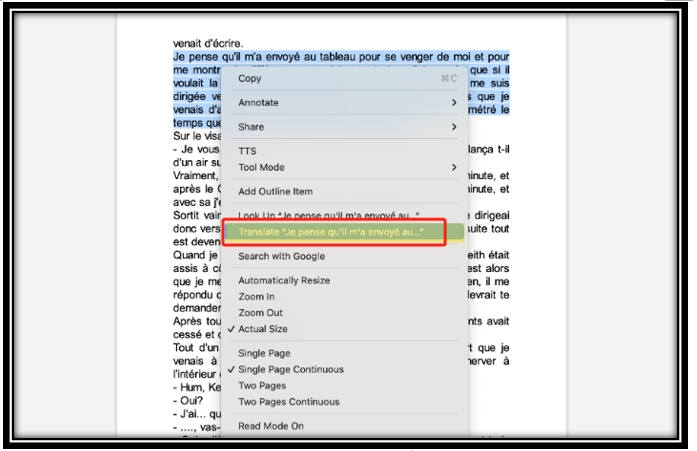 Step 3: Click on the up-and-down icon to specify the input and output languages. It performs the translation from English or other languages to Croatian.
Translate PDF to Croatian in ChatGPT (Online)
As a surging AI-powered technology, ChatGPT shows great performance in conversation, text generation, and even translation. This large language model-based chatbot allows you to translate text to Croatian in seconds. Thanks to its powerful learning algorithm, the site generates translation in a more natural conventional way. You can just copy the text from the PDF file and paste it into the ChatGPT chat box.
Discover how to translate a PDF to Croatian using ChatGPT:
Step 1: Open the AI-powered translator and log in;
Step 2: Copy and paste your desired PDF text into the text box and ask ChatGPT to translate it to Croatian;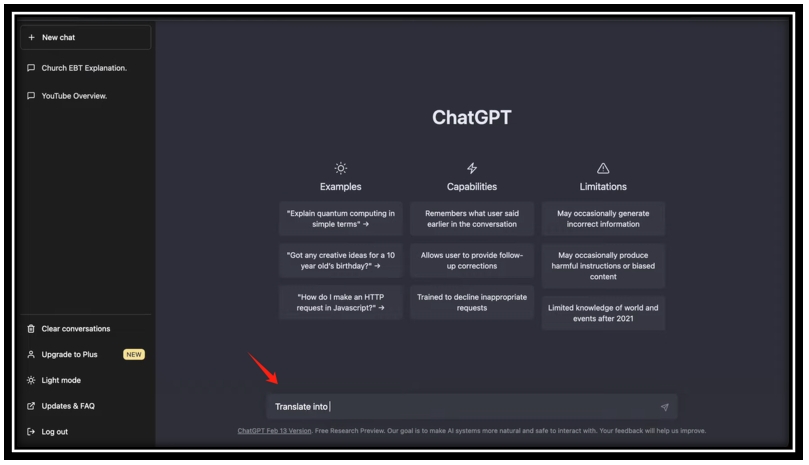 Step 3: The AI will translate the text from English to Croatian.
Translate PDF to Croatian in Translatorbox (Online)
Just as its name implies, Translatorbox is a proficient document translator excelling in converting various languages into Croatian. Word, PDF, Excel, and PowerPoint documents are accepted as the sources to translate from English, Italian, and Spanish to Croatian. The platform has the OCR software that will be automatically applied when translating a scanned PDF.
Take a look at how to translate a PDF to Croatian online for free with this PDF translator:
Step 1: Go over to the website and tap on the designated area to upload your PDF;
Step 2: Select the source and target languages;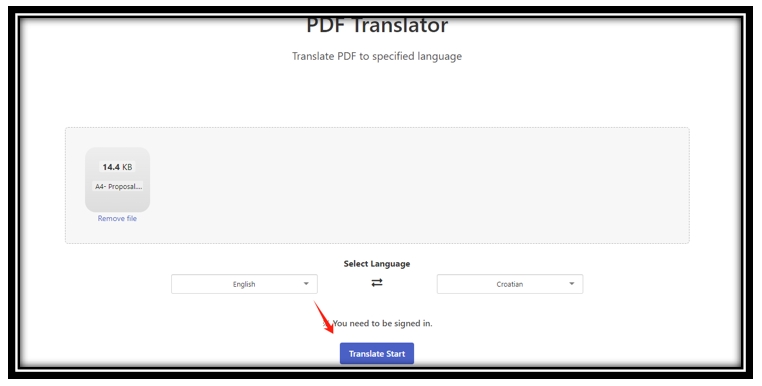 Step 3: Press Translate Start to translate from English to Croatian.
To Sum Up
Need an accurate and quick translation to Croatian for your PDFs? This post has summarized the best solutions. With the 5 tools, it is a five-finger exercise to translate PDFs to Croatian at the least cost.
If you need to edit or annotate the original PDF files, SwifDoo PDF is the optimal choice to increase your efficiency. In one program, you can finish all the needs related to PDF translation, reading, annotating, and editing.