Introduction:
A
PDF splitter
is a software application, app or tool that lets you separate or
split a PDF document
into individual pages or several smaller files. It is a must-have when you want to cut a few pages out of a PDF or are struggling with sending a large PDF to some platform. Whatever reason you need such a tool, it is important to know which ones are the best.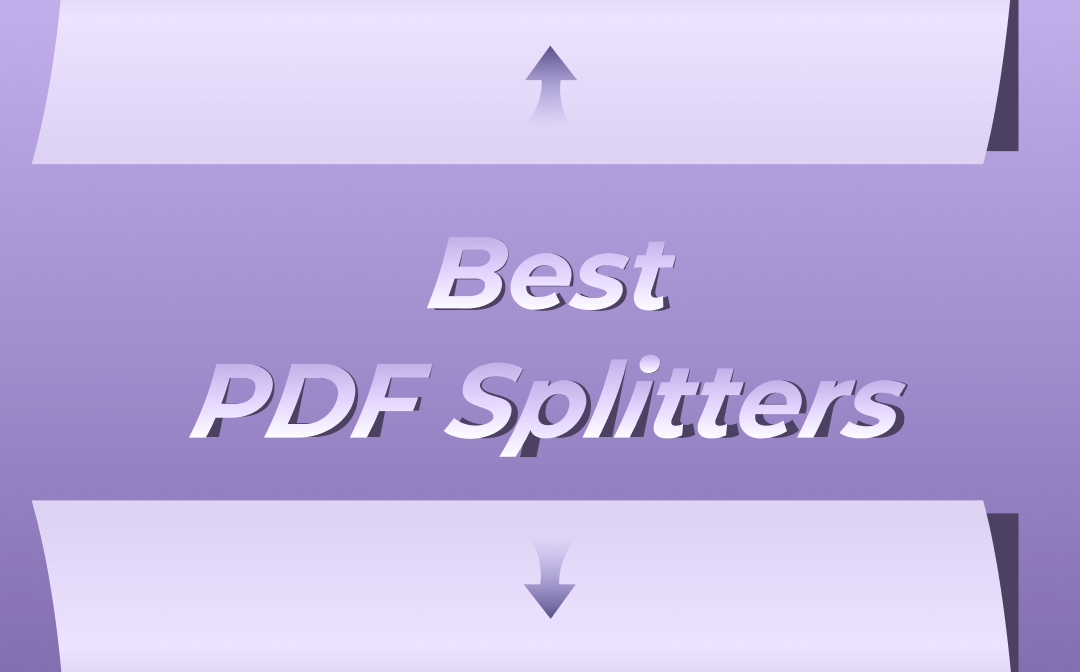 There are tons of apps or software developed to split PDF pages on the market, but an efficient, powerful, and simple one will save your time and energy. This post has compiled the top 9 PDF splitters for Windows, Mac, Android, iOS, and online use. You can try, compare them and choose what you like most.
SwifDoo PDF (Windows)
Adobe Acrobat Standard DC (Windows)
Icecream PDF Split & Merge (Windows & Mac)
PDFsam Basic (Windows & Mac)
Preview (Mac)
Kami Split and Merge (Online)
PDFs Split and Merge (iPhone)
PDF Utils (Android)
Google Chrome (Web browser)
SwifDoo PDF
SwifDoo PDF is a compact and all-inclusive PDF software application that can act as a robust PDF splitter for Windows users. It provides three ways to evenly split PDF pages into several parts of similar size, save every X page as a PDF, and separate PDF pages by page number and range. SwifDoo PDF helps split a large PDF into multiple PDFs and batch splitting.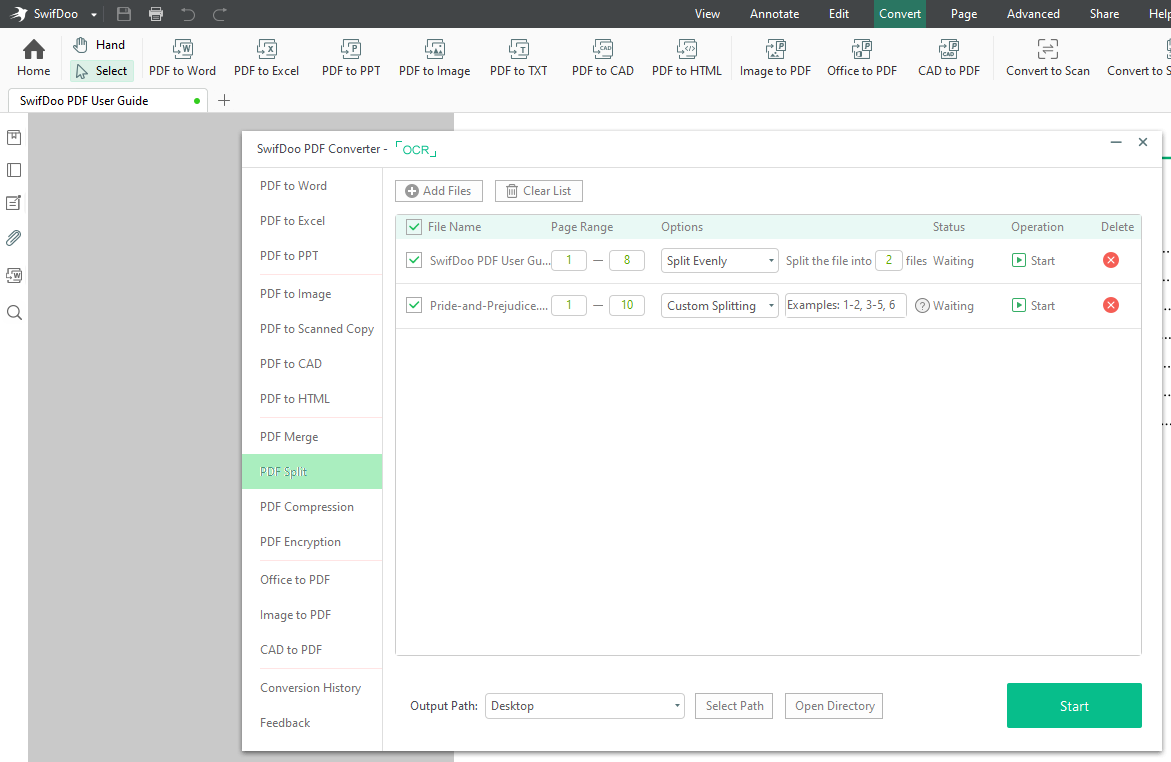 In many ways, SwifDoo PDF has been considered the best PDF splitter by many users. It makes the hassle of splitting PDF documents a thing of the past. SwifDoo PDF aims to help individuals and businesses address almost all needs for manipulating PDFs, including re-arranging, compressing, converting, editing, and cropping PDFs. Notably, it is both a PDF merger and splitter, letting you merge PDF files when required.
Pros:
One-stop solution to PDF-related needs with 50+ features
Batch split, merge, convert, compress PDFs, etc
Multiple splitting modes
Cons: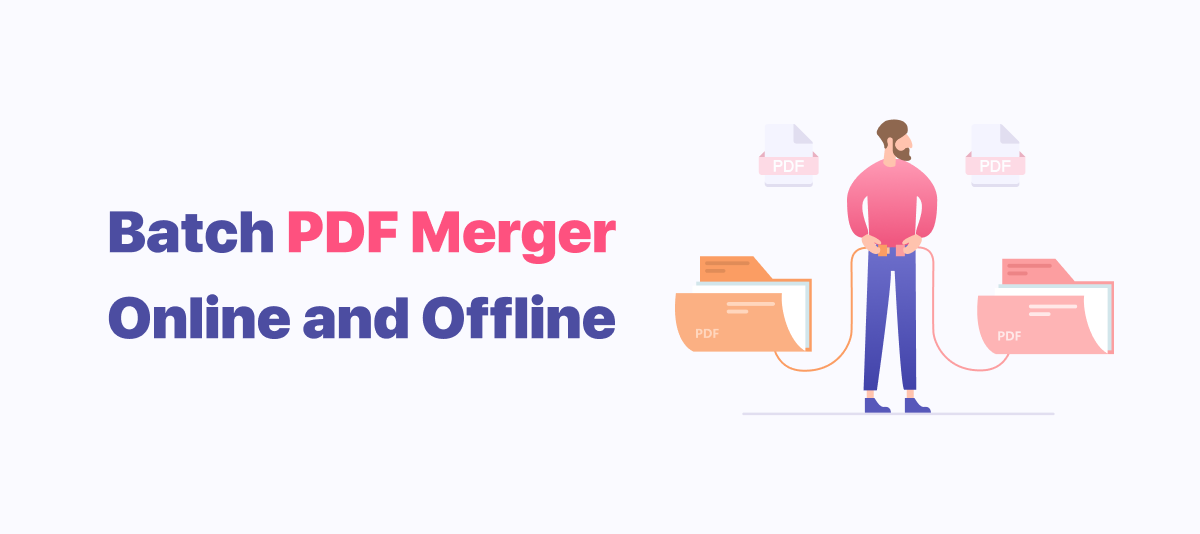 Top 5 PDF Mergers that Worth Trying in 2022
Merging multiple PDFs together is convenient for file sharing. Check out how to rearrange PDF pages and combine them into one document for free.
READ MORE >
Adobe Acrobat Standard DC
The top star PDF software product, Adobe Acrobat Standard DC, comes with an excellent PDF splitter. It lets you split a PDF by your desired number of pages and split multiple files. The Windows-based desktop application has a full set of tools enabling you to create, convert, edit, sign PDF files, and more. Stable performance and rich features are the main advantages of using the Adobe PDF splitter.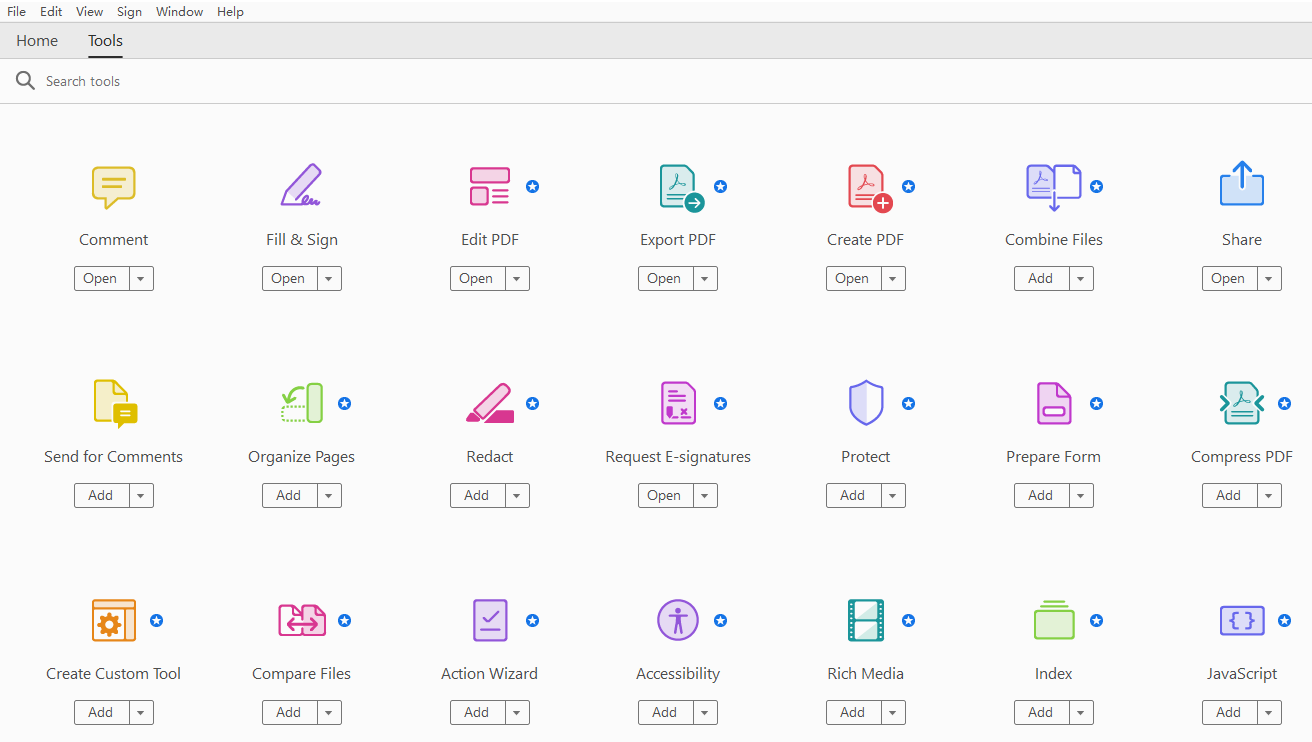 Pros:
Fast PDF splitting, editing, and sharing via Cloud
Ability to digitally sign PDFs
Reliable and fully-fledged software
Cons:
Significantly more expensive than many other similar software (yearly plan at $12.99/month)
Big in size (about 1GB)
Icecream PDF Split & Merge
If you are questioning how to split a PDF into multiple documents without Acrobat, take a look at Icecream PDF Split & Merge. It is a dedicated PDF splitter and merger that you can free download on your Windows and Mac (Windows 10/8/7/Vista/XP, Mac OS X). The software has abilities to save every PDF page as an individual file, split a whole PDF into groups of pages or custom page ranges, and delete unwanted pages.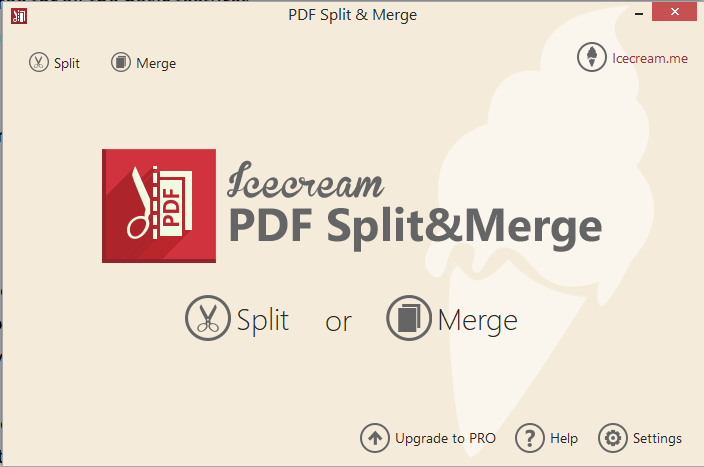 The free service of this software has some limits on file size and quantity. You can combine up to 3 PDF documents and split no more than 20 pages from a PDF.
Pros:
Tiny PDF file splitter taking a small footprint on the computer with a size of 19.0 MB
Compatibility with Windows and Mac
Simple-to-use interface
Cons:
Only two features and less powerful
PDFsam Basic
PDFsam Basic, also known as PDF Split and Merge, is a free and open-source PDF desktop application available on Windows, Mac OS, and Linux. The freeware allows users to split, merge, rotate, and extract PDF pages. As a free PDF splitter, PDFsam Basic enables you to split a PDF in 3 ways, namely "Split after Every page/Even pages/Odd pages", "Split after the given page numbers", and "Split by every n pages".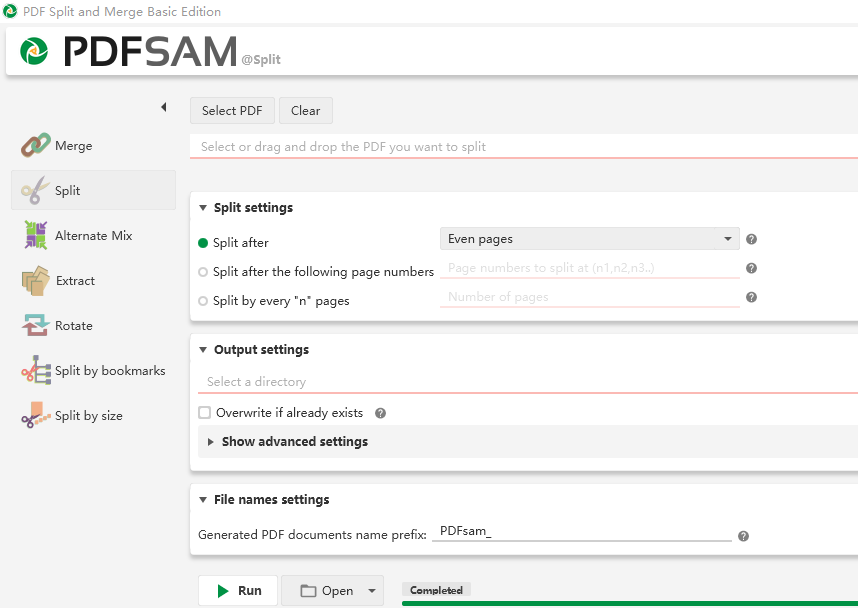 The amazing thing about the open-source PDF splitting software is that it can divide your PDF pages at bookmark level or into files of a given size. You can upgrade it to PDFsam Visual or PDFsam Enhanced for more features.
Pros:
Both a PDF splitter and merger
Clean and easy-to-navigate interface
Broad compatibility with OS
Cons:
Only four main features available in the free version
No option to batch split or merge PDFs
Preview
Mac users have a free splitter for separating PDF pages, Preview. The program comes a pre-installed app on Mac OS, and thus you don't need to download it from App Store. Preview makes it easy to split a PDF into several smaller files or extract some pages. To do this, drag and drop certain pages from the Thumbnails pane to a new folder or onto the desktop, and the extracted pages will be grouped into a new PDF.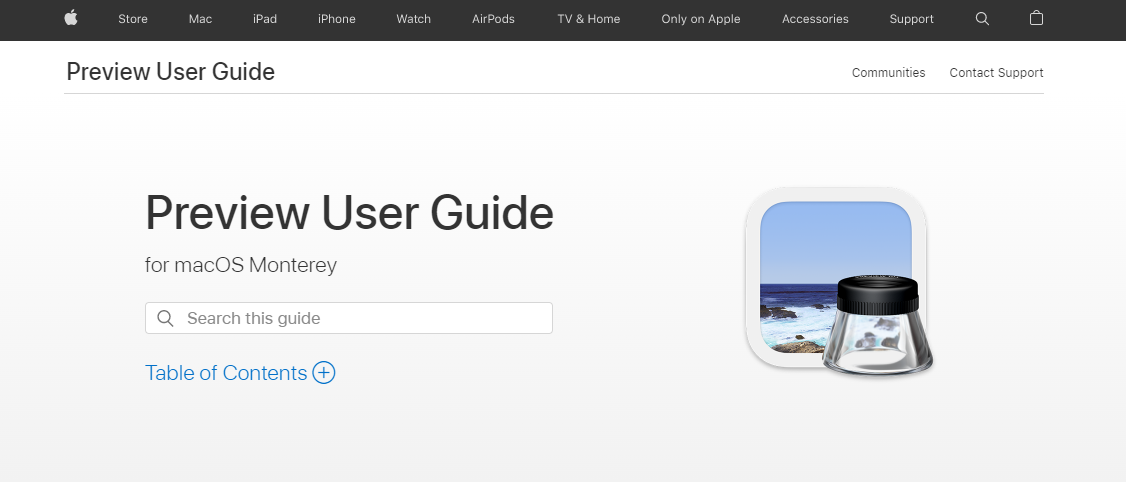 Similarly, you can drag and drop the thumbnails to the thumbnail bar in another PDF to merge two PDFs into one.
Pros:
Free PDF splitter software
No need to download, install or sign up for a third-party application
Capabilities of annotating, bookmarking, signing, and converting PDFs
Cons:
Inefficient: Manually splitting or merging files is time consuming
Kami Split and Merge
If you are looking for an online PDF splitter, Kami Split and Merge may meet your need. It can be installed from Google Workspace Marketplace and launched by the Google apps icon (nine dots) in the Google Chrome browser. Kami PDF splitter lets you dice a PDF and merge two documents into one file online for free. The tool works with Google Drive as well.

Pros:
Ideal online PDF splitter for large files compared with similar tools
Ease of access via browser
No cost for splitting and merging PDFs
Cons:
Only one splitting mode: Split a PDF into files with the same number of pages but not by custom page range or file size
PDFs Split and Merge
We use mobile devices for managing documents more often than ever in this day and age. PDFs Split & Merge is a great PDF splitter app for iPhones and iPads. It offers 4 options for users to choose how to split a document. The app can extract even or odd pages out of a PDF, delete selected pages, and combine two PDFs within seconds.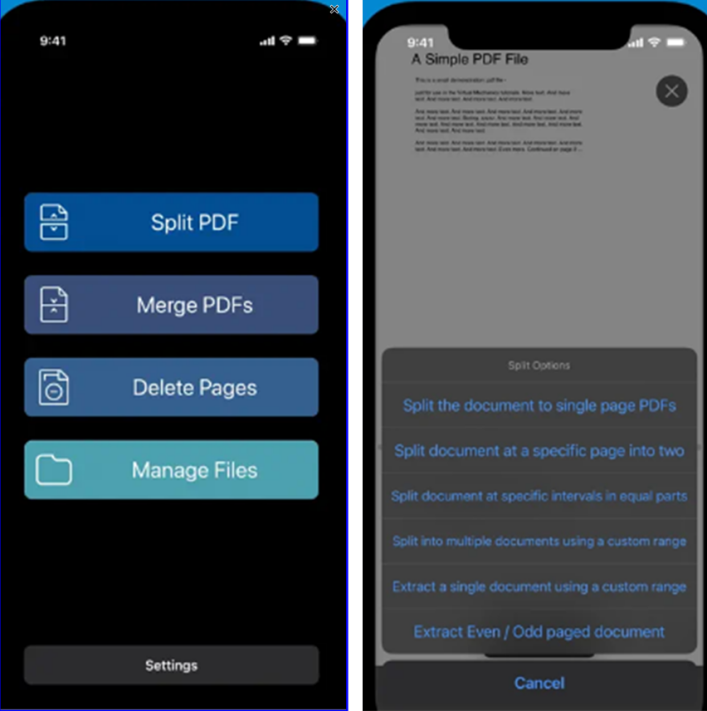 Pros:
Lightweight application for iOS
Online and offline working modes
Cost-free PDF splitting and merging features
Cons:
Limitations on the number of files you can process: Unlimited splitting and merging of PDFs requires unlocking the premium version
PDF Utils
PDF Utils is developed to tackle how to split and merge PDF documents on smartphones and tablets. With millions of downloads on Google Play, this app has become a top PDF splitter for Android. It is small in size, completely free, and available for offline use. Using the tool makes it possible to split and merge PDFs on the go. In addition, PDF Utils can function as an Image to PDF converter that allows you to convert JPG/PNG/TIFF and other image formats to PDF.

Pros:
Option for splitting PDFs by custom page ranges
PDF merger and converter
Fantastic app for offline use
Cons:
Annoying ads
Inability to batch separate or merge files
Google Chrome
Web browsers like Google Chrome and Microsoft Edge let users separate pages in a PDF natively without opening an app or website. You can open a PDF file in Chrome with its built-in PDF viewer, press Ctrl+P on your keyboard, type a page range, and use "Save as PDF" or "Microsoft Print to PDF" to cut the selected pages out of the PDF. Repeat the process and you are able to split a file into multiple PDFs. This way, Google Chrome serves as a free PDF splitter.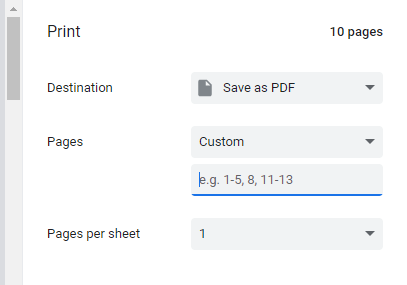 Pros:
No file size or quantity limits
No need internet
Free and cross-platform solution
Cons:
Not suitable for splitting multiple PDFs
Conclusion
Splitting PDFs is easier said than done. In the long run, it would make good sense to employ a dedicated PDF document splitter, which will automate and optimize your workflow. We understand your trouble in searching for the best PDF splitter and thus introduce to you the list of go-to solutions. I hope this post is helpful for you in choosing a good productivity tool.