Introduction:
As a graphic designer, you may reach a fork in the road when it comes to choosing an image format for your portfolio design. When there are plenty of image format options available in the "Save as" menu, which files format should you use to maintain the integrity of your creative work, JPG, PNG, TIFF, or PDF?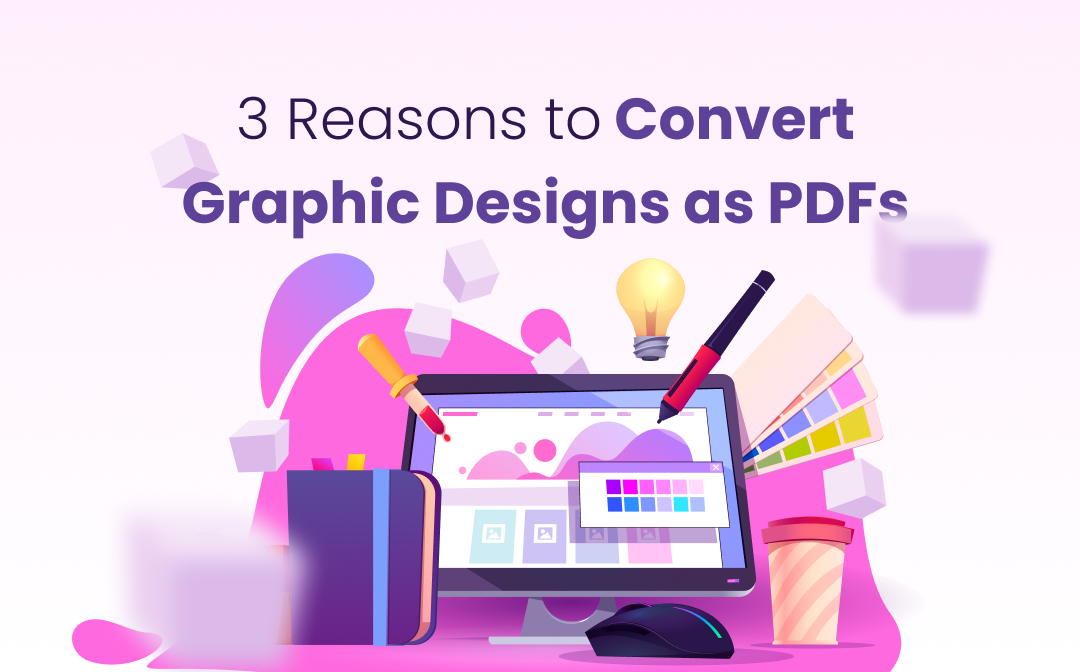 Within this post, we'll be listing three compelling reasons to export your graphical design portfolios as PDFs.
Why Choose PDFs as the Output Format
In the discussion of exporting a graphical design, PDFs will not generally be mentioned as designers have a host of other format options, such as JPG, PNG, and TIFF. These different image formats have their own advantages, however, if you need to share your portfolio online or print images, particularly for graphical designs, flyers, brochures, posters, and infographics, we strongly suggest saving your creative designs as PDFs.
PDF Can Maintain the Original Formatting
For most designers, PDF has already become the standard image format owning to the stability and consistency. A PDF is in truth the replica of the original file, which will never compromise the formatting and layout when in conversion.
Designers are worry-free from issues regarding formatting, font, and color fidelity. When you have spent great efforts in crafting graphical work, you don't want the original formatting to end up as a total mess. Under this circumstance, exporting your work as a PDF seems to be a perfect solution.
Some outstanding designers may win competitors over because of the custom elements like unique typefaces or fonts. However, when the recipients of your work don't have such creative fonts, your hard efforts may be in vain. PDF is the image format to present the original layout, bring out the true colors, as well as ensure the work integrity.
PDF Is Ideal for Interactive and Print Designs
In addition, let's go back to the nature of PDF documents. Each PDF page is an individual layer that can store and retain a multitude of different objects, such as text, images, and multimedia content, as much as you could like. One of the major reasons why PDFs are so prevalent is that PDFs can be viewed and accessed irrespective of operating systems, which means this file format is favorable and friendly during the sharing and printing process.
This quality makes PDF an optimal image format to print with. For materials that need to be printed or send online, for instance, brochures, invitations, booklets, and posters, they'd better be in PDF format as it can ensure and showcase your professionalism, within your work.
On top of the printable designs, PDFs are able to display interactive elements, such as clickable buttons in fillable forms. If your image contains form inputs or clickable buttons, PDF is the sole proper image format.
PDF Enjoys Higher Security
In this digital era, posting creative work online can easily get popular. For every designer, file security is the top priority of all matters. Consequently, password protection is crucial for portfolio work. If you decide to use JPG, BMP, or TIFF as the image format, you may possibly come to a dead end as it is hard to encrypt a sole, lone image.
Regarding PDF documents, designers can turn to a dedicated PDF tool (including desktop and online programs). Let's take SwifDoo PDF for example. This is a versatile PDF product available on Windows 7 to 11. It provides a full set of security features to safeguard PDF files. Two passwords (namely open password and permission password) can be applied to ensure the PDF is within control. When sharing your creative work with others, you can set permissions on this PDF document, such as printing, editing, annotating, and copying.
When to Use PDF Format?
Even though the PDF is a universally accepted format, please be noted that PDFs are suitable for exporting photographs and documents. If one needs to design icons or logos, choose JPG or PNG since PDF is not an ideal image format. At the same time, editing PDF documents requires a dedicated PDF program, and SwifDoo PDF can be a good option to convert your image files into PDF documents.
How to Convert Image Files to PDFs
If your image files happen to be in JPG, PNG, and TIFF formats, SwifDoo PDF can conveniently export these images as PDFs within just a few steps:
Step 1: Download SwifDoo PDF from the official website or Microsoft AppSource;
Step 2: Open an image in SwifDoo PDF and then click on the Convert tab to choose Image to PDF;
Step 3: When you are directed to the SwifDoo PDF Converter window, hit the Start button to save your graphic designs as PDFs easily.
Before this action, one can specify the exported page size but the default is the original image size.
Final Words
In a word, the PDF is a perfect file format for exporting printing materials and PDF images are an optimal choice for storing images online when you want them to be downloaded. PDF documents can keep your images intact so receivers can readily download and view designs on any operating system.
If you have not systematically studied graphic design courses online and are ready to start your career in the design industry, then you need to know the ins and outs of this industry. Feeling all at sea? These free online graphic design courses will be sure to hit the spot just right.