Introduction:
When sharing multiple JPG files, it causes trouble to click and save those images individually. Then, you can convert the JPG file into a PDF to improve the efficiency. Besides, the quality of a PDF is better than a JPG image. Among various JPG to PDF converter software, which one is ideal for you?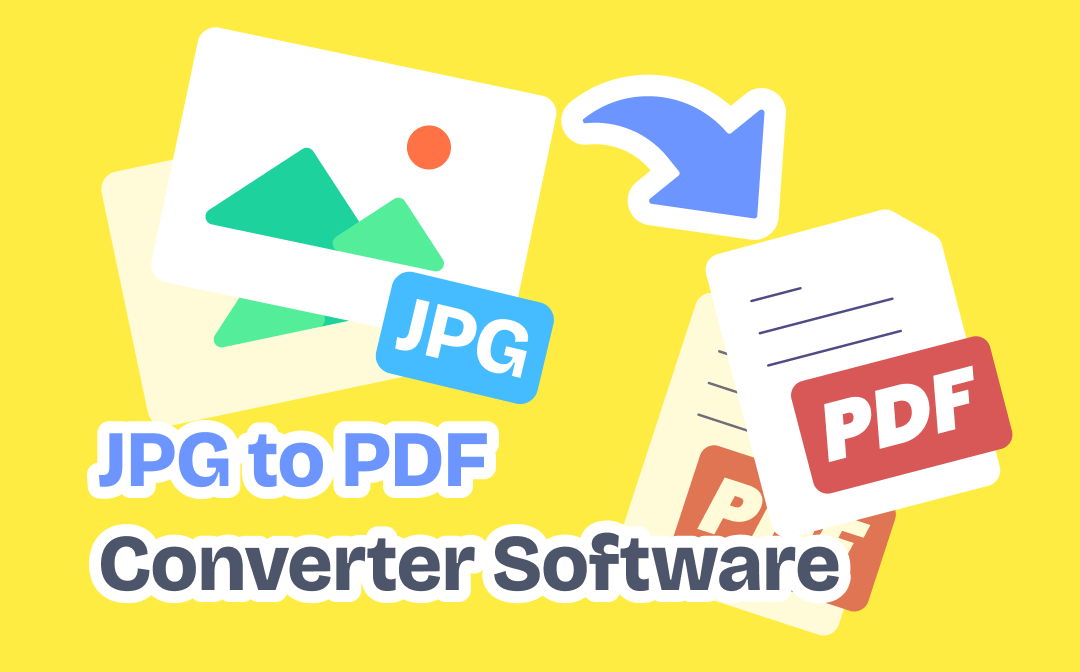 This article features a thorough introduction to seven reliable PDF conversion tools for Windows, Mac, and online sites, including SwifDoo PDF, the best PDF converter. You can learn about their main features separately to pick your favorite JPG to PDF converter software for free download or online use.
Top 4 JPG to PDF Converter Software for Windows/Mac
This section details four desktop programs to convert JPG to PDF, including free downloads and preinstalled software. Whether using Windows or macOS, you'll find optimal software to convert one or multiple JPG files to PDF documents with a few clicks.
SwifDoo PDF (Windows)
SwifDoo PDF is a one-stop PDF solution with PDF conversion as its meat and potatoes. The program allows you to convert images in JPG, PNG, BMP, and TIFF formats to PDF without losing the quality. It is a JPG to PDF converter software for free download and is capable of dealing with multiple JPG files in a batch. You can swiftly convert JPG images to PDF files in a blink of an eye.
Highlights of SwifDoo PDF:
Custom the page size before converting to adjust the page dimensions;
Combine multiple JPG files into one PDF during the conversion;
Preview the JPG images to make sure they are your target files;
Annotate, edit, and share converted files with a single program.
If you are curious about how to convert a JPG to a PDF in this software, check out the steps below:
Step 1: Run the application on the PC and click Convert. Then choose Image to PDF;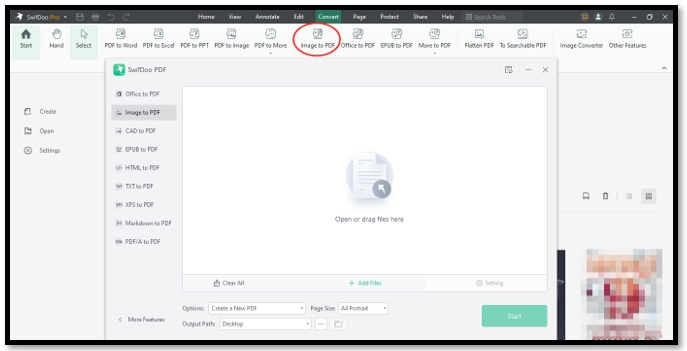 Step 2: After enabling the JPG to PDF converter software, tap on the Add Files button to import your JPG file;
Step 3: Set the Page Size and press Start to turn the JPG image to a PDF.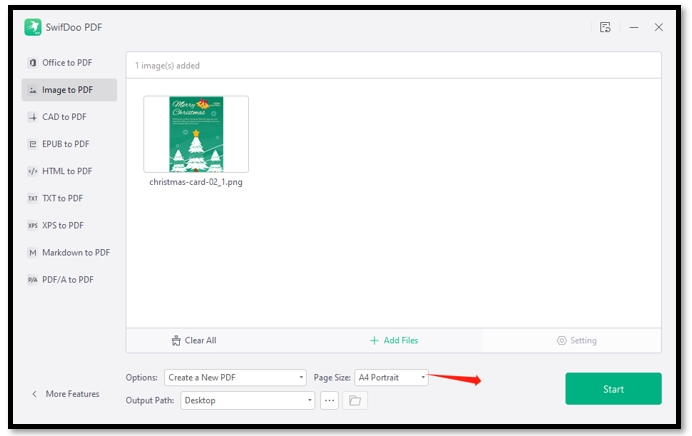 FM-PDF (Windows)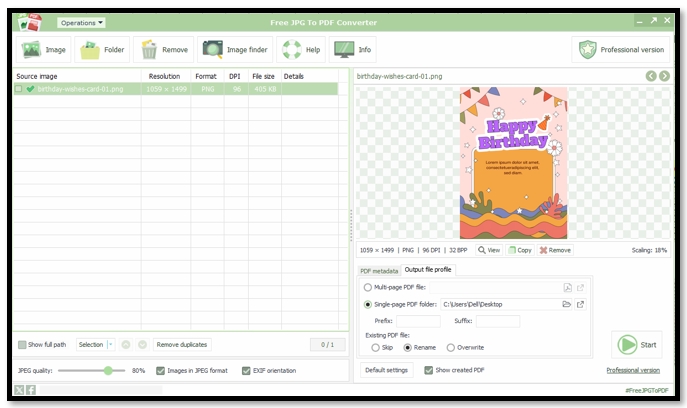 FM-PDF offers a free JPG to PDF converter for free download supporting Windows 11, 10, 8, and 7. This professional image converting tool can deal with JPG, JPEG, PNG, and other image formats. When converting the image to a single-page PDF, the tool lets you specify the desired prefix and suffix. Besides, you can select whether to overwrite the original file or create a new one for future use.
Other features that help you convert a JPG to a PDF with this program:
Enable you to view the resolution, DPI, and file size
Edit PDF metadata to change the title, subject, author, and keywords;
Adobe Acrobat (Windows/Mac)

Adobe Acrobat is known for its sophisticated PDF features to handle various tasks. Speaking of converting JPG to PDF, this popular provides quality services for both Windows and Mac users. It allows you to directly save a JPG image as a PDF without even activating any tools. However, it cannot save multiple JPG photos to PDFs.
Major advantages of using Adobe Acrobat to convert JPG files to PDFs:
Best JPG to PDF converter for free download;
Compress PDF files to reduce the file size;
Share the converted file with others via email.
If you are looking for Adobe Acrobat alternatives to finish the conversion, please check out this article to learn more options: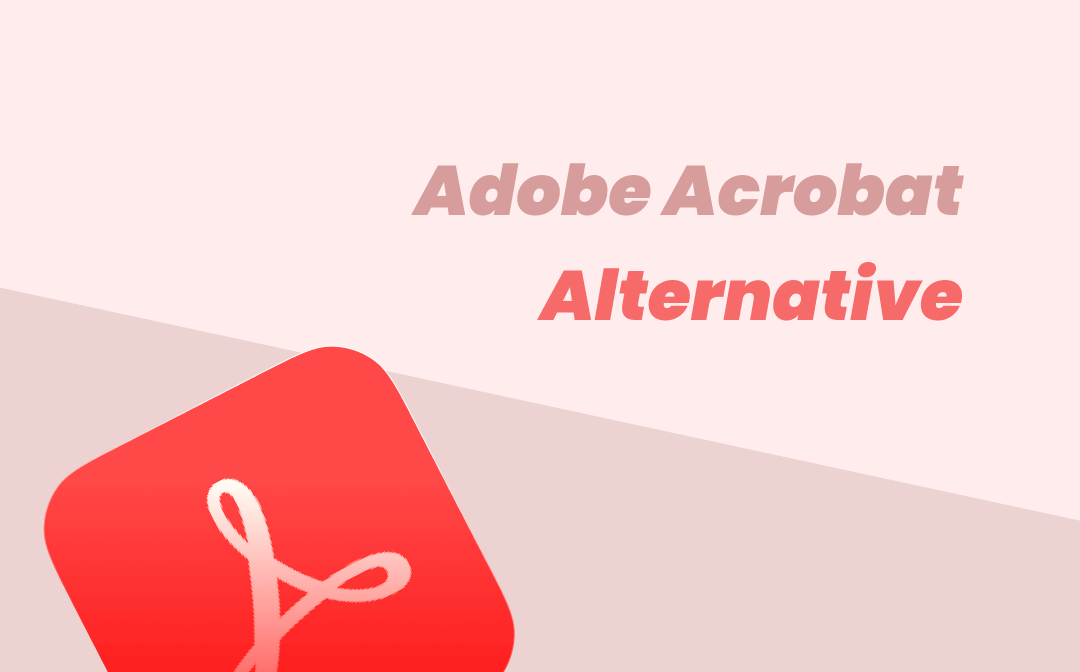 The 7 Best Adobe Acrobat Alternatives [2023 Updated]
Need an Adobe Acrobat alternative to edit and do more with PDFs? Check the 7 affordable or free alternative options available on Windows, Mac, or Linux.
READ MORE >
Preview (Mac)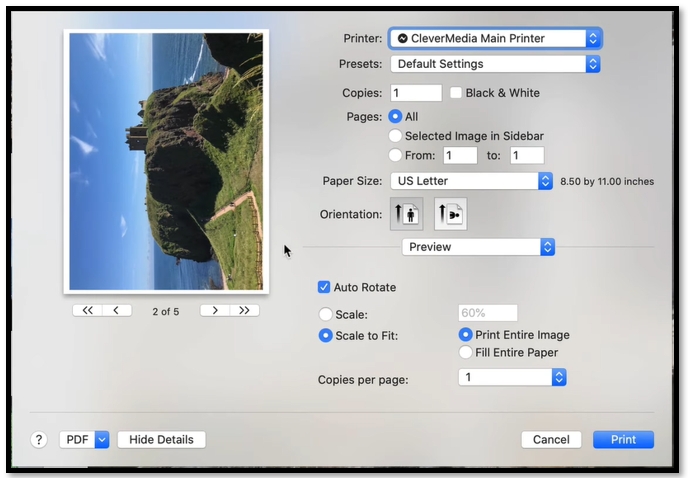 Preview is the innate PDF and image viewer equipped with basic tools to edit and convert PDFs. Its JPG to PDF software is quick to get and conducts batch conversion to improve your efficiency. You are also allowed to adjust the page size, file orientation, and scale to create PDFs you like.
What you may like when using Preview to convert JPG to PDF:
Free PDF applications to handle PDF files;
No need to download extra applications;
Easy to make edits to the file.
Top 3 JPG to PDF Converter Software Online
When it comes to online sites, this section presents four JPG to PDF converter software that enables you to perform the task for free. Each is accessible via a popular web browser such as Firefox, Google Chrome, and Microsoft Edge.
SwifDoo PDF Online Converter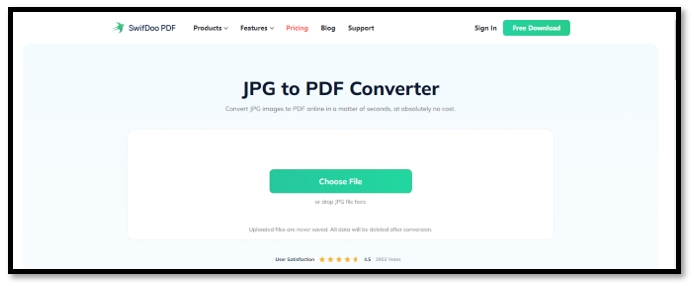 SwifDoo PDF Online Converter is a comprehensive web-based PDF converting toolkit. It is a free site to help you convert JPG files to PDF documents one by one with quality. Both JPG and JPEG are supported to finish the task. It enables you to convert a JPG file with a maximum size of 20 MB and the file will be automatically deleted to protect your privacy.
Download SwifDoo PDF Desktop Application
Major features of the
2 free tasks per day;
No registration is required.
PDF24 Tools
PDF24 Tools is another online JPG to PDF converter software that has no file limit. This free site features an intuitive user interface with easy navigation to help you find the tool you like. When uploading multiple images to the workspace, you can effortlessly adjust the order by simply dragging and dropping the image to the place you like.
Highlights of PDF24 Tools when converting JPG images to PDFs:
Easy to change the orientation of the image;
Arrange the order of the target JPG files by descending or ascending;
Create bookmarks based on the file name.
iLovePDF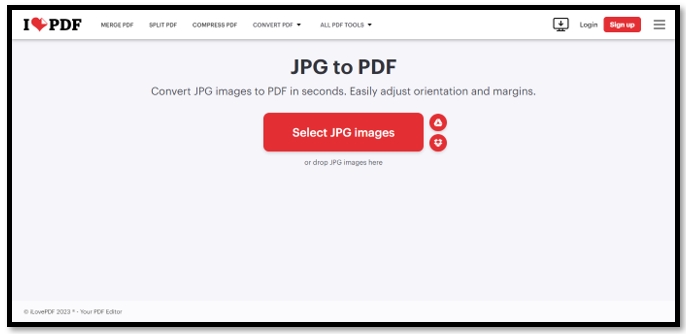 iLovePDF is a reputable online PDF management site. It has a powerful PDF conversion function, which can help you realize the conversion of many file formats including JPG, DOC, PPTX, etc. to PDF. Its JPG to PDF converter software is capable of handling multiple JPG files in a batch. The tool lets you convert multiple JPGs to one PDF or separately without a learning curve.
Advantages of this web-based PDF application to finish the task:
No free task limit for most of the tools;
Don't store the file in the tool to protect your privacy;
Ease the work of conversion to PDF and back to other formats.
Closing
This post features a total of 7 offline and online JPG to PDF converter software for Windows, Mac, and online users. These tools allow you to complete the conversion quickly while maintaining the quality of the file. Hope you find an optimal tool to get the job done after reading this article.